Chess is a complex and fascinating game that can provide hours of entertainment. However, if you're just getting started with chess, it can be challenging to know where to start. So, we've put together this list of the six best chess podcasts for beginners and intermediate players.
The podcasts that will teach you everything you need to know about the basics of chess and strategies for more advanced players that we recommend are Perpetual Chess, Ladies Knight Chess and The Chess Circuit. Coffehouse Blunders, Chess: The Full English Breakfast, Chess Talk Podcast although not currently active, they still provide heaps of value from their old episode list.
So, whether you're just starting, or you've been playing for a while but want to improve your game, these podcasts are perfect for you.
Looking for other podcasts? Check out the best comedy writing podcasts or the best D&D podcasts on Spotify.
Perpetual Chess
Perpetual Chess is a weekly podcast that features conversations with some of the best chess players in the world. Host Mike Klein chats with guests about their careers, and projects each week. Guests have included everyone from former World Champion Garry Kasparov to rising star Carissa Yip to chess coach Bruce Pandolfini. Whether you're a casual fan or a serious player, Perpetual Chess has something for everyone. If you're looking for insights into the minds of the game's greatest players, this is the podcast for you.
Ladies Knight Chess
As the official podcast host of US Chess Women, two-time US Women's Chess Champion Jennifer Shahade interviews female chess champions and leaders from across the globe in Ladies Knight Chess. Since its inception, the show has highlighted the stories and perspectives of some of the most famous women in chess, including World Champion Magnus Carlsen and Grandmaster Judit Polgar. In addition to featuring well-known champions, Shahade also shines a spotlight on rising stars and up-and-coming players. Through her candid interviews, Shahade provides listeners with an inside look at the lives and careers of some of the most successful women in chess. In doing so, she showcases the immense talent and diversity within the chess community.
The Chess Circuit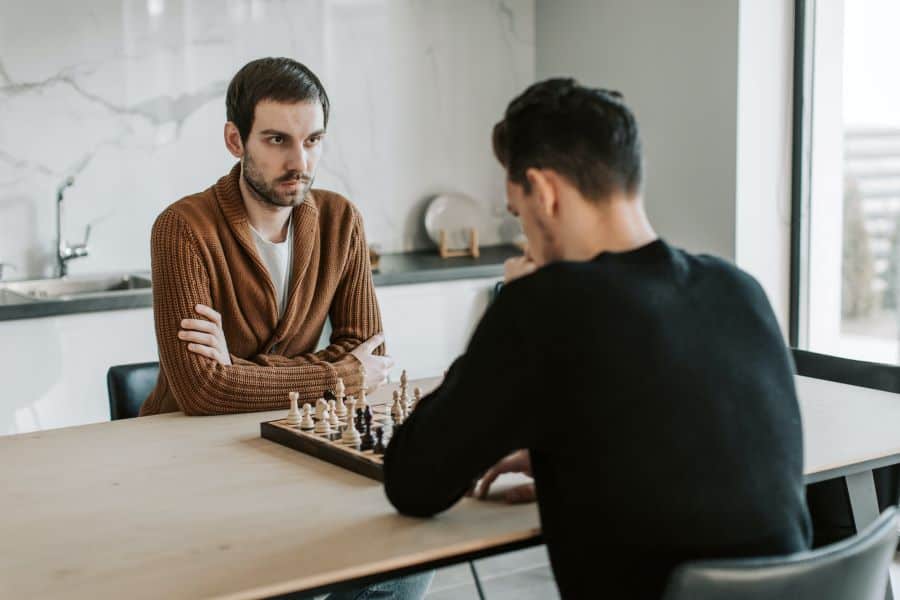 The Chess Circuit is a great way to learn more about chess and hear from some of the top chess players in the world. Adam Raoof, the host, is a World Chess Federation FIDE Arbiter and Organizer, and he does a great job of interviewing some of the top chess players in the world. The chess circuit podcast is also a great way to stay updated on chess news and events. Adam Raoof does a great job editing the Chess Circuit Newsletter, which is full of chess news, event coverage, and player interviews. I highly recommend checking out the chess circuit podcast if you're looking for a great way to learn more about chess.
Coffehouse Blunders
Currently on a hiatus, Coffeehouse Blunders is a show where Danny Rensch and James Montemagno chat about chess, coffee, tech, and whatever else in their worlds. As an International Chess Master, Danny brings a unique perspective to the table, while Motz's background in mobile development and public speaking rounds out the conversation. The result is an adorable and fantastic dialogue that is sure to entertain. So, pour yourself a cup of coffee and join Danny and Motz for some Coffeehouse Blunders!
Chess Talk Podcast
The Chess Talk Podcast also no longer being updated but still holds a lot of value with almost 300 episodes to listen to. Hosted by Cody DeWitt, offers listeners a chance to learn from some of the best players in the world. Cody covers a different chess topic in each episode and interviews a top player.
Chess: The Full English Breakfast
Macauley Peterson's Chess: The Full English Breakfast is a must-listen for any chess enthusiast. This one has not been updated for a while but each episode features an in-depth analysis of chess tournaments and interviews with top players. But what sets this podcast apart is the hilarious banter between Macauley and his co-hosts, International Master Lawrence Trent and Grandmaster Simon Williams. The three of them have undeniable chemistry, and their love for the game shines through in every episode. So, if you're looking for a fun and informative chess podcast, you'll want to check out Macauley Peterson's show.
Related: The 40 Best Podcasts You Need to Listen to in 2023
Summary
By listening to Perpetual Chess, Ladies Knight Chess and The Chess Circuit, you will be able to improve your chess skills quickly and easily. Be sure to check out all of the episodes of each podcast so that you can get the most out of them. Happy listening!