Being a tech lover, have you ever dreamed of having the world's best sound experience? Well, your dream can become a reality with a good pair of headphones! Sure, there are all kinds of portable sound systems on the market right now, and they offer some great options too.
But nothing quite compares to what a well-crafted set of headphones can do for listening pleasure. Whether you're enjoying music, watching movies and TV shows, or gaming online, headset technology delivers unparalleled audio experiences every time.
From noise-canceling headphones and wireless earbuds to budget-friendly models and premium sets, there are different headphones for every listener and lifestyle.
To help you decide on your next pair of headphones, read on to learn about the top brands leading the audio industry with their innovative products.
Related: Best Podcast Headphones
How To Select The Right Pair Of Headphones
Finding the best headphones to satisfy your listening needs can seem daunting with the abundance of headphone brands available.
It can be challenging to navigate through all the technical jargon and specifications, but don't worry. There are a few simple factors to consider when looking for the best headphone brands.
Let's walk you through a guide about picking the right pair of headphones with premium audio quality.
Purpose Of Use
When it comes to purchasing the best headphones, it is essential to consider the purpose of their use. Music lovers might be looking for outstanding audio performance, while gamers may need the best sound isolation. Depending on the purpose of use, you can select the right product according to your needs and requirements.
Also, various other uses of headphones need consideration before deciding which one to buy. For instance:
Traveling
When traveling, having the right headphones can make all the difference. You want something lightweight and compact with enough battery to last through the day. Over-ear headphones can provide extra comfort for long hauls on airplanes and trains, but when you're on the go, earbuds or in-ear headphones are an excellent choice for portability.
Relaxing
Music has always been known as a form of therapy and relaxation. Hence, if you're looking to escape the hustle and bustle of your daily life, it's better to buy comfortable headphones that offer noise-canceling or wireless technology to achieve complete relaxation.
Work Out
The right headphones for your workout are essential when it comes to having an enjoyable exercise session. Pay attention to which type of headphones you pick: if they don't fit securely enough, they can move around, cause more discomfort, or make you sweat.
Many prefer earbuds because they provide a lightweight listening option with optimal sound quality. Over-ear headphones are a better option if you're looking for greater comfort during light to moderate workouts.
Design
A balanced sound quality is essential for headphones, yet we should remember to consider comfort. Some models may create the impression of being cheap but can offer good features such as a comfortable design.
You may acquire the highest sound quality and most remarkable durability in your purchase by researching internet reviews and examining the customer service provided by different manufacturers.
But first, you must decide on your preferred headphones, so let's get started. The three primary types of headphones are:
Over-ear Headphones
Over-ear headphones are more oversized and have cushioned ear cups that 'surround' your ears and provide superior sound isolation. In addition, these cushioned ear cups apply light pressure around your temple and upper jaw for a secure fit.
Over-ear headphones come in two versions – closed back or open back. As their names suggest, closed-back headphones should be chosen if you prefer complete sonic isolation from the outside environment.
Open-back types allow some environmental sound to reach your ears and some sound from the headphone to escape, making audio sound realistic but more audible to others around you.
All in all, most teens prefer over-ear headphones as they block ambient noise without active noise cancelation.
On-ear Headphones
On-ear headphones can be a great companion for people looking for a compact and lightweight option. They are held in place with pressure on your ears, like wearing muffs.
In general, the sound isolation of on-ear headphones will let more sound from the environment in than over-ear headphones.
In-ear Headphones
The smallest type of headphones, in-ear headphones (often called earbuds or earphones), are incredibly convenient for those with an active lifestyle.
Not only are they super portable – ideal for popping into pockets or hanging around necks – but they also typically feature sweat and water-resistant materials. This makes them great for working out, running, and even swimming!
Related: Over Ear vs On Ear Headphones
Price
When purchasing headphones, price should be taken into consideration. While lower-priced products are often more affordable for consumers, they may also provide different levels of quality than more expensive sets can offer.
To ensure you're receiving the best value for your money, research the various products to determine how much each model costs and the features and sound quality each set offers. This will help you make a well-informed decision, so you can choose the perfect set of headphones while still sticking to your budget.
Durability
When picking out headphones with the best sound quality, durability should be a top concern. The best models are constructed using robust materials like aluminum, ensuring the device's stability and sturdiness over time.
Furthermore, it should also be able to stand up to frequent handling. High-quality manufacturing is the key to finding headphones that withstand years of wear and tear through everyday use. For this purpose, you should research your chosen model's durability before investing in new audio equipment.
Sound
When it comes to buying audio systems, good sound quality is a must. Many of the best headphone brands provide impressive sound clarity, ensuring a good listening experience without ambient noise overpowering your audio.
Therefore, sound clarity should be essential when purchasing headphones of any kind!
Connectivity
Wireless or Bluetooth connectivity is a convenient, worry-free solution for people who don't like having to untangle headphone cables constantly. With good sound quality coupled with the ability to reduce ambient noise, Bluetooth technology is an excellent way to experience audio systems.
Not all models offer this feature, but for those that do – it's a lifesaver! By incorporating high-fidelity sound with connection convenience, wireless or Bluetooth connectivity gives users the best of both worlds — good sound and easy portability.
Battery Life
With so many brands of wireless headphones available, battery life should be one of the highest priorities when selecting a pair. Considering battery life is crucial if the headphones are used during frequent travels or outdoors. The battery life you receive can vary drastically between products, making it essential to research and carefully consider battery life when picking out the best headphones.
Brands such as Bose and Bowers Wilkins have proven reliable in terms of battery duration and are excellent options for those seeking longevity in their new headphones. Doing proper research ahead of time helps find the perfect match, ensuring desired battery life and better satisfaction with your purchase.
Brand
It's important to consider brand identity when buying headphones as it offers peace of mind that your product is reliable and built to last with advanced features. Sony headphones have been a trusted brand for decades, with consumers worldwide recognizing Sony as a leading headphone manufacturer. Their commitment to continual innovation has been demonstrated in recent technological advancements.
Another reputable name worth considering is Bowers Wilkins; they make high-end products that can last through daily wear and tear without too much difficulty. Brand identity should always be considered when making any purchase, and it's crucial when investing in something like headphones with long-term use in mind.
Different Types Of Headphones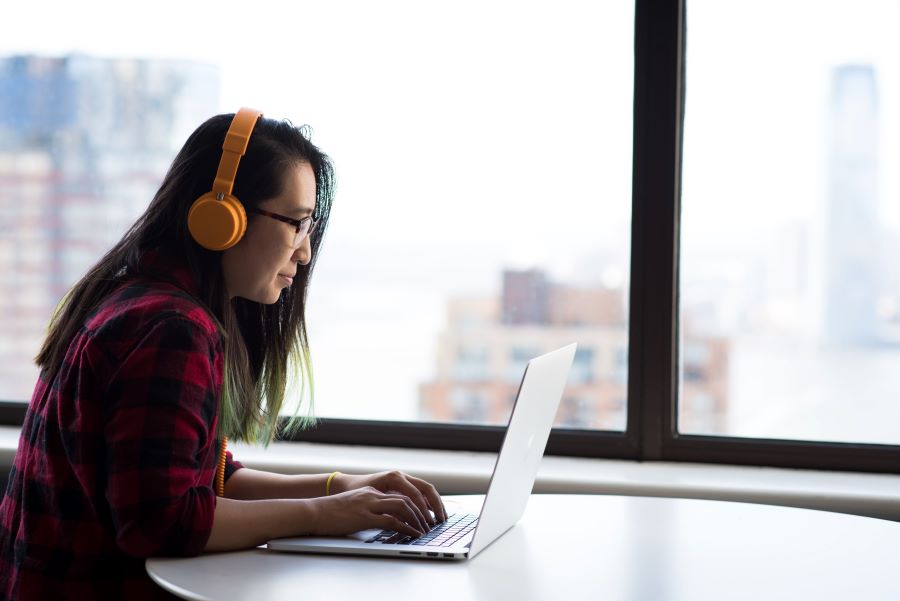 As technology advances rapidly, headphones have become more than just a device to deliver sound. Many headphone manufacturers offer various models designed to meet specific needs.
From noise canceling to wireless charging and wired headphones, each presents unique features and advantages – allowing you to enjoy your favorite music from anywhere!
Let's quickly look at the different types of headphones available in the market.
Active Noise-cancellation Headphones
Active noise cancellation (ANC), once a technology exclusive to expensive headphones, is becoming increasingly accessible for budget consumers. By employing active audio recording and inverting its phase, active noise cancelling eliminates background sounds through a process known as "phase cancellation." This results in improved sound clarity and overall listening experience.
As the technology is gaining traction in the consumer electronics industry, budget-friendly options, including noise-cancelling earbuds, are gaining popularity among headphone buyers.
Headsets
Headsets are audio tools that audio professionals and audio enthusiasts alike turn to. They offer noise isolation, increase audio accuracy and enable the microphone to record audio, making them a helpful tool for many applications.
The most common types are gaming headphones and headsets used in remote meetings. The term "headset" often refers to a closed-back pair of over-the-ear headphones with an attached boom microphone for superior audio recording capabilities.
There are also special headsets, like single-sided headsets intended for customer service, which allow users to have one ear free while still speaking into the mic. No matter the purpose, any headset gives a great audio experience.
Related: Best Podcast Headsets
Ambient Sound Headphones
Ambient sound headphones have a feature that uses the external microphones on your earphones to let you hear outside noises. This feature, called "ambient sound mode," "HearThru," or "Transparency mode," is designed to give you better awareness of your environment without sacrificing sound quality.
Ambient sound headphones could be an excellent choice if you're walking in an unknown area and need to stay aware of your surroundings. These headphones also come in handy when engaging with people, such as at checkout lines; turn on the ambient sound mode, and you will be able to hear external sound while still getting an immersive audio experience.
One way to describe this function is the opposite of active noise cancellation, as its goal is to amplify the background, especially human voices.
Bone Conduction Headphones
Bone-conducting headphones offer a unique sound experience, providing excellent sound quality while allowing users to keep their ears open to their surroundings. This means that sound is transmitted directly through the user's cheekbones, completely bypassing the outer ear.
As a result, people can listen to music and remain aware of their environment. Their unbeatable sound makes them well-suited for outdoor activities like running and biking. Furthermore, their microphone quality ensures clear calls when connected to phone or computer apps.
For those looking for neckband headphones that are comfortable yet highly durable with excellent sound quality, bone-conducting headphones from a trusted headphones brand are your best bet!
Wireless Headphones
In this wireless age, wireless connectivity headphones are becoming the latest trend in sound. Not only are headphones with a wireless connection convenient and easy to use, but they offer stellar sound quality and lots of great features too.
The best wireless headphones come with all the necessary components inside their housing, from the built-in battery to the Bluetooth chip, amplifier, DAC, and DSP. They allow wireless connections via Bluetooth technology or Wi-Fi (using a USB dongle for wireless gaming headphones), providing an effortless listening experience.
Without all the wires muddled together like traditional headphones, some of the best wireless earbuds and headphones can provide a clean and crisp connection without the static interference that wired ones often do.
Wired Headphones
Wired headphones are one of the most sought-after solutions for audiophiles and professional audio engineers, as wired earbuds have the highest possible sound quality. With wired technology, there is less signal distortion and noise floor than wireless headsets, making wired headphones a better choice for those looking to enjoy their favorite music in crystal-clear quality.
Further, the best-wired earbuds offer scalable performance. By connecting the listener's device to higher-end sources or headphone amplification setups, they can get an even better experience from their wired earbuds.
While wired technology may be inconvenient compared to wireless solutions, the sound quality remains the best argument to purchase a branded pair of wired headphones – ensuring long-term satisfaction when listening to audio media.
Top 15 Headphones Brands
Enthusiastic music fans everywhere are looking for the perfect pair of headphones to experience balanced sound and noise cancelling. Luckily, an endless array of choices is available on the market today.
Of these many options, these 15 headphone brands stand out in particular for their ability to provide balanced sound, great noise cancelling capabilities, and an impressive frequency response rate. From studio headphones to everyday listening needs, these top 15 brands offer a variety of choices that can meet any requirement.
So if you're in the market for truly quality audio experiences, consider looking into these premier headphone brands and pick one that fits your specific needs.
1. Bose
Bose is an iconic American consumer electronics company that has been on the market for decades as one of the best headphone brands.
Their expertise lies in noise-cancelling headphones, portable speakers, and vehicle audio systems. As one of the pioneers of noise-cancelation technology, it's no surprise why Bose is such a well-known brand.
Their first breakthrough came when they produced the commercial acoustic noise-cancelling headset for pilots. Since then, their ANC systems have significantly improved to cater to consumer needs and other products such as home audio systems and speakers.
Bose headphones have a vast selection of wireless Bluetooth headsets and consumer headphones that make it easier to enjoy your music while on the go. Take, for instance, their SoundLink On-Ear Wireless Headphones. They offer up to 15 hours of battery life and boast superior sound quality.
Their features are user-friendly, too – like NFC pairing and voice commands – so you don't need to worry about distracting controls while you're out.
In addition, these headphones provide robust noise isolation and produce balanced sound profiles.
If that weren't enough, Bose also produces audio sunglasses, which let you listen to audio without blocking your ears or obstructing your view.
Bose makes fantastic products, including the best noise-cancelling headphones, perfect for home or abroad.
2. Sony
It's no wonder why Sony is one of the world's largest electronics manufacturers and also the best headphones brand, offering a wide range of products from cameras to TVs.
Their lineup of headphones can be just as impressive, particularly their Bluetooth models, which have been highly rated among tech reviewers.
Whether it's noise cancelling over-ears for a commute or detailed earbuds for athletes, there is something for everyone.
It's worth noting that the Sony | Headphones Connect smart control app allows users to customize many features, such as equalization and button mapping, providing an experience tailored to individual needs.
It's no surprise that this tech giant produces various electronic items, but they are renowned for its new audio equipment, such as headphones and speakers.
The company has earned itself a remarkable reputation in sound quality and it was listed on #77 for the Best Global Brands 2014.
This industry recognition and its long history prove that Sony is the premium choice for a headphone brand regarding sound technology.
3. Apple
Apple's presence in the consumer audio industry is hard to ignore.
They offer a more premium experience with their range of high-quality products – while they might be more expensive than their competitors, it's worth paying extra for an assurance of excellent performance and longevity.
Apple has been leading the way in taking audio into the wireless era, exemplified by their now-iconic AirPods. Many manufacturers have adopted their recognizable style, but no one does glossy white in-ear like AirPods.
The company also produces groundbreaking speakers, smartphones, and computers under its name – continuing to innovate and change the retail landscape with each new product release.
Apple offers a variety of wireless headphones and earbuds that give users great integration with their existing Apple ecosystem.
With an H1 chip, users can seamlessly pair them with iOS devices, taking advantage of features such as Spatial Audio on iOS/iPad 14. This allows sound to be reoriented when the user moves their head, giving them an even more immersive experience.
Apple has become an acclaimed leader in earbuds and headphone designs thanks to iconic offerings like their AirPods.
4. Audio-Technica
Audio-Technica is a reliable and well-respected brand from Japan that has been in business for over 50 years.
Their specialty is professional and consumer-grade headphones that are highly sought after for their long-lasting quality and precision sound.
Products such as the M-Series line of closed-back studio headphones come highly praised by audiophiles, audio professionals, and everyday listeners alike.
These headphones provide essential features such as durability, comforting ear cups, a balanced sound range, and other relatable qualities that can be expected of any Audio Technica equipment.
Since its founding in 1962, Audio-Technica has been a reliable name in audio equipment manufacturing.
Audio-Technica's devotion to advanced technology can be seen in AT headphones, widely used and renowned for their quality within the music industry.
Professionals continue to rely on their headphones while producing music in studios worldwide, and they have become go-to items among music lovers who recognize superior sound performance.
Audio Technica's various lines of products can deliver satisfactory results every time for those who strive to hear their music with excellence.
5. Sennheiser
Sennheiser has been crafting sound and audio products since 1945, becoming the renowned leader in premium studio headphones.
From casual listeners who prefer to use Bluetooth models to dedicated headphone seekers, there is something for everyone in the market, including TV headphones that allow for seamless wireless streaming without lip-syncing issues.
Operating worldwide, their sound solutions range from portable Bluetooth headsets to in-ear designs with built-in microphone for cellphones and tablets.
This German company earns respect from both professional producers and music enthusiasts alike, claiming its spot in the limelight with several industry awards like the Entertainment Technology Review's Best Headphones Award, as well as being named one of Interbrand's top 100 Global Brands in 2014 at number 17.
With over 13 million users, Sennheiser continues to find success within its longtime passion – bringing incredible sound to all.
6. JBL
JBL is an established American leader in the audio equipment world, and its immense selection of headphones has something to offer everyone, regardless of their liking.
JBL's products have a balanced and accurate sound profile, ensuring high-quality audio performance.
One highlight feature is the JBL Headphones app, which can be used with many Bluetooth headphones.
These allow users to customize the sound with a parametric EQ curve, allowing them to dial in precisely what they need.
Every gamer deserves the best in gaming headsets, and JBL E55BT wireless Bluetooth over-ear headphones deliver outstanding performance.
This sleek model offers impressive features like a built-in microphone with DSP for crystal clear sound quality when chatting or streaming music.
In addition, these headphones come equipped with NFC capabilities, making using them on various devices quick and easy. With its beautiful design and state-of-the-art technology, the JBL E55BT wireless Bluetooth over-ear headphones are an absolute must for any serious gaming enthusiast.
With all the powerful features offered by JBL, it is easy to see why they are so popular amongst everyday music fans and professional audio engineers.
7. Beats by Dre
Since its launch in 2008, Beats by Dre has established itself as one of the premium consumer electronic companies in the United States, specializing in products such as headphones, earphones, and speakers.
Their iconic design and range of striking colorways have made them a fashionable choice for music listeners across the globe.
After being acquired by Apple Inc. in 2014, Beats quickly began to work on upgrading its products. Most of their newer over-ear headphones now come with either an H1 or W1 chip, making it easy to connect with Apple devices like your iPhone and MacBook.
Additionally, they have become an important Apple supplier providing state-of-the-art audio technology for Apple's Beats lineup of audio equipment.
Regarding their most popular design, the Studio Wireless Over-Ear Bluetooth Headphone is considered a top choice amongst consumers for its innovative features like "Fast Fuel" technology, which allows up to 12 hours of battery life.
Following the 2014 acquisition of Beats by Apple, Beats by Dre has grown significantly, becoming one of the biggest headphone manufacturers today.
8. Beyerdynamic
Being one of the respected and highly regarded manufacturers of headphones, Beyerdynamic has a long history in the industry.
The brand is celebrated for its pioneering role in creating the first dynamic transducer headphones. This past knowledge and experience shine through in the engineering and design of the headphones they now produce today.
With an emphasis on hi-fi quality and a neutral sound profile, Beyerdynamic's focus has always been to provide accurate playback with maximum audio fidelity.
Furthermore, their exceptionally high build quality offers some of the most luxurious listening experiences possible.
Moreover, consumers can also take full advantage of the extended bass response feature found on many of their open-back designs – a testament to their ongoing commitment to providing top-tier listening solutions.
Their top-of-the-line gaming headset is a testament to just that. The DT 770 PRO Over-Ear Studio Headphones produce high-pitched sounds and improve sound effects using noise isolation feature with a lasting battery life.
That way, gamers can enjoy uninterrupted play without background disturbances.
This legacy of technological innovation is why Beyerdynamic won an Emmy for advancing television technology during its early days and remains at the forefront of sound equipment today.
9. Jaybird
Jaybird has been a famous brand in the headphones market since 2006 due to its specialty in sports-oriented models.
Their products are highly durable, with a robust build and IP ratings for water resistance.
Additionally, their headphones provide secure, comfortable fits for being active and on the go.
Jaybird's My Sound app doubles the user experience by providing sound adjustment features such as parametric EQ and customizable presets. Therefore, consumers have an increased ability to fine-tune the audio to their personal preferences.
It is understandable why Jaybird's headphones have remained successful in the marketplace over the past decade.
10. Anker
Anker is a reputable Chinese company known for their affordable and quality electronic accessories, such as power banks and charging cables.
Recently, they have expanded into the audio industry with their 'Soundcore' label, featuring various headphones models.
Anker headphones offer an excellent price-to-performance ratio and come in various styles to suit different tastes.
Some of these headphones also allow users to utilize the Soundcore app to customize their sound with features such as a graphic EQ and presets.
For those seeking improved sound clarity, Anker offers a selection of noise-cancelling headphones that often can match their more expensive industry runners like Bose and Sony.
11. AKG Acoustic
For over 70 years, AKG Acoustics has been crafting unique audio products that provide industry-leading sound quality.
From microphones to headphones and wireless systems to acoustic instruments, this Vienna-based company has become a staple in audio engineering worldwide and is trusted by professionals in the industry.
In 1994, AKG joined the Harman International Group, which includes other significant names such as JBL and Mark Levinson.
Aiming for the best production of music, speech, or multimedia applications, AKG has established itself as a pioneer in the world of audio technology and music production.
Over the years, they have earned their glowing reputation by offering quality, reliable products at competitive prices.
AKG headphones provide users with enhanced sound accuracy, while their headphones provide an immersive listening experience.
With an ever-evolving product range to suit professional or consumer markets, AKG remains a leader in audio solutions.
12. Grado
Established in 1953, Grado is a renowned American company with more than sixty years of expertise in audio equipment design.
Specializing in headphones, phono cartridges, and headphone amplifiers gives them an edge in creating products that meet the highest standards.
They have a reputation as one of the market's most preferred audio equipment manufacturers that is a result of their commitment to quality.
Masterfully crafted from the best materials, their products provide comfort and sound fidelity that customers can trust.
Grado headphones are available in several series tailored toward different needs.
With their history and expertise, Grado continues to deliver premium products that satisfy a wide range of customers looking for quality sound performance.
13. Pioneer
One of the industry's leading studio-quality audio gear, Pioneer offers a vast array of products from basic disk players to comprehensive home theater equipment.
Established in 1938, Pioneer has more than 80 years of expertise in engineering unique sound solutions for customers.
Their catalog includes an impressive variety of headphones with cutting-edge technology capable of delivering high-fidelity sounds in digital and analog formats.
Their advanced software solutions are also devised by experienced professionals, ensuring the highest level of quality for audiophiles looking for crystal-precise performance.
Their top-level high-Res Dynamic Audiophile headset is a prime example of their impressive technologies. These full-sized 47mm drivers deliver deep bass and an expanded frequency of more or less 40kHz with the fidelity you'd expect from Pioneer's audio expertise. With an impediment of 32 ohms and 103dB/mW sensitivity levels, these premium headphones will improve your listening experience.
With Pioneer's impressive selection and innovation history, its customers will find something unique that suits their budget and lifestyle.
14. Skullcandy
American consumer electronics business Skullcandy specializes in creating and producing headphones and earphones.
Skullcandy is the ideal choice for those who enjoy listening to music with colorful headphones. They have everything from statement-making and bold colors to limited-edition prints that perfectly complete any look.
Skullcandy also focuses heavily on its audio performance quality as a part of its commitment to making music sound just as suitable.
With an emphasis on bass-heavy and booming sounds, they are perfect for modern music genres like EDM, hip-hop, and rap, making them popular among young listeners.
Skullcandy Grind Bluetooth On-Ear Wireless Headphones are a top-line model for people who want impressive features without the hassle of connecting cords.
With noise cancellation feature and a wide frequency range from 20 Hz to 22kHz, these headphones provide a high-quality sound experience.
Bluetooth technology ensures no tangled cords, while their crisp sound quality virtually eliminates distractions.
If you're interested in an immersive and enjoyable listening experience without worrying about wires, the Skullcandy Grind Bluetooth On-Ear Wireless Headphones might be perfect!
15. Bowers Wilkins
Since 1996, Bowers & Wilkins' expertise in the audio equipment industry is both venerable and well-established.
Its popular PX Wireless Noise Cancelling Headphones are widely regarded for their versatile features; it's 42mm drivers offer enhanced Bluetooth connectivity, active noise cancellation for uninterrupted listening sessions, and a frequency response ranging from 16Hz up to 22kHz.
While not Hi-Res certified, the results remain impressive to even the most discerning audiophiles.
Producing outstanding quality, their products are trusted by studios, mobile applications, and homes where exceptional audio is required.
The company's commitment to high-performance sound engineering can be seen not just in the products they build for physical listening locations but also in its wide selection of headphones and earphones that promise superior audio quality comparable to its rival brands.
Testimony to this is the number of awards won for craftsmanship and product excellence that guarantees an unmatched listening experience with every Bowers & Wilkins product.
Ten Best Headphones in 2023
1. BEYERDYNAMIC DT 880 PRO
Beyerdynamic DT 880 PRO is excellent for long listening sessions, monitoring when recording drums or amplified instruments, or for basic stereo listening.
2. AKG K240
AKG K240 offers you an extensive dynamic range, astounding detail, and incredible sensitivity thanks to its distinctive semi-open design and highly effective transducers.
3. AUDIO-TECHNICA M50X
ATH-M50x is the industry standard for closed-back production headphones. They sound neutral and balanced, akin to studio monitors.
4. SENNHEISER HD300 PRO
Sennheiser HD 300 PRO gives an exceptional monitoring experience because they are made for neutral, high-resolution, distortion-free sound quality.
5. SONY MDR-7506
Sony MDR-7506 headphones are very reasonably priced headphones that provide you with studio-quality audio and outstanding sound isolation.
6. BOSE QUIETCOMFORT 45
QuietComfort 45 Noise Cancelling Smart Headphones will transport you to a world of immersive listening since they are equipped with cutting-edge noise-canceling technology.
7. APPLE AIRPODS PRO
AirPods Pro are the only in-ear headphones with active noise cancellation that constantly adjusts to the shape of your ear and the fit of the ear tips.
8. BEATS STUDIO WIRELESS NOISE CANCELLING HEADPHONES
Beats Studio comes with Active Noise Cancelling; these over-ear headphones provide superior sound while reducing background noise. For further reading, you can also read our review on Beats Solo 2 Wireless and Powerbeats 3.
9. SONY WH-1000XM4
WH-1000XM4 Wireless Noise Cancelling Headphones enhance your listening experience by allowing you to customize and manage what you hear.
10. The Skullcandy Dime 2 True Wireless
Skullcandy Dime 2 offers a very straightforward design that is portable and well-made design for true wireless earbuds.
Conclusion
You should be able to choose the ideal headphone brand for your requirements now that you are aware of a few factors to consider when selecting your next pair of headphones.
After extensive research and hands-on testing of top headphone brands, we can confidently conclude that Sony, Bose, and Sennheiser offer the best audio quality in the market today.
Each brand is known for its superior sound technology, comfort levels, and durability; they are ideal for a wide range of listening applications, whether you're using them at home or on the go. While all these brands carry a price premium, they will provide reliable performance over years of frequent use.