A headset microphone is a set of headphones with a built-in microphone for hands-free audio recording. Many headset microphones are built for gaming and do not have an adequate mic for professional audio recording.
After researching the market, we've created a handy buying guide, so you can buy the best quality headset. We have also compiled a list of the best-performing microphone headsets so that you can purchase the best headset for your needs!
Related: Why Podcasters Wear Headphones
Our Top Picks
Noise-canceling

Sweat-free fabric

Analog and Bluetooth options

Affordable
High-quality

Travel-friendly

Noise reducer and sound compressor

Luxurious ear cups

Affordable
Sensitive mic with clear sound

Comfortable for long hours

Rigid and flexible gooseneck

High End
Buying Guide
Here is a list of things that you should consider, before investing in a new headset microphone for your podcast.
Comfort
You must make sure that your headset is comfortable. You will be wearing the headset for long periods of time, and if you're uncomfortable, this can lead to headaches and neck pain. If you can, try the headset on before purchasing and move around so that you can get a feel for it.
Make sure the earpads should be soft, memory foam earpads are the most comfortable,  but you will have to pay a bit more for this. The weight of the headset should also be evenly distributed over the head to avoid tension on one side.
Sound Quality
So that you don't waste any money, you want to make sure the sound quality on your headset is clear, loud, and natural-sounding. If you can't test out the headset before buying it, here are some features to look out for:
Noise Reduction – the headset should have the ability to mute background noise such as humming. You will have monitors running during a podcast session, and the mic needs to be able to cut this out or your entire recording will be ruined.
Cardioid Pickup – compared to condenser mics, Cardioid mics work best for discussions. They reduce background noise because they don't pick up a lot of sound from the sides and back, but focus on the front where the speaker will be.
Open Or Closed Headphones?
Closed headphones cover the head completely to mute any outside noise. Closed headphones have gaps to allow outside noise/ques in.
Both would be great in a podcast environment, but we would opt for closed headphones so that the speaker can hear themselves more clearly.
Wired or Wireless Headset?
While there are many fantastic wireless headsets, it is usually best to opt for wired ones. This is because wired headsets tend to produce better and faster audio, as a cable connection works more quickly than a Bluetooth connection.
When you use wired headphones, there is little chance of signal interference. However, with wireless headsets, sometimes audio can get lost or even lag during the Bluetooth connection.
Also, Bluetooth headphones tend to be more expensive, so wired headsets are a more affordable option.
Price
The main factor you have to consider is your budget. Microphone headsets can range from under $30 to hundreds, even thousands of dollars. You can opt for the cheaper headsets, however, they won't have the same recording capabilities or longevity as the more expensive options.
In this article, we've included a range of prices from $22 to $349 so that there is something to suit everyone's budget.
Related: Top 10 Best Podcast Headsets
Our Favorite Microphone Headsets for Podcasting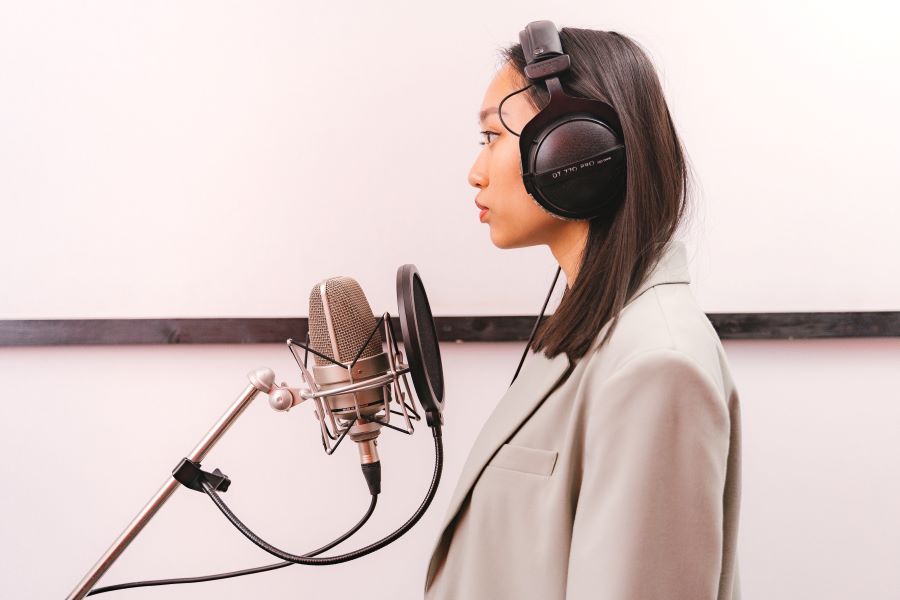 So, now you know what features to look out for, here are some of the most highly-rated microphone headsets available to you.
Logitech G PRO X
The Logitech G Pro X is a high-quality wired headset and produces studio-quality sound.
The microphone is detachable, which makes it very travel-friendly and easy to store. The device has a handy mute switch for fast voice silencing, and inline controls to adjust the volume easily.
It features a noise reducer and sound compressor, which produce professional audio. The device also uses Real Time Blue Voice technology – this means there are built-in audio filters which reduce noise and make audio sound clean and clear.
The headset is very comfortable, as it has luxurious memory foam padded ear cups that fit perfectly to the individual's ears. It is very durable as it is manufactured with sturdy steel and aluminum.
Despite its power, this headset is affordably priced.
EPOS I Sennheiser GSP 600
This is a powerful wired headset with a 3.5mm jack. Sennheiser is a German brand that prides itself on top-quality audio equipment and feedback.
This noise-canceling mic eliminates background noises for the clearest, precise audio. This is perfect for a podcasting set-up, as you will likely hear lots of background noise from equipment.
The microphone is sensitive to up to 112 dB and sits on a sturdy, yet bendable boom arm, so you can always set it to the optimum position.
The headset will be comfortable for long podcasts, as it has an adjustable headband and super-soft ear pads.
The EPOS I Sennheiser GSP 600 is a very affordable option on our list.
Audio-Technica BPHS2
This headset is sleek, black, and has a fantastic built-in microphone. The Audio-Technica BPHS2 also features a hyper-cardioid dynamic mic with frequency response, which ensures even quiet audio is picked up and sounds clear.
The memory foam headphone pads are super soft and allow for the headset to be comfortably worn for long hours of use.
The microphone is on a rigid, flexible gooseneck, which allows you to move the microphone to the perfect spot. Once moved, the strength of the gooseneck will keep it locked in place during movement and recording.
You have the option of mounting the mic on either side of the headphones, depending on which side you prefer.
This headset is one of the most expensive headsets on the list.
Shure BRH31M
The Shure BRH31M features a powerful dynamic microphone complete with cardioid polar pattern and frequency response that is designed to pick up sound in loud settings.
The headset size is adjustable and has a soft temple pad for maximum comfort.
The boom microphone is flexible and can pivot 270 degrees so that you have optimal positioning. The mic can also go on the left or right side depending on your preference.
The headset uses a supra aura ear cup, which provides sound for just one ear so the speaker can use their other ear to hear external cues. This allows the speaker to multitask and is perfect for podcast settings.
SteelSeries Arctis Pro Wireless
The SteelSeries Arctis Pro Wireless connects to devices via Bluetooth for a wireless setup. It has a headphone sensitivity of 98db, so it can pick up audio in loud podcasting sessions where multiple people might be talking at once.
The headset uses ClearCast noise-canceling technology to cancel out background noise and produce crisp audio. ClearCast works by reproducing high frequencies so that your voice sounds completely natural.
The headset uses soft fabric airwave ear cushions, which keep your ears cool and comfortable during use. The headset's suspension headband fits comfortably across the head and evenly distributes weight, to avoid aching after use.
ModMic 5.0
This ModMic 5.0 is much more compact and portable than the other options. It is a stand-alone recording mic that can be attached to any headphones, giving the audio a professional boost. If you have already sorted your headphones, this option is great as you won't have to invest in a big, expensive microphone.
The mic is compatible with all Mac and Windows PC devices, so you will not need to purchase a separate adapter for connection.
This USB microphone has an ADC chipset as well as a built-in preamp, which delivers clear, crisp audio. The device also has a handy mute switch, so you can quickly mute your voice with one click of a button!
The ModMic 5.0 is a more affordable option than the other microphones on our list.
V-Moda BoomPro
The V-Moda BoomPro is similar to the ModMic 5.0, as it is another mic that can be attached to existing headphones.
This sleek, portable mic has a sturdy, flexible boom arm, and a 24k gold-plated plug for added luxury. It has a control clip with volume controls and a mute switch that allows you to quickly silence your voice.
This is compatible with all laptops, PCs, and phones through its 3.5mm plug. If your device doesn't support 3.5mm jacks, you would need to also purchase an adapter.
This microphone is the cheapest on our list.
Sony WH1000XM4
The Sony WH1000XM4 is a high-tech Bluetooth headset with a potent in-built recording microphone.
The headset has incredible noise canceling technology which works to reduce surrounding noise so that the audio is high-quality, and the speaker is not distracted by background noise during a podcast.
The in-built mic is powerful and uses a top-quality NCC processor which ensures the most crisp, natural-sounding audio.
Rather than the usual adjusting buttons, this headset uses luxurious touch controls that adjust the volume and the noise canceling. The headset also connects to an app where you can adjust the EQ levels and other sound components straight from your phone.
Another great feature is the headset's long battery life. After a single charge, the headset will run for 30 hours. This makes it great for podcasting, as you will not need to worry about the battery cutting out during a long session.
Finally, the headset is foldable, making it compact and travel-friendly.
The Sony WH1000XM4 is the most expensive headset on our list.
ASTRO Gaming A40 TR
The Astro Gaming A40 TR headset is luxurious and futuristic. These sleek black headphones arrive with 7.1 Dolby surround sound for unmatched audio quality.
The headset arrives with complimentary audio software MixAmp Pro TR with Dolby Audio, which is compatible with all PC laptops and MacBook. This software will ensure you have optimum audio settings and end up with clean audio.
The headset is very comfortable to wear, as its ear cushions are made with soft synthetic leather. These cushions are also noise-canceling so you won't become distracted by background noise.
This is the second most expensive headset.
Related: Astro A40 vs A50 Review
Razer Thresher Ultimate
The Razer Thresher Ultimate features industry-standard surround sound Dolby headphones that are lag-free. The headphones provide unmatched sound quality and can maintain a connection of up to 40 feet.
The built-in microphone is flexible, retractable and designed to pick up crisp sound even in noisy environments. The mic is sensitive enough to pick up sounds from 100-10,000Hz, which means the final audio is very natural-sounding.
The ear cushions are memory foam and lightweight, so they fit perfectly to the shape of your head and provide comfort for long hours of use. Longevity is an important factor, so the headband is made of strong Stainless Steel 301 which can withstand long use and corrosion.
SteelSeries Arctis 3
The SteelSeries Arctis 3 is a studio-quality wired headset with a 3.5mm jack. The mic sensitivity is 98db, so it can pick up even quiet voices and reactions during your podcasting sessions.
The headset will suit any recording set-up as it uses analog and Bluetooth that can connect to any laptop, phone, or tablet. The headset includes a convenient mute button, which allows you to quickly silence your voice.
The mic uses SteelSeries' ClearCast technology, which limits background noise and improves vocal coherence.
The headset is super comfortable and uses fabric airwave cushions for both ears. This ensures your ears remain cool and sweat-free during prolonged use.
The SteelSeries Arctis 3 is a reasonably priced headset.
Sony MDR-7506
Our final headset is the Sony MDR-7506. This wired headset has a professional-quality dynamic microphone that produces clear, detailed audio. This headset is a favorite among broadcasting production crews for its impressive audio recording and affordable price point.
The headset doesn't cancel all background noise, but it does effectively block out high-frequency sounds that can disrupt your recording.
The headphones are closed-back, which is great for a podcaster as closed-back headphones are better at isolating the speaker's audio. The headband is adjustable so it can fit perfectly to the shape of anyone's head.
The earpads are super-soft which makes them comfortable to wear for long periods. The headset is also made of stainless steel, making it durable.
Frequently Asked Questions
Headphones vs Headsets?
Since the two names sound so similar, it can be easy to get the two confused. Both headphones and headsets allow you to hear audio, but they are not the same thing.
The difference is that headsets include a built-in microphone, while headphones have no microphone. So, headsets allow for mic recording, while headphones do not.
For a podcasting setup, you could either buy headphones and get a mic separately, or buy a headset. Both would work, it just depends on your budget and how high quality you need the microphone to be.
Related: Top 10 Best Podcast Headphones
Can I Record a Podcast With a Microphone Headset?
Yes, you can successfully record a podcast using a microphone headset. A headset is perfect for those just starting a podcast, as it's an affordable, yet professional tool. Beginners don't need to spend hundreds of dollars on audio equipment, all you need is a great microphone headset and a laptop with audio editing software.
Do You Need an Extra Microphone If You Buy a Headset?
If you use any of the microphone headsets mentioned today, you should not need to purchase an additional microphone. All of these headsets perform very well in podcasting setups and pick up clean, coherent audio.
Of course, investing in an extra microphone will only improve the quality of your audio and thus your podcast. It also looks more professional to have an external mic in front of the speakers.
Are Headsets Good For Recording Audio?
Yes, headsets with built-in microphones do an amazing job at recording audio. This is because the microphone is very close to the speaker, while the headphones cancel noise and allow the speaker to hear themselves clearly.
Some external microphones will do a better job at picking up audio than a built-in mic, but this depends on the brand and your personal budget.
Can You Use A Gaming Headset For Recording?
Yes. Gaming headsets provide high-quality audio feedback and excellent microphones which makes them perfect for podcast recording. Gaming headsets can be a cheaper alternative to expensive recording microphones, but the microphone will not be as high quality.
Some people opt for a gaming headset, as well as an external microphone which also produces professional-quality audio.
Summary
To summarize, in this article we provided a buying guide for sourcing the best-quality microphone headsets for podcasting. We explained that the key factors to take into consideration before buying a headset are:
Comfort
Sound Quality
Preference of Open or Closed Headphones
Preference of Wireless or Wired
Price
We then listed 11 fantastic microphone headsets, all with different features and prices.
Our personal favorite headset has to be the SteelSeries Arctis 3. This is because it uses innovative noise-canceling technology, the earpads are designed to keep your ears cool even in hot studios, and it's one of the most affordable options on our list.
We hope that you have enjoyed learning about the different microphone headsets on the market.
Thank you for taking the time to read our article!
Related: Podcast Starter Kit