Are you looking for the best podcast production agencies to help you create your next hit show? Look no further! This article will outline the fifteen best companies in the industry and what sets them apart from the competition. So, whether you're just starting in podcasting or a seasoned pro, these production companies will help you take your show to the next level!
Related: Top Marketing Agencies for Small Businesses
Fifteen Best Podcast Production Companies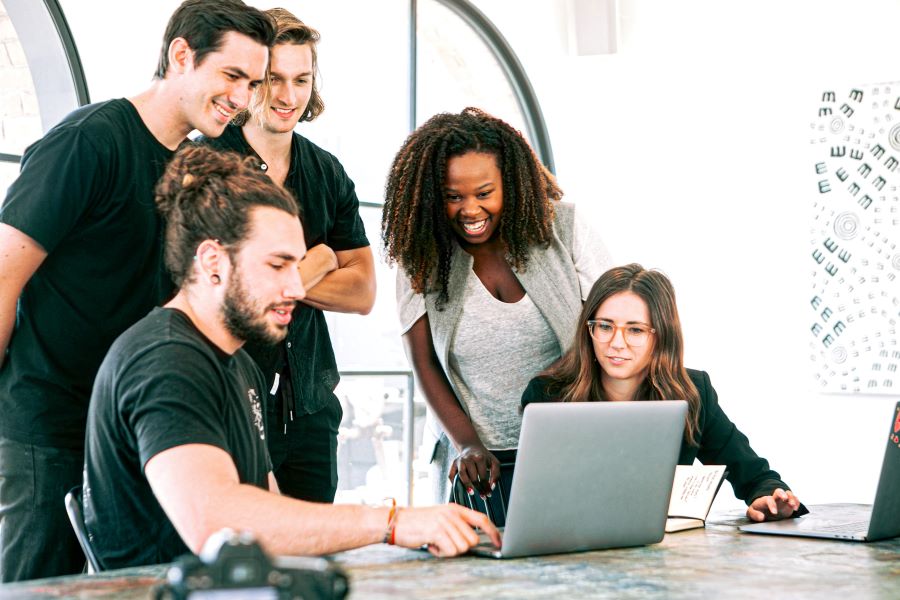 Choosing a podcast production company is a bit like choosing a partner. You want someone compatible with your vision, price point, and overall aesthetic. So, we recommend shopping around to get a feel for the market. And that's where this list comes in handy. Below, we've rounded up the top fifteen full-service podcast production companies & agencies, each with its production process and offerings. So, take your time perusing the list and get in touch with 3 or 4 companies that meet your ideal budget and price. Once you've done that, you'll be one step closer to finding the podcast company of your dreams.
Related: Start a Podcast People Will Listen To
1. Cue Podcasts
Cue Podcasts is an award winning, full-service production agency (based in Manchester, UK) that specializes in giving brands a voice – balancing creativity, collaboration, and technical excellence to reach desired target audiences. Having only established themselves in 2021, they've already produced a number of chart-topping shows for a range of ambitious brands – including Roc Nation, Samsung, SailGP, Dogs for Good and Halifax.
Unique Approach:
The Cue Podcasts team is made up of writers, creatives, and producers who have all mastered what it takes to create resonating audio. The first thing they'll do is work with you to gain a solid understanding of your existing audience, goals, and brand to develop initial concepts and themes. They'll also carry out audience research, format development, business goal alignment, content mapping, artwork creation, and host sourcing.
Once the concepting phase is complete, the team will assist and direct you while you record – whether on-location, or remotely over video link. You'll also be assigned a dedicated producer, who'll take care of all the audio mixing, mastering, sound design, show notes creation, and recording equipment.
Then, once your episodes are edited, they'll distribute them to all the major players (including Apple and Spotify) via their super-fast hosting platform. And after launch, they'll help maximise your reach with a tailored marketing strategy across social channels, web content, and email (including audiograms, social posts, blog posts, paid ad campaigns, and more).
Lastly, they'll keep you updated with how your podcast is performing, with weekly analytic insight reports.
Pricing:
Bespoke pricing, but most customers pay between $2000-$4000M per month
Happy Clients:
Dogs for Good
MORE THAN insurance
Centre for Public Impact
Apolitical
Utopia Music
The Stack World
SailGP
The University of Manchester
Dyneema
StepOne
Vince Cable
VICE
Famous Shows Produced:
Paws to Talk
The First Three Years
Reimagining Government
Fair Pay for Every Play
Good for a Girl
Deep Dive
Productivity Puzzles
Moments That Matter
Greg Does S**t Different
Cable Comments
2. Beacon Digital
Beacon Digital is a full-service digital marketing agency that specializes in helping businesses get their message out there through the power of podcasting. They offer a wide range of services, all of which are reasonably priced and can be customized to meet your specific needs and are well known for their exceptional customer service.
Beacon Digital Marketing is the perfect solution for companies seeking help with their inbound and account-based marketing efforts. Also, Beacon Digital Marketing offers a monthly retainer service that makes it easy to budget for your marketing needs. So, whether you're just getting started with podcasting or are looking to take your show to the next level, Beacon Digital can help you reach your goals.
Unique Approach:
Beacon's unique approach is its focus on quality over quantity. Unlike many other agencies that take a "spray and pray" approach to digital marketing, Beacon takes the time to understand its client's needs and objectives and develop customized strategies tailored to meet those goals. As a result, Beacon has a proven track record of producing high-quality results for its clients.
Pricing:
Beacon Digital has three paid plans:
Starter: $8,500
Growth: $14,000
Enterprise: $22,000
Happy Clients:
HubSpot
LinkedIn
Google Agency
WP Engine
3. Content Allies
Content Allies is the best podcast production company for B2B companies who want to create engaging content. The production team members have a wealth of experience creating content in highly technical fields. They are also known for their attention to detail. Content Allies has over eight years of experience in podcasting and knows the ins and outs of the space. This company can help you create a high-quality podcast that will engage your audience and help you achieve your business goals.
Unique Approach:
The Unique Approach is that Content Allies only works with businesses ready to produce high-quality, engaging content that will attract and retain customers.
Pricing:
Average $4,000 per month
Happy Clients:
Meta
Alibaba
Siemens Energy
Gusto
Skanska
Ironclad
First Business Bank
Tonkean
Sample
Famous Shows Produced:
Leaders of B2B
Startup Happy Hour
The Unstoppable Podcast
Rethinking Supply Chain
Illuminate Higher Education
Subscriptions Scaled
4. Fame
There's no question that Fame is the best B2B podcast production company. The company has a team of experienced experts that have successfully launched and grown hundreds of B2B podcasts. These podcasts have not only made their hosts famous, but they've also helped to grow their businesses.
Fame is a full-service podcast company that promises to make you famous. And they deliver on their promise. So how do they do it? By creating unique content in your niche and then positioning you next to other famous people in your niche.
With Fame's help, you can take your business to the next level by launching a successful podcast that will make you and your company famous. So, if you're looking to launch a podcast for your company or want to become more prominent, Fame is the company for you.
Unique Approach:
Its unique approach is having a team of highly experienced and skilled professionals.
Pricing:
For a monthly fee of $1,200-$4,000, they'll provide brand strategy, design, guest acquisition, production, editing, and promotion.
Famous Shows Produced:
Knowledge Ninjas
Mobile Growth & Pancakes
Sales Ops Demystified
5. Quill
Quill Podcast is the latest entrant into the crowded field of podcast production companies. Quill Podcast offers a full range of services, from hosting and distribution to editing and marketing.
Quill is a full-service podcast agency that helps businesses launch and grow their podcasts. Founded in 2019, Quill has already made a name for itself in the industry, acquiring podcast production agency Origins Media Haus in its first year of operation. Quill offers a complete range of services, from podcast ideation to distribution and audience growth.
Unique Approach:
They have developed a unique approach to podcasting that combines the best of both audio and visual media. As a result, Quill Podcast is quickly becoming one of the most popular podcast production companies in the business. In addition, its focus on corporate podcasts sets Quill apart from other podcast agencies.
Pricing:
You have to contact them for a custom price.
Happy Clients:
Microsoft
Expedia
PWC
Loom
SickKids
EQ Bank
The Globe and Mail
Away
Field Trip
Heart&Stroke
6. Burst Marketing
If you are looking for a reliable marketing firm offering top-notch podcast production services, look no further than Burst Marketing. They have a solid track record of delivering results for their clients, and their podcast production services are second to none. Many companies have tried and tested their services, and they can attest to the quality of their work. If you want your company to produce a great podcast, you should think about them.
They create, produce, publish, and promote professional podcasts for businesses and non-profits. So, whether you're looking to launch a new podcast or take your existing show to the next level, they can help. And because they're based in the US, they understand American audiences and culture. So, if you want to reach people beyond your immediate community, Burst Marketing is a great option.
Unique Approach: Its unique approach is that they don't just produce podcasts; they also market them. They understand that for a successful podcast, it needs to be both well-produced and well-promoted. That's why we offer a complete package of services that includes everything from recording and editing to distribution and marketing.
Pricing:
Their prices are very reasonable – $150 per episode or $3,000 for an entire year of production.
Happy Clients:
Book Expo Podcast
Children's Hospital Colorado
Authors Studio
The Colorado Health Foundation
State Farm
Denver The Mile High City
Weil Healthy Living
The Case Foundation
Goodwill
iRead Non-Fiction
Dish Network
Heineken
Famous Podcasts Produced:
The Data Wranglers
Velocity of Content
Write-Minded
5 Trends in 5 Minutes
We Are Unstoppable
Litcast
Authors On Tour
Books On Tap
7. Lower Street
If you're looking for a podcast production company to help you tell your story, you need to check out Lower Street. Based in the UK, they've worked on thousands of episodes for companies of all sizes. From narrative-based shows to best-in-class interviews, Lower Street specializes in creating engaging content that will keep your listeners coming back for more. And because they work with both enterprises and startups, they can develop internal podcasts that help with onboarding and reinforce company culture. So whether you're just getting started with podcasting or looking to take your show to the next level, Lower Street is the perfect partner.
Unique Approach:
Lower Street is a podcast production company that offers more than just editing and distribution support. Their team of writers and producers research, write, script, and edit interviews to achieve the best production values possible. What separates them from the competition is their focus on quality over quantity. They believe each episode should be well-crafted and offer listeners something valuable. This philosophy has helped them attract some of the biggest names in their field, and they now produce some of the most popular podcasts.
Pricing:
You have to contact them for pricing.
Famous Shows Produced:
Secret Leaders
Technology Untangled
WFH Daily
WTF with Marc Maron
8. Sweet Fish Media
Sweet Fish Media is a leading provider of show production services. They have highly skilled and experienced professionals dedicated to making your show successful. From guest booking to show promotion, they will work with you to ensure that the broadest possible audience sees your show. With their knowledge and expertise, they will help you to create an unforgettable experience for your viewers. So, if you're looking for a company that can provide you with everything you need to make your show a success, look no further than Sweet Fish Media.
The company has become known for its high-quality productions and audio services. Sweet Fish Media has produced television and radio podcasts and provides general audio production services. In addition to their work in podcasting, Sweet Fish Media has produced several award-winning short films.
Unique Approach:
Sweet Fish Media is a media company with a unique approach: it focuses on producing informative and entertaining content. The company was founded by two media professionals who saw the need for quality, engaging content in an increasingly saturated market. Sweet Fish Media's mission is to produce content that educates, entertains, and inspires its audience. The company has grown rapidly since its inception, and its products are now available in over 100 countries. Thanks to its innovative approach, Sweet Fish Media has quickly become a leading voice in the media industry.
Pricing:
Most customers pay between $4,000 and $8,000 a month
List of Packages:
Sweet Package: Podcast Production – $2,000-5,000/month
Sweeter Package: Podcast Production+Content Marketing – $5,000-20,000/month
Sweetest Package: Podcast Production+Content Marketing+Thought Leadership – $20,000-40,000/month
Famous Shows Produced:
B2B Growth Show
Heroes of Healthcare
Smart bug.on tap
The Customer Experience Podcast
Sales Hacker
9. Relationary Marketing
Relationary Marketing pays attention to details and its commitment to quality. They know how to serve your goals with a branded podcast that will help you build credibility, recognize special customers, educate high-value prospects, and promote your big event.
They understand that your podcast reflects your brand, so they take the time to get to know you and your business. From there, they work with you to develop a concept that will resonate with your target audience. And finally, they handle all the production details, so you can focus on delivering an engaging performance.
Unique approach:
Their unique approach is set apart from the competition. Rather than simply producing a podcast, they focus on developing relationships with their clients. This allows them to understand their needs better and create a show that reflects their brand. In addition, their team is highly experienced and passionate about audio production. This ensures that every episode sounds polished and professional.
Pricing:
Please contact them for pricing
Famous Podcasts Produced:
Shift Talk
Brandcasting
Cybersecurity Sense
Techpreneurs
10. Motion Agency
Motion Agency is a video production company with a focus on podcasts. But they don't just produce podcast episodes – they also produce music videos, commercials, and more. Their client list includes some of the biggest brands and companies in their industry. So how do they manage to stand out from the competition? It's simple: they focus on more than just podcasting. This allows them to produce a higher quality product that resonates with their audience. And that's why Motion Agency is one of the most successful video production companies.
Unique approach:
Motion Agency has a unique approach that will help you engage your audience and deliver your message more impactfully. Motion Agency will work with you from concept development to post-production to ensure that your video is excellent and professional.
Pricing:
3 Packages
Creator: Bi-weekly podcast – $2,650 per month
Pioneer: Bi-weekly video podcast – $3,650 per month
Hero: Bi-weekly video podcast – $5,450 per month
11. Cashflow Podcasting
If you're an entrepreneur or business owner looking to start a podcast for your brand, Cashflow Podcasting is the perfect partner. With the entire strategy, setup, implementation, and post-production support, they'll help you get your podcast off the ground quickly and efficiently.
Unique Approach:
Cashflow Podcasting's unique approach is that they don't just focus on the technical aspects of podcasting but they also provide you with a dedicated Podcast Coach to help you grow your podcast. That's right; they provide you with a professional podcasting partner to guide you every step of the way. So, whether you want to start a podcast to grow a larger audience for your business or to share your expertise with the world, Cashflow Podcasting can help you achieve your goals.
Pricing:
Podcast Launching Program: $5,999
Podcast Partner Service: $1199 per month
Famous Podcasts Produced:
Financial Advisor Success
Weight Loss for Busy Physicians
The Brainfluence Podcast
12. Resonate Recordings
There are many things to consider when choosing a podcast production company. First, you want to find an affordable, affordable company with experience and a good reputation, and services that meet your needs. Resonate Recordings ticks all of those boxes and more. They are a full-service production company that can handle everything from recording and editing to publishing and distributing your podcast. And their one-click publishing feature makes it easy to get your podcast out there for the world to hear. Plus, you get a free microsite when you host your podcast with them.
They got the latest equipment, the most experienced engineers, and a passion for audio perfection. They also have a sense of humor, which comes in handy when dealing with challenging clients or frustrating technical difficulties. So whether you need help with editing, mixing, or simply recording your podcast, they can do it.
Unique approach:
They have a unique approach that resonates with listeners. They understand that each podcast is its own unique story, and they work hard to capture that in the recording. As a result, their podcasts are genuinely engaging and worth a listen.
Pricing:
You have to reach out to them for pricing.
13. Podcast Fast Track
Podcast Fast Track is the perfect partner for anyone looking to launch or grow a podcast. Their weekly podcast, podcast fiction, is packed with valuable insights and tips on all things podcasting. And their custom music and voice-over services are top-notch, ensuring that your podcast will sound professional and polished. But what sets Podcast Fast Track apart is their focus on building genuine relationships with their clients. So, they're not just looking to make a quick buck – they're genuinely invested in helping you achieve your podcasting goals.
Unique Approach:
Its unique approach is simple: they focus on delivering high-quality results rather than pursuing a one-size-fits-all solution. As a result, Podcast FastTrack has built a solid reputation for being a trustworthy and efficient partner.
Pricing:
Audio editing: $150 per episode
Show notes: $170per episode
Audio Editing + Blog Post: $310 per episode
Notable Podcasts They've Edited:
The Side Hustle Show
Negotiations Ninja Podcast
Solopreneur Money
14. Podcasts Engineers
If you're thinking about starting a podcast, you might be wondering what goes into making one. After all, it's not just about hitting the record and hoping for the best. A lot of behind-the-scenes work goes into creating a successful podcast. That's where Podcast Engineers come in. These professionals are responsible for everything from recording and editing the show to distributing it to your audience. In other words, they ensure that your podcast sounds its best and reaches as many people as possible.
They have highly skilled and experienced audio engineers who will ensure your podcast sounds excellent. They use the latest audio editing software and equipment to ensure that your podcast is of the highest quality. They also offer a wide range of services, from recording and editing to mixing and mastering. So whether you need help with just one episode or you're looking for a complete podcast production solution, they can help.
Unique Approach:
What makes this company different is that they don't just produce your podcast; they engineer it. They take your concept and, through the use of sound design, creating engaging intros and outros, and expert editing, they craft a final product that is truly special. And that's not all – they also offer a money-back satisfaction guarantee. So, if you're not happy with the finished product, you can get your money back. That's how confident they are in their abilities.
Pricing:
Four episodes, 30 minutes long per month: $199
Four episodes, 1 hour long per month: $249
Four episodes, 1.5 hours long per month: $299
Famous Podcasts Produced:
Simple Wholesaling
How to Be Awesome at Your Job
Food Marketing Nerds
15. Castos Productions
As any podcaster knows, the post-production phase can be a real pain. You've finally recorded an episode, and now you have to go through and edit it, add music, and do all sorts of other things that you're not interested in. That's where Castos Productions comes in. They specialize in streamlining the post-production phase so you can get your episode out as quickly as possible. And they stand by a 72-hour turnaround time, so you won't have to wait long.
Unique Approach: Their unique approach is set apart from the competition. Rather than trying to fit every show into a cookie-cutter mold, they work with each client to create a custom solution that meets their specific needs. This attention to detail has resulted in some of the most successful and popular podcasts.
Pricing:
Starter: $19 per month
Growth: $49 per month
Pro: $99 per month
Famous Podcasts Produced:
WP Builds
The Unmistakable Creative
Deviate
Conclusion
If you're looking for a podcast production company to help produce your next show, consider one of the companies on our list. Each has its strengths and weaknesses, so choose the one that best fits your needs. And if you know of other excellent podcast production companies not on our list, let us know in the comments below!
Related: How To Become A Podcast Producer