Are you tired of sifting through many online manuals looking for shock mounts that will perfectly fit your Rode PodMic? Do you need a shock mount to go with your Rode PodMic in the first place? As much as the PodMic ships are already fitted with an internal shock mount, you'd want to take that information with a pinch of salt.
You may love the sound quality the microphone delivers but in most cases, you need to be seated on a perfectly-still table and make no body movements. You would not want to dilute a perfect recording just because you happened to type something on your keyboard while recording.
There are plenty of sounds and destructive taps that inbuilt shock mounting may not filter out. This is why you must buy a shock mount to accompany your Rode PodMic or any other podcast mic.
Most of the shock mounts you will find were designed to mount on boom poles, but very few are compatible enough for podcasting. Your podcasting microphones would simply not fit on most conventional shock mounts.
You can find some bargain shock mounts that fit podcasting microphones of varying diaphragm diameters. Here are some recommended shock mounts that you should not miss.
Related: 5 Best Microphone Arms for a Flawless Recording
Rode PSM1 for Podcaster
The Rode PSM1 shock mount is the reference point when looking for mounting accessories for a new Rode Podmic. In addition, the Rode brand specifically recommends the shock mount.
It does a good job isolating vibrations and external disturbance, which microphones usually pick up as intended low-frequency sounds.
If you podcast from a surface or location where there is a lot of vibration or group interaction, this would be a good addition to your booth.
It is sturdy, lightweight, and well adapted to common desktop movements and trembles from equipment fans and nearby traffic. However, it does not tip over under slight nudges.
Pros
Easily repositions without microphone interference.
It rotates 360 degrees.
It easily connects with a boom arm.
Cons
It blocks some microphone buttons.
Boesen Spider Shock Mount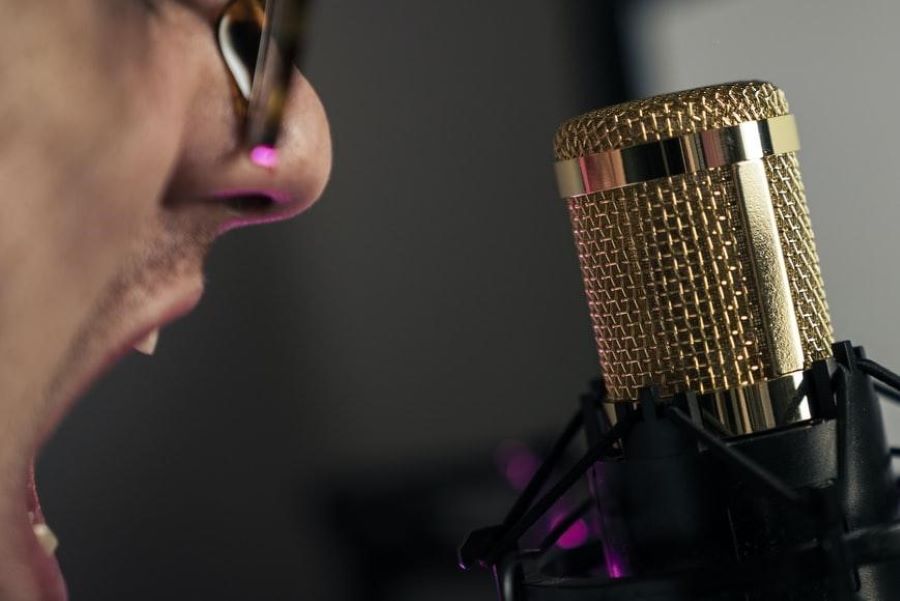 This trendy microphone shock mount protects condenser microphones from strong vibrations and surrounding noise. The Boseen spider shock mount serves music recorders, podcasters, and broadcasters who want audio that sounds better.
Even though it is perfect for podcaster microphones, you can use many different types of microphones. The spider shape and the 4 different attachment screws make it compatible with different microphone shapes.
With all the detail that goes into constructing its frame and having the swivels at the right places, it broadens the application uses. It also looks great when your voice recording also needs visual presentation.
Pros
The spider shock mount is beautifully built.
It has an all-metal frame.
It provides a convenient rotation mechanism.
Cons
It is more suitable for condenser microphones that have threads.
Gator Frameworks SM1855 Universal Shock Mount
The superior Gator Frameworks universal shock mount has the capability to mount small and large-diameter microphones.
If getting the perfect fit for your microphone has always been the biggest issue when selecting shock mounts, the GFW SM1855 will fix most of your problems. With its size and flexibility, you can use it in a recording booth, studio desk, or on a drum kit.
This microphone shock mount does not only have an impressive nest for your mics, but it has a design that securely supports a pop filter.
You would not have a problem moving it around while trying not to mess up with the recording. The latches holding the pop filters balance well with the rest of the mount design.
Pros
The frame has tastefully padded clamps that will grip most microphones well.
The twist and adjust feature will hold up between 18mm and 55mm microphones.
The flex arm positioning gives you limitless options to point your microphone.
Cons
For heavier microphones, suspension booms are not advisable.
Rode SM6 shock mount
A Rode SM6 shock mount doubles up as a suspension mount and a desktop shock mount. It is especially recommended for microphones that fall in the large-diaphragm end of the spectrum.
Eventually, its pristine design eliminates external noise from physical movement. In addition, it does away with any slight rumbling from the operating environment. The SM6 has a detachable pop filter and adjusts to two orientations.
Unlike other shock mounts from Rode, the SM6 can be used on plenty of microphone brands as long as they fit the right dimensions. You will not struggle adjusting the pop filter or removing it just to fit in a microphone.
It still has a solid build even with the adjustable pop filter. That is a plus because some shock mounts experience a decline in recording quality when the filter is adjusted to some angles.
The Rode SM6 stays a foot above the competition because of its duality in suspended and desk configurations.
LYRCRO Universal shock mount
LYRCRO gives extra effort when it comes to strength and structural quality. For example, with the LYRCRO universal shock mount, podcasters can get quality metal mounts that still have highly elastic harnesses for the microphones.
LYRCRO universal keeps vibrations at bay and filters out noises from your recording sessions. Its design accommodates microphones ranging from 44mm to 48mm, which is ideal for most condenser microphones. It still has a high-grip clip if you want to hold anything larger than the prescribed size.
Pros
The microphone shock mount is ideal when the microphone has to be moved a lot.
Its compact structure looks good on the camera.
The foam inserts are elastic enough for a wider range of microphone sizes.
It does not require complex assembly.
Cons
It is not suitable for extremely large microphones.
Related: Noise Gate Hardware: Do I Need Noise Gates for Podcasting?
Conclusion
One of the hardest parts of shopping for the right shock mounts is the uncertainty regarding whether they will fit your microphones. Even while digging through forums, the questions about fit are hard to answer.
Having shock mounts that are compatible with many microphone designs and sizes saves you a lot of trouble. Instead, choose universal shock mounts with the right noise reduction features for your recording needs.
Related: Do I Need a Pop Filter for the Rode PodMic? and The Best Desk Stands for Rode Podcaster