Are you looking for a smartwatch designed for listening to podcasts? Technology advancements have made it possible to find an excellent device that allows you to listen to podcasts on the go without missing a beat.
Whether you're a die-hard podcast enthusiast or just getting started, finding the perfect smartwatch is the key. We've done all the research for you, providing recommendations for the best smartwatches available today—optimized for podcast streaming!
Keep reading as we cover its essential features and capabilities like audio quality, display resolution, memory storage capacity, battery life, customization options, and more.
Related: What To Do While Listening To A Podcast
Advantages of Listening to Podcasts on a Smartwatch
Listening to podcasts on a smartwatch brings a world of opportunity for those with an active lifestyle. Smartwatches are conveniently designed for music streaming services like Spotify or Apple Music.
It's now possible to access thousands of podcasts featuring news, entertaining stories and helpful advice from any location at the touch of your wrist – no smartphone needed.
As well as being convenient, many smartwatch podcast apps provide additional features such as playback speed adjustment and the ability to save episodes for offline listening.
With its easy-to-use interface and convenience, listening to podcasts on a smartwatch has many benefits. Let's have a look at some!
Improved Health
Wearing a smartwatch with personalized settings designed to play offline music and audio files offers the possibility of improved health by walking 45 minutes a day to listen to podcasts.
With improved heart health, lower blood sugar levels, reduced joint pain, and an increased immune function, all likely result from regular physical exercise, the benefits are plentiful and accessible to all.
Additionally, if you're looking to improve your strength or speed while having fun at the same time, invest in a sports watch and connect Bluetooth headphones for an extraordinary listening experience.
Related: Is It Bad To Listen To Podcasts While Sleeping?
Handy Accessibility
Podcasts offer convenient accessibility with streaming music and streaming apps on a smartwatch.
Most streaming apps provide users with abundant music features, such as a personalized music player, offline support, and recommended tunes. Listening to podcasts is much more feasible than streaming shows or movies while strolling.
Podcasts motivate and ignite new ideas within listeners while also providing entertainment; it's like having your librarian at your fingertips, giving you access to valuable knowledge from a variety of topics including but not limited to entrepreneurship, marketing, science, travel, and comedy–the possibilities are endless.
A smartwatch is perfect for accessing podcast content and taking advantage of all its wonders.
Related: 40 Best Podcasts You Need to Listen to
Free of Cost Content
Podcasts have quickly become a go-to source for podcast lovers looking for free entertainment and education.
With the ability to stream hundreds of hours of audio programs directly to your smartwatch, podcast fans can enjoy the convenience and benefit of having access to an entire range of exciting content without spending a penny.
These podcast episodes aren't just limited to entertainment programs; they also offer news, politics, and other educational audio, such as lessons and inspirations.
Also, smartwatches include additional health-oriented features like sports tracking, which will also help podcast listeners stay physically fit!
Related: Good Cross Fit Podcasts to Listen To
Reduced Screen Time
Listening to podcasts on a smartwatch is becoming a more popular way to consume content, with research studies indicating that the brain is more active when listening than watching television.
Smartwatches provide other extensive benefits such as GPS and music playback, meaning it is possible to double up as a running watch in addition to streaming one's favorite music apps on extraordinary battery life and reducing screen time and eye strain.
With access to multiple conversations on various topics, users can build upon what others have said, learn from their experiences, and gain knowledge from others along the way.
Related: Does Listening To A Podcast Count As Screen Time?
Enhanced Imagination
One of the benefits of listening to a podcast on a smartwatch is enhanced imagination because podcasts stimulate mental imagery more than watching or reading.
When someone listens to a podcast on their smartwatch, it allows them all the capabilities to give the content their full attention since all the other features, such as streaming music, checking notifications, and music files, take a backseat.
It also compels its listeners to use their imagination and form pictures in their heads based on what they hear – this makes people who listen to podcasts develop a more robust imagination and use it more effectively.
Better Listening
Listening to podcasts on a smartwatch has become a prevalent activity for OS devices such as the Apple Watch.
Not only does it provide a unique platform wherein we can listen to the latest and greatest multimedia content, but it can also serve as a solid performer for playing already stored music and so on.
Moreover, podcasts help us become better listeners and understand how different topics work – they stimulate other parts of the brain that encourages active engagement with whatever material we are listening to, offering an excellent endorsement for simply tuning in.
Another benefit of listening to podcasts on OS devices is that it can quickly be done even when you don't have a lot of time – its comprehensive storage capabilities make it easy to access all your favorite programs in just a few clicks.
Related: When is the best time to listen to podcasts?
Best Smartwatches for Podcast Listening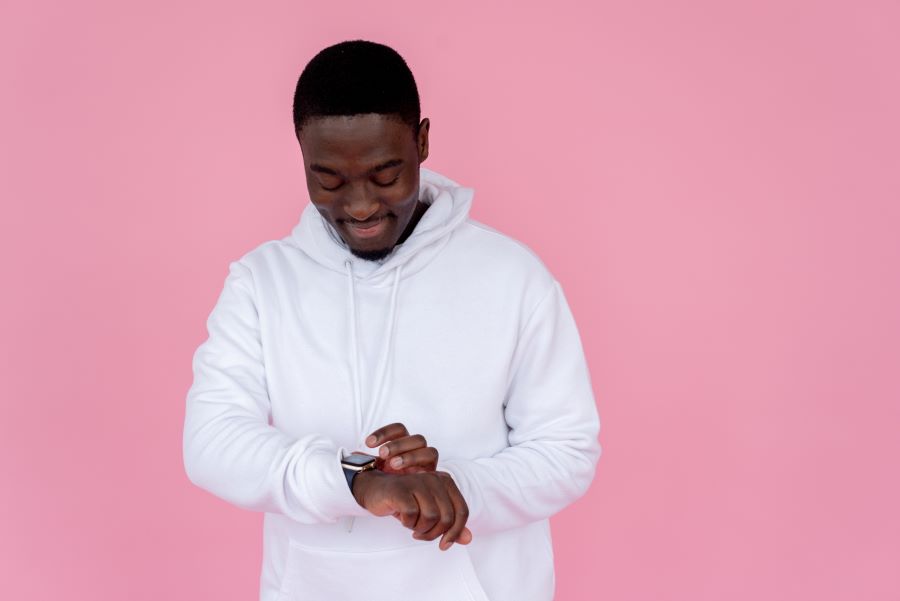 For podcast enthusiasts looking for the best smartwatch to fit their needs, the Apple Watch and Wear OS offer top-of-the-line features. Wear OS works with both Android phones and Apple Watch as well, so no matter what phone you have, you'll be able to download music and other digital media from your smartwatch.
Thanks to new technology and innovation, listening to your favorite podcasts has never been easier!
Let's take a dig at smartwatches and their intelligent features for improved podcast listening!
Fitbit Versa 3
The Fitbit Versa 3 has earned its spot on our list of premium smartwatches for podcasts and music because it supports streaming apps like Spotify, Pandora, and Deezer.
It features an impressive battery life and 4GB of internal storage to store the podcast episodes you downloaded directly from the various apps.
The Versa 3 makes listening to podcasts on the go more accessible than ever. With its 6+ days battery life, there's no need to worry about looking around for an outlet or lugging a charger everywhere. Instead, you can enjoy a good amount of podcast time without worrying about charging the device often.
This watch gives excellent convenience and portability, allowing you to take it anywhere with you! The Wear OS also makes it possible to keep track of your calorie and step count while monitoring your sleep quality.
And connecting the Versa 3 to Samsung Health gives users a better understanding of their overall health.
Specifications
Display – 1.58″, AMOLED, Touchscreen
Operating system – 1.58″, AMOLED, Touchscreen
Compatibility – iOS & Android
Storage – 4GB
GPS – Yes (built-in)
NFC – Fitbit Pay (Yes)
Water resistance rating – Up to 50 meters
Battery life – Up to 6 days
Things to Like in This Watch
Good grade for water resistance
Long-lasting battery
It comes at a reasonable cost
Includes a variety of apps
Compatible with iOS and Android mobile platforms
Things to Not Like in This Watch
Apple Watch Series 6
Apple Watch Series 6 is Apple's latest and most advanced smartwatch, designed for lovers of both podcasts and audiobooks.
Featuring a crisp display that reaches 1000 nits of brightness and quick wireless charging capabilities, this watch provides the perfect mix of modern technology and convenience.
However, due to the high price, which may be too steep for some budgets, it is better to consider older versions or cheaper alternatives.
Apple Watch Series 6 allows users to do more with their watch than ever. With features like Apple Music, Spotify, and Apple Pay built-in, this device offers a seamless connection between all apple devices.
Also, as it works indoors and outdoors, it's favorable for people who are always on the go. So whether you're a podcast lover or an audiobook enthusiast, Apple Watch Series 6 has you covered!
Specifications
Display – 1.78″ (Sapphire crystal glass), OLED Touchscreen, 1000 nits, 448 x 368 pixels
Operating System – watchOS 7.0
eSIM – Yes
Storage – 32GB & 1GB RAM
GPS – Yes, GLONASS, QZSS, GALILEO
NFC – Apple Pay (Yes)
Water Resistance Rating – Up to 50 meters
Battery Life – Up to 18 hours
Things to Like in This Watch
Wireless charging
HD resolution
Classic look
Things to Not Like in This Watch
Fossil Gen 5
With 8GB internal storage, Fossil Gen 5 is undoubtedly the right watch for streaming your favorite music and podcasts.
It works seamlessly with Android and iOS and can even connect to Bluetooth headphones.
Thanks to its intelligent notification feature, notifications such as texts and calls won't go unnoticed either.
Unfortunately, for those looking for a swimming companion watch, the Fossil Gen 5 could be better, as it only supports water pressures up to 30 meters.
Despite this, it's still an excellent choice for everyday wear, with showers and splashes not posing any threat.
Specifications
Display – 1.28″, Touchscreen
Operating System – Wear OS
Compatibility – Android & iOS
Storage and Memory – 8GB & 1GB RAM
GPS – Yes
NFC – GPay (Yes)
Water Resistance Rating – Up to 30 meters
Battery Life – Up to 24 hours
Things to Like in This Watch
Includes enough inbuilt storage
Efficient music control
Touchscreen
Resistant to water up to 3 ATM
Smart notifications
Things to Not Like in This Watch
Samsung Galaxy Watch 3
Samsung Galaxy Watch 3 comes with all the features and capabilities desired in a watch.
With 8GB storage, users can easily store apps such as Poddy or Das Podcast to download audio and video content for offline viewing and listening.
Samsung Galaxy Watch 3 also provides text messaging, calling, Samsung Health tracking, and a battery that runs up to two days after a full charge.
It is specifically designed for swimmers and is waterproof, featuring protection up to 164 feet underwater.
With this watch, you will have access to all of the features mentioned above, as well as detailed exercise stats and accurate gauging of swimming performance.
Additionally, if you're a keen swimmer who wants a watch that offers reliable data, this model could be the ideal choice.
This smartwatch can offer peace of mind while also offering biometric monitoring, activity tracking, wireless syncing, and much more – giving you real-time updates during each swim.
Samsung Galaxy watches are thus robust yet simple tools that have it all covered. You can take your tracking capabilities to the next level with this smartwatch.
Specifications
Display – 1.4″, 360 x 360 pixels
Operating System – Tizen OS
Compatibility – Android & iOS
Storage & Memory – 8GB & 1GB RAM
GPS – Yes
NFC – Samsung Pay (Yes)
Water Resistance Rating – Up to 50 meters
Battery Life – Up to 2 days
Things to Like in This Watch
Includes external speakers
LTE features
Lightweight
It has a high-end design.
Things to Not Like in This Watch
Apple Watch Series 7
Apple Watch Series 7 is one of the best smartwatches for podcasts and iPhone users. Its comfortable, removable bands make it an ideal watch choice for people who prefer a wearable experience.
This watch makes it convenient by allowing music streaming services like Deezer, Apple Music, and Spotify to be synced as podcasts or offline music. Also, Apple Watch can deliver up to 18 hours of battery life with a full charge – making it a great companion whenever you need it during your day-to-day activities.
The recent improvements from last year's version take care of performance, charging speed, and display size with no compromise in quality.
On top of this, the watch has fitness features, GPS tracking, and a catalog of OS apps available to customize according to your needs.
Specifications
Display – 1.9″, Touchscreen
Operating System – WatchOS 8.0 (upgrades t0 8.3)
Compatibility – iOS only
Storage & Memory – 32GB & 1GB RAM
GPS – Yes
NFC – Apple Pay (Yes)
Water Resistance Rating – Up to 50 meters
Battery Life – Up to 18 hours
Things to Like in This Watch
The display is somewhat larger.
It charges quickly.
Retina and the always-on display are suitable for podcasts and music.
Suitable storage space
Waterproof
Things to Not like in This Watch
Only Apple devices are compatible with the smartwatch.
Apple Watch Series 5
Apple Watch Series 5 is a popular OS device in the market, offering an intuitive OS experience, a digital crown, and an excellent touchscreen display to control everything.
This OS device features a GPS mode; hence, you can use it without your iPhone, and it offers good battery life.
You can also access the watch's various health and fitness features that make it reliable enough to monitor and record your health data over time.
The Apple Watch Series 5 is also outstanding for listening to podcasts as you can add them on the watch app, subscribe to shows and sync specific podcasts without hassle.
It comes with an Always-On Retina display, so you never have to pause to check the time or essential information.
The optical heart sensor can also track your heart rate and alert you to increases and decreases in your heart rate with accuracy.
Apple has also included a built-in rechargeable lithium-ion battery that offers up to 18 hours of battery life and water resistance up to 50 meters.
One of its most attractive features is the Built-in cellular which allows you to stay connected even when you're away from your phone by sending texts, making calls, and checking emails.
It can be challenging to stay up-to-date on all your favorite podcasts while juggling a busy schedule. However, you can take plenty of steps to ensure that the episodes of your chosen podcasts are synced to your Apple Watch.
To do this, start by opening the Apple Watch app on your iPhone. Then tap My Watch and select Podcasts. From here, you'll find the option customized where you can turn on the stations and shows what you would like to sync with your watch.
To locate the podcasts downloaded to your Apple Watch, open the Podcasts app and tap Library. You can find the Downloads tab, which will list all the content you've saved for offline listening. With just a few taps, you'll easily access all your favorite podcast episodes without needing to search far and wide.
All these features combined allow users to tailor their OS experience to their lifestyle needs, making the Apple Watch Series 5 an ideal OS device for anyone looking for a dependable OS companion.
Specifications
OS – Watch OS
Compatibility – iOS 12.0+
Display – 1.78 inches, OLED, Touchscreen, Digital Crown
Internal Storage – 32 GB
Water Resistance Rating – 50m
Battery Life – 18+ hours
GPS – Yes
Things to Like in This Watch
Built-In Compass
Always-On Feature
New Watch App Store
Includes all The Bells And Whistles
Things to Not Like in This Watch
Expensive
Poor battery life
Apple Watch SE
With the run-wear OS technology, the Apple Watch SE will provide you with smartphone notifications and let you run third-party apps. Though it may need some features compared to the Apple Watch 6, this watch still comes at an attractive price that will stay within your budget.
You can stream podcasts, music, and audiobooks on multiple platforms while receiving health and fitness tracking tips and heart rate information.
Training features like Emergency SOS and Fall Detection will also ensure your safety.
This timepiece is the perfect watch for an active lifestyle and is great for taking to the pool. Water resistant up to 50m depths and shockproof, it's made with robust materials that withstand any activity or environment.
With a battery survival of up to 18 hours, you don't have to worry about charging it repeatedly, making it an ideal accessory for a day at the pool.
Comfortably fitting onto your wrist and working with your favorite sports activities, this ultra-light watch promises ultimate convenience and great functionality.
All in all, the Apple Watch SE is sure to exceed your expectations for a budget-friendly smartwatch.
Specifications
OS – WatchOS 7.0, upgradable to 8.3
Compatibility – iOS
Display – 1.78 inches Retina LTPO OLED
Internal Storage – 32 GB
Water Resistance Rating – 50m
Battery Life – Up to 18 hours
Built-in GPS – Yes
Things to Like in this Watch
Podcast and music storage capacity
Advanced fitness and health tracker
Things to Not Like in This Watch
Weak sleep-monitoring feature
Screen does not remain on all the time
Garmin Fenix 6
Garmin Fenix 6 is the perfect watch if you're looking for an outdoor running watch with music and podcast capabilities.
Compatible with both iOS and Android smartphones, Garmin Forerunner 5x Plus allows you to play music and podcasts through popular streaming apps, including Spotify, Deezer, and Amazon Music.
Garmin Coach can help you set training plans and give personalized advice too.
Garmin Fenix 6 gives you the added benefit of downloading your favorite songs and playlist directly to your watch through its premium subscription.
Without having to connect to your smartphone, you can control the music playback on the Garmin Fenix 6 watch as well!
The watch provides multi-GNSS support with access to the global navigation satellite systems such as GLONASS, Galileo, and GPS to track performance in any environment.
Users can also enjoy ABC sensors, Pulse OX sensor for respiration tracking, expedition mode for long trips, Topo and Ski maps for outdoor activities, or round trip routing for traveling purposes.
Turn-by-turn navigation is also included for convenience, which, together with the built-in acclimation mode, serves as a guide during different weather conditions.
The watch also meets US military standards for thermal shock and water resistance while being made of premium materials to avoid scratches caused by extensive usage over time.
The watch provides 10 hours of battery life in GPS mode, 48 days in a battery-saving way, and 14 days in smartwatch mode, so your smartwatch will always be with you when you need it.
Therefore, Garmin Fenix 6 trumps many other watches in its ability to provide music and podcast features without compromising on extra features like compatibility or customizability.
Specifications
OS – Proprietary OS
Compatibility – iOS and Android
Display – 1.3 inches, Transflective (MIP) LCD
Internal Storage – 32 GB
Water Resistance Rating – 100m
Battery Life – Up to 14 Days
Built-in GPS – Yes
Things to Like in This Watch
Instantly downloads music and podcasts to its storage
Brand-new, incredible fitness, outdoor, and health functions
Long battery life
Comfortable to put on
Things to Not Like in This Watch
Connect IQ store still needs to be more comfortable
No new functionality over Fenix 5 Plus
Garmin Venu
Garmin Venu uses the Podcasts app, enabling you to easily install apps from Garmin Connect IQ without any external service or subscription.
You can download your favorite podcast episodes and sync offline, allowing five days of battery life before recharging.
Also, you can keep up to date with the most recent updates, organize your queue and resume listening from where you left off.
Plus, with 500 songs of built-in storage space and access to streaming platforms like Spotify and Deezer, playlists are a given, not to forget its bright AMOLED display for maximum attractiveness and style.
This watch also has reliable health features for tracking your steps, sleep, stress levels, and heart rate. The Garmin Fenix watch is excellent for fitness and health tracking.
It has premium features like excellent sleep tracking, respiration, and energy level monitoring.
With a five-day battery life overall and up to six hours in music and GPS mode, you can be sure that your watch will have adequate power regardless of your activities.
These features promise a stylish experience while giving great all-day health monitoring benefits.
Specifications
OS – Garmin OS
Compatibility – Both Android and iOS
Display – 1.2 inches, AMOLED, Touchscreen
Internal Storage – 4 GB
Water Resistance Rating – 50m
Battery Life – 5+ days
GPS – Yes
Things to Like in this Watch
Has a podcast app
Includes 500 songs in built-in storage
Supports Spotify
Tracking that's relatively precise for a smartwatch
Things to Not Like in This Watch
Touchscreen can be troublesome at times
Characteristics of Vivoactive 4 are present in this smartwatch
Expensive
Limited 3rd party app support
No advanced sports functions
No barometer or altimeter
How Do You Listen to Podcasts on a Smartwatch?
Download the Podcasts App
If you want a convenient way to listen to podcasts, downloading the Podcasts App on your smartwatch is just the thing! Whether you're out for a jog or in the middle of a busy day and don't want to be tethered to your phone, having quick access to podcasts through your smartwatch couldn't be easier.
The App's unlimited resources will give you endless content and something suitable for everyone—search, click and enjoy! In addition, because the podcast streams from your watch, it won't take up storage space as a mobile device might.
Tap Three Vertical Dots
Open the App on your phone, search, and tap three vertical dots in the top right corner. After that, choose 'Send To Apple Watch' and wait until it transfers over before playing.
Settings
Head into settings within the App and look for the 'listen with Apple Watch' section. Here you will find instructions on listening to any podcast listed in iTunes from your Apple Watch. You can also toggle 'sync podcast,' which allows you to transfer over the top three shows you are subscribed to, making it quick and hassle-free to get up and running.
Automatic Downloads
Click on automatic downloads in settings and listen to your favorite shows right from your wrist. This feature is incredibly convenient and allows podcast lovers to stay up-to-date with new episodes without manually downloading them each time.
Select Your Smartwatch
To start, open the Podcasts App on your device and select your preferred smartwatch option. It's as easy as that – you'll then be able to access all of the podcast's features and content directly from your watch.
Pick a Podcast
With the App, it's possible to control your podcast library directly from your smartwatch, helping you multitask while still being able to listen. The App seamlessly synchronizes with your other devices to pick up where you left off.
Things to Consider When Buying a Watch for Podcasts
When looking for the correct type of watch to listen to podcasts, there are a few factors to consider. Choosing the appropriate smartwatch to play podcasts is essential for those serious about podcasting and music streaming. Here is how you can do it.
Operating system
Checking the operating system of your smartwatch is key in determining if it is compatible with your smartphone.
Many smartwatches feature an Apple watch operating system and are limited to iPhones. Still, some models, such as those powered by Google Wear, open up music streaming apps on devices like Huawei, Fossil, and LG – increasing the range of products you can connect with.
Whether you are looking for a music companion for runs or want access to various music streaming programs, ensuring your smartwatch will work with your phone first is essential.
Design
There are many different options in the marketplace for buying smartwatches.
You can save money by buying industry-leading brands and tailoring your smartwatch to your design preference. Many watches are made from an array of materials, including titanium, plastic, and aluminum, so no matter what look you desire, you can indeed find a watch that fits your style.
Smartwatches have become a trend in every shape and size, so there's something perfect to match any individual's lifestyle.
Display
When selecting the display for your smartwatch, the two most common options are LCD and OLED displays.
Overall an OLED display is a better choice if you are worried about color accuracy. OLED displays provide deeper blacks, more vibrant colors, and support for offline audio playback.
If clarity, color depth, contrast, and sound quality are essential criteria for selecting a smartwatch's display, then an OLED display should be the preferred choice.
The resolution of the display and whether it is touch sensitive are factors that need consideration.
Fitness Features
When looking to purchase a smartwatch, it's essential to take into account its fitness features.
Many smartwatches contain built-in programs to help you track your activity and keep up with your fitness goals, including calorie trackers and step counters.
Furthermore, some more advanced watches feature sensors that can measure your heart rate and offer other functions, such as daily reminders and notifications. Hence, you stay on track with any insights into your health.
When considering a watch for tracking physical activity, be sure to weigh all of these options against one another for maximum effectiveness.
Battery Timing
When selecting a smartwatch, it is crucial to weigh the better battery life of one model against another.
A watch with better battery life can be especially beneficial when listening to podcasts. The longer its battery lasts, the more time you can spend communicating or enjoying content without interruption.
Additionally, consider how much time it takes for the device to charge and ensure that amount is acceptable. It is vital to check these two components – better battery life and charging time – before purchase to get value for your money and a watch that meets your individual needs.
Is It Possible to Download Podcasts on a Smartwatch?
Smartwatches have become an essential part of people's lives, and their rising popularity has seen a surge in interest in offline activities like podcast streaming.
While not all smartwatches are currently capable of offline music or podcast download, many recent models now offer offline sync and streaming tools that are useful for downloading podcasts to the watch's storage capabilities. With offline synchronization, users can access and listen to their favorite podcasts anytime, even offline – making it easier to stream the content anywhere.
How to Connect Headphones to Your Smartwatch?
Smartwatches have come a long way since their debut, and the newest models offer additional capabilities that make them even more convenient to use.
One of the most exciting upgrades is playing music, podcasts, and audiobooks without a smartphone connection. That allows you an effortless way to listen to your favorite tunes while jogging or going to the gym—leave your phone at home.
Connecting a pair of headphones so you can adequately hear your media is accessible, too; being Bluetooth-enabled makes it fast and simple to sync the two devices together. No added cumbersome cords or cables are needed!
Related: Top 10 Best Podcast Earbuds
Apple Watch
Setting up AirPods to work with your iPhone is uncomplicated: open the case near the device. Even better, once you establish that initial connection, AirPods are compatible with an Apple Watch connected to the same iPhone. There's no need to go through a setup process; open the desired App on your wrist and press play – you're ready to stream audio directly from your watch.
Whether you're out for a stroll or running errands, you can stay connected without relying solely on your phone.
Wear OS Device
Connecting your new Bluetooth headphones to your Wear OS smartwatch doesn't have to be a daunting task! While the process may vary slightly depending on the watch manufacturer, it's still generally similar across devices. First, make sure you have a pair of Bluetooth headphones and put them into pairing mode according to their instructions.
After doing so, open your watch's Settings app and select Connections, followed by Bluetooth.
The next step is tapping on the headphones on the screen—once paired correctly, you'll be ready to listen! Being able to stream music directly to your wrist has never been easier.
Fitbit
Linking your Bluetooth headphones to your Fitbit fitness smartwatch is simple. Depending on which generation of Fitbit you own, the process varies slightly.
For users of the models before Fitbit Versa 2 and Fitbit Versa 3, open the Settings App from the watch and choose Bluetooth, then Audio Device. After initiating a search for nearby devices, select your headphones from the given list for them to link up.
On newer models such as Fitbit Versa 2 and Fitbit Versa 3, access the Vibration & audio option in the Settings App before clicking Manage devices, followed by swiping up on the screen to initiate a search for new devices.
Garmin
Look no further if you want to enjoy your favorite tunes with a Garmin smartwatch.
Plenty of Garmin smartwatches offer unique designs and interfaces, so it's essential to check the box or the web for instructions on how to get started.
For instance, Vivoactive owners will need to press and hold the B button (lower right), then tap the settings cog icon, while Forerunner smartwatch users should press and hold the Up button (on the left).
And if you own a Fenix or Epix watch, you'll have to press and hold the Menu button (on the left), then select Music, Headphones, and Add New. With all these easy steps, you'll be rocking out in no time!
Conclusion
To conclude, when selecting a smartwatch for listening to podcasts, numerous features and factors exist to consider.
From battery life to sound quality to compatibility with your phone, you need to think through the specific feature set that best suits your individual preferences.
Ultimately, the best smartwatch for podcasts is the one that provides you with an enjoyable experience while also meeting all of your needs in terms of functionality and durability.
By considering all the necessary considerations and weighing up all the available options, you can be sure that you have chosen the proper smartwatch for enjoying podcasts on the go!