For anyone that's looking to build or grow a digital presence online— whether through a podcast, YouTube channel, or other types of digital medium— it's important to have the right type of equipment to be successful. Standard microphones on laptops or your mobile phone simply won't cut it.
Instead, you'll be looking at more professional-grade equipment such as ring lights to help with the lighting, high-definition cameras if you plan on producing video, and of course, the right type of microphone. Yet simply going out there and grabbing the most expensive microphone doesn't cover it; if you don't get the correct ancillary equipment as well, that won't maximize the benefit of such an investment.
Yet it's also important to note there are some things to consider. For example, when asking for the best XLR cables for microphones out there, there are a lot of XLR cable options for a variety of budgets, professionalism, and features. We'll make sure to provide a holistic approach to this and cover the suitable variety and choice of XLR cables so you can make an informed decision.
Related: The Best Microphones For Recording in Podcasting (2022)
Best Option for Starting Out
For those who are just entering the industry and paying attention to their starter budgets, there's a decent low-cost option. Not surprisingly, it comes from Amazon itself, through their Amazon Basics line. The Amazon Basics XLR Male to Female microphone pack is a decent low-cost option. With a variety of sizes from 3 feet to 50 feet, they have a great price for those that are looking at their two-pack options.
They are also quite a quality option that is surprisingly durable with their 6mm PVC jacket. They have the standard three pins to help carry audio properly. What you say through the microphone should come out clearly also due to all copper conductors. They're quite easy to use as they're meant for a simple plug-and-play system to get yourself up and running in no time essentially.
Related: Best Microphone Under 100 Dollars in 2022 for Podcasting
Best Option When Pricing Doesn't Matter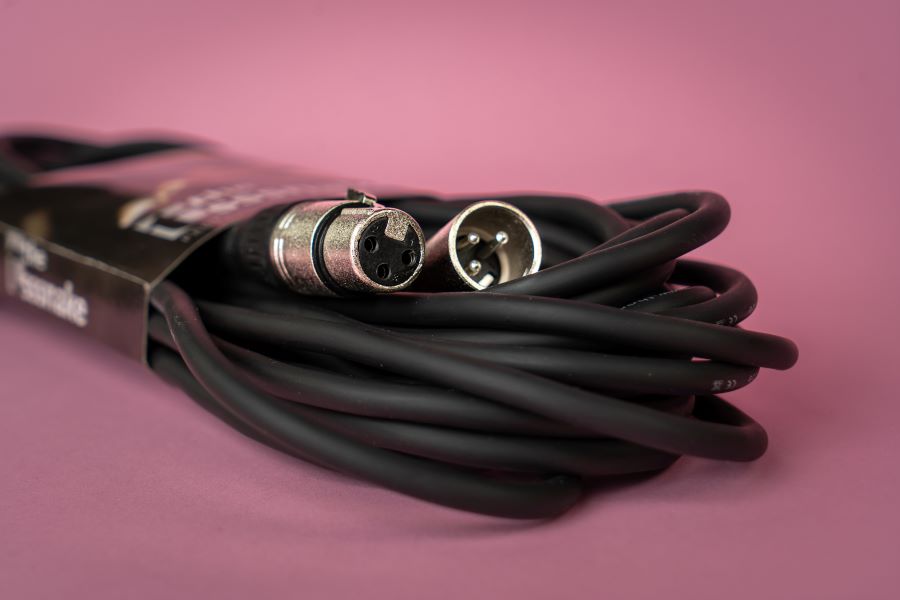 On the opposite end of the range, we've got the Mogami Gold Stage XLR cable. This cable is still one of the few that's produced in its home country of Japan. The quality is unbelievable, and this is one of the most durable options out there. Mogami themselves are a company that focuses on a lot of audio equipment specifically and has been refining their craft for quite some time. This is what has led to their 'no excuses' warranty for life, where they have that much faith behind the quality and durability of their product.
The durability continues as it has three times the necessary amount of copper inside in case these cables take a beating. This also helps keep the noise distortion-free. The Mogami Gold Stage XLR cable has anti-corrosion gold-plated male and female endpoints. So for anyone who's looking to start a professional podcast setup that will receive a great deal of usage and wear and tear, this is the one to go for. They can go all the way up to 50 feet as well, helping you with an efficient setup.
Related: Table Ideas For A Functional Podcast Setup
Most Durable Option
While the Mogami gold is plenty durable, sometimes you just want to ensure your cables are always working. That's where Pig Hog comes in. All these company makes are cables and storage equipment for those cables. You can never go wrong with an XLR Cable from Pig Hog or any cable for that matter. You're able to get them color-coded, so the colors can help reference what cable does what.
The best step to get to know this product is to try their PHM3 High Performance standard XLR Microphone Cable. They range from 3 to 50 feet and have an 8mm PVC casing making them just that much tougher. The connectors themselves are heat shrunk to ensure that they're as tight as they can get, and won't get loose or lose that clarity and connection anytime soon.
Speaking of soon, Pig Hog also offers a lifetime warranty. With only a focus on cables, it's a good bet their team knows what they're doing. Not only is this a high-performance stage-ready cable, each one that goes out to anyone is actually tested beforehand as the last piece of quality control before it gets to customers.
Related: The Best Microphone Software For Recording Voice (2022)
Best Mid-tier Cable
Sometimes you're past the starter phase but still not fully at the professional stage. That's where an upgrade is due, and one of the best mid-tier XLR cable options is the LyxPro XLR microphone cable. First of all, the range of sizes starts at 1.5 feet all the way up to 300 feet. Numerous color choices also help with labeling or simply to fit with your style.
On top of that, this LyxPro product has some sizes with angled cables that can help with those awkward or hard-to-reach areas where you're trying to set up your station.
You can also get the pins to be gold plated to help combat corrosion and a locking mechanism to keep the cables plugged in and not accidentally torn out, which may cause damage. When it comes to the quality of the sound, its starts with the PVC inner shield that's twin conductive. Then there's actually a cotton shield on the inside to help reduce noise issues and any type of interruptions caused by static.
On top of it, LyxPro offers a decent five-year warranty on all their cables, so you can have peace of mind until you're ready to go fully professional with your podcasting.
Related: The Best Microphones to Record in GarageBand in 2022
Final notes
Keep in mind that subject to how big of a setup you end up constructing down the line, you'll probably need more than one XLR cable, so be prepared when you're building out your overall budget and process. You will definitely start hearing the quality the minute you start using a proper XLR cable, so don't waste any more time and look into investing in one asap.
Related: Best XLR Microphones for Podcasting