Earbuds have become increasingly popular among music lovers, athletes, and commuters. They offer convenience, portability, sleek design, and a range of advantages to those who opt for them.
Compared to larger and bulkier headphones, earbuds are lightweight and compact, which makes them highly convenient to carry around. They also offer a secure and comfortable fit, which is beneficial for determining ambient noise from your environment or tuning into the perfect volume level for your listening pleasure.
Furthermore, many earbud designs offer specialty features like active noise canceling and wireless capabilities. These features allow users to maximize their music experience without sacrificing portability or convenience.
Whether it's a daily commute or just wanting to enjoy some tunes, earbuds can be an excellent choice for modern listening needs. In this blog post, we'll explore different types of earbuds, their uses, and how they can improve your everyday life!
Related: Best Podcast Earbuds
Top Reasons Why Earbuds Have Become Increasingly Popular
Earbuds have become increasingly popular due to their impressive sound quality and portability, making them ideal earphones for people on the go. The earbud design fits snugly into the ear canal, which helps to produce powerful bass and rich treble tones.
Most earbuds come with different sizes of interchangeable silicone ear tips that are comfortable and able to fit even those with smaller ears. All these attributes combined make earbuds an appealing choice for listeners who appreciate both convenience and good sound quality.
Let's dig some more and look at the details about the reasons for earbuds' increasing popularity.
Lightweight and portable
Unlike closed-back headphones, earbuds are small and lightweight. They are ideal for commuters or those who spend a lot of time traveling, making them easier to carry with you.
Great sound quality
With new technologies like active noise cancellation, wireless capabilities, and improved acoustics, earbuds provide high-quality listening experiences. They deliver crisp, clear sound that can give tough competition to some of the most expensive headphones on the market.
Affordability
Earbuds are much less expensive than oversized headphones, making them the ultimate choice for those who don't want to break the bank. You can find many affordable models that offer excellent sound quality.
Stylish design
Many earbud manufacturers have come up with modern, stylish designs that look great and are sure to turn heads. From brightly colored models to sleek black designs, there's something for everyone's taste.
Versatility
Whether you're into music or gaming or need a way to make wireless phone calls, earbuds are unbelievably versatile and can be used for various activities. They're also compatible with all devices like laptops, smartphones, tablets, and more!
No matter your lifestyle, there's always an earbud type to suit your needs. Whether you choose in-ear, on-ear, or wireless models, these small and lightweight audio devices provide convenience and style for all users. With their impressive sound quality, affordable price tag, and stylish design, earbuds are the perfect choice for any lifestyle!
Types Of Earbuds According To Connectivity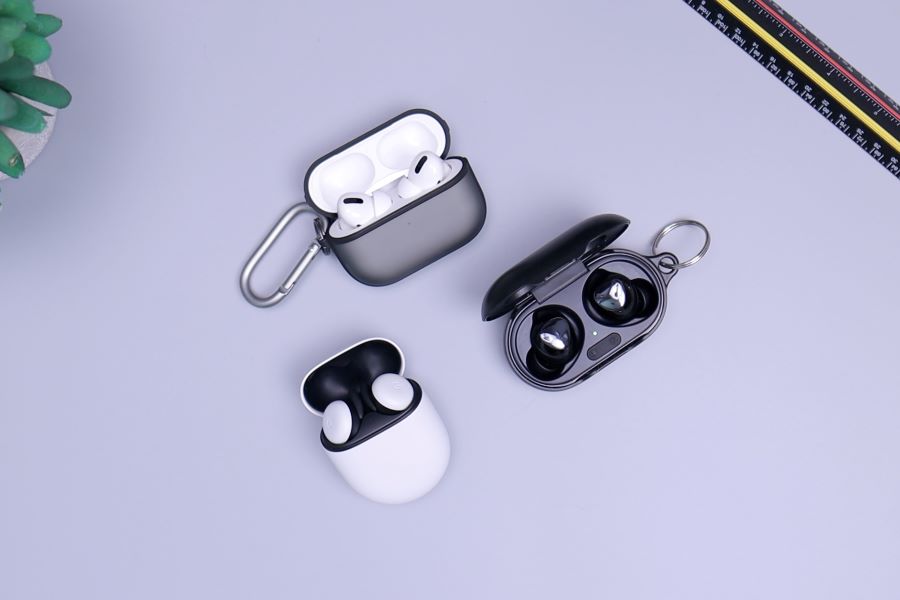 Earbuds are an optimal choice for listening to your music and podcasts. Unlike cheaper headphones, earbuds ensure virtually no sound leakage, allowing you to enjoy better sound quality in a more private setting.
Moreover, they are easy to connect with almost all compatible devices, designed for maximum convenience during use and ensuring better audio capabilities. When finding the right earbuds, the type of connectivity is a deciding factor. The two types of earbuds, according to connectivity, are:
Wired Earbuds
Wired earbuds have become a niche in the audiophile community for good reasons. High-quality audio is possible due to wires providing direct sound transmission without DSP or tuning, resulting in more scalable and detailed sound performance.
A wired connection is particularly effective at achieving noise isolation in ear canals and often comes with ear tips that fit snugly over the outer ear for enhanced stability. Best of all, wired earbuds are affordable, starting from as low as $10.
However, one of their downfalls is how prone they are to getting tangled and ripped out unexpectedly when the wire gets stuck on clothes, a door knob, etc.
True Wireless Earbuds
True wireless in-ear monitors (TWS) are a trendy gadget due to their completely wire-free design, making them discreet and easy to handle. Each earbud comes in a small charging case perfect for on-the-go use.
With the introduction of digital-to-analog converters and digital signal processing in the housing, sound waves coming from true wireless earbuds stay accurate no matter their source.
Every pair of TWS also have ear tips that can be switched either in silicone for durability or in foam for optimal noise isolation. Moreover, since sound waves travel directly into the ear canal with very little resonance, listeners are exposed to detailed, accurate sound without much interference from ambient sound.
Lastly, with an ergonomic design, the ear tip of each in-ear earbud ensures both comfort and stability, even in extended listening sessions. True wireless in-ear earbuds offer incredible bass performance. Moreover, given the need for cables, there are fewer potential weak points in true wireless than in their wired counterparts.
Wireless Earbuds With A Cable
In-ear headphones that provide noise cancellation and receive audio wirelessly via Bluetooth are an ideal solution if you're looking for portability and convenience. However, with a wire connecting both the right and left earbuds, they take up as much space as their wired counterparts and usually come with a protective carrying case so you can fit them in your pocket without worrying about bulkiness.
Sound quality is the same compared to the latest true wireless earbuds, which noise engineers have worked hard to perfect over the years. Having said that, when placed in or outside of your ears, the cable noise rubbing against your skin or clothing (known as "microphonics") might interfere with the sound of your music or podcasts – some sporty models have even added a tighter cable feature to decrease this noise even further.
Lastly, if one of the earbuds falls out during an exercise session or jog? The cable will be there to catch it before it hits the ground!
Related: IEMs vs. Earbuds
Types Of Earbuds According To Fit
Earbuds come in various shapes and sizes to fit most ears, and the type of earbud chosen can affect both comfort level and sound quality. Over-ear earbuds create a seal around the entire contour of the ear canal, allowing for the most consistent bass response.
These types of buds often feel most secure and comfortably fit most ears. On the other hand, earbuds that fit into small openings at the entrance to the ear canal (one size fits most) are better suited for small ears but do not provide as much sound isolation or bass response.
Thus, choosing the right earbud type is essential since everyone's ears are differently shaped and sized.
Standard Earbuds
Earbuds are the most common form of headphones used today and consist of small drivers placed outside the ear canal, usually just outside its opening. This type of headphone won't block outside noise as much as in-ear but still offers superior sound quality compared to over-the-ear headphones and costs less.
They come with silicone tips that can help block out outside noise. Plus, since these earbuds are so popular, finding a place to buy these will be easy. Standard earphones are ideal for anyone who wants clear sound at a low price without worrying about lining up their ears for a perfect fit.
In-ear Earbuds
In-ear earbuds are quickly becoming the go-to choice for noise-canceling headphones. In-ear headphones are popular among music lovers and sound engineers alike because of their exceptional noise reduction capabilities with improved sound quality and noise isolation capabilities.
Unlike standard earbuds, which sit right outside your inner ear canal, these are designed to fit into your ear canal and create a snug seal, providing you with improved audio and noise reduction.
Additionally, high-end models of in-ear earbuds can be molded to closely fit the contours of your ears, offering you an even better noise isolation experience. Equipped with memory foam tips, this type of earbuds can also be incredibly comfortable to wear.
With noise cancellation capabilities like these, you won't have to worry about audible background noise ever again!
Half In-ear Earbuds
Half-in-ear earbuds come in many different shapes, sizes, and designs. These type of earbuds lie close to your ear canal compared to in-ear headphones.
One significant benefit of these earbuds is that they offer more bass (low tones) and less ambient sound while also going deeper into your ear canal than traditional in-ear models.
Additionally, they are slightly firmer than their in-ear counterparts, making them better suited to providing long-term comfort when worn for extended periods. For those looking to improve their overall listening experience without the added hassle of bulky in-ear headphones, semi-in-ear earphones can be a great choice.
Around-ear Earbuds
Around-ear headphones provide a noticeable reduction of the background noise. It's shaped more like a hearing aid that comfortably fits on the ear cup. Since they don't directly enter the ears, they are comfortable to wear for long periods and benefit from the excellent sound quality.
Alongside this, they also allow more of your ears to remain open, meaning that you'll be more aware of external noise should you want to stay mindful of your surroundings.
However, on the other hand, depending on the shape of your ear, it could cause a problem as one size only fits some when it comes to this type of headphone.
Bone Conduction Earbuds
Bone conduction headphones utilize bone-conducting technology to transmit sounds through cheekbones instead of air, bypassing the outer ear. This means that wearing them does not block your ears, allowing for perfect awareness in noisy environments.
Bone conduction headphones usually sit over the ear and can be very stable. This type of headphone benefits those with hearing problems originating from the outer ear, providing an excellent alternative to traditional headsets.
On the other hand, bone conduction headphones' open design might bring some issues with sound quality and wind noise in specific scenarios such as music production. Suppose you prefer to avoid having something covering or blocking your ears all the time. In that case, bone-conduction headphones are certainly your best option, and they are also excellent at providing awareness when jogging outdoors.
Related: Why Your Earbuds Keep Falling Out
Types Of Earbuds According To Technology
Depending on your lifestyle and needs, two earbuds offer the advanced technology of active noise-canceling and ambient sound management. From in-ear monitors to over-ear headphones, these earbuds will provide a listening experience unlike any other.
They generate counter frequencies to any ambient sound and give you the intense focus you experience at professional studios. Highly durable, these earbuds are ideally suited for everyday use in a noisy office environment or a relaxing situation like at the beach.
Ambient Noise Earbuds
Ambient sound technology in headphones is becoming increasingly popular in the market.
It offers a unique advantage in allowing users to be conscious of their surroundings while listening to music or audiobooks. This eliminates background noise in your auditory environment, allowing you to focus better on whatever you are listening to—no need to take off the headphones to socialize or be aware of outside interference.
Additionally, these in-ear devices are great for watching videos without compromising sound quality while letting in slight background noise. Ambient sound technology has quickly become the new favorite choice for both over-ears and in-ears!
Active Noise Canceling Earbuds
Active noise cancellation (ANC) provides users with a unique technology now available for budget-friendly consumer headphones. This feature in the noise canceling headphones works by recording surrounding noise, inverting the phase of the sound waves, and then sending back the inverted sound waves.
When both noise waves reach the eardrums, these sound waves "cancel" each other out. This results in a notable reduction of background noise, allowing for an enhanced listening experience.
Additionally, this noise-canceling technology has been applied to open-back headphones and earbuds, allowing for a more discreet listening experience. Small microphones allow outside noise to be captured and played within opposite polarities, thus resulting in sound waves being canceled out before reaching one's ears.
Noise cancellation technology gives users more control over their listening environment, ensuring optimal sound quality.
Related: Are Raycons Noise-Cancelling?
Top Ten Earbuds
Suppose you're in the market for high-quality in-ear monitors, wireless earbuds, over-ear headphones, or on-ear headphones from some of the best brands in the industry. You will surely want to look at the top 10 earbud models that manufacturers have released in the past year.
Whether it's Sony, Google, Apple, Beats, Jabra, or Samsung – these earbuds are sure to satisfy all your audio needs. Not only do they come in various headset styles and sizes, but they also vary in their sound quality and noise cancellation capabilities.
Some even deliver a listening experience tailored to your preferences with adjustable EQ settings and other innovative features.
So if you're looking for an affordable ear listening experience, these top ten earbuds have you covered.
Google Pixel Buds A-Series
The Pixel Buds A-Series is one of people's favorite wireless earbuds due to their comfortable fit, solid sound quality, good looks, and excellent price point.
With an IPX4 sweat-resistance rating and five hours of efficient listening time, the earbuds are bolstered by an extra 19 hours of listening time thanks to the egg-shaped case.
The ear fins help keep them stable in your ears, while the silicone ear tips form an excellent seal.
The audio quality is punchy with bolder bass than Apple's entry-level buds offer, and Google Assistant integration is top-notch, although it isn't supported on iPhones.
For Android users, however, this is undoubtedly the go-to pick for excellent sound at an affordable price.
Sony Wf-1000xm4
If you're looking for a pair of earbuds that do a fantastic job at isolating sounds from the outside world, you won't find anything better than Sony's WF-1000XM4.
While they are large and could be too bulky for those with smaller ears, these wireless headphones employ both foam ear tips and advanced digital signal processing technology to block out the noise around you effectively.
You can further customize their sound quality by playing with the equalization settings and even setting them to auto-pause when you start talking so that you don't have to take out your earbuds whenever you need to speak to someone.
All in all, these are genuinely unique earbuds if you want some peace.
Jabra Elite 7 Active
When searching for earbuds that offer a great sound experience and comfort, look no further than the Elite 7 Active by Jabra.
The thoughtful design and testing process means people with different ear sizes can find comfortable fits, making it an excellent choice for outdoor activity.
Not only is the sound quality top-notch and noise-canceling technology reliable, but their microphones also capture clear audio.
The buds are fitted with an extra grip on the outside to ensure they stay in place while in use.
With eight hours of battery life and a two-year warranty, these earbuds assure that customers can rely on them anytime, anywhere.
To make things even better, Jabra continues to sell old models for years – allowing replacements of missing pieces when needed!
Related: Jabra Elite 85t Review
Beats Powerbeats Pro
Apple's Powerbeats Pro stands out in terms of overall audio quality and intuitive design.
Made for an incredibly secure fit during workout sessions, the IPX4 water-resistance rating and nine hours of battery life make them a viable option for even the most intense workouts.
When paired with an iPhone, the earbuds can automatically pause or route calls back to your phone when you remove one of them from your ear – a great feature that Android devices, unfortunately, are unable to access.
With all this plus a hefty 18 extra hours with their portly case, the Powerbeats Pro may be worth considering if you're searching for a good set of wireless earbuds.
Apple AirPods Pro (2nd Generation)
Apple's AirPods Pro has come a long way with its latest version.
The most significant advantage of the new version is an impressive six hours of playtime with noise-canceling on, allowing you to enjoy your music and make hands-free calls all day.
With their swipe-for-volume feature, adjusting the sound volume hasn't been more accessible – swipe up or down and let your earbuds take care of it!
Plus, it can easily be found if lost with its built-in speaker that connects to Apple's Find My app.
Whether you're out for a run in the rain or sweating at the gym, there is no need to worry – these AirPods Pro boast an IPX4 rating for extra protection.
Related: Are Airpods Pro Worth It?
Beats Fit Pro
The Beats Fit Pro is the best pair of earbuds around that assures value for money.
The Beats Fit Pro offers some of the best sound quality in earbuds priced under $200 and comes with all the features you'd expect from a stylish pair of headphones.
Powered by Apple's H1 chip found inside of AirPods and AirPods Pro, they feature six hours of battery life with active noise canceling turned on.
Their design is comfortable and ergonomic, making them an excellent choice for iPhone users.
Additionally, Android users can still enjoy their benefits by downloading the dedicated app for adjusting button functions and taking fit tests.
Regarding style, the headphones come in four color options, ranging from traditional black or white to more glamorous pink or purple.
Google Pixel Buds Pro
The Pixel Buds Pro is an excellent choice for Android owners who want the simple experience promised by their Apple-toting friends.
You will have access to an expansive soundstage with punchy bass and all the features of a modern wireless earbud, like beamforming mics, noise-canceling technology, and multi-device pairing.
This means you can be connected to both your phone and laptop simultaneously.
With an impressive 8 hours of battery life and active noise canceling, you won't have to worry about running out of juice during those long flights either.
The wireless charging case makes it easier to keep the buds topped up while not in use.
Samsung Galaxy Buds2
Samsung's Buds2 is an excellent choice for Android users looking for good headphones.
Priced similarly to a standard pair of AirPods, they offer noise canceling, long battery life (up to 7.5 hours with noise canceling off), and lightweight comfort.
Additionally, they come with features such as wireless charging cases, dual-driver arrays to improve bass, and pretty pastel colors.
iPhone users, unfortunately, won't be able to access the extra features offered by the companion app, such as EQ control or a fit test.
Some people have also reported issues with Buds2 causing ear irritation, so it is essential to consider this before making your purchase.
Sony Linkbuds
With the warmer weather and increasing opportunities to move about, there has never been a better time for safe listening.
The Sony LinkBuds present an ideal solution for those who wish to remain actively engaged in their environment while listening to music.
These lightweight buds come with a physical opening placed in the center of each driver that allows outside sound so that you remain informed of your surroundings, even during jam sessions.
For instance, at the grocery store, with LinkBuds, you can enjoy your favorite tunes while hearing any possible announcement or notification while shopping. If you are out on a bike ride, these little gems will alert you when there is an oncoming car before crossing the road.
As if this wasn't enough incentive to indulge in LinkBuds, they also come with an ultra-compact charging case, small enough to fit into most jacket pockets!
JBL's Endurance Run Wired In-ear Headphones
JBL's Endurance Run Wired Headphones provide athletes with the ultimate convenience and comfort.
The two sizes of soft, flexible tips – designed for in-ear or behind-the-ear wear – conform to the shape of each user's ear canals for a snug fit that won't slip during those intense workouts.
You don't have to stress about sweat or precipitation ruining your gear because they're waterproof.
These headphones feature a built-in mic and an on-cord button for answering calls, changing tracks, and pausing without taking you out of the moment.
However, users will want to adjust the volume settings before beginning an activity as these headphones have no volume control.
Difference Between Earbuds And Headphones
The choice between earbuds and headphones often comes down to personal preference and their desired use.
All types of headphones, which fit over or around the ears, are typically bulkier and sturdier than earbuds, making them better suited for listening at home. Some models also come equipped with active noise canceling (ANC) technology that does an excellent job of blocking out background sound.
On the other hand, earbuds are compact and lightweight, making it easier to slip into a pocket or bag on the go. And because they don't physically cover the ears comparably to headphones, they can be more comfortable over longer listening sessions.
When it comes to sound quality, whether it is true wireless headphones or wired earbuds, both types of listening devices will offer good audio if they're higher-end models. Still, earbuds may carry more bass due to their placement inside your ears.
Which Type Of Earbuds Driver Is Best?
The debate of which driver is best for earbuds has been ongoing; while each type offers something unique, everything could be better.
Dynamic drivers can produce a rich sound but are limited in size, resulting in a smaller frequency range.
Balanced armature drivers provide a narrower soundstage with minimal distortion but can sound too sharp for some.
Hybrid drivers use dynamic and balanced armatures to exceed the capabilities of either component alone; however, this approach also comes at a higher cost than either separately.
Though opinions may differ on the ideal playback experience, there's no definitive answer as to which type of driver is superior—each has its advantages and drawbacks, so finding success requires understanding your preferences and researching carefully before making a purchase.
Frequently Asked Questions
Which type of earbuds are the best?
With such an extensive selection of products constantly appearing on the market, this list of top-rated wireless earbuds can help make the decision easier. Think of what activities you will be using them for, how long you will wear them, and what features are most important. Depending on your lifestyle and preferences, several types of earbuds may suit your purposes.
In-ear earbuds use foam or silicone tips for sitting inside the ear canal, securing gently for a comfortable fit. On-ear buds can be designed with an open-back or closed-back design, providing more versatility than other styles. At the same time, true wireless options have become more popular in the past few years as they are portable and easy to use. Each style has something unique to offer and depends on personal preference when choosing which earbuds are best for you.
Which type of earbuds are safest hearing-wise?
When selecting the safest earbuds for hearing, there are a few things to consider. Since factors such as total volume level, sound pressure levels, and overall frequency range will play a significant role in determining the best option, paying attention to those details when making your purchasing decision is essential.
Should I get wireless earbuds or wired ones?
The decision between wireless earbuds and wired ones can be difficult depending on your lifestyle, tastes, and budget. Wireless earbuds are often more expensive than their wired counterparts, but they offer the convenience of not being tethered to a device like a smartphone or a laptop.
They also come with additional features like noise-canceling technology or quick charging capabilities worth the extra cost for some people. Wired earbuds offer better sound quality because digital signal interference is less likely. Personal preference is what matters most in the end and what features you are looking for when achieving the best listening experience possible.
Conclusion
In conclusion, earbuds are a type of headphones that rests inside the outer portion of the ear. They offer a convenient form factor with improved audio performance compared to traditional headphones.
Earbuds come in wired and wireless varieties to give users the most comfortable listening experience while providing options for different price ranges. Additionally, noise-isolating and noise-canceling earbuds are available for those who need greater sound control when listening to music or taking part in calls.
All in all, earbuds are quite popular and provide users with a great deal of audio streaming convenience due to their lightweight design.