There's nothing more annoying than when only one of your earbuds is playing sound. Many people think this only happens with classic-style wired earphones. But it can be just as common with wireless earphones, even the pricey ones.
Wireless earphones are not cheap and it would be a shame to have to purchase a new pair when you could mend them from the comfort of your own home for free.
In this article, we will be explaining how to determine whether it's a malfunction with your device or earbuds, before letting you know our eight steps for a DIY earbud repair.
Related: Fixes For Blinking Orange Light AirPods
But Can't I Just Listen To Music Through One Side?
Sure, you can still hear audio from one side as a temporary fix. But if you want to get the full listening experience, both need to be working.
This is because the earphone designers have balanced the sound through both earphones, so if only one is working, a lot of the depth of the music will disappear. Not to mention it just won't be loud enough for you to hear your audio properly.
Related: How to Listen to Podcasts and Music at the Same Time
Step-By-Step Guide to Fixing Your Earbuds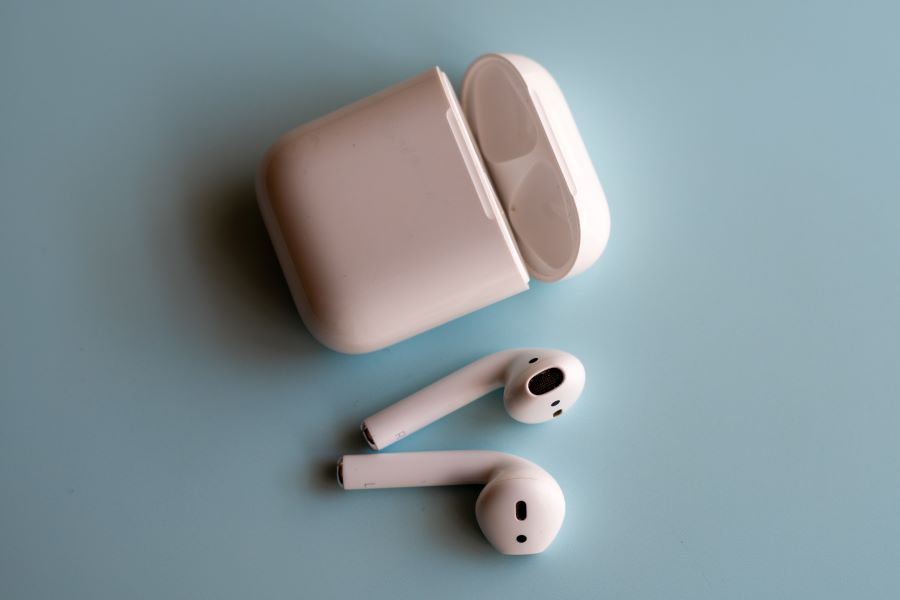 Step 1: Start by Testing Out Other Earbuds
When one of your earbuds isn't working, it can either be an issue with your earbuds or the device itself.
To check if it is a device issue, start by testing out another pair of wireless earbuds. They must be wireless, as wired earphones work very differently so it wouldn't be a proper test.
If the other set of earbuds works perfectly on both sides, then you know it is an issue with the original earbuds.
If, like most people, you don't have a spare pair of earbuds, don't worry you can just skip to the next step.
Step 2: Test Out Another Device with Your Faulty Earbuds
Next, try to pair your earbuds with another smartphone, tablet, or computer. If both earbuds are playing properly on the second device, then it has to be an issue with your own device.
On the other hand, if the earbud doesn't with on the second device, then it is definitely a fault with the earbuds, which we can help you fix! Just try out the following steps.
Step 3: Device Restart and Software Installation
Taking your device to the repair shop can get expensive, so here are some suggestions for fixing your device yourself.
It sounds obvious, but if you haven't switched your device on and off, this is a good place to start. Giving your phone a power off will help it to reboot its audio settings, and in some cases, this can cause the earbuds to begin working again.
Alternatively, you can install the latest software update for your device which can troubleshoot audio issues.
If a power off and software update aren't solving anything, just move on to the next steps.
Step 4: Make Sure Your Device's Mono and Audio Settings are Correct
It's a long shot, but sometimes just playing with volume up and down controls on your device can force the earbud back into action, but not always. If this doesn't change anything, then changing your Audio settings can solve the dilemma.
Specifically, it could either be an issue with the Mono Settings or the Audio might not be correctly balanced.
Troubleshooting Your Devices Mono Settings
Mono Audio ensures that audio is played identically in both earbuds. Unfortunately, if this setting is wrong, it can cause one earbud to be muted. Here's how to find your Mono Audio control on an iOS or Android device.
How to Locate Audio Settings for iPhone Users:
Go to "Settings" App, then "Accessibility", then "Audio-Visual".
In this section, there is a Mono Audio toggle.
How to Locate Audio Settings for Android Users:
Click on your "Settings" App, then "Accessibility", then "Audio & On-Screen", then click "Mono Audio". Here you will find the same toggle which controls Mono Audio.
Now you have located the Mono Audio slider, make sure it is switched off. If it is enabled, it can cause faults with the earbuds.
Making Sure Your Audio is Perfectly Balanced
While you are in your device's audio settings, you will see a "Balance" section, with a slider that can be moved to the left or right. To get the most balanced sound, you should ensure that the slider is in the middle.
Once you have set the Balance slider to the center, you can try using your earbuds again. If correcting your Balance doesn't change anything, you can go to the next step.
Step 5: Hybrid Earphones Troubleshooting
If you have hybrid earphones, meaning they can be wireless or attached by a wire, then this advice is for you. If you own completely wireless earphones then this step doesn't apply, and you can skip forward to Step 6.
With hybrid earbuds, sometimes a halfway point error can occur. This essentially means your audio transmission is stuck at a halfway point, and not reaching your other earbud.
To ascertain whether it is a halfway point error, just plug your hybrid earphones into your device (instead of trying to use the Bluetooth function) and try to listen to some audio.
If the sound now works properly on both sides with the wire in, then this means the audio is getting trapped halfway when the Bluetooth is engaged.
If the sound still isn't playing on one side, then please move on to the next step.
Step 6: Clean Your Earbuds
Often sound malfunctions in earbuds can be triggered by dust, dirt, or ear wax. This build-up can form a barrier and block sound from coming out of the earbud properly. The good news is that cleaning the earbuds is very straightforward.
We recommend gently cleaning your earbuds with a cotton swab or a baby wipes. Make sure you don't get water or harsh chemicals on the earbuds, as this can cause electrical damage and worsen your audio problem.
Whether you are experiencing audio issues or not, you should aim to clean your earbuds once a month. This will help to prevent future build-up and make the earbuds clean and comfortable so they can run at their best.
Step 7: Ensure the Audio Format is Compatible with your Earbuds
Some modern wireless earphones sometimes don't work properly with older, less advanced audio formats. It could be that the earbuds are working fine, they just can't engage properly with the audio type, and so they are cutting the sound out on one side.
You can check if your earbuds are compatible with your chosen audio format by consulting the earbuds' user manual or website FAQ section. Or you could contact the earbud brand itself and ask their customer service for a list of acceptable audio formats.
Step 8: Check for Earbud Broken Wire
The final step is to check for electrical failure which can be caused by a faulty/broken wire. To see if this is the case, you can open the earbud and search for damaged wires.
If you find a damaged wire in the earbud, you can use a soldering iron to fix it manually. However, most people won't have a soldering iron lying around, so in that case, you should seek out a professional who can do the wire soldering for you.
Related: Why Your Earbuds Keep Falling Out
Further Advice
If you have followed our eight-step earbud fixing process, and the audio issue remains, here is some final advice to consider:
Full Charge – your earbuds may be low on battery, which can sometimes cause faulty sound on one side. Sometimes a simple recharge will do the trick, so make sure your earbuds are on 100% battery before you test them out.
Faulty Brand – sadly, not all earbud manufacturers care about creating long-lasting earbuds. Some just aren't built to last, and you could have fallen victim to this. This is why it's important to always research the product's durability and get a warranty wherever possible.
Repair Shop – if you know it is a device problem rather than an earbud problem, and have tried all of our steps, then your last option is to seek advice at a phone repair shop.
Related: How to Charge Your Earbuds
How To Fix Your Earbuds – Article Summary
To recap, in this article we gave our best tips and tricks for solving a set of earbuds that is only playing sound on one side.
Here is a quick summary of the troubleshooting options:
Testing out other earbuds/another device.
Restart your device & install the latest software.
Ensure Mono Audio is disengaged and Audio is well-balanced.
Clean dirt off of earbuds to prevent audio blockage
We hope that we helped you to fix your earbud/device settings so that you can once again enjoy listening to music.
And if you're looking for headphones troubleshooting guide instead, you can also read our guide, "How to Fix Headphone Static Noise."
Thank you for taking the time to read our earbud fixing guide today!