A good podcast name is important because it helps you stand out in a crowded marketplace. Standing out is crucial in the world of podcasts because there are now over 2 million active Apple Podcasts shows (Podcast Industry Insights courtesy of Daniel J. Lewis).
That's a lot of noise for people to wade through before they find your show. A great podcast title will help you break through the clutter and get noticed in different podcast directories.
Once people have found your show, you want to make sure they remember it. A catchy and clever name will do that much better than a generic or boring one. Ever try to tell someone about a movie with a long, complicated title?
You probably had to give them the synopsis, too, because the name just wouldn't stick in their head. The same is true for podcasts. You want your podcast's name to be easy to remember so people can tell their friends about it.
In this article we'll cover some of the best practices and pitfalls when getting the creative juices flowing when naming new shows.
Let's jump in and find you the perfect podcast name.
Related: How to Write a Podcast Script in 2022: Step-by-Step Guide
How to Come Up with a Great Podcast Name
Podcasts are a great way to share your voice with the world. But one of the first challenges you face when starting a podcast is coming up with a great name.
It may seem like a small task, but finding the right name can be difficult. The best podcast names reflect the content of the podcast as as being catchy and memorable.
And if you're planning on building a brand around your podcast, it needs to be something that can be easily found and recognized. With so many options out there, it's no wonder that many podcasters struggle to find the perfect name for their show.
But with a bit of creativity and perseverance, you'll eventually find a good name that feels just right. Here are some of the best ways to get you started on finding your next great idea:
Related: What is the Purpose of a Podcast?
Identify Your Ideal Listeners
The first step in choosing a great podcast name is understanding who your potential listeners are. What are their demographics? What interests do they have? What kind of tone do they prefer?
Answering these questions will help you zero in on a name that will resonate with your target audience.
A good idea is to write down all the details you can think of of your target listeners, sometimes just from jotting down ideas you can find some great descriptive names for the name of your podcast.
Related: How to Find Out the Number of Podcast Listeners a Podcast Has
Check Out the Competition
Once you know your ideal listeners, it's time to look at the competition. What names are they using in the podcast directories? How does their branding reflect their content?
Analyzing your competitors will give you some great ideas for your own podcast name. But be sure to avoid anything too similar to what's already out there. You want your podcast to stand out, not blend in.
Identify Your Main Keywords
The perfect name should be reflective of the content you'll be covering. So, brainstorm a few main keywords that sum up your show.
These keywords will be helpful in the next step, as you'll want to ensure they're included in your final name. Ideally pick one main keyword that describes your podcast. But don't get too hung up on them. You can always tweak your keywords later if needed.
Make It Easy to Spell and Remember
You want your new podcast show to be easy to remember. That means the name should be easy to spell and pronounce.
If you're planning on using a made-up word or phrase, test it out on potential listeners. You don't want people to forget your name because they can't figure out how to spell it.
This is also especially important because they will have to write your show name on search engines, social media platforms and podcast directories to find it, so make sure it's easy for them to do so.
Keep It Short and Memorable
A catchy podcast name should be short and to the point. The longer it is, the harder it will be for people to remember.
And while you want your name to be memorable, resist the temptation to get too clever. A name that's too clever can be difficult to understand and spell. Stick with something straightforward and easy to remember.
As you can imagine this is hard to do, but try to keep it short over picking a complex creative name.
Say It Out Loud
Once you have a few potential names, say them out loud to see how they sound. This is an important step, as you want your podcast name to be something that rolls off the tongue easily.
If it's difficult to say or sounds awkward when spoken, it's likely not the right name for your show.
Explore Creative or Clever Names (But Don't Fret Too Much About It)
If you're struggling to come up with a name that's both catchy and reflective of your own podcast content, don't worry. There are plenty of creative and clever names out there that can still work well for your show.
But don't get too caught up in finding the perfect name. In the end, it's more important that your podcast is enjoyable and informative than it has a catchy name.
Watch Out for Tone
When choosing a name for your podcast, be careful of the tone you're setting. A name that's too serious can make your show seem dull, while a name that's too jokey can make it appear unprofessional.
Find a balance that reflects the overall tone of your podcast. If you're unsure, err on the side of caution and go with a slightly more serious name. You can always lighten things up with your branding and marketing later on.
Incorporate Your Brand Name
If you already have a strong brand name, consider incorporating it into your new podcast name. This can be a great way to build recognition for your show and attract new listeners. Even if the brand is not as strong, the right podcast name for you may be your personal name. Much like the Tim Ferris Show, you may want to build a brand around your own name to future capitalize on it.
Remember that your brand name reflects the content you'll be covering on your podcast. You don't want to end up with a name that's misleading or doesn't make sense for your show.
Try a Podcast Name Generator
If you're still struggling to come up with the perfect name, plenty of podcast name generators out there can help. Instead of spending too much time overthinking about it, these tools help you find ideas that you can quickly discard or add to your list of potential names.
Just enter a few keywords related to your show, and you'll get a list of potential names to choose from.
Consider Your Niche
When choosing a name for the podcast you want listed on different podcast directories, it's important to consider your niche. If you're covering a specific topic or industry, be sure to include that in your name. This will help attract listeners who are interested in that topic.
Related: 143 Podcast Topics Ideas: HOW TO FIND THE RIGHT THEME (2022) and Top Podcast Ideas You Can Feature For Halloween
Get Feedback on the Podcast Name
Once you've settled on a few potential names, it's time to get feedback. Ask your friends, family, and colleagues what they think of the names you're considering.
And if you're still unsure, try surveying your target audience to see which name they prefer. In the end, the best name for your podcast is the one that resonates most with your listeners.
Related: How To Craft A Podcast Strategy
Biggest Podcast Name Mistakes to Avoid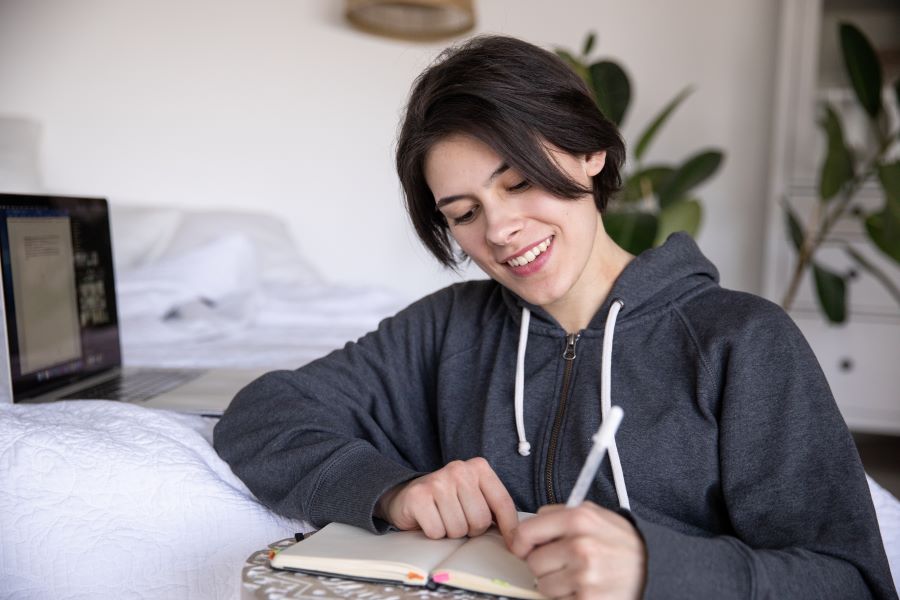 When starting out as a podcaster, it is surprisingly easy to make some common mistakes with your show's name. To help you avoid these pitfalls, here are five mistakes to avoid when choosing a name for your podcast:
Domain and/or Social Handles are Taken
Before settling on a name for your podcast, be sure to check the domain availability. The domain name and social media handles should be available. If they're not, you'll likely have difficulty promoting your show.
Overly Long or Complex Names
While you want your podcast name to reflect your content, please resist the temptation to make it too long or complex. A name that's too wordy and incorporates special characters or hard to understand may be difficult for listeners to remember. Simple words are better remembered.
Keyword-Stuffed Names
In the same vein, avoid keyword stuffing your podcast name in an attempt to improve its discoverability. Not only will this make your name difficult to remember, but it will also make it seem spammy.
Plagiarizing another Podcast Name
When choosing a unique name for your podcast, avoid any that are too similar to another show. Not only is this unethical, but it can also lead to legal troubles down the road.
Using Expletives or Offensive Language
It's important to avoid any profanity or offensive language in your podcast name. Not only will this turn off potential listeners, but it could also get your show banned from some platforms.
Free Podcast Name Generators
Finding a great name for your podcast is hard work. Luckily, there's an easy way to do it! You can try out some free generators that will help you come up with a list of possible names for your show. Here are a few of our favorites:
Examples of Great Podcast Names
Now that you know how to choose the perfect name for your podcast, it's time to look at some examples. Here are some best podcast name ideas from our favorite popular podcasts to inspire you:
Podcasts with Personal or Business Brand Names
Descriptive Podcast Names
Niche-Centric Podcast Names
Podcast Names that Evoke a Feeling
Creative Podcast Names
It's a Wrap!
There you have it! These are just a few ideas to get you started on brainstorming the perfect name for your podcast. Be creative, have fun, and don't be afraid to try something out of the box. The most important thing is to choose a show title that reflects your show's content and resonates with your audience. Remember after all, it will show up on everything including your cover art. Happy naming!