The Rode PodMic is not attachable to an external shock mount. The capsule is suspended internally, with the swing mount decoupled from the body to avoid needing that mounting option.
Rode also includes a built-in pop filter, suggesting that an external one isn't needed when recording audio.
Although the technology may work for some users, a podcaster has unique plosive and wind sounds to manage while creating content. The built-in filter provides some assistance, but it has enough sensitivity that an additional windscreen is necessary.
Related: Shure SM7B vs Rode PodMic. Which is a Better Podcasting Mic?
How to Install a Pop Filter for the PodMic
The easiest way to enhance the plosive protection that the PodMic delivers is to install an external pop filter. Anything made to work with small microphones is typically compatible with this microphone, allowing more excessive breath noise to be removed from the recording.
Auphonix makes a six-inch pop filter that clips to virtually any frame or nearby source to eliminate wind noise effectively. You can even attach it to a vibration-free stand to maximize its benefits while recording.
Rode provides the option to add a foam cover to the mic to reduce wind noise during the recording process.
The advantage that the Rode PodMic offers is its slim profile. When you add an external screen or filter, that dynamic changes. Although the plosive protection delivers a tight fit and lets you use proximity effects with the lower bass end this mic provides, the modification could be more than what some podcasters want with their setups.
Most pop filters will attach to the microphone base, extending the filter out in front of the pickup pattern to protect against plosives. A 3-inch model is typically enough to give you the recording boost you need for your podcast.
If you decide to use a foam windscreen instead, this product slips over the PodMic and hugs it securely to ensure your content is clear, precise, and crisp.
Related: Blue Raspberry Pop Filter Considerations and Top 8 Best Pop Filters For Podcasting
PodMic Connectivity: What to Expect
The Rode PodMic is designed to be as versatile as possible for today's podcaster or studio. You can plug the mic into any mixer or audio interface, which makes everything much easier since you don't need adapters or other additional equipment included in your setup.
It uses a simple XLR cable to connect to your equipment, which is what you'd expect from any analog microphone.
If you already use Rode equipment for your podcasting, you'll find that the brand-based compatibility it offers can be advantageous. Pair this microphone with the RodeCaster Pro to enjoy automatically corrected sound levels for any voice type that appears on your recording.
With the addition of phantom power, you don't need to worry about recharging the PodMic or having batteries available. You can leave your external pop filter connected full-time so that when it's time to record, you can get right into the program.
Related: How Much Gain Does RØDE PodMic Need?
What Are the Benefits of Using the Rode PodMic?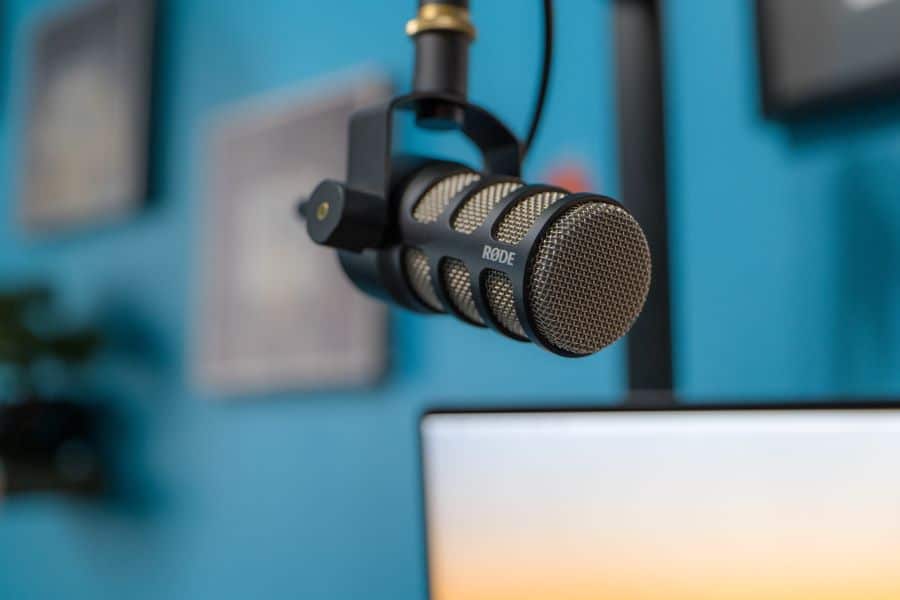 The Rode PodMic comes with a dynamic capsule and tight polar pattern. It picks up your voice while reducing ambient sound to enhance the quality of the eventual recording.
You'll find that the adjustable mounting options provide plenty of flexibility without compromising the stability of your installation. Even if you prefer an upright microphone while working, you can install a pop filter along the base to ensure enough plosive protection is available.
With its metal housing, you'll find the PodMic is built like a tank. That's why an external filter is often needed. The material sensitivity sometimes overrides what the internal filter provides, especially for podcasters with a lower voice.
Although it doesn't compare to the overall quality of the Shure SMB7 microphone for podcasting, you're also getting a viable product at 25% of the price. It's one of the pound-for-pound best that you can use, especially if you're just starting your podcasting career or hobby.
Related: The Best Shock Mounts for Your Rode PodMic
Should I Be Using the Rode PodMic?
The Rode PodMic has one of the best cardioid pickup patterns you can find for new podcasters or veterans looking for a change. When you add an external pop filter to it, the mic focuses on your vocals while removing the distracting background noise.
This design includes an internal shock mount that isolates accidental noises. If you bump your desk or type on a keyboard with it activated, the sounds don't make it onto the recording.
In return, you receive a clear recording that reflects the professionalism and quality you want for your podcast. You'll find it is effortless to use, especially with its plug-and-play design, ensuring that you can start recording right away.
Related: Top Audio Interfaces For The RODE PodMic + Tips For Better Sound Quality