If you're a budding audio enthusiast, chances are you've heard of the Focusrite Scarlett Solo and 2i2 audio interfaces by Focusrite. These Focusrite audio interfaces have become household names among musicians, podcasters, and home studio professionals alike. But which one is right for you? Our in-depth comparison, considering aspects like gain control and the convenience of a USB connection, will provide you with all the information you need to make an informed decision. Strap in!
The Scarlett line by Focusrite has always stood out for its affordability without compromising quality. They're reliable, user-friendly, and have become the go-to bus-powered audio interfaces for many audio professionals and hobbyists alike.
But with several models available, including those offering phantom power, it can be challenging to pinpoint the right one for your needs. Here, we'll explore Scarlett 2i2 vs Solo, dissecting their features, capabilities, and ideal use cases.
Related: Top 9 Best Podcast Mixers
Scarlett Solo: In-Depth Overview
The Scarlett Solo is Focusrite's answer to the demand for a compact, portable, and affordable audio interface. Perfect for those who may want to record vocals with just one microphone input, let's dive deep into what these solo audio interfaces offer.
Key Features And Specifications
Before we delve into the intricate details, let's get a broad view of what the Solo brings to the table in terms of its core capabilities and features.
Input and Output Channels: The Solo, designed with simplicity and processing power in mind, provides one microphone input and one instrument input. It even boasts an accessible headphone jack. Simple yet effective for solo performers.
Supported Sample Rates: The Solo offers a variety of sample rates, ranging from 44.1kHz to 192kHz. This broad range ensures your recordings are crisp and professional, regardless of your project's scale.
Preamp And Build Quality: Focusrite is renowned for its top-notch preamps, and the Solo is no exception. It houses a pristine-sounding Scarlett mic preamp which delivers rich and detailed recordings. The chassis is sturdy aluminum, providing durability without adding unnecessary weight.
Pros And Cons Of Solo
No product is without its strengths and shortcomings. By understanding both sides of the coin, you can better gauge if the Solo aligns with your needs.
Compact Size and Portability: The Scarlett Solo shines in its compactness. It's light, easy to carry, and perfect for on-the-go recording sessions. Whether you're on tour or simply moving from one room to another, the Solo is a breeze to transport.
Affordability: For beginners or those on a budget, the Solo offers incredible value. It gives you professional-level sound quality without breaking the bank.
Potential Limitations for Professional Use: However, while the Solo is a powerhouse in its own right, it might feel limiting for seasoned professionals. Its single mic input can be a drawback if you're looking to record multiple instruments or vocals simultaneously.
Scarlett 2i2: A Closer Look
As one of the most popular models in the Scarlett lineup, the Scarlett 2i2 promises enhanced features and versatility. Let's peel back the layers and discover what lies beneath its sleek exterior.
Key Features And Specifications
With a dual-input design and added functionality, the 2i2 stands out. But what truly sets it apart in the crowded market of audio interfaces?
Dual Microphone Preamps: Unlike the Solo, the 2i2, facilitating connections for two microphones, stands as an attractive choice for those wishing to record in stereo or two sources simultaneously.
Direct Monitoring Capabilities: Say goodbye to latency. The 2i2's direct monitoring feature allows you to hear your recordings in real-time, ensuring accuracy and precision during sessions.
Connectivity Options: With its USB-C connectivity, the 2i2 ensures fast and reliable data transfer. It's compatible with both Mac and Windows, making it versatile across platforms.
Pros And Cons Of 2i2
While the 2i2 has won over many audio enthusiasts, it's essential to weigh its advantages against its potential drawbacks for a holistic perspective.
Versatility for Different Audio Sources: Having two microphone preamps means the 2i2 can simultaneously accommodate various audio sources, be it two mics, a mic, a guitar, or any other combination.
Robust Build for Studio and On-The-Go: With a robust metal chassis, the 2i2 promises durability. It's built to withstand rigorous studio use and the perils of traveling.
Price Point vs. Features: While slightly more expensive than the Solo, the 2i2 offers features that justify the price difference. However, for someone just starting, the cost can feel a bit steep.
Related: Top 12 Audio Interface for Mac
Scarlett 2i2 vs Solo [Key Differences]
While both devices hail from the same renowned brand, they cater to different needs, reflecting their design philosophy and target audience. Let's delve deeper into their unique attributes.
Input Channels
At its core, an audio interface is defined by its ability to manage sound inputs. And it's here where the first substantial difference between the Scarlett Solo and the 2i2 becomes evident.
Solo's Single Mic Input vs. 2i2's Dual Inputs
The Solo, designed with simplicity in mind, is equipped with a single mic input, making it perfect for solo performers, podcasters, or those looking to record a single source. On the flip side, the 2i2 is decked with dual microphone preamps, targeting individuals or setups that often require recording from multiple sources, such as duets or simultaneous instrument and vocal recordings.
Instrument Input Differences
When it comes to instrument inputs, both interfaces are competent. But the 2i2, with its dual input channels, stands out as it can manage two instruments simultaneously. This feature makes it an attractive choice for musicians aiming to record layered tracks or for those times when collaboration strikes and you have more than one instrument playing.
Performance & Quality
Performance is the true litmus test for any audio equipment. Let's see how each interface holds its own in this domain.
Preamp Quality and Sound Difference
Focusrite's commitment to quality shines in both interfaces. But subtle nuances differentiate them. While the Solo provides a clean and clear sound, thanks to its premium preamp, the 2i2 is often recognized by users for its slightly warmer tone. Especially when juggling multiple inputs, the 2i2's sound output seems to have that extra bit of richness.
Signal-to-Noise Ratio and Clarity
In the audio world, clarity is gold. Both interfaces don't disappoint in delivering a crisp sound. However, when scrutinized, the 2i2, with its advanced design and tech, might just have a minor advantage over the Solo. Its capability to capture more depth, especially in dense soundscapes, sets it a notch above.
Price And Value Proposition
Price tags often come with a direct correlation to quality, especially in the tech world. How does this philosophy translate to our two contenders?
Cost Differences
The Solo, streamlined in features, naturally commands a lesser price than the 2i2. It's a pocket-friendly choice for those who have clarity about their requirements. However, the age-old adage remains – you get what you pay for. The 2i2, with its advanced features, comes with a steeper price, but the capabilities it offers justify the expense.
Which Interface Offers Better Value for Money?
Value is subjective. For some, Solo's straightforward approach and lower cost spell value. For others, especially those looking to expand their recording capabilities or foresee collaborative projects, the 2i2, with its higher cost, might still offer better value due to its versatility.
Software Bundle Inclusions
Beyond the physical attributes, the software suite that accompanies audio interfaces can make or break the deal for many.
Solo's Software vs. 2i2's Software Offerings
Both interfaces come bundled with a plethora of software to kickstart your recording journey. However, there are differences in the offerings. The 2i2 generally boasts a more extensive range of plugins and software tools, aligning with its professional positioning.
Durability And Build Quality
An often overlooked yet crucial aspect of any hardware is its durability, especially for on-the-go musicians.
Solo's Compact Design vs. 2i2's Robust Build
The Solo, given its size and design, is inherently portable, making it a perfect travel companion. But when it comes to standing the test of time and handling occasional rough usage, the 2i2, with its slightly more robust build, shines brighter. This doesn't mean the Solo isn't durable; it's just that the 2i2 feels a tad more rugged in comparison.
Use Cases: Which Interface Is Right For You?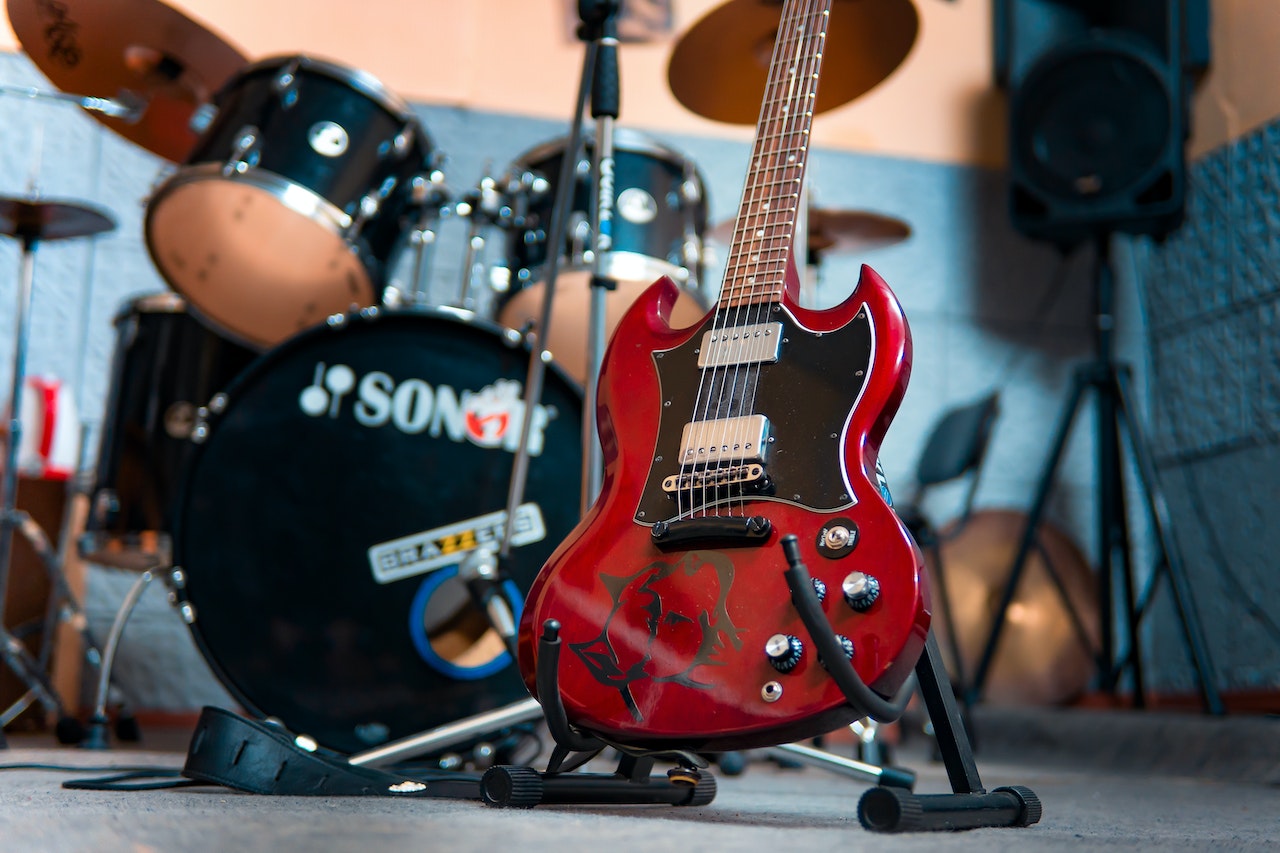 Choosing between the Solo and 2i2 isn't just about features; it's about finding the device that fits seamlessly into your workflow.
For The Solo Musician Or Podcaster
As individuals who often work in varied environments, solo artists and podcasters have unique requirements. How does each device cater to these specific needs?
Simplified Setup and Ease of Use: If you're a solo artist, the Scarlett Solo is straightforward to set up and use, making it perfect for quick recordings without fuss.
Budget Considerations: As a budding musician or podcaster, budgets can be tight. The Solo offers professional quality at a fraction of the cost of more advanced interfaces.
Related: The Best Beginner Audio Interface for Podcasting
For The Home Studio Enthusiast
A home studio is a sanctuary for many audio enthusiasts. Understanding the role each device plays in such a setup can be pivotal in making the right choice.
The Need for Multiple Inputs: For those building a home studio, versatility is crucial. The 2i2, with its dual inputs, can adapt to various recording setups, making it a worthy addition to any home studio.
Compatibility with Studio Equipment: The 2i2 seamlessly integrates with most studio equipment, from monitors to external preamps, ensuring a harmonious recording environment. But both devices come with a USB connection, ensuring they can be integrated into most digital setups. Whether you're connecting monitors, external preamps, or utilizing phantom power, these interfaces have got you covered.
For The Traveling Artist
Being on the road comes with its set of challenges. For artists always on the move, portability and durability are paramount. Which of these devices rises to the occasion?
Portability and Durability Considerations: While both devices are portable, the Solo's compact design might edge out those frequently on the move. However, the 2i2's robust build can withstand the rigors of travel.
Quick Setup and Teardown: Both devices, equipped with a handy headphone jack, are relatively easy to set up and pack away.
Conclusion
In the end, both the Scarlett Solo and 2i2 offer unmatched value in their respective categories. Your choice boils down to individual needs and preferences. The Solo is perfect for individual artists and podcasters looking for simplicity, portability, and affordability. On the other hand, the 2i2 shines in scenarios requiring more versatility, such as home studios or multi-source recordings.
Whatever your choice, one thing's certain: Focusrite's commitment to quality and performance shines through in both devices.
Related: Focusrite Clarett vs Scarlett