When you want to share a message with the rest of the world, you have three primary options to consider today. You can start a podcast, vlog, or blog.
Each option provides unique advantages to consider. If you're a great writer, you could update a blog in 20 minutes. When you want to offer entertainment and interaction, vlogging and podcasting provide different paths to reach the same goal.
Are you wondering which option is right for you? Here's a closer look at the vlog vs. blog vs. podcast debate.
Related: 18 Powerful Advantages of Podcasting
What Content Option Works Best for Me?
When you create content, the platform used should feel comfortable. The information should be something you're passionate about while being fun to share.
Vlogging started with people sharing thoughts and perspectives on video. It evolved into how-to guides, instructional videos, and general entertainment. With Reels, you're seeing another way that this technique helps people get a message out to others.
A vlog's benefit is that it features almost anything. You can even create mini-movies that feature your business or idea.
Blogging is like posting an online diary of your expertise. It features short or long-form articles, often 500 words or more, that outline the specifics of a particular subject. You can write about anything, provide resource pages, and offer educational content. The focus is on creating evergreen material that stays relevant across multiple months and years.
A blog's advantage is its cost. It has the lowest startup requirements since you can create a personalized experience with a domain name and a hosting agreement.
Podcasting is a popular choice for distributing content that feels like having radio on-demand. This content format is quite similar if you grew up listening to weekend dramas or 30-minute shows featuring interviews with celebrities, experts, or interesting people.
A podcast's benefit is that it works for all genres and niches. You can pick a category that matches the information, record your perspective, and distribute it rather quickly.
Related: 143 Podcast Topics Ideas: HOW TO FIND THE RIGHT THEME (2022)
Factors to Consider When Deciding How to Share Content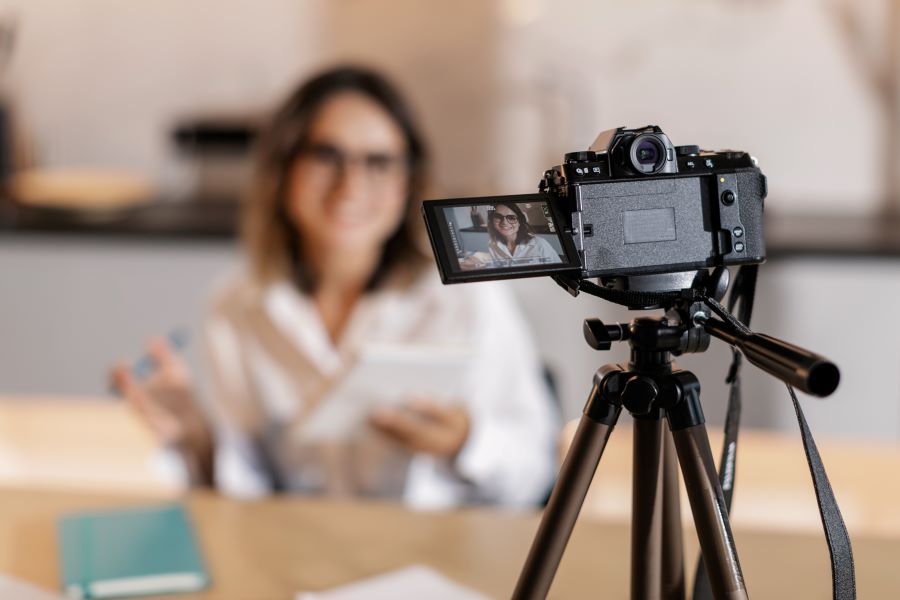 Instead of choosing all three formats for content distribution, it is better to master one option to start developing a community. Once you're proficient with the initial choice, you can add another opportunity to expand your audience.
When deciding between a vlog, blog, or podcast, you'll find that several factors can influence your choice.
What platform represents the topic or subject you wish to discuss? Do other people covering this subject prefer a specific medium? Look at the options that seem to drive the most traffic, then consider your comfort levels.
Would the materials you produce benefit from having visuals? Does audio seem to make more sense? If neither option seems right, the text written for a blog could be the best choice.
What are your skills? If you're not a great writer, it might take longer to produce a blog post than a 15-minute podcast. A vlog might be the better choice if you're an incredible graphic designer.
Where are your interests? Even if you don't have vlogging, blogging, or podcasting skills yet, it is more important to follow your passion than a forced road. If you love the concept of radio and telling stories, a podcast is the best choice.
What is your budget? The cost to start a vlog, blog, or podcast is unique because each requires a different technology set. If money is tight, choosing what you can afford makes more sense.
How often can you update the content? If regular refreshes are necessary to stay relevant, blogging is the easiest content to edit and update. A vlog might work better if you're creating instruction guides that need visual cues. Podcasting creates interactive experiences for those who prefer listening to timeless stories.
Related: How to Create an RSS Feed for Your Podcast
Find Out What Works Best for You
When debating whether a vlog, blog, or podcast is the right choice, consider experimenting with each one. Do you enjoy writing more, or is it fun to produce videos?
If you don't like to be on camera and love telling stories, a podcast could be the best option.
Once you discover what you love, double down on the choice. Most people don't have a team to help create content across all three platforms, so choose the one that you're passionate about the most.
Each platform gives you access to a new audience that could be interested in what you have to share. Once you get started, be persistent. It takes time to grow a following, so keep creating!