When it comes to podcast hosting, there are a lot of different platforms to choose from. This article will compare Anchor and Buzzsprout and help you decide which platform is the best for you. Of course, both platforms have their pros and cons, so let's take a look at them!
Related: Best Podcast Hosting Platforms.
Overview
Anchor is an excellent option for those just getting started with podcasting. It's simple to use and has all the basics you need to get started. Plus, it's free! However, if you're looking for a more robust platform with more features, Buzzsprout might be a better option.
Buzzsprout has some great features that make it worth the price tag. For starters, it offers unlimited storage and bandwidth. This is great if you plan on growing your podcast and releasing new episodes regularly. Additionally, Buzzsprout offers detailed statistics and analytics to see how your podcast is performing.
The Buzzsprout app is an excellent way to transcript your podcasts and protects against other providers using them without permission. You can also use the transcripts as audiograms in apps like Headliner, so listeners have an easier time following along.
Buzzsprout is an app that supports Bitcoin donations. However, Anchor's user interface beats out Buzz's in terms of design and functionality.
Related: How to Create an RSS Feed for Your Podcast
Anchor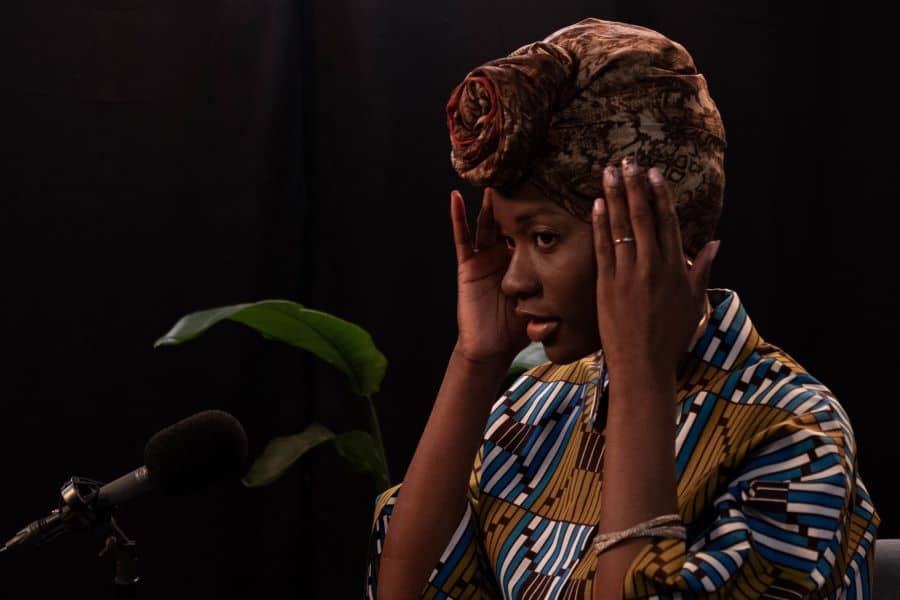 Anchor is a podcast hosting service with over 150k podcasts on its platform. It began life as an audio sharing tool for Silicon Valley investors and growth hackers, but in 2018 Anchors pivoted to providing free tier-one service, including hosting your show or organization's content so that you can focus more time developing your message rather than worrying about how it will be delivered.
Anchor's mobile app is an excellent option for those who want to produce their content, but it might not be the best choice if you're looking into long-term podcasting. The platform has been geared more towards something like call-in talk shows with added music thanks to Spotify—a type of experience that doesn't offer value or sustainability because listeners never know what they'll get from one episode before listening again.
Anchor is an easy-to-use tool for uploading content that can be serialized via RSS. Onboarding has a simple process, and every podcast gets its webpage to make it easier than ever before! In this way, Anchors helps those who want/need only basic features like highlights from meetings or audio taken verbatim off YouTube videos by converting them into mp3s with less fuss.
Related: Libsyn vs Anchor: The Ultimate Podcast Hosting Site
Pros
Simple to use.
A lot of features that make it easy to get started.
Free plan available.
Cons
Doesn't have all the bells and whistles of some of the more expensive options.
In return to being free, you are the product. This means their services may change overnight (e.g. insert their advertising into your podcast) or they may sell your data to other companies.
You may find it harder to move to other platforms as they structure their offers to be easy to get in, harder to get out.
Anchor is an excellent platform for those just starting in podcasting. It's simple to use and has many features that make it easy to get started. However, it doesn't have all the bells and whistles of some more expensive options.
Related: Zencastr vs. Anchor: Which is Best for Podcasting?
Buzzsprout
Buzzsprout is a podcast hosting service that has seen significant growth since 2018. They are perhaps the world's biggest host, sharing some user interface DNA with similar companies like Libsyn and Podbean, which rose to popularity in the early 2000s.
Buzzsprout is an excellent service for those who want to start their podcast, and it also has features that will help you if your show already exists and needs some updates. For example, they offer IAB-certified analytics and dynamic content insertion, which allows them to track what people listen to, so there's no guesswork involved when it comes time to make air improvements!
They also offer a free plan, but in it episodes are deleted from their servers after 90 days making it just a stepping stone to their paid plans and therefore cannot be considered as a long term plan.
Related: Simplecast vs Buzzsprout and Buzzsprout vs Podbean
Pros
Offers a lot of features that allow customization.
You pay for a service so you are entitled to data protection and own what you put out there fully.
Cons
Can be a bit more complicated to use.
Their free plan is not really usable long term.
Buzzsprout is an excellent option for those who want more control over their podcasts. It offers many features that allow you to customize your show however you want. However, it can be a bit more complicated to use than some other options.
Related: Buzzsprout vs. Libsyn: Podcasting Platforms Compared
Anchor Features
Anchor offers some great features for those just getting started with podcasting. For example, their interface is user-friendly and easy to navigate. They also offer a free plan that includes unlimited storage and bandwidth. However, their paid plans are relatively expensive compared to other podcast hosting platforms.
Anchor is the all-in-one platform for podcasting. It's everything you need to start a podcast, from unlimited hosting and distribution to streamlined creation tools and features that help you grow your audience. Here are just a few of the things that make Anchor the best platform for podcasting:
Unlimited hosting and distribution: With Anchor, you can host as many episodes as you want and reach people on all major podcast platforms with just one click. You don't have to worry about bandwidth limits or file sizes, either – we'll take care of all of that for you.
Streamlined creation tools: Anchor makes it easy to record, edit, and publish your episodes right from your phone or computer. There's no need for expensive equipment or complex software – just hit record, and you're good to go. In addition, its built-in AI will automatically add transitions and effects to make your episodes sound great.
Features that help you grow your audience: From customizable RSS feeds to integrations with popular social media platforms, Anchor has everything you need to grow your podcast and reach more listeners.
Anchor also offers a simple podcast editor that can work really well for starters.
Related: Best Podcast CMS that are Open Source.
Buzzsprout Features
Buzzsprout also has excellent features, including an easy-to-use interface and affordable pricing plans. Their free plan includes up to two hours of audio per month, perfect for those just getting started. They also offer a wide range of features for more advanced users.
Buzzsprout offers everything you need to host, promote and track your podcast. They even provide hosting solutions for entrepreneurs looking to launch their show! So, whether it's storing episodes of a long-term project or getting started with something new on the air quickly – there is bound to be some option available within this platform that will work perfectly in sync with how busy everyone lives nowadays.
The main thing we liked about using the Buzzsprout service is that made our life easier by taking care of most aspects of creating content and managing its distribution.
Related: How to Delete an Episode in Buzzsprout.
Conclusion
So, which platform is the better option? It depends on your needs and budget. If you're just getting started with podcasting, Anchor's free plan may be a good option. However, Buzzsprout's paid plans may be a better fit if you need more features or storage. Ultimately, it's up to you to decide which platform is best for your needs. We hope this has helped you make a decision.
Do you have any experience with either of these platforms? Let us know in the comments below! And if you're looking for more help with starting a podcast, be sure to check out our other articles on the topic.
Thanks for reading!
Related: Anchor FM vs Podbean: Which Podcast Host is Right For You?