Have you ever dreamed of starting your own podcast, sharing your unique voice, or a favorite hobby? Or you're an established podcaster seeking to switch platforms for a better experience. Regardless of your situation, you've come to the right place. Today, we're delving into the nitty-gritty of one of the pioneers of podcast hosting – Buzzsprout. In this ultimate Buzzsprout review, we'll dive deep into its services, pricing, and customer support and compare it with other industry players. Buckle up, folks, it's going to be an informative journey!
So, what exactly is Buzzsprout? Well, it's an intuitive podcast hosting platform that has been facilitating podcasters since 2008. Over the years, it has grown into one of the industry's heavy hitters, known for its user-friendly interface, practical features, and supportive community. Let's dive into what makes Buzzsprout tick.
Related: Best Podcast Hosting Platforms
Key Features Of Buzzsprout
Buzzsprout is packed with a host of features that make podcasting an enjoyable and efficient experience. Let's explore the most significant ones that lend Buzzsprout a competitive edge in the industry.
Easy Podcast Uploading
The ability to quickly and easily upload podcast episodes is paramount, and Buzzsprout hits the nail on the head. The platform has an intuitive process that makes uploading a breeze. All you have to do is click "Upload a new episode," select your file, and voila! You're done.
Plus, you can schedule your episodes to go live at your preferred date and time. In a world where time is money, these simplified processes are a game-changer.
Advanced Analytics And Tracking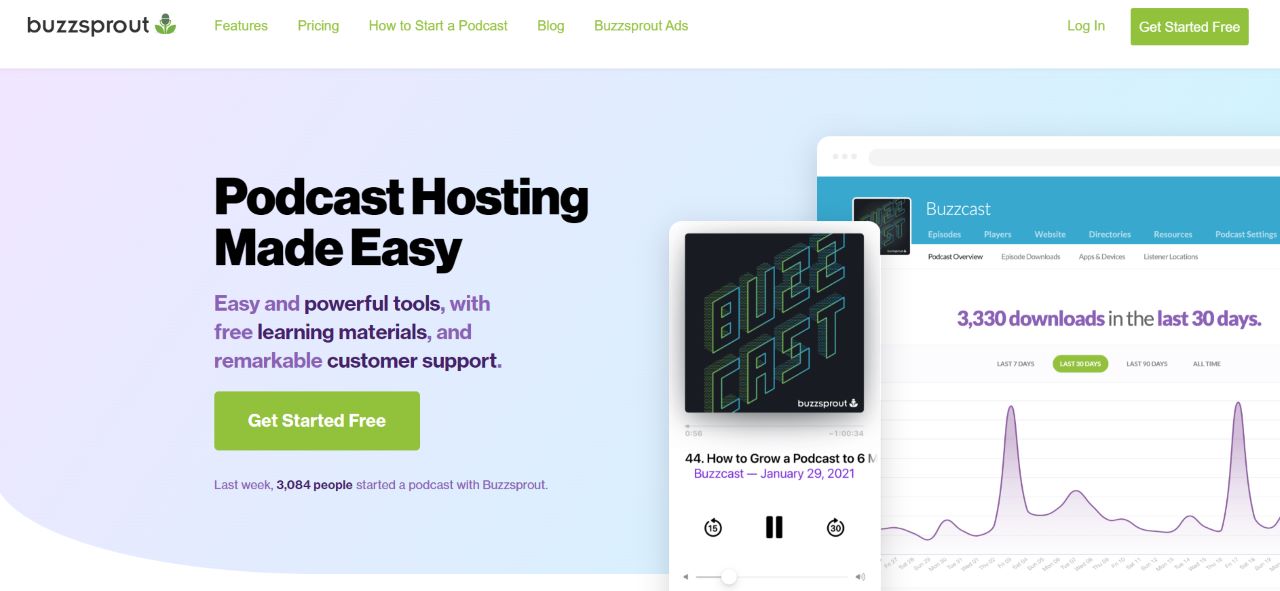 Buzzsprout excels when it comes to analytics. With its comprehensive statistics, you'll know exactly how your podcast is performing. You get data on podcast episode downloads, listener locations, and what apps they're using. This treasure trove of information empowers you to make informed decisions on your podcast content and marketing strategies.
Effective Podcast Distribution
Buzzsprout's podcast distribution network is top-notch. It sends your podcast to all the major podcast directories, including Apple Podcasts, Spotify, Google Podcasts, and many more, all at the click of a button. This wide reach ensures your voice reaches as many ears as possible, maximizing your impact.
Automatic Episode Optimization
Another standout feature is Buzzsprout's automatic episode optimization. The platform automatically optimizes your episodes for the best audio quality without exceeding file size limits. You upload your podcast, and Buzzsprout takes care of the rest. It's a dream come true for non-tech-savvy podcasters.
Interface And Ease Of Use
One of the most lauded aspects of Buzzsprout is its uncluttered, intuitive interface that simplifies podcast management, even for the least tech-savvy users. But how does this translate into real-world usage?
User-Friendly Interface
Buzzsprout has a clean, user-friendly interface that is easy to navigate. Everything is straightforward, and tools are where you'd expect them to be. For new users, the learning curve is minimal, and for experienced podcasters, the platform offers a breath of fresh air.
Navigation And Finding Tools
Searching and finding tools on Buzzsprout is a cinch. The platform features a comprehensive dashboard where you can easily access all your podcasts, analytics, and more. Plus, the menu is organized intuitively, making it quick and easy to find exactly what you need.
Buzzsprout Review: Its Unique Selling Proposition
In a sea of podcast hosting platforms, what makes Buzzsprout stand out? Let's delve into the unique aspects that set Buzzsprout apart from the rest.
What Sets Buzzsprout Apart From Its Competitors?
While there are numerous podcast hosting platforms out there for you, my dear podcast host, Buzzsprout, stands out for its simplicity and comprehensive feature set. It strikes the perfect balance between user-friendliness and functionality. Plus, Buzzsprout's commitment to helping podcasters succeed is evident in its extensive library of educational resources and responsive customer support. It's not just a podcast hosting platform; it's a partner in your podcasting journey.
Delving Deeper into Buzzsprout's Services
Buzzsprout's service offerings are extensive and cover all the basics (and then some) of podcast hosting. Let's break it down piece by piece.
Hosting and RSS Feed
As the backbone of your podcast, your podcast hosting service provider and RSS feed are essential elements to consider. Here's how Buzzsprout delivers on these two crucial fronts.
Discussion on the Hosting Capabilities
Buzzsprout offers robust hosting capabilities, catering to podcasts of all sizes. Whether you're running a small, niche podcast or a large, professional operation, Buzzsprout has you covered. The platform ensures your episodes are always accessible to your listeners, with no annoying lags or downtimes.
Importance and Performance of RSS Feed
Buzzsprout's RSS feed performance is top-notch. An RSS feed is essentially your podcast's lifeline—it's what connects your content with your listeners. With Buzzsprout, your RSS feed is always up-to-date, ensuring your audience can access your latest episodes as soon as they're live.
Distribution Capabilities
Ensuring your podcast reaches as many ears as possible is paramount to growing your audience. Buzzsprout understands this and offers impressive distribution capabilities to get your voice heard.
Range of Distribution Channels
Buzzsprout offers an impressive range of distribution channels. Your podcast will be sent to all the major podcast directories—Apple Podcasts, Spotify, Google Podcasts, Stitcher, Alexa, and more. This wide distribution network helps you reach more listeners and grow your audience faster.
Efficiency in Podcast Syndication
Buzzsprout's podcast syndication is efficient and seamless. Once you upload your podcast, it is automatically distributed to your chosen directories. This process ensures your content gets the maximum exposure possible, with minimal effort on your part.
Monetization Options
Turning your passion for podcasting into a profitable venture is a dream for many podcasters. With Buzzsprout's range of monetization options, this dream can become a reality. Let's dive into the details.
Available Methods for Monetization
Buzzsprout offers various monetization methods to help you earn from your podcast. These include affiliate marketing, donations, sponsorships, and merchandise sales. You have the flexibility to choose the method that suits your podcast and audience best.
Effectiveness and Ease of Setting Up Monetization
Setting up monetization on Buzzsprout is a straightforward process. The platform guides you through the setup, ensuring you can start earning from your podcast in no time. Whether you're a seasoned podcaster or a beginner, you'll find Buzzsprout's monetization options effective and easy to use.
Podcast Migration
Thinking of moving your podcast to Buzzsprout from another platform? Buzzsprout's podcast migration features ensure a smooth transition. Let's look at how this works.
Features for Transferring a Podcast to Buzzsprout
Switching podcast platforms can be daunting, but not with Buzzsprout. The platform offers a seamless podcast migration service. You can transfer all your episodes, including titles, descriptions, and artwork, in a few simple steps. Plus, Buzzsprout ensures your podcast's RSS feed redirects correctly, so you don't lose your existing audience during the switch.
Ease and Efficiency of the Process
The podcast migration process on Buzzsprout is smooth and efficient. The platform offers step-by-step guides and customer support to assist you in the process. You don't need to be a tech whiz to migrate your podcast to Buzzsprout—it's as easy as pie.
Buzzsprout Pricing – An In-Depth Look
Buzzsprout's pricing structure is transparent and offers options for every budget. You can start for free and then upgrade as your podcast grows. There are four pricing plans available—Free, $12/month, $18/month, and $24/month. Each plan comes with a set of features and allowances designed to cater to different needs and budgets.
Free plan: The free plan is perfect for beginners looking to test the waters. It includes two hours of upload time per month, but your episodes are hosted only for 90 days.
$12/month plan: The $12/month plan offers three hours of upload time per month, and your episodes are hosted indefinitely. You also get access to advanced statistics and the ability to add chapter markers to your episodes.
$18/month plan: For podcasters who require more upload time, the $18/month plan offers six hours each month. All the benefits of the $12/month plan are included, along with the added upload time.
$24/month plan: Lastly, the $24/month plan is the most comprehensive, offering 12 hours of upload time per month. This is ideal for professional podcasters or those producing lengthy episodes.
Customer Support And Community
Buzzsprout shines in terms of customer support and community engagement. Let's delve into the details.
Quality Of Customer Service
When you encounter an issue or need guidance, excellent customer service can make all the difference. Here's what you can expect from Buzzsprout's customer service team.
Response Times and Helpfulness
Buzzsprout's customer service is top-tier. The team is responsive, friendly, and extremely helpful. Whether you need assistance with setup, have a technical question, or need guidance with podcasting in general, they're there to help. Response times are fast, so you won't be left hanging when you need assistance.
Channels of Customer Support (email, live chat, etc.)
Buzzsprout offers multiple channels for customer support. You can reach them via email or use the live chat feature on their website. Plus, they have a comprehensive help center with articles and video tutorials that answer common questions and guide you through various aspects of the platform.
Buzzsprout's Online Community And Resources
Learning and networking are key aspects of podcasting. Buzzsprout fosters these through its vibrant online community and wealth of learning resources. Let's explore these further.
Overview of the Buzzsprout Community
The Buzzsprout community is one of the platform's greatest strengths. It's a supportive space where podcasters can connect, share ideas, ask questions, and learn from each other. Being a part of this community can be invaluable, especially for beginners.
Available Learning Resources (blogs, guides, tutorials)
Buzzsprout offers a wealth of learning resources. They have a blog that features informative articles on podcasting, a podcast (how fitting!) called Buzzcast, and a YouTube channel with tutorials and tips. Whatever your learning style, Buzzsprout has resources to help you succeed in your podcasting journey.
How Does Buzzsprout Compare To Competitors?
It's essential to consider how Buzzsprout stacks up against other podcast hosting platforms. So, let's see how it fares against three popular competitors: Libsyn, Podbean, and Anchor.
1. Buzzsprout vs. Libsyn
Comparisons can provide a clearer picture of a platform's strengths and weaknesses. Let's compare Buzzsprout and Libsyn, a well-established name in the podcast hosting landscape.
Features comparison
While both platforms offer a comprehensive set of features, Buzzsprout edges out with its user-friendly interface and automatic episode optimization. Libsyn, on the other hand, offers more granular control over podcast distribution, which may appeal to some podcasters.
Pricing comparison
When it comes to pricing, Buzzsprout is more transparent and straightforward. Libsyn's pricing starts at $5/month for 50MB storage, but advanced features like statistics come at additional costs. Buzzsprout's pricing, as mentioned earlier, is more inclusive, making it a more economical choice for most podcasters.
For a more in-depth comparison, check out our article on Buzzsprout vs. Libsyn.
2. Buzzsprout vs. Podbean
Podbean is another popular podcast hosting platform. But how does it stack up against Buzzsprout? Let's dissect the similarities and differences.
Features comparison
Buzzsprout and Podbean both offer impressive feature sets. However, Buzzsprout's interface is more intuitive, and its automatic episode optimization is a standout feature. Podbean, on the other hand, offers live streaming and in-app calling features, which Buzzsprout lacks.
Pricing comparison
Podbean offers unlimited hosting for $9/month, which is a bit cheaper than Buzzsprout's comparable plan. However, considering Buzzsprout's easy-to-use platform and extensive learning resources, the slight price difference may well be worth it for many podcasters.
For more about Buzzsprout vs. Podbean, check out our other post.
3. Buzzsprout vs. Anchor
Finally, let's compare Buzzsprout with Anchor, a free podcast hosting platform that has been gaining traction. Who emerges victorious in this head-to-head comparison? Let's find out.
Features comparison
Buzzsprout and Anchor both offer easy podcast uploading, distribution, and monetization. However, Buzzsprout provides more comprehensive analytics and greater control over your RSS feed. Anchor, however, shines in its mobile app, allowing podcast creation and editing on the go.
Pricing comparison
Anchor's main selling point is its cost—it's entirely free. However, "free" comes with limitations, such as a lack of customer support and limited control over monetization. Buzzsprout's paid plans, while costing money, offer a more holistic podcasting experience.
Here's more on Anchor vs. Buzzsprout.
FAQs
Is Buzzsprout Any Good?
Yes, Buzzsprout is an excellent platform for podcast hosting. Its user-friendly interface, comprehensive analytics, and robust distribution capabilities make it a favorite among both novice and seasoned podcasters. In addition, Buzzsprout provides automatic episode optimization to ensure your podcasts are of the highest quality possible.
The platform also supports podcast migration, making it easy to transfer your existing podcast from another platform. Moreover, Buzzsprout offers a range of monetization options and delivers impressive customer support. Its strong online community and wealth of learning resources are additional bonuses that help podcasters enhance their skills and network with like-minded individuals.
What are the Limitations of Buzzsprout?
Despite its many advantages, Buzzsprout isn't without its limitations.
Firstly, its pricing structure is based on upload hours per month rather than storage space. This means if you produce long or frequent episodes, you might find yourself quickly exceeding your plan's limits.
Secondly, while Buzzsprout offers monetization options, it doesn't have an in-built ad marketplace like some other platforms. You will need to find sponsors yourself or join affiliate marketing programs, which can be time-consuming.
Thirdly, some users have noted that the range of customization options for the podcast website provided by Buzzsprout is somewhat limited compared to some competitors. If you want a highly customized, unique website, you might need to look elsewhere or use additional tools.
Will Buzzsprout Upload to Spotify?
Absolutely, Buzzsprout has excellent distribution capabilities, including seamless integration with Spotify. Once you've set up your podcast on Buzzsprout, you can easily submit it to Spotify directly from your Buzzsprout dashboard. This means your podcast video/audio files will be accessible to Spotify's hundreds of millions of active users, significantly increasing your potential audience reach.
It's important to note that after the initial submission, all your future episodes uploaded to Buzzsprout will automatically appear on Spotify, ensuring a smooth, continuous distribution process.
How Much Does Buzzsprout Pay?
Buzzsprout itself does not pay podcasters. It is a podcast hosting platform providing the necessary infrastructure for publishing and distributing your podcast. The potential to earn money from your podcast comes through various monetization strategies, which Buzzsprout supports.
For example, you can earn money through sponsorships, where businesses pay you to advertise their product or service on your podcast. The amount you make here depends on factors like your audience size and engagement level.
Additionally, Buzzsprout partners with various affiliate programs, enabling you to earn a commission by promoting products or services. Another monetization avenue is listener donations, facilitated by Buzzsprout's integration with platforms like Patreon.
Ultimately, the amount of money you make from your podcast depends on your monetization strategy, the size and engagement level of your audience, and the effort you put into securing sponsorships or promoting affiliate products.
Conclusion
When it comes to podcast hosting, Buzzsprout is a solid choice. With its easy-to-use platform, comprehensive feature set, and supportive community, it's equipped to help you succeed in your podcasting journey. While other platforms may offer unique features or lower prices, Buzzsprout strikes a balance between functionality, usability, and cost.
Whether you're a budding podcaster or a seasoned professional, Buzzsprout offers plans and features to meet your needs.