The Airpods Pro are luxurious wireless earbuds created by Apple. They are in-ear headphones that have a minimalist design and cutting-edge audio technology.
The previous Airpods 2, were heavily criticized due to poor sound quality, as well as how easily they fell out of the ears. So, has Apple built on its mistakes and created a better version for everyone?
In this article, we will be reviewing the Airpods Pro in detail, discussing its design, key features, and overall sound quality. The article will end with a final verdict on whether the Airpods Pro is worth your money!
Related: Top 10 Best Podcast Earbuds
Airpods Pro – Design
The overall design of the Airpods Pro is sleek and compact. The white earbuds arrive in a white case that charges the Airpods while you aren't using them.
The earbud stem is slightly less long than the Airpods 2, making them appear sleeker and harder to knock out than the previous model.
As with previous models, the Airpods Pro are available in a bright white shade. While this looks great, the white can show dirt and scratches easily, so it would have been nice to see a darker color also be available.
Customizable Silicone Tips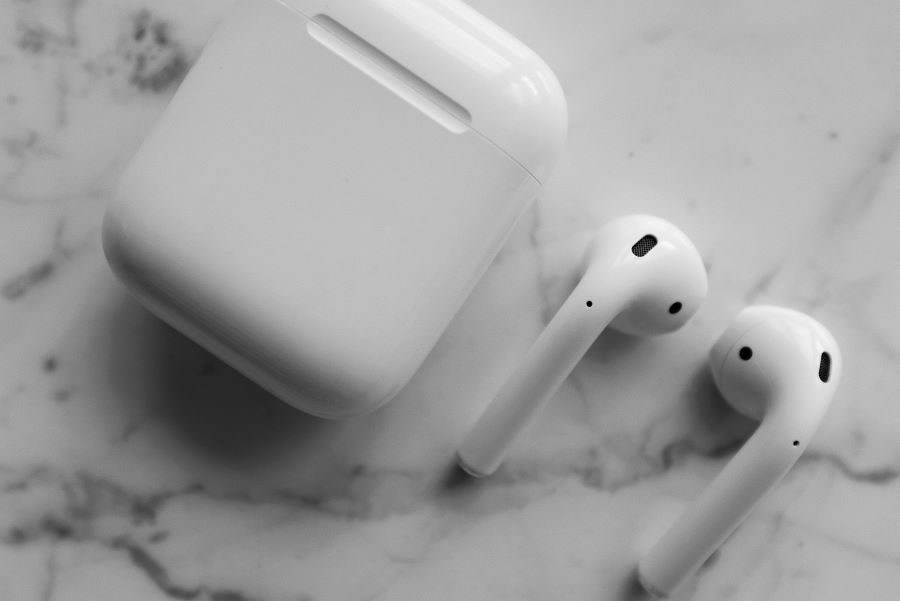 With other earbuds on the market, you have to squeeze and push a silicone nozzle into your ear. Apple has avoided this and designed their earbuds with no nozzle.
Instead, the earbuds arrive with three progressively-sized silicone tips which ensure that everyone can find the perfect fit. Standard earbud tips have to be pressed on, but these silicone tips securely lock into place.
The only downside to Apple's new silicone tips is that you have to buy replacement tips from Apple. However, replacements cost $7.99, which is pretty affordable for a high-end brand.
Airpods Pro Fit Test
Finally, Apple has even designed a software tip fit test, which lets you know if your Airpods fit correctly. Here is a summary of the earbud fit test:
First, on your device, go to your Bluetooth settings, then click the "I" button, located next to the Airpods picture.
Next, a screen will pop up, telling you to place the Airpods securely into your ears, before running the test.
The test will run for a few seconds, before informing you whether your earbuds fit correctly or not. The test checks each of the Airpods individually, as many people have different shaped ears on either side.
If they fit perfectly, a green tick will appear, with a message reading "Good Seal" underneath.
If they don't fit perfectly, the test will advise you accordingly.
This test is a fantastic feature that ensures complete user satisfaction and comfort.
Airpods Pro Charging Case
The Airpods Pro case is sleek, compact, and nicely fits in the hand. The case feels very light, which makes it very portable. It has smooth edges and a clean, white design that make it so enjoyable to use.
To charge, simply place the Airpods back in their case and close it. There is a magnet in the earbuds and the case, so they slide and lock in place effortlessly.
Wireless Charging
The case will automatically charge the earbuds while they aren't in use. To charge the Airpods case, you can either connect a lightning cable to it, or use a compatible wireless charger.
The ability to wirelessly charge the Airpods case is innovative and makes everything completely cable-free.
Related: How to Charge Your Earbuds
Charge Time & Battery Life
The Airpods Pro take between 1-2 hours to reach a full charge, which is pretty speedy.
Once charged, the Airpods have approximately four and a half hours of battery life before they will need another powerup. This run-time is shorter than other wireless earbuds on the market, but four and a half hours is plenty of time in most situations.
Here is some more key information about the Airpods Pro:
Connectivity – Bluetooth 5.0
Size – 30.9 x 21.8 x 24.0 mm
Weight – 5.4 grams
Key Features
The Airpods contain an H1 chip, which allows them to connect to remember your iPhone and automatically connect. This saves time as you don't need to manually connect the Airpods as with other earbuds.
The Airpods Pro allow you to choose between three different noise settings: Noise Cancellation, Transparency Mode, and Off. Depending on your situation, you can switch between these listening modes to provide your ideal listening experience.
Noise Cancellation Mode
The Noise Cancellation mode uses a microphone facing outwards, which detects outside noise. The Airpods then counteract this noise with an equal amount of anti-noise, which blocks the external noise from the listener's ears.
Meanwhile, another microphone is inside the ear to detect any more unwanted noise, which the Airpods also cancel out with anti-noise.
According to Apple, the noise cancellation automatically changes at "200x per second", so it is continuously adapting to your surroundings without you having to manually change the settings. This super-fast noise cancellation is an innovative technology that puts the earbuds way ahead of other options on the market.
Transparency Mode
If you are listening out for sounds like the doorbell, or a train announcement, the Airpods have also got you covered. With Transparency Mode, you can allow background noise in, and still listen to whatever is playing through the Airpods.
Alternatively, you can use the "Off" mode, which plays sound normally without any Noise Cancellation or Transparency Mode. To alternate between the three modes, simply press and hold the sensor on the Airpods stem.
Conversation Boost
If you are having a face-to-face conversation in a busy area, you can activate Conversation Boost. This allows the Airpods to focus on the sound of the other person's voice as well as cancel out background noise, so you can hear them more clearly than ever!
Related: Earbuds Type
Airpods Pro & Siri
You can also use Siri commands with the Airpods, so you can ask the Airpods to do things like check the weather or pause your music. This makes things very convenient as you don't have to lift a finger as Siri will take care of things.
For example, through Siri, you could ask the Airpods to change the volume, search for a song, or stop your video, all through voice control without having to lift a finger.
Airpods Pro & Working Out
If you want to wear the Airpods Pro to the gym, you'll be please to know they are sweat-resistant. Previous models have been known to pop out during sweaty workouts, but Apple has made the Airpods Pro fit much more securely.
The earbuds are also IPX4 water-resistant, which means they aren't fully waterproof or submergible, but can safely withstand water splashes without getting damaged.
Sound Quality
The sound quality when using the Airpods is excellent, as they produce clear, crisp sound. The bass could be improved but the high and mid sounds are well-delivered.
One great feature is the Automatic Equalization, which alters sound equalization in response to your individual ear shape. Everybody's ears are different, so this feature gives a personally-tailored sound experience for your body.
The earbuds also feature Spatial Audio, which stimulates a surround sound experience. This software takes music listening to a new level as it recreates the feeling of listening to music on surround sound speakers, like those at a concert.
Related: How to Listen to Podcasts and Music at the Same Time
Airpods Pro Command Functions
With this model, Apple has added handy sensors to the earbud stem, so that you can quickly make adjustments whilst listening to audio.
To pause the sound, press the sensor once. To restart the sound, press the sensor once more.
To skip a song, double tap the sensor. To skip backward, press the sensor three times.
In addition, you can personalize the earbud sensor functions through your device, so that things run even more smoothly.
Volume Control
One complaint that users had with the Airpods 2, is that there were no volume controls on the earbuds themselves. Unfortunately, Apple still hasn't fixed this on the Airpods Pro, but with the addition of Siri controls to this model, things are definitely easier.
You can now ask Siri to turn the volume up or down, or you can adjust the volume on the app that the sound is playing from on your device. Finally, you can adjust the volume using the slider on your device's lock screen.
Related: AirPods: 6 Simple Fixes to Try for Muffled Sounds
How To Connect the Airpods Pro – iOS
To use these earbuds, your iOS device must be updated to iOS 13.2. Once this is established, simply long-press the charging case button, and a window will appear on your device, with a button saying "Connect". Press this and your Airpods will be connected.
How To Connect the Airpods Pro – Android
If you're an Android user, you will still be able to use these earbuds. To connect them to your phone, long-press the charging case button and search for the Airpods in your device's Bluetooth settings. When you find the Airpods, click on them, and they will connect to your Android device.
Final Verdict
The Airpods Pro are certainly a splurge item, as they retail for $249.
The Noise Cancellation, Transparency Mode, and Conversation Mode are genius inventions. There is a mode for every situation, which means there's never a need to take the Airpods out. For anyone who regularly finds themselves in a noisy environment such as an office or a busy work commute, these three sound modes will make your environment much less overwhelming.
Also, we loved the fact that the Airpods test themselves for a secure fit, and that they arrive with three tip sizes. These features combined make the Airpods Pro one of the most comfortable, well-fitting sets of wireless earbuds available.
As well as their impressive features, the earbuds offer studio-standard sound quality and the internal microphones pick up your voice very clearly.
For these reasons, we believe that the Airpods are definitely worth investing in.
Related: IEMs vs. Earbuds: How to Choose the Right One for You
Are the Airpods Pro Worth it? – Article Summary
To recap, in this article we reviewed the Apple Airpods Pro, detailing the key features and overall design. Some of the product's best selling points are:
Completely Wireless Charging
Noise Cancellation & Transparency Mode
Siri & Touch Sensor Controls
Sweat-Proof and IPX4 Water-Resistant
Due to their excellent features, we decided on a verdict that the Airpods Pro are indeed worth buying.
We hope that you enjoyed learning about the design of the famous Airpods Pro.
Thank you for taking the time to read our article today!
Related: Are Raycons Noise-Cancelling?