If you love using classic wired earphones, then the Beats by Dre Urbeats are an excellent choice. They have been a huge success since they were released a decade ago, and users continue to sing their praises to this day!
Beats by Dre is a luxury audio brand, and the UrBeats were one of their first affordably-priced products. But does the cheaper price tag mean a dip in sound performance?
In this article, we will review the Beats by Dre UrBeats in terms of their design and key features. At the end of the article, we will reach a verdict on whether these earphones are worth buying.
Related: How to Listen to Podcasts and Music at the Same Time
Beats by Dre UrBeats – Design
The Beats by Dre UrBeats have a matte, sleek design and a lavish chrome finish. They have a pleasing red and black design that pairs well with any outfit.
They have a straightforward design and don't need turning on or charging to work. All you have to do is plug their 3.5mm cable into your device and they will work instantly. You can control the UrBeats via your device lock screen, listening app of choice, or via the remote control on the wire.
The earphones have a fairly minimalist design, with a simple "b" across them (the brand's logo). There are seven color variants to suit everybody's preference:
Red
Black
Purple
Blue
Pink
White and Gold
White and Champagne.
Many earphones have a limited color shade range, so we appreciated the varied selection as it gives the user more of a choice.
Unlike other earbuds on the market, the UrBeats are made with metal instead of plastic. This gives the earphones a luxurious edge while making them very durable.
Lots of users noted that the earbuds lasted for several years of use thanks to their long-lasting design. This is probably the main reason for the product's longstanding success, even after Beats by Dre discontinued them.
The earphones weigh just 0.04 pounds (0.017 kg), so they are very lightweight. They take up hardly any space in luggage, so they are perfect for traveling.
Unlike the majority of modern earphones, you don't have to remember to charge these earphones as they are wired. This is excellent news if you're someone who regularly forgets to charge their earphones.
3.5mm Jack Required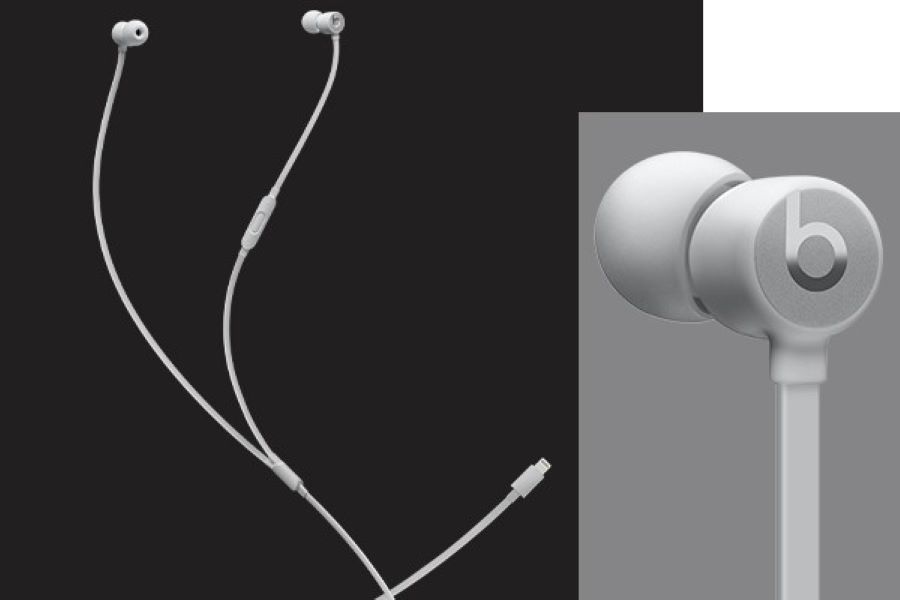 If your phone does not have a 3.5mm jack, then the earphones will not fit into your device. You can solve this by purchasing a 3.5mm adapter and then you will be good to go!
Needing to purchase this adapter is annoying, but to be fair, when these earphones were originally released in 2012, most phones were still using 3.5mm jacks.
Mess-Free Design
One of the best features of these headphones is their handy anti-tangle cable; it has a flat design so it is much harder to knot up. This is designed to keep the 22mm cable mess-free and always ready to go.
Furthermore, these earbuds can magnetically connect to each other when they're not in use. This magnetism is satisfying and keeps them organized.
Integrated Remote Control
On the left side of the wire, there is a remote with three raised buttons. You can use these buttons to quickly turn the volume up and down, pause/play, and skip between songs. This is convenient as you don't have to operate these controls from your device.
One drawback is that the remote volume controls only work with Apple devices. This is a shame as lots of users operate with Android, but it doesn't mean Android users can't control the earphones. They would still be able to change the volume manually through their Android phone/tablet.
Users have noted that one drawback of the remote is that it is positioned pretty close to the left earphone. You can't see the remote, so you have to find it by touch. But after a few uses, you'll be able to remember where it's located and you won't be bothered by it.
Built-In Microphone
The UrBeats contain a microphone which is located on the wire's remote. This is great as you can take phone calls or send a voice note without having to take off the earphones.
You can also use the microphone for recording purposes as it provides pretty crisp audio feedback. Of course, it's not to studio standard, but it's a convenient recording device.
Related: The Best Headset Microphones For Recording Audio in 2022
Sound Performance
As with all other Beats by Dre products, the UrBeats have top-notch audio feedback. There's certainly more attention to bass as it is very loud and deep.
Here's a tip if you're a bass junkie; ensure the angled silicone tip is sealed as tightly as possible, as this will get you the best sound isolation.
However, if bass isn't your thing and you prefer a more well-rounded listening experience, you might find the highs and mids a little disappointing. The highs are clear and smooth, just a little overpowered by the bass.
The best part about the UrBeats audio is that there is hardly any distortion, even if the volume is turned way up. You can usually expect inexpensive earphones to come with distortion, but the UrBeats don't have this problem.
The UrBeats are made with precise single-billet metal which counteracts noise vibrations caused by loud volume or heavy music genres.
Sound Leakage
Sound leakage occurs when other people can hear your music through your headphones. The UrBeats solve this by using barriers that stop nearby people from listening to your tunes.
Even if the volume is turned up high, you can enjoy your audio without others being disturbed by you.
Noise Isolation
The noise isolation on these earphones is superb. The earbuds reduce background noise through their adjustable-fit ear tips.
This provides a clear listening experience so you can peacefully enjoy your music or movie without having to listen to whatever is around you.
Comfort
The earbuds arrive with four different-sized silicone tips so that everyone can find their ideal fit. The silicone tips are angled which makes them comfortable when worn for a long time. Once you've found the correct tip, they fit snugly and do an excellent job of blocking outside noise out.
If you're a gym lover, it's important to note that the earbuds are not sweat-resistant. So if they are worn during a sweaty workout, they may slip out of your ears. However, the earphones will stay in place during walking or light running.
Also, they aren't waterproof so they cannot be worn in adverse weather conditions or during swimming sessions.
Price
Unfortunately, one downside of the Beats by Dre UrBeats is that they can be difficult to find. The earphones first came out in 2012, so many stockists have halted selling these earphones.
However, the good news is that you can find the earphones up for as little as $20-60, which is a steal compared to their original $100 price tag! To this day, they're one of the cheapest wired earphone sets available.
Protective Travel Case
The earphones arrive with a soft carry case to protect them during travel. It has a simple red and black design that matches the design of the UrBeats earphones.
Beats by Dre UrBeats – Final Verdict
In conclusion, we believe that the Beats by Dre UrBeats should be purchased for several reasons. Firstly, the audio quality is bass-heavy and the noise isolation is good. They also look and feel luxurious despite being cheap. Finally, they are very quiet to people around you even if you're blasting the music!
So, if you're looking for a reliable, cheap set of earphones, then the Beats by Dre UrBeats will not let you down.
Beats By Dre UrBeats Review – Article Summary
To recap, we reviewed the Beat by Dre Urbeats earphones, some affordable wired headphones on the market. Here are some of the key features we discussed:
You can cop a pair for as little as $20 if you search around online.
Snug-fitting earbud tips mean great noise isolation.
Anti-tangle cable keeps the UrBeats knot-free.
4 x pairs of silicone tips to suit everybody's ears.
Given these features, we decided that the UrBeats are definitely worth investing in.
We hope that you enjoyed discovering these earphones and learning about their design and key features.
Thank you for taking the time to read our article today!
Related: IEMs vs. Earbuds: How to Choose the Right One for You