USB microphones are portable mics that connect to a laptop or computer, allowing content creators to record high-quality audio from their own setup. They eliminate the need to hire equipment or rent out a recording space. These microphones allow you to achieve professional audio anywhere you like.
There are so many great options, and searching for the perfect USB microphone can become a pretty overwhelming task. In this article, we will be explaining the key factors you should consider, before reviewing our favorite affordable microphones.
To suit everyone's budget, we have three lists of USB mics with the following price points:
Under $250
Under $150
Under $100
At the end of the article, we will be revealing our favorite budget-friendly microphone that costs just $70!
Related: Podcast Starter Kit and Podcast Mic Setup
What Should I Consider When Buying a USB Microphone?
Price Range
USB microphones range from $50 to hundreds of dollars. You should decide on your budget before browsing, to avoid overspending. Remember, a more expensive price tag doesn't necessarily mean a better podcasting mic!
Related: How Much is a Mic?
Sound Quality
The most important part of picking a microphone, as it's what your podcast listeners will judge you on. Make sure to read online reviews about the mic's audio quality, and look out for
Type of Microphone
There are two different types: condenser mics and dynamic mics. Both are great for podcasting, but a condenser would be the better choice for group podcasting, as it has a stronger response to high frequencies. This makes the overall audio more clear and nuanced.
However, if you're recording alone at home, a dynamic mic would be better, as it is more adept at eliminating unwanted background noise.
Related: The Best Microphones For Recording in Podcasting (2023)
USB vs XLR Microphones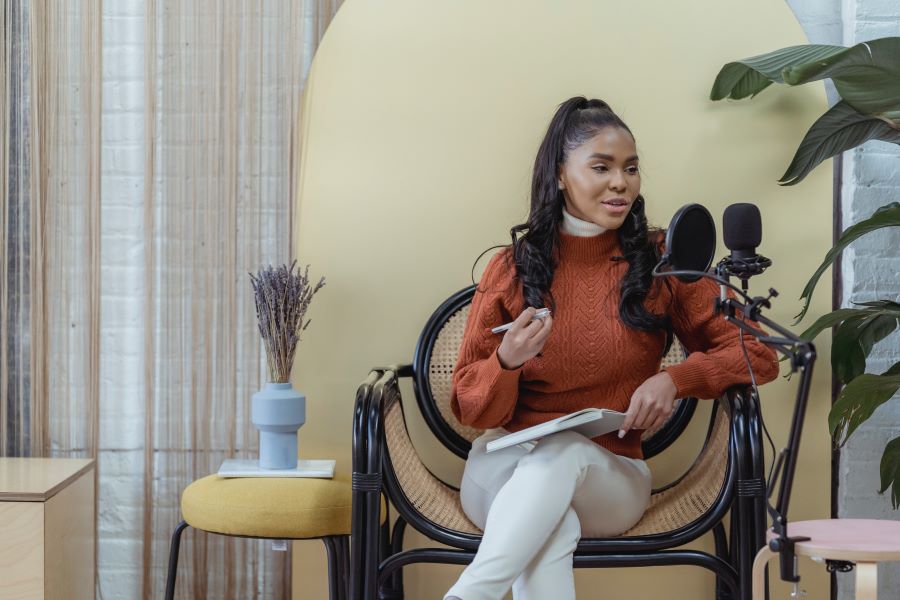 USB and XLR are two different types of connections from a microphone to a device.
XLR microphones are an industry standard for audio recording, but it doesn't mean an XLR mic is the best option for you. They are more expensive and they require additional equipment to work. The XLR cable needs to connect to an audio interface to start recording. Essentially, an audio interface converts the audio signal into something that the computer can understand, like a translation.
On the other hand, USB microphones are easier to set up, since most laptops/PCs already have USB slots. The USB mic can be plugged in and will instantly start to work. These mics are ultimately best for affordability, since they are less expensive than XLR mics, and you don't have to buy an interface. Also, you can connect many USB mics to your mobile devices, provided you have an adapter. For example, if you have an iPhone, you would need a USB to Lightning adapter. Once you have the adapter, you can use your USB mic in audio programs such as Garage Band, or even your phone's voice recorder.
Related: Best XLR Microphones for Podcasting
Polar Patterns
The polar patterns of a microphone refer to the space and direction that the mic is picking up the audio signal. Essentially, it's how far the mic reaches to pick up noise. Polar patterns can have a huge impact on your overall audio quality, so it's important to know the difference.
Cardioid Pattern
This polar pattern captures mainly from the front of the mic, a little from the sides, and none from behind the mic. This is great for a solo podcast, as the pattern focuses on whoever is in front of the mic.
Related: Top 8 Best Mic for Noisy Environment
Omnidirectional Pattern
This polar pattern allows the microphone to pick up audio equally from every direction, which provides a more balanced recording. Omnidirectional is better for podcasts with multiple hosts, as the mic won't just be picking up sound from the main speaker, but will also be sensitive to comments and noise from all around the room.
Related: Best Wireless Podcast Microphones
Best Budget USB Microphones Under $250
Shure MV7 – $220
One of the best microphones on the market is the Shure MV7. The first thing you'll notice about the Shure MV7 is how alluring its design is. It has a curved, black design with white writing and controls. The mic has a professional feel to it that will elevate your entire recording station.
The Shure MV7 is compatible with all interfaces, as it arrives with USB and XLR connectors. This makes the mic adaptable to different recording setups, so it's perfect for recording audio on the go. The mic also has a 3.5mm headphone jack which ensures there are no audio delays. The mic is made from heavy-duty metal, which ensures that it is travel-friendly and durable.
There are listening controls and recording level controls located on the mic, but instead of standard buttons, these controls simply need to be tapped. This makes alterations quick and easy to do, which is particularly ideal for live podcasting or streaming.
The Shure MV7 arrives with a range of frequency response options to pick from, which makes it easy to perfectly tailor the audio to your preferences.
One downside is that there is no stand included with the mic, so this would need to be purchased alongside it.
Blue Yeti X – $199.99
The Blue Yeti X is extremely popular for home studios, due to its impressive sound quality and decent price point. The mic has a condenser with four capsules that captures detailed, clear audio. It also features a zero-latency monitoring jack, which prevents audio delays.
You can pick between cardioid mode, bidirectional, omnidirectional, and stereo. Cardioid mode is the better choice for podcasting, but all of these modes are exceptional.
Located on the mic itself is an 11-mode LED indicator. This allows you to easily see if voice levels are correct and fine-tune them to your preference.
You can purchase the Blue Yeti X in 12 gorgeous colors, compared to other mics with a limited shade range.
Users have noted it is a little heavy, but it's a powerful piece of kit so this is a minor inconvenience.
Some have also warned that the mic's gain control was a little off to start with, as it came in too loud and disrupted audio. But this problem can be easily avoided by checking the Blue Yeti's gain control before pressing record.
RODE Podcaster – $175
The Rode Podcaster is a USB dynamic mic that arrives in a gleaming white color. As its name suggests, it is designed to provide top-quality audio for podcasters. The dynamic microphone helps to block out background noise and reverb, for clear, studio-quality voice recordings.
Instead of having the usual outside pop filter, the Rode Podcaster uses an internal pop filter, creating a more minimalist, tidy setup.
The mic utilizes a front-facing cardioid pattern and a handy green light to let the user know if it's on. It also uses a 3.5mm headphone jack which helps prevent any audio delays when recording.
Users have noted that it's a heavy microphone, but this can be solved by purchasing a boom arm. Though it is not as lightweight as other mics, it's still easy to transport.
Related: The Best Desk Stands for Rode Podcaster
Rode NT-USB – $167
The Rode NT-USB has a dark, sleek design that is sure to bring a luxurious feel to any podcast/YouTube set-up. It works with both USB and a 3.5mm jack, depending on your preference. It's super compact, measuring at a height of 141mm and a width of 8.9cm.
It arrives with its own mini stand which is magnetic and detachable for your convenience. The stand features a 360 degree rotation shock mount that makes it easy to get the microphone in the optimum position for recording.
Also on the mic is a volume dial which allows you to quickly adjust your headphone input. There is an internalized pop filter that helps to cut out plosive sounds from speech or performance.
Some reviewers have complained that the gain control was difficult to use compared to other microphones, but got used to it after some practice.
The product offers crisp audio and has latency-monitoring technology to avoid disruptive delays. It uses a cardioid pattern that is ideal for podcast recording sessions.
Best Budget Microphones Under $150
Audio-Technica AT2020 USB Plus – $150
The Audio-Technica AT2020 USB Plus is a great condenser microphone. It is very sensitive, so it picks up audio well, even in a room of talking people. This makes the mic perfect for a podcasting setup.
The mic is built off of the award-winning audio performance of the AT2020. It has the same exceptional sound quality, but now it features a USB output so that it is easier and cheaper to use at a home recording station.
This product has been a favorite for content creators thanks to its 120-degree cardioid pattern. This enables the mic to pick up nuanced sound and eliminate unwanted background noise.
It is also very lightweight and portable compared to other USB mics on the market and arrives with a sleek carry case to protect it during travel.
The mic uses a headphone jack instead of a Bluetooth connection. This is done to stop any audio delays from messing up your recording.
Elgato Wave – $150
The Elgato Wave is a gorgeous, oblong-shaped microphone. Its cardioid pattern was specially designed for broadcasting as it produces crisp, detailed audio for your listeners to enjoy.
On the front of the mic, there is a handy multi-function dial. This controls the input gain, as well as headphone volume so that you can easily adjust these levels in a matter of seconds.
It features a sleek metal grille that ensures smooth, balanced vocals, as well as solid protection for the microphone's interior. Furthermore, there is a built-in pop filter that prevents scratchy "p" and "s" sounds from disrupting your recording.
The product arrives with a sturdy, U-shaped desk stand, that eliminates the need for a third-party stand. However, if you need the mic to easily rotate and extend, you would need to purchase a longer, pivoting shock mount/boom arm.
This microphone can be purchased in either white or black, depending on your taste.
Blue Yeti – $128
The Blue Yeti is a popular, fail-safe USB microphone option. The Yeti models have dominated the podcasting industry for several years, which speaks volumes about their audio expertise.
It is a condenser microphone that has three condenser capsules and four different pick-up modes. You can alternate between bi-directional mode (best for isolating one speaker) and omnidirectional mode (best for picking up lower-register sounds).
There is also Stereo and Cardioid mode which are perfect for podcasting setups. Situated on the mic is a quick mute button, which is very useful during group recordings.
The Blue Yeti is incredibly compact, measuring 12cm x 12.5cm x 29.5cm, including the desk stand.
The mic arrives with its own desk stand, which keeps it securely held during recording sessions. However, the stand is quite small, so for some setups, you may need to purchase a boom arm or bigger desk stand.
You can choose from 11 different color variations: silver, platinum, copper, black, space gray, lunar gray, slate, midnight blue, satin red, teal, and white.
Related: How to Connect a Blue Yeti Into a Mixer
HyperX QuadCast S RGB USB – $120
Our last USB microphone priced under $150, is the HyperX QuadCast S RGB USB. This condenser mic is renowned for its balanced frequency, which is ideal for podcasting
There are four polar patterns – Stereo, Cardioid, Bidirectional, and Omnidirectional. This allows you to perfectly tailor the mic to your audio preferences, as its four polar patterns allow it to adapt to all recording situations.
The mic arrives with a lighting setup that you can personalize to match your home studio. Many users have enjoyed this feature, as it brings a sophisticated edge, and also makes the mic look much more expensive than it actually is.
On the top of the mic, you'll find a touch-sensitive sensor that you can use to quickly mute yourself. There is an indicator light, and if the mic is turned on, this light will be visible.
Best Budget Microphones Under $100
Blue Yeti Nano – $80
Our first microphone under $100 is the Blue Yeti Nano. This is a luxurious, dual-pattern USB microphone that produces studio-standard audio. Its shiny, curved design provides a sophisticated aesthetic to any workstation.
You can choose between cardioid mode and omnidirectional mode. The former is best for single-host podcasts as it is better at isolating vocals. Whereas the latter is best for podcasts featuring multiple speakers, as it picks up a wider range of sounds.
Frequency response is the range of frequencies that a microphone will be able to pick up. So, the bigger the difference between the two sets of Hz and kHz measurements numbers, the better the range of audio the mic is sensitive to.
One downside to the Blue Yeti Nano is that its frequency response is 20Hz – 20kHz. This range is a little limited and could have been more versatile.
The Blue Yeti Nano is very compact and travel-friendly and arrives with an in-built desk stand, so that it's always ready to set up and start recording.
The Blue Yeti Nano arrives with Blue VO!CE effects, which assist with noise reduction and EQ, and offer a library of audio samples which you can use to add texture to your podcast.
To use the effects, all you need to do is download the free Logitech G-Hub software to any laptop or PC.
Samson Meteor Mic – $60
For a microphone that's under $100, the Samson Meteor Mic is a great investment. It is a powerful condenser mic with a 3.5mm audio jack. It utilizes a cardioid pattern that helps to pick up the intricate layers of your recording.
It has an eye-catching design that resembles a spaceship. In addition, the mic already has legs built in, so it doesn't require a mic stand. This design is great if you're on the go, as it's easy to set up and pack away afterward.
It also features a convenient mute button, which is ideal for gaming or podcasting sessions. The product doesn't require any drivers to record audio, it's already good to go.
The microphone can be bought in three different color variants: Chrome, Titanium Black, or Brushed Nickel.
Blue Snowball iCE – $50
The Blue Snowball iCE is extremely popular for music recording and podcasting. It has a gorgeous design that imitates a snowball, and its large circular shape allows it to clearly pick up audio from multiple angles.
This is the second cheapest microphone on our list at $50. Despite its low price point, the microphone delivers professional-standard audio.
It features a built-in condenser capsule, which produces crisp, clear recordings.
The Snowball even has audio certification from both Skype and Discord which recognizes its powerful capabilities.
The Snowball was created to be used with any audio editing software, on all laptops/PCs, without the need for any drivers. Many other microphones will only work with specific types of software that would need purchasing, so this compatibility makes editing much easier and more affordable.
Samson Go Mic – $40
The Samson Go Mic is a lightweight, compact, microphone that delivers a cool aesthetic and professional-quality sound.
This adorable mic comes with an integrated clip that can be used as a stand or clipped to your laptop. This handy clip makes the mic very travel-friendly and elevates the product's ease of use.
The mic is so much less bulky than competitors on the market, which is what makes it so enjoyable to use.
The mic operates with two pickup patterns: cardioid and omnidirectional. When the omnidirectional pattern is in use, the mic will be sensitive to sound for 360 degrees. This is ideal for interviews/podcasting, as it allows the microphone to pick up various voices rather than isolating one (which the cardioid mode would do).
Best Budget USB Microphone – Our Favorite
Samson Q2U Recording and Podcasting Pack – $70
Our favorite affordable USB Microphone has to be the Samsung Q2U Recording and Podcasting Pack. This bundle is designed to give you everything you need to start recording straight away. At just $70, it is ideal for anyone who has a tight budget but needs exceptional audio.
Not only will you receive a fantastic dynamic microphone, you will also get an extendable desk stand, mic clip, wind cover, as well as an XLR and USB cable.
Since the microphone has USB connectors, as well as XLR connectors, it can adapt to any recording situation, and be used for live performances too. Both the XLR and USB cables can be used at the same time, which is convenient.
Getting all these accessories and a powerful microphone for under $100, is a fantastic deal that will be sure to kickstart your podcasting career!
Related: Samson Q2U vs. Audio Technica ATR2100
Summary
To summarize, in this article we explained the difference between USB and XLR mics, as well as how a mic's polar patterns determine the direction in which the mic will capture your audio.
We also listed some of our USB microphone top picks, all of which are priced under $250. We concluded that the Samson Q2U Recording and Podcasting Pack is the better choice for an affordable USB mic. This is because the mic is designed with podcasting in mind, and the accessory set gives you everything you need to record audio successfully.
If you want to know our list of best microphones for podcasting under $50, we've also got you covered.
We hope that you enjoyed learning about the different types of USB microphones available.
Thank you for taking the time to read our article today!