Noisy environments are the worst for productivity and can be incredibly frustrating. But don't worry; we're here to help!
This post will list the top 8 best mic for noisy environment. Whether you're a musician or vlogger, or need to call in a noisy place, we've covered you.
Finding the right microphone for noisy environments can be challenging, so we've done some research for you.
And the good news is that plenty of great microphones are out there for noisy places. So, you're sure to find something that will suit your needs.
Stay tuned!
Our Top 3 Picks
Simple plug and play operation
Affordable
No driver required
Durable
Perfect for recording vocals and podcasting
Microphone for everything
Long hours of use
High Quality recording
Doesn't need phantom power
Use for streaming content
Ability to nullify the proximity effect
Great for podcasts
High quality
Perfect for informal studios
Internal pop filter
Types Of Mics for Noisy Environments
Here are 6 types of mics that can be used in noisy environments:
1. Condenser Mics
These are great for capturing clear, detailed audio. They are sensitive to loud sounds so they can pick up background noises in noisy environments. These mics are perfect for recording podcasts, streaming, or making videos.
Related: Best Condenser Mic to Use in an Untreated Room
2. Dynamic Mics
These mics are best used to block out unwanted background noise. They are less sensitive than condenser mics, so that they won't pick up as much background noise. A Dynamic mic is perfect for live performances and speech capture.
3. Shotgun Mics
These mics are great for capturing specific sound sources in noisy environments. They have an adjustable pickup pattern that can isolate specific sounds, making them perfect for recording music or interviews in noisy places.
4. USB Mics
These mics are great for recording directly to a laptop or computer. They are ideal for streaming, podcasting, and other applications. USB mics have built-in noise cancellation technology to block out background noise in noisy places.
5. Lapel Mics
These mics are perfect for capturing audio in a noisy environment. They are small, lightweight, and easy to use. And they come with built-in noise cancellation technology so you can get crystal clear audio even in noisy places.
6. Ribbon Mics
And the last type of mic is the ribbon mic. Ribbon mics are often used to record vocals and instruments in professional studios due to their ability to capture a wide range of sound frequencies. They usually have a cardioid microphone pickup pattern, which means they are great at isolating the sound source and minimizing background noise.
So, these are the type of mic that can be used in a noisy environment. Now, look at some of the best mics for noisy environments.
Related: The Best Microphones For Recording in Podcasting
8 Best Mics for Noisy Environments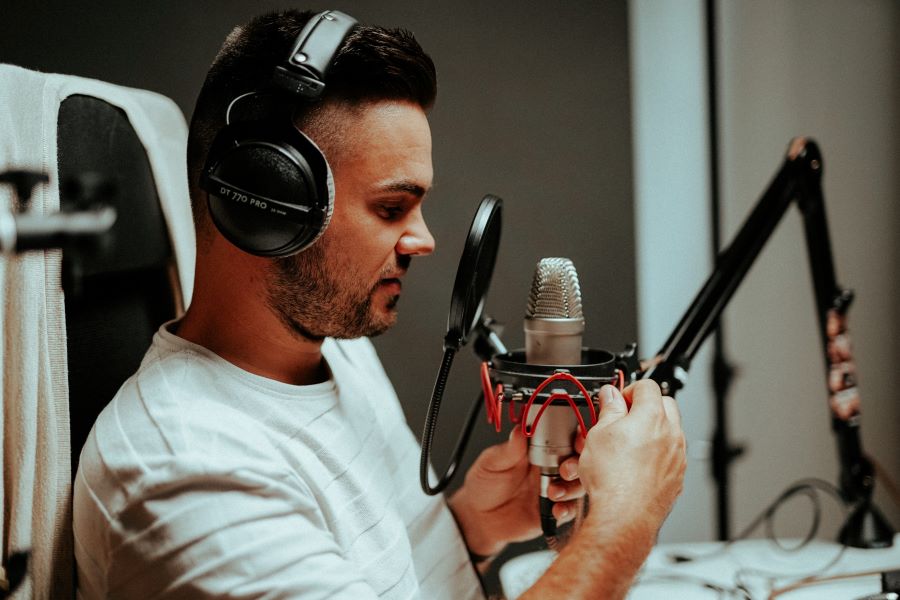 1. Shure SM7B
The Shure SM7B is an industry-standard microphone used by professional vocalists and engineers in the recording studio.
The Shure SM7B Vocal Dynamic Microphone features a low-mass diaphragm that delivers extended frequency response and superior transient reproduction, along with a specially tuned bass roll-off switch for controlling the proximity effect and handling high sound pressure levels.
This highly versatile microphone has been designed to withstand the rigors of professional use while delivering exceptional audio performance.
Pros
Shield you sound
Microphone for everything
Studio vocal recording
Use for streaming content
Give quality in the details
Cons
Some users found it too sensitive
It is not a true condenser microphone
2. SAMSON C01U Pro
Looking for a high-quality USB studio condenser microphone? Look no further than the Samson C01U Pro. This mic is perfect for recording vocals, acoustic instruments, and podcasting. It features a simple plug-and-play operation – no driver downloads are required.
The super-cardioid pickup pattern provides superior sound quality, while the frequency response of 20Hz-18kHz ensures accurate audio reproduction. The solid die-cast metal construction makes this mic durable enough for even the most demanding applications.
Pros
No driver required
Metal construction
Supercardioid pickup pattern
Simple plug-and-play operation
Frequency response 20Hz-18kHz
Cons
Its size may be too big for some applications
Pricey compared to other mics in its class.
3. Electro-Voice RE20
The Electro-Voice RE20 is the industry standard broadcast announcer microphone. The classic sound of FM radio voices with smooth, natural presence and clarity. The Variable-D design provides a dynamic cardioid pickup pattern that isolates the main sound source while reducing background noise.
A heavy-duty internal pop filter excels at guarding against line hum and plosives (hard "B" sounds) for clean, intelligible speech reproduction. This rugged microphone can handle high sound pressure levels without distortion, making it ideal for close vocal work in loud surroundings such as sporting events or live concerts. Check out our other post on everything you need to know about RE20 Mic Phantom Power.
Pros
Steel case
Variable-D design
Hum-bucking coil
Great for podcasts
Heavy-duty internal pop filter excel
Cons
It is not as suitable for vocalists or musicians as other mics
Expensive.
4. CAD Audio Equitek E300S
The CAD Audio Equitek E300S is a high-quality, professional condenser microphone. Its polar pattern and frequency response make it perfect for capturing vocals or instruments in many settings, while its sensitivity and impedance ensure clear, distortion-free sound.
It is also robust enough to handle any noisy environment, making it an ideal choice for those who need a reliable mic in a loud space. With these features, the CAD Audio Equitek E300S is perfect for musicians and vloggers.
Pros
Operating Principle
Polar Pattern
High Sensitivity
Robust Design
Impedance: 220 ohms
Cons
Its size may be a challenge for some users.
Some users may find the low-noise floor to be limiting in certain environments.
5. Neumann M149
The Neumann M 149 is a tube microphone with transformerless circuitry. The pressure gradient transducer with the mic provides excellent sound quality and natural reproduction in all nine directional characteristics.
The microphone can be used for any application requiring a high-quality voice sound source. Its rugged design ensures it will withstand heavy use over long periods without sacrificing its superior performance."
Pros
Natural reproduction
Transformerless circuitry
Excellent sound quality
Rugged design for heavy use
Cons
Some users find the price too high
Requires an external power source
6. Lewitt LCT-840
The LCT 841 is a microphone with low self-noise and superior dynamic range. The LCT 841 features low-mass diaphragms. It also have ultra-thin 1″ externally biased tubes in an acoustically balanced pressure gradient design.
This unique design provides 5 directions, exceptional transient response, and an outstanding signal-to-noise ratio for use on various sources. The LCT 841 is available in silver or black finishes with XLR or ¼" outputs.
Pros
Low self-noise
Superior dynamic range
5 directions
Easy handling
Dual-diaphragm tube microphone
Cons
Some users find the warm tube sound too rich
Not for home studios
7. sE Electronics T2
Looking for a versatile and high-performing microphone? Look no further than the sE Electronics T2.
This microphone features a frequency range of 20hz-20khz and 48v phantom power, making it perfect for various applications. It also has a sensitivity of 25.12mV/Pa and can reach up to 122/132/142 dB max SPL, making it ideal for recording vocals or instruments.
The impedance is 50 ohms, ensuring this microphone will sound great with any audio interface or preamp. So make sure to pick up the sE Electronics T2 today!
Pros
Lightweight
Affordable
Multipattern
Great sound quality
Made with Titanium
Cons
Some users have experienced feedback and noise
Its build quality may not be the best
8. Blue Yeti
The Blue Yeti USB Microphone is a versatile and powerful tool that allows you to record high-quality audio easily. This microphone features a custom three-capsule array, which ensures that you capture every nuance of your performance or interview.
The Blue VOICE software provides added control and flexibility, while the four pickup patterns allow you to choose the perfect setting for any environment. The onboard audio controls also let you adjust your levels on the fly, and the positionable design ensures you can always get the perfect angle. Plus, it's Plug' n Play, so that you can start immediately.
Pros
Plug 'n Play
Onboard audio controls
Four pickup patterns
Positionable design
Three-capsule array
Cons
Not wireless
No built-in shock mount
How to Choose the Best Mic For Noisy Environment (Buying Guide)
Several key factors must be considered when choosing the best microphone for a noisy environment. Here are a few tips:
1. Sound Quality
You want to ensure the microphone you choose has good sound quality so that your recordings sound clear and smooth. Finding a microphone with a wide frequency range and low self-noise is important.
2. Pickup Patterns
The microphone's pickup pattern is important because it will determine which sounds are picked up. You may opt for a microphone with multiple pickup patterns to choose the right one for your noisy environment.
3. Durability
When it comes to any recording equipment, durability is key. You want to ensure you are investing in a microphone built to last. Look for ones that are shockproof, dustproof, and waterproof. You must choose one that is made with quality materials.
4. Price
Price is always a factor when buying any equipment. Look for microphones that offer great value for your money and provide good sound quality at an affordable price. Because different microphones have different features, compare the features and prices to find the best deal.
Related: Best Budget USB Microphones
5. Customer Reviews
Customer reviews are a great way to get an idea of what other people think about the product. Check out customer reviews for the products you're interested in to ensure they are worth investing in.
6. Portability
Portability is important if you plan to use the microphone in different locations. Look for microphones that are lightweight, compact, and easy to transport.
Now that you know what to look for in a microphone for noisy environments, it's time to start shopping! With the right microphone, you can be sure that your audio recordings will sound great even in noisy environments.
Benefits Of Using A Good Mic in a Noisy Environment
The benefits of using a microphone for noisy environments are numerous. Here are some of the most important ones:
1. Improved Sound Quality
If you're using a microphone in a noisy environment, the improved sound quality will help ensure your voice is heard without interference from background noise. This will make your recordings and calls clearer and more understandable.
2. Increased Accuracy
You can pick up audio when using a microphone in a noisy environment, as the microphone is designed to block background noise. This will help ensure that you get all of the single words and that you're able to capture whatever is being said accurately.
3. Improved Recordings
Suppose you need to record audio in a noisy environment. In that case, a microphone's improved sound quality and accuracy will ensure that your recordings are of the highest quality.
4. Reduced Stress
Speaking over background noise is incredibly difficult and can be quite stressful. A microphone in a noisy environment will help reduce this stress, as you won't be straining to hear your voice over the noise.
By making use of a microphone in noisy environments, you'll be able to reap all of the above benefits and more!
Related: Best Microphone With Noise Cancellation
Things to Know Before Buying
1. Check the Specifications
When shopping for a microphone, check the product's specifications before buying it. Look for features such as noise-canceling microphone technology, built-in filters, and adjustable gain control. These features will help you reduce background noise and maintain clear sound quality.
2. Consider the Size
The microphone's size is another important factor when buying a mic for a noisy environment. Whether you need something lightweight and portable or more robust, make sure to find the perfect size.
3. Read Reviews
Reading customer reviews is a great way to understand how the product performs in noisy environments. Reviews can give you an insight into the product's features and how well it works in specific conditions.
4. Focused Polar Pattern
A microphone with a focused polar pattern is ideal for noisy environments. This means the mic will pick up sound from one direction while ignoring crisp sound from other directions. This makes it easier to maintain clear audio in a noisy environment.
Frequently Asked Questions (FAQs)
Which mic is better, condenser or dynamic?
When it comes to choosing a microphone for noisy environments, dynamic or condenser microphone both have their pros and cons. However, when it comes to noisy environments, dynamic mics are generally preferred due to their ability to reject outside noise better. They also tend to be more durable than a condenser mic, making them more suitable for harsh environments.
What are the disadvantages of using a dynamic microphone?
Here are some of the potential disadvantages to consider when using dynamic microphones:
It is generally more susceptible to handling noise.
It may not capture sound accurately within a certain frequency range.
It is more sensitive to overloads and may distort the audio signal if too much sound is captured simultaneously.
Do singers use dynamic mics?
Yes, many singers do prefer to use dynamic mics for their performances. Dynamic mics provide better sound isolation than others, which can be beneficial when performing in noisy environments.
Is a shotgun mic better for noisy environments?
A shotgun microphone can be a great choice for recording in noisy environments. Shotgun mics are designed to pick up sound from a specific direction and reject outside noise, making them ideal for noisy environments. They are also typically more durable than other mics, making them suitable for harsher environments.
Can I use a lavalier mic for noisy environments?
Yes, you can use a lavalier microphone in noisy environments. Lavalier mics are known for their small size and ability to capture sound accurately. They can be clipped onto clothing or worn around the neck, making them ideal for recording and streaming in noisy environments.
Why is my mic not picking up sound in a noisy environment?
Your microphone may not be able to pick up sound accurately in a noisy environment. This could be because dynamic mics are more susceptible to handling noise or because they may need to capture sound accurately within a certain frequency range.
Related: Do I Need Noise Gates for Podcasting?
Conclusion
When choosing the best mic for your needs in a noisy environment, there are many things to consider. Price, quality, features, and brand all play a part in finding the perfect microphone for you.
Our list of the top 8 best microphones for noisy environments has helped you narrow your search and find the ideal microphone for your needs.
If you have further questions, don't hesitate to reach out for help. We're here to ensure you get the best microphone for your needs!
Thanks for reading!