Are you looking for the best microphone app for Android devices? Would you like guidance on selecting and setting up a reliable mic app quickly and easily? We've got you covered!
This blog post will discuss the most popular microphone apps available for Android users. From USB mics to Bluetooth recording applications, we'll uncover all their features to help podcasters determine the ideal option for them.
So what are you waiting for? Keep reading to learn more about the top microphone apps and make an informed decision that suits your podcasting needs.
Related: Best Podcast Recording Software
What is a Microphone App?
A microphone app is software that can record audio on an Android device. This type of app typically has more features than the default recording capabilities found in most modern smartphones.
It's important to note that while most of these microphone apps feature both recording and playback capabilities, not all will offer the same features. Some may have more complex settings or support additional functions such as noise reduction or equalization.
Related: How to Use Google Hangouts to Record Podcasts
Uses of a Microphone App on Android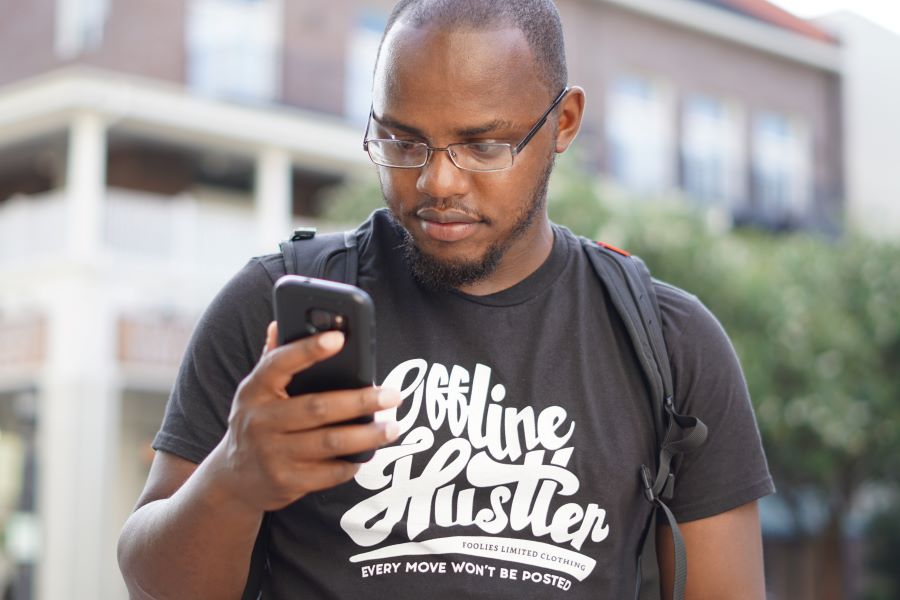 A microphone app can be used for various purposes, including recording podcasts, producing music, and making videos.
Podcasts
Recording podcasts is made easier with a good mic app, as it allows podcasters to capture their audio quickly and easily. The audio can then be edited and uploaded online for listeners to enjoy.
Music Production
Music production can be achieved with a microphone app, enabling users to create high-quality audio recordings. They can then fine-tune their recordings and share them online or with collaborators.
Video Making
Videos can also be made using a mic app, as it captures audio which can then be added to videos to make them more engaging and professional. As they are used a portable microphone, they really help.
Related: How to Record a Podcast on Skype
Best Microphone App for Android Podcasters
Now that you know why a microphone app is useful, here's a list of the best Android microphone apps for podcasters, including paid and free microphone apps:
Live Mic
Live Mic Pro is a great microphone app for Android users. It allows them to easily record high-quality audio and share it online, making it ideal for producing podcasts. This app facilitates real-time voice transmission and the ability to record your conversations later. It works for both Android and IOS users.
Key Features
Echo Noise Cancellation: To upgrade sound quality even further, it also comes equipped with an Echo Noise Cancellation feature that eliminates any echo feedback in specific surrounding environments.
Eavesdrop: Eavesdrop mode grants you access to listen in on nearby people's conversation — make sure a headphone is available as it's mandatory!
Echo: Echo mode allows adding an echoing effect to your tone; if desired, use the underneath bar to enhance this particular technology even more!
Extra Mic
Unlike a live mic, which only allows for recording during a live session, Extra Mic permits you to broadcast with two convenient controllers – the volume bar amplifies audio, and the FX bar lets you control echo.
Key Features
FX bar: Keeping the FX bar low will minimize reverberation, while raising it will produce greater resonance. This beneficial application works like a dream in the background of karaoke sessions, outdoor events, and presentations.
Ultra-Low Latency Recording: This microphone is the pinnacle of quality, utilizing ultra-low latency recording technology that captures sound virtually professionally. You'll be astonished by its ability to reproduce audio perfectly with exceptional clarity and precision.
Microphone (by Wonder Grace)
Wonder Grace's Microphone is a great microphone app for Android users. It comes with various features that make it easy to record high-quality audio. The app also includes a "noise limiter" feature which can be adjusted to reduce background noise, ensuring that only the desired audio is recorded.
Key Features
Noise Gate: It has an integrated noise gate that lets you specify the exact level of background noise that is tolerated, as well as a "sensitivity" feature which can be tweaked to ensure that the microphone picks up only particular sounds.
Equalizer: It includes an integrated equalizer that allows you to tweak the audio before sharing it. It also filters out unwanted noises and provides a cleaner recording. You can either utilize pre-set parameters or adjust settings to your desired preferences!
Microphone Live
Microphone Live is an excellent microphone app for Android phones. It allows you to record audio in various formats, including WAV and MP3. The app also includes several audio effects and volume control options, making it easy to edit your recordings.
Key Features
Noise-Canceling Feature: It also provides a noise-canceling feature that ensures that only the desired audio is recorded, not any unwanted background noise. Furthermore, it allows you to share recordings through email, messaging apps, or social media platforms.
Audio Analysis: The app also includes a powerful audio analysis feature that can detect any problems with your recordings and notify you accordingly. Additionally, you can adjust the frequency of the audio and add echo effects if desired.
Overall, Microphone Live is an easy-to-use and reliable microphone app for those who want to record audio on their Android device.
Microphone (by Gaz Davidson)
Gaz Davidson's Microphone is an excellent microphone app for Android users. It has many features that make it easy to record high-quality audio. The app also includes an advanced noise reduction feature that can reduce background noise and ensure clear recordings.
Key Features
Noise Limiter: The integrated noise limiter allows you to specify the exact background noise level tolerated and a sensitivity setting that can be adjusted accordingly. This ensures that only the desired sound is captured in your recordings.
Audio Effects: The microphone also provides various audio effects like echo and reverberation, which can be applied in real-time while recording, making it perfect for podcasting or live broadcasting.
Compatibility: The app also has Bluetooth Loudspeaker compatibility, allowing you to stream audio directly from your device.
Additionally, the app includes a powerful frequency analyzer that can detect any problems with the sound and adjust settings accordingly.
Pro Microphone
Transform your mobile device into a karaoke machine with Pro Microphone! This free app offers an unmatched, professional microphone experience and sound effects for you to enjoy. Singing has never been so effortless or fun – get ready to take the stage with Pro Microphone today!
Key Features
Live Recording: The app enables live recording – you can record, listen to and save your recordings with a single button. You can also share your audio files on social media platforms like Facebook, Snapchat, and YouTube.
Sound Effects: Choose between preset sound effects or customize them for a unique experience! It has lots of effects to make you sound like an expert singer.
Noise Cancellation: It also includes a noise cancellation feature that filters out unwanted background noise, allowing you to record clear audio.
Microphone Pro Lite
If you want to save some money, try Microphone Pro Lite! Not only is it wallet-friendly, but its lack of delay will ensure your audio recordings are free from interruptions. Moreover, the sound quality won't disappoint either – though not as great as the full version, this lite app still has enough clarity for all your recording needs.
Key Features
Audio Equalizer: The audio equalizer allows you to make precise adjustments to the sound and get the best recording possible. You can also add echo effects for a more professional-sounding recording.
Wireless Connection to a Remote Computer: Microphone Pro Lite is the perfect app for all your daily needs; it offers a wireless microphone connection to Computers. This incredibly efficient tool also provides an ideal karaoke experience if you ever need to give a speech.
Microphone Pro Lite is an inexpensive yet reliable microphone app for Android users for singing or podcasting.
EZ Voice
Want an excellent and straightforward microphone app? Look no further than EZ Voice! It's the perfect app for anyone looking to record audio quickly and easily. The app includes an intuitive interface that lets you press a button to start recording – it's that easy!
Key Features
Recording Control: Additionally, you can control your recordings in real-time. It also has a built-in noise filter that efficiently reduces background noise.
Customized Sound Effect: It also offers many sound effects to make your recordings more pleasant. You can choose from various presets or customize the effect for a unique experience.
Wireless Connection: It allows you to connect your Android device wirelessly to a TV or Chromecast for a more convenient and comfortable experience.
EZ Voice is the perfect app for anyone who wants to record audio with ease and style.
Karaoke Mic
Karaoke Mic is the ultimate karaoke experience for you and your friends. It's a simple app that lets you connect your Android device to a Bluetooth speaker or headset and start singing immediately.
Key Features
Audio Processing: The app has advanced audio processing capabilities; it can adjust the sound quality to suit your listening needs and eliminate background noise.
Sound Effects: It also offers various sound effects such as echo, chorus, and flanger to make your recordings more polished.
Sharing Recordings: Also, Karaoke Mic makes it easy to share your recordings on social media platforms like YouTube, Facebook, Snapchat, etc.
It's an ideal tool for anyone who loves singing or recording audio – check out Karaoke Mic today!
Mic Studio
Are you looking for a microphone app with more features than the average? Look no further—Mic Studio is here! This free app allows you to record, share and edit your recordings from your Android smartphone. Mic Studio's user-friendly interface will make everything a breeze, even if this is your first time using such an application.
Key Features
Video Editor: Supposing that you are not confident with your voice, Mic Studio offers a voice editor. Editing recorded audio is getting easier with this feature.
Video Sharing: Once the audio is improved, share it with your friends! Mic Studio lets you share the records through messenger, clouds, and mail.
Dynamic Microphone: Though condenser mics are preferred by many podcasters and video creators for their top-notch frequency response and the ability to capture nuanced vocal nuances, dynamic microphones can also record voices with superb capability.
WO MIC
WO MIC is an excellent microphone app for Android that allows you to make recordings with your phone's built-in mic. WO Mic offers a genius solution, allowing you to harness the power of your Android phone as an actual microphone!
Key Features
Multiple Audio Formats: It has various features such as noise suppression, automatic gain control, support for multiple audio formats, and more.
Wireless Connections: It supports wireless connections, including Bluetooth and Wi-Fi.
Minimum Latency: Boasting minimal latency, this app is the perfect choice for recording and recognizing voices and conversing.
Connect your Android device to a PC, et voila – use it wherever needed for conversations or speeches!
Microphone by Terens
This is another great microphone or sound recording app for Android users. Microphone by Terens offers a variety of features that make it one of the best microphone apps for Android.
Key Features
Audio Filter: It has an audio filter to remove background noise and allows you to customize the sound of your recordings.
Effects and Formats: You can adjust the volume and add effects such as echo or reverb. It supports various audio formats, including MP3, AAC, WAV, and more.
Headphone Jack: With a 3.5mm headphone jack, you can easily plug your Android phone into the computer. This app's straightforward design makes it effortless to use so that you can save time and energy for other tasks.
Whether you are a professional or amateur podcaster, Best Microphone App for Android will help you create the perfect recordings. Whether it's EZ Voice, Microphone Pro Lite, or Karaoke Mic you choose to use, you can be sure that your audio recording will sound great and be free from background noise.
Features of a Good Microphone App
A good microphone app should have the following features:
Easy Setup: A good mic app should be easy to install and set up, so users can quickly get up and running with minimal fuss.
Good Quality Audio: The audio quality should be of a high standard, enabling podcasts to be recorded with clear and crisp sound.
User-Friendly Interface: The interface should be easy to use and intuitive, making it simple for podcasters to record their content without hassle or confusion.
Stereo System: A good microphone app should be able to record audio in stereo, allowing for a more immersive and realistic sound experience.
Airplay Streaming: Airplay streaming allows podcasts to be streamed from any compatible device, making it easier for them to be heard on multiple platforms.
Related: How To Record A Podcast on Zoom
Conclusion
Finding the best microphone app for Android can seem daunting, but with this guide, you'll be able to determine the right option for your podcasting needs. A microphone app can be an excellent asset for Android users looking to record podcasts, music, or videos.
No matter which microphone app you choose, it's important to remember that they are all designed to help you create professional-sounding recordings. With the right microphone app, you can make your projects amazing. So what are you waiting for? Give the Best Microphone App for Android a try today.
Frequently Asked Questions (FAQs)
Q: How can I make my Android microphone sound better?
Try to reduce background noise by closing windows and doors or using a noise-canceling device. Use an audio filter to reduce noise and customize your recordings. You can also try a microphone app to ensure that your recordings are crisp.
Q: How do I use my phone as a mic input?
You can use your phone as a mic input using an app such as WO Mic or Microphone by Terens. You will need to connect your Android phone to your computer via USB, Bluetooth, or Wi-Fi and then install the app. Once installed, choose the input device from your computer's settings, and you can start recording.
Related: How To Record Podcast Shows