What do I need to start a podcast? Of course, the first place to start should be to find something to record it. Unfortunately, there's no one-size-fits-all when it comes to any type of software, let alone podcast recording software. With that in mind, we looked for some of the best podcast recording software. With these as part of your journey to build the best podcast ever, you'll have easy-to-use and cost-effective software solutions ready to use.
Yet is editing a podcast hard? It can be, especially at the beginning. But after you handle your first few episodes and work with the right type of software, you shouldn't have any issues or questions such as, "how do I record and edit a podcast?" Keep in mind that editing can always be time-consuming, no matter how good you get at it. Regardless, some of the software options we discuss will have you professionally creating and editing these podcasts in no time.
Related: Podcast Starter Kit
What do you need to record a podcast?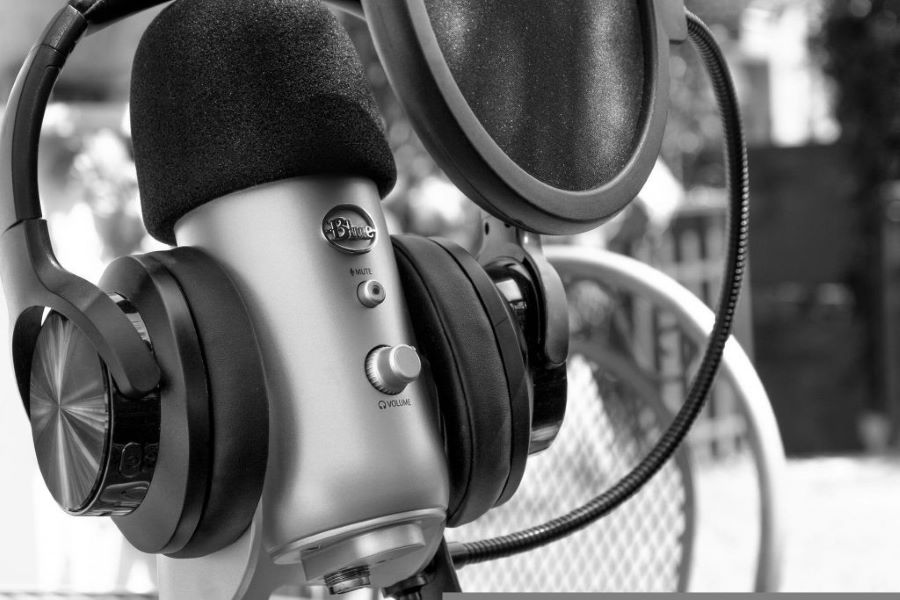 The Right Initial Hardware setup
This doesn't need to be anything fancy in the beginning. Also there's a good chance you already have some of the pieces to begin with. The first thing you'll need is a computer that will be your base station. This is where everything will be recorded and end up connecting seamlessly. Again, it doesn't need to be anything on the high end but should be paired with a strong internet connection. This is because many of the software options are cloud-based.
You'll also want to get some type of microphone that isn't the computer's default microphone. There are several options but stick with a USB microphone to start. Otherwise, you'll need an additional piece of hardware for XLR-based microphones (which won't connect to your computer directly). Again, brands such as Blue Yeti are a great place to start, or you can already go higher end with the Shure product line.
Related: How to Create and Use a Podcast Background Video Effectively
Proper Support Equipment
We cannot stress this enough; quality headphones will help you when it comes to doing any type of recording and editing, as you will be able to focus on the production portion while hearing any ancillary noises to delete when editing your content. In addition, you can pass the audio straight to the headphones, helping to eliminate echo as well. Beyerdynamic DT 770 PRO or Audio-Technica ATH-M50x models are an excellent mid-tier place to start. There are plenty of options, and you're looking for over-ear headphones here.
Then you want to round out your equipment with possibly a mic stand if your microphone didn't come with one to help centralize where the sound should go. Also, a pop filter helps to eliminate those explosive pop noises that come from huffing and puffing or simply breathing too hard.
While not hardware exactly, you'll also want to do some testing to see how soundproof the area you're recording is. Then you'll want to make sure to enhance that soundproofing with carpets/rugs, low ceiling locations, or even buying specialized audio dampening padding for the walls.
Related: How to Stop Lip Smacking While Recording
Podcast Recording Software
The rest is to help direct the sound, and now we're at the main event. The right type of recording software is necessary for your podcast, and we've helped to narrow it down to choices that cover enough features, price ranges, and ease of use. You want to ensure that you take the time to review each one for the features you're looking for and know that you'll be getting quite familiar with it.
Related: Best Microphone App for Android Users
How to Choose Podcast Recording Software
Make the podcast recording software fit your budget
Any venture needs to have a budget, even if you're looking at podcasting as a hobby. If you simply buy what you see or read about the best podcasting recording software, or if you search for the best podcasting setup, you can easily spend thousands of dollars before you even record your first episode, let alone publish anything. However, some great options come free and stay free. They may be a bit more hands-on with some additional steps you'll need to handle on your own, but they are still free.
That doesn't mean skipping past any paid or freemium options. Many of these help offer an end-to-end solution and can help easily prepare and distribute your podcasts out there to directories to make it easier. Knowing what features you need, want, and would be nice to have will help with your overall decision-making.
Related: 10 Best Podcast Editing Software You Can Use For Free
Ensure the podcast recording software has the features you need
When you first start out, you won't know everything that you'll need in your podcast recording software at the onset. Core features are obviously the ability to record your podcast. Then you want to make sure that it has robust yet simple-to-use editing software. You're looking for functionality such as trimming, cutting, copying, and the ability to add multiple audio pieces together. Some features also help refine and clear up the audio to make it sound more professional and easier to hear.
Then you're looking for software that can import and export many different types of audio formats, preferably with uncompressed formats, to have the highest quality audio possible to work with before it gets compressed into a podcast format. Finally, having recording software that comes with libraries of audio files and plugins to help round out your podcast episodes is also something you want to look for, so you can work off of one software and not need to work in a decentralized and chaotic fashion.
Don't stick with one piece of podcast recording software if you're not satisfied
In the podcasting world, it's not one and done. You will always use this recording software, so you want to be familiar with it and eventually become an expert in it. You'll be handling the recording, editing, finalizing, and distribution of your podcast episodes for quite a while, so you need to understand the software you're using. Always make sure to try out as many options as possible.
Top Podcast Recording Software
Audacity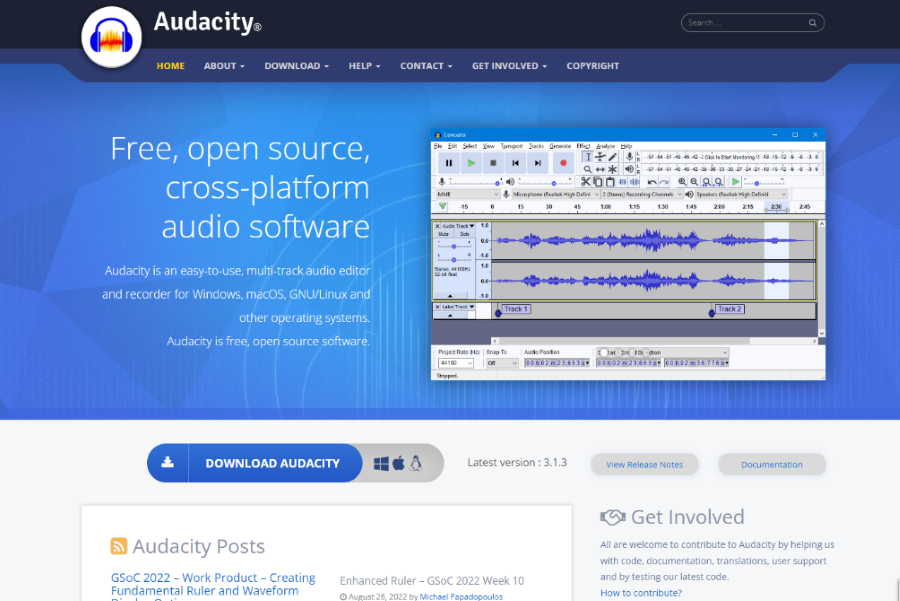 Audacity is one of our favorites, and we may be a bit biased with this option from the get-go. However, this is one of the best podcast recording software and is free! In addition, it's compatible with both Mac and PC and doesn't have a steep learning curve.
It's an open-source recording option and comes with a wide variety of tools to use besides recording. You'll be able to edit and cut immediately as soon as you finish recording. You'll then be able to export into any file type needed, so there's never a compatibility issue.
It handles all types of sound qualities and rates, so you can record in high definition immediately. You're also able to record from a variety of sources, as well as import audio and sounds as-is needed. This also has an option to visualize the frequencies and perform analysis. While feature-rich, it still is relatively easy to learn completely.
Related: How to Record Discord Calls With Audacity
GarageBand
GarageBand is another piece of prime podcast recording software. This one is a MAC / iOS option only. Sorry PC users. Yet this also comes free with every Apple device and stays free. Its interface and usability are akin to how all Apple products are; intuitive and user-friendly. While you're able to do audio recordings, as well as edit those recordings, GarageBand has some additional features.
Since it's also meant to be used for music recording, there are simple controls to adjust all audio and effects that can help your phone or other iOS device handle audio mixing. It's additionally an option if you want to record with your smartphone and use it for your podcasting needs. It also comes with a huge audio library and, at the same time, can help to compress audio as you prepare to get it ready for the podcast directory.
Podbean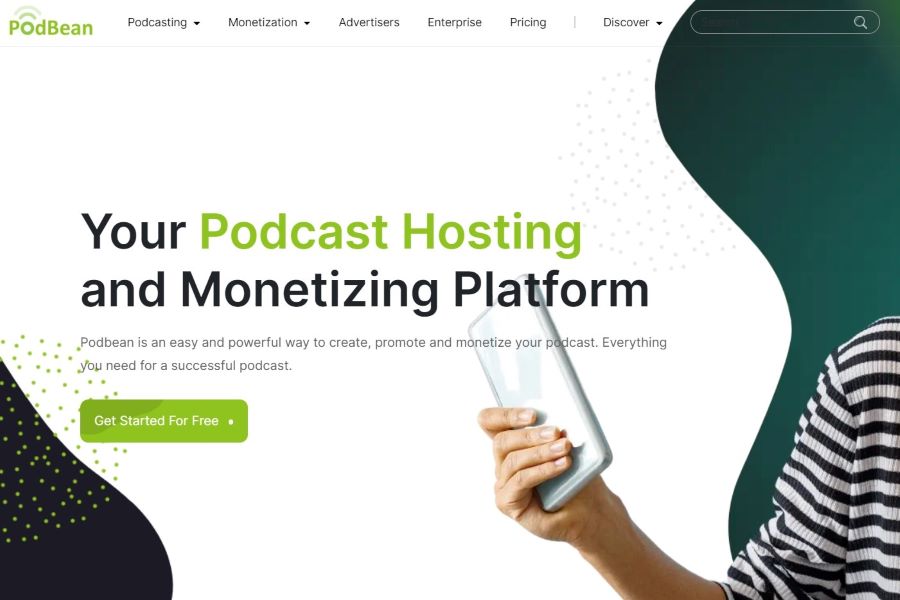 Many may think that Podbean is simply a hosting platform. However, it actually aims to be a complete platform for the budding podcast content creator. The recording software itself comes in a free version and comes with editing software free of charge as well. Yet this is limited to only five hours of total recorded audio. After that, it's better to go with one of the paid plans.
It's a great way to see if you're ready to become a podcast creator, as you can simply use their mobile app to start recording. Editing features are simple but enough in many cases, such as trimming or cutting out whole sections. You can even publish via your mobile on their platform to take advantage of their monetization tools.
Even if you don't want to stay on the platform, there's also a way to export your podcast to the hosting site of your choice.
Hindenburg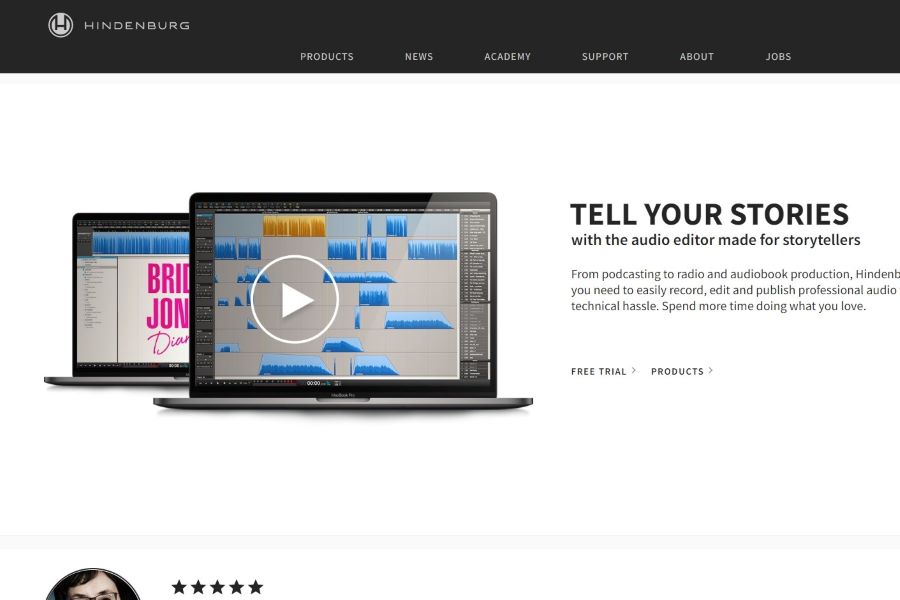 There are so many professional features that come with this software we could write a completely separate article on it. Hindenburg's a much more advanced option and can be quite pricey in comparison to other podcast recording software, but it's well worth it. You're able to pay monthly or can upgrade for perpetual license usage.
Features include recording multiple guests and remote guests easier, as well as being able to re-record over your errors on the go. You can always undo and reverse an edit if you think you've got something out, and it has plug-and-play features to connect to any type of hardware.
It's also cross-compatible, making it one of the more flexible options, as well as features to help with typical audio recording issues such as uneven levels or bleeding or elimination of background noise as well. It can also help to normalize the volumes to help prepare it for export as a podcast episode.
Adobe Audition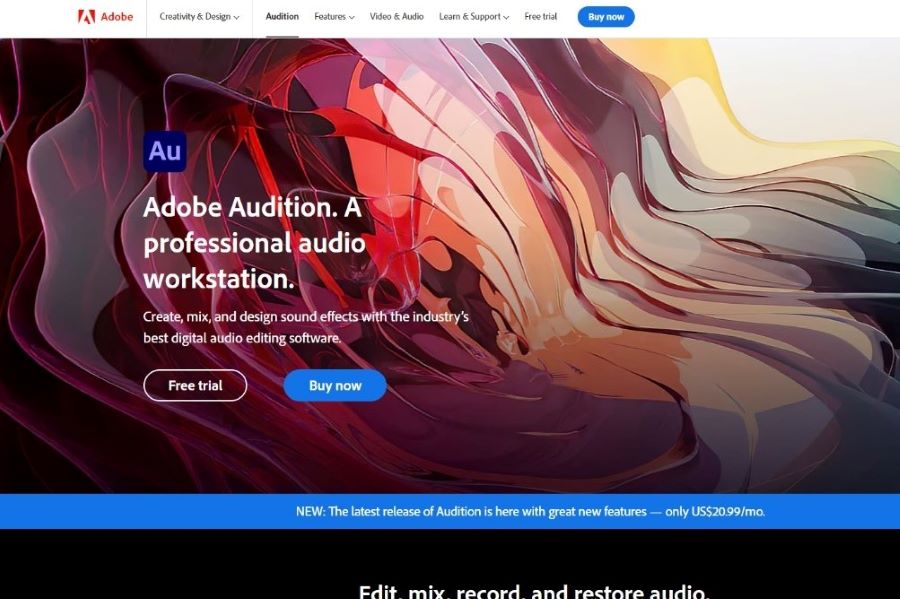 Adobe Audition is another great podcast recording software. Its strengths are in the mixing section as well as in producing multitrack sessions as well. You can utilize the Essential Sound panel to bring clarity to your sound, reduce the background noise, normalize the volume, and do this across the entire audio as a first-run edit.
You can easily utilize Adobe's library to add all the music files you'd need for both an intro and outro and seamlessly export it in the right format to prep it for hosting. It's also priced as a mid-range recording software that is cloud-based. Since it's an Adobe product, it's both Mac and PC compatible and seamlessly integrates with the entire Adobe suite of products.
If you're looking to make it webcasting, you can use the additional tools to produce video and audio content and ensure that both are edited and remain properly in sync.
Alitu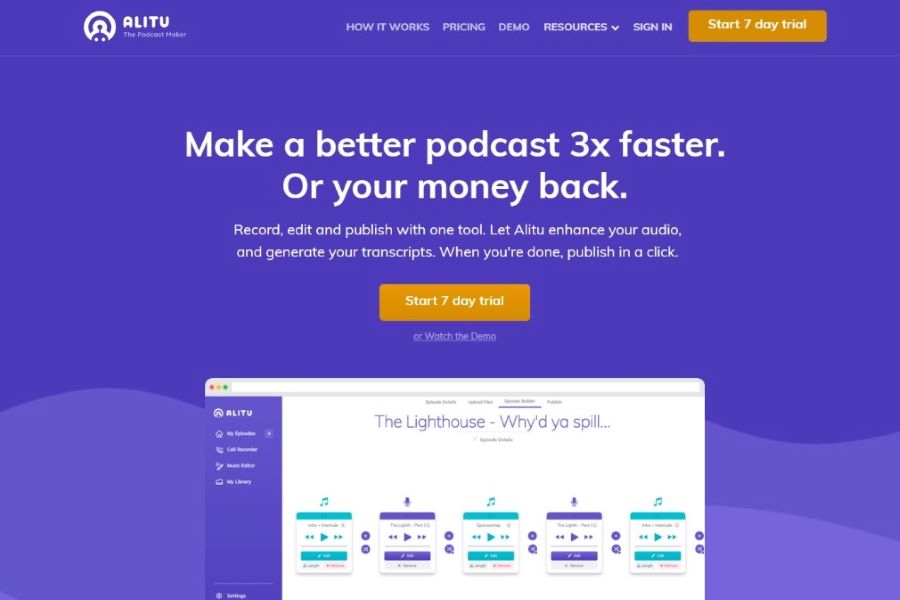 This no-nonsense online app also gears towards a higher monthly price (surpassing even the cost of Adobe Audition). Yet it's meant to get you producing podcasting episodes and nothing else. You can easily record your own podcasts or with guests, whether they are remote or not. Then, after you record your podcast and do some initial edits, the software itself will do automatic editing and cleanup to polish your podcast, eliminating the need for you to do it yourself.
Alitu saves you time to craft your intro or outro sections and easily add music to each episode. It'll also add a fade to these sections with a few clicks. You're also able to add id3 tags if necessary to these files. You're still able to break out the audio into the different sections of your episode so that you can ensure you have the right structure and podcast episode length. Then it's right to export it to a podcast hosting site.
Logic Pro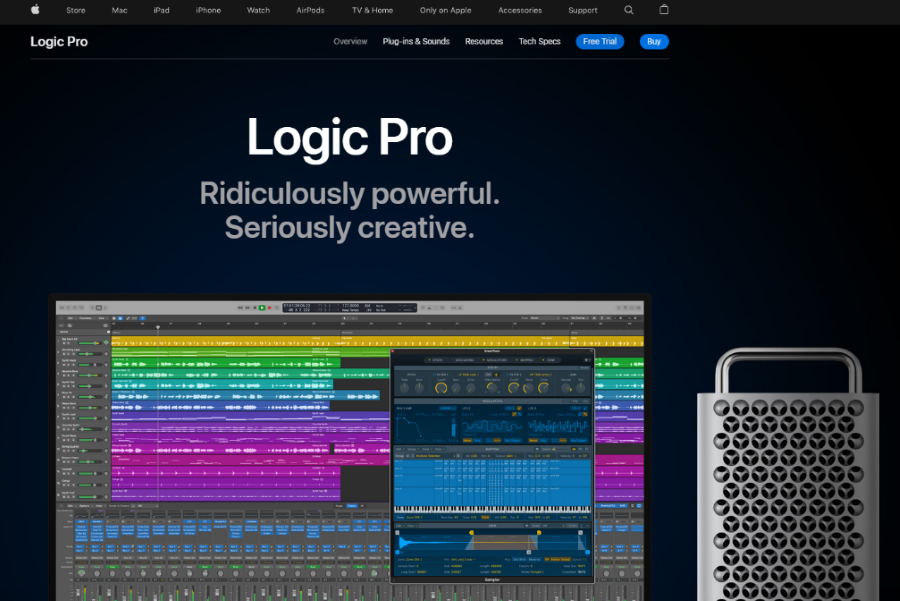 Those who love GarageBand but are looking for the premium version should consider Logic Pro. Another Mac-only option is one of the market's most in-depth audio recording software. What also qualifies it as one of the best podcast recording software could be because of the editing features.
It features spatial audio powered by Dolby Atmos that adds an additional effect to the podcast itself, where you can position the sound for users with more advanced headphones to listen to. This also has your iPhone or iPad as your control center, so you can cast on the go or in different locations.
There are so many plugins and sounds that even if you're just starting out, you'll be able to create your own theme music unique to you and your podcast and seamlessly record and integrate it during your edits. But, keep in mind it's around $200.
SquadCast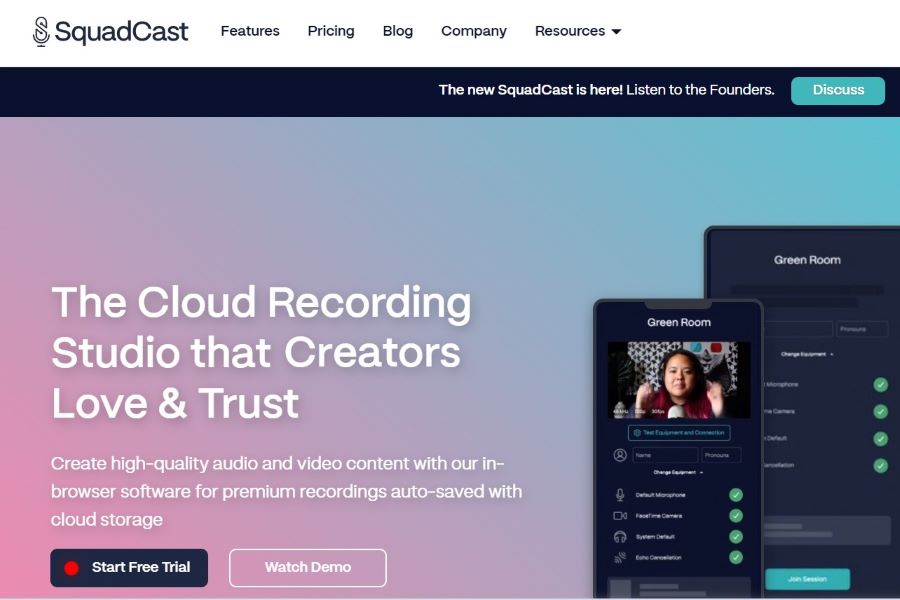 Another SaaS recording software with features to help those podcasts with multiple hosts or guests is powered by Dolby.io to give that feeling as if you're all in the same room. It also works to record locally and create separate files that you can seamlessly combine with each other, which avoids the dreaded audio sync.
SquadCast also goes the extra mile to protect your recordings to prevent any lost audio, or corrupted audio files, through its automated saving and cloud backup features. It's also third-party friendly with its open API, so you can use the tools you're used to. In addition, they don't skimp on the quality of the recording, whether video or audio and use high-resolution video capture when possible.
When it comes to pricing, it's per hours that you record, and there's no free option. Yet any unused hours will roll over to the next month.
Related: How to Find Your Zoom Recordings in Just a Few Simple Steps and How to Join a Zoom Test Call
Anchor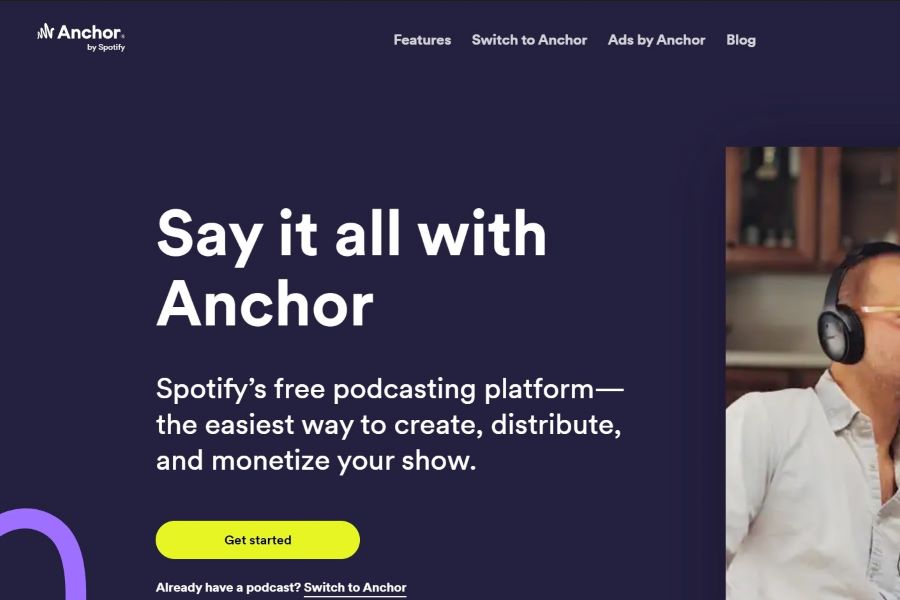 Anchor is another all-in-one solution like PodBean. While it provides robust podcast hosting and analytical tools, it also has a great recording platform. It has a record with friends' option to record podcasts with up to five guests, completely remotely as well. Spotify owns the platform itself, making it a seamless choice between hosting and publishing.
Its recording tools will record audio anywhere, whether your phone, computer, or another recording device, and sync all the content. You can also edit the software and import additional audio files to round out the podcast episodes.
This tool is meant to get you producing and publishing with as few steps in between as possible. It has enough tools to ensure that your podcast is as professional as possible. It also works to break down your recording into an episodic format.
Related: How to Set Up a Podcast on Twitch
QuickTime
Yet another Mac-only option, this software comes with every Mac, preinstalled. It's one of the oldest software options out there when it comes to recording your podcast, whether it's audio or video. QuickTime is one of the fastest options to start recording your podcast and extremely easy to use, with merely the click of a button to start the recording.
It's also completely free but doesn't have a robust set of features to edit the audio. Instead, it has basic features such as trimming or splitting and the ability to copy or delete audio and video content.
Yet because you can split up the audio and edit it separately, this is a no-frills, straight-to-the-point podcast recorder and audio. So QuickTime is the way to go if you just want to try out podcasting and practice some recordings.
Related: How to Turn Your Facetime Chats into a Podcast
Riverside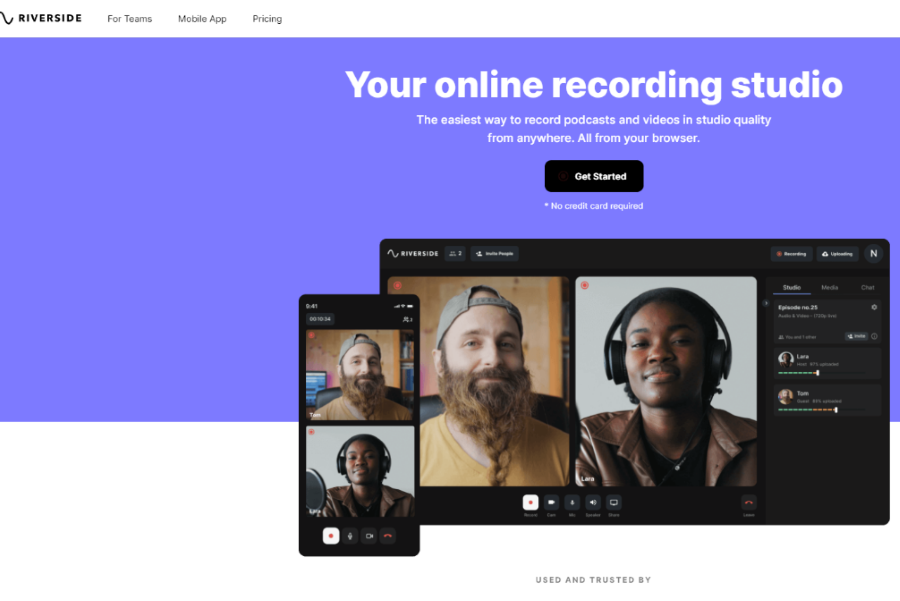 Riverside is another SaaS with a mobile focus. It records totally uncompressed audio, saving it in WAV format at 48 kHz. That's one of the highest quality audio out there, allowing you to preserve much crisper audio as the podcast begins to have compression. It doesn't shy away from the video component either and records podcast videos in 4K with the right cameras. Don't worry about bandwidth; you can locally record and sync everything up later. Then you can edit each separate recording as needed and only combine them when ready.
You can download the iOS or Android apps to also record your podcast on the go without compromising the quality. Editing focus goes beyond just the audio portion, as you're also able to handle video editing and layouts with a couple of clicks. It also can produce transcripts automatically, and there's a free version to try this software out.
Related: How to Do a Podcast Over Discord
RINGR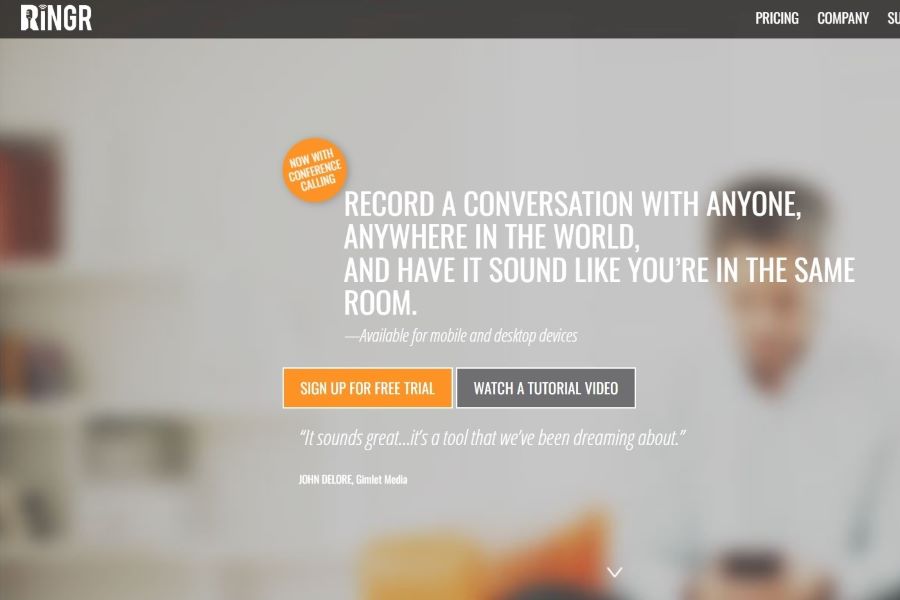 The magic of RINGR is how it's able to take people recording anywhere on any recording platform and automatically synchronize and refine the audio to make it sound as if everyone's in the same room with professional recording equipment. In addition, it's available as a mobile app as well as a desktop browser, so you can get access from any of these devices.
When you upgrade to the premium plans, you'll also get 48kHz uncompressed audio files, one of the best ways to produce a podcast because of the high quality. In addition, there's also the option to do discrete track recording and no limits on how much audio you want to store.
It also exports all audio recordings to the most popular options such as mp3, OGG, or FLAC, allowing you to import it into any type of audio editing software because although RINGR is a great recording option, it has limited to no editing options.
Podcastle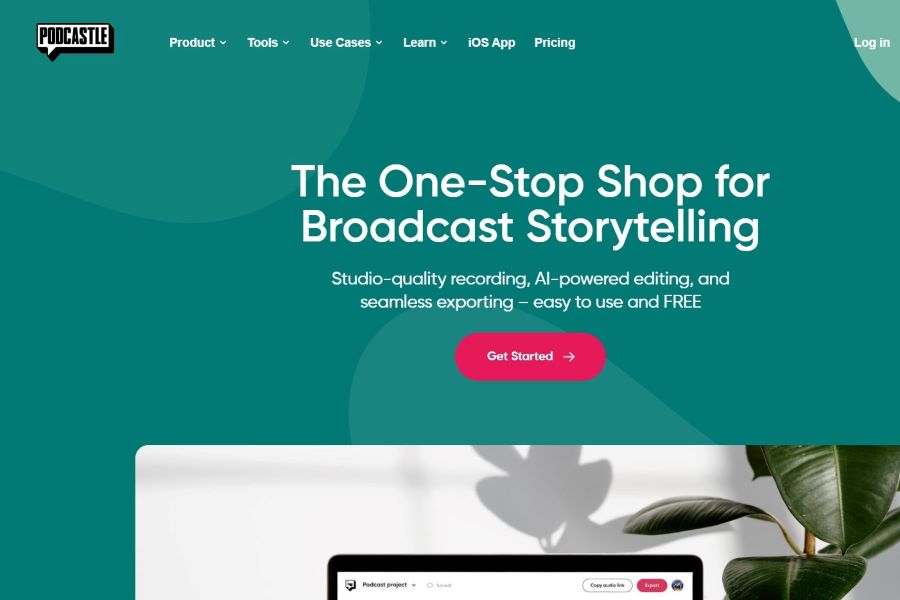 You can handle remote interviews with up to 9 people, making it one of the largest podcast gatherings possible. At the same time, it excels at multitrack recordings as well. Podcastle is also completely free and AI-powered to help easily create content and edit it at the same time. In addition, its tool, Magic Dust, easily eliminates noise like a pro.
It automatically makes you sound better as the AI adapts your voice optimally. In addition, the audio content is completely uncompressed, and you can take Podcastle on the go and still feel as if you're recording in a professional studio.
You can also record videos at the same time and record everything separately. The platform works on combining these easily while being able to edit every recording individually. It also has a feature to eliminate those long silences.
For the best quality recordings and features, it's best to get their storyteller edition for $11.99 monthly.
Zencstr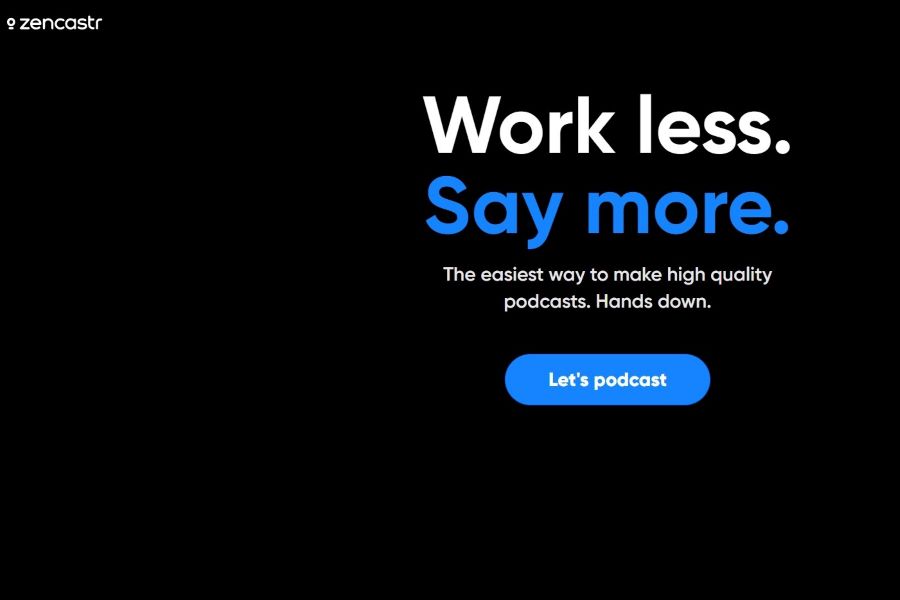 Another great freemium option until you get your podcast community growing is Zencastr. This one allows up to 12 guests at once, and the recordings of each guest are split into separate files to be edited later.
In addition, there's a user-friendly editing soundboard (paid option only) that helps you throw in intros and outros without much hassle. There's also some automatic editing to save time based on its built-in audio AI software that can make you produce your podcast episodes faster and more streamlined.
The free version is capped at 192k MP3 output, so it may be well worth upgrading for uncompressed 16-bit recordings in a WAV file format and automated transcriptions. You'll also be able to record in 1080p quality video and remove the Zencastr watermark on the free version.
Related: Cast vs Zencastr: Which is Better for Podcasting?
Spreaker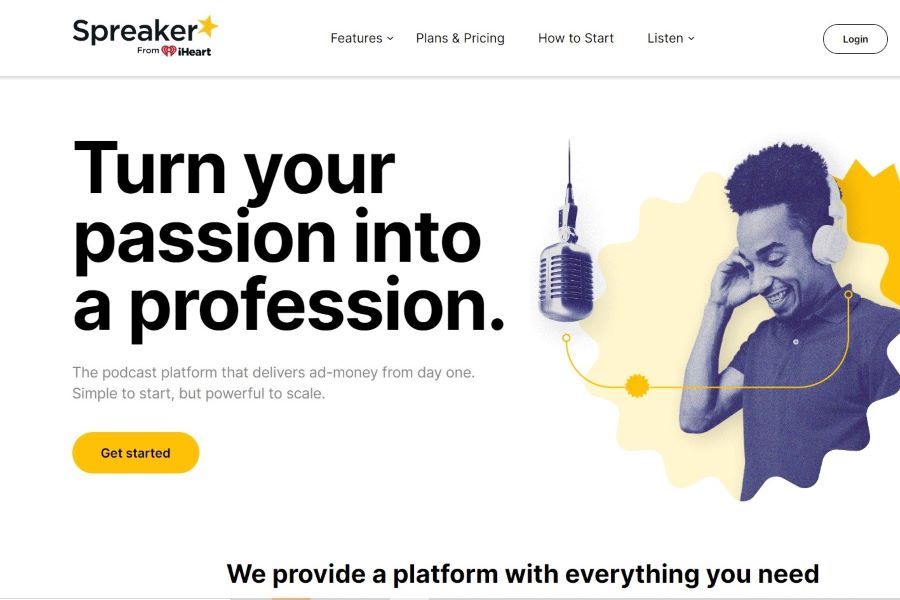 Although there claims to be a free feature, Spreaker is best used when using one of the paid subscription services. For example, as part of the iHeart family, paying for the subscription will allow automatic uploads to iHeartRadio, Apple Podcasts, and Spotify.
With that said, the recording functionality is extremely easy, with a focus on getting you to record anywhere. In addition, voice mixing tools allow you to integrate other audio or music from your fingertips. The app is complete, so you're able to also cut and edit out parts of your episode as you wish. In addition, you can add guests to the platform and do a live show with a built-in chat feature to engage with your user base. If you're looking to do podcast live, we've also got you covered.
If you want to keep it even simpler for your guests, there's a native Skype integration that will allow your guests to join without the need for overly complicated software. In our other post, you'll learn how to record a podcast on Skype.
Related: How to Use Google Hangouts to Record Podcasts
BounceCast
Another great option for those starting out is the free option that has all you need. You can export your audio to common file formats, even uncompressed WAV formats, MP3, FLAC and AIFF, and Ogg Vorbis formats. In addition, you can easily trim the audio as needed and import pre-recorded audio. All of this for free!
When you need to go with more features, BounceCast has a more premium model, and you will be able to get additional tools such as audio restoration and built-in automatic leveling of sounds. It also helps do soundcheck to work with your current recording environment.
For those looking for even more technical recording components, it helps to manage those frequencies you're not looking for. The EQ controls and resonance automatically adjust based on an analysis of your audio file to help produce professional sound.
Related: Best Equalizer Settings For Podcasts
Reaper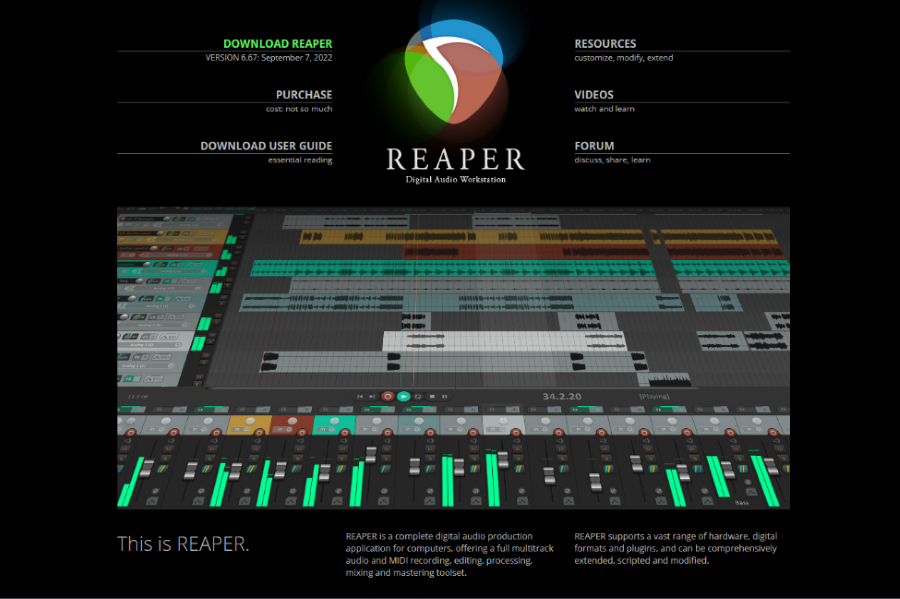 Reaper is known for having over 200 plugins to help with your sound and recording in general. In addition, it's able to record multiple inputs at the same time. It's an extremely powerful desktop-only software that has a bit of a learning curve. Yet you'll be able to produce some of the best quality podcasts ever, and once mastered, this can also be considered one of the best podcasting recording software options ever. You can process the audio in 64-bit and render it to numerous formats as well as any type of bit depth you need.
It can handle automation and modulation as needed and can be programmed with macros to help with easy formatting and editing. But, again, this is only for advanced users.
In the end
Since many of these options come with trials, you'll be able to try out many of them until you ultimately find the one that works best for your needs and skill sets.
FAQs
What is the best way to record audio for a podcast?
While there are many ways, the best way is to record it with the recording software that can edit it as well. This way, you won't have to export the audio from one source and edit it in another.
Related: Should I Record My Podcast in Mono or Stereo?
What software should you use to record a podcast?
Any options we mentioned above are a great choice for recording your software. However, it all depends on your preferences or needs, so you want to make sure you try a few options out. You may also read our guide on how to record a podcast on Zoom.
What is the best free software for podcasting?
If you have an Apple setup, then starting out with GarageBand is a great way as it's free yet robust at the same time. Another great option we believe is Audacity, simply because it is easy to use with so many features.
Do I need software to do a podcast?
You don't need to be going crazy with it, as your PC or Mac will be a great place to start. However, you may select one of the options we mentioned above when you want to start handling your recording and editing in the same software.
What app do podcasters use?
If you're looking for the always free options, then you're looking at Audacity or GarageBand. Then we can look at the most premium options, such as Adobe Audition or Hindenburg Journalist, when you want those feature-rich professional quality apps.