Not everyone has the finances to purchase the microphones pro podcasters use for their productions, and the truth is — to achieve superior sound quality, not everyone needs a high-end microphone. Thanks to the advancement of technology, you can get the perfect sound for under $100.
Similar to the higher 3-figure and 4-figure microphones, your sound has more to do with your technique and setup than your microphone. Not to say you should get the cheapest microphone money can buy; rather, you can't expect to sound better or more professional because you've spent more on a microphone.
Instead, with an understanding of how to enhance your vocals and a definitive list of the best affordable microphones, you can record a pro-sounding podcast without spending a fortune.
Let's start with uncovering four of the best cheap microphones for podcasting, detailing their features and what you can accomplish using each. Remember, you only need to pay attention to a handful of meaningful features that directly impact your sound and production.
Related: Best XLR Cables For Microphones
Audio-Technica AT2020
The AT2020 microphone has been on the market for some time and has become a firm favorite for all types of audio recording, including podcasting.
The Audio-Technica AT2020 Best Features Include a:
Durable Build
Warm and Crisp Sound
High SPL Handling
Low Signal to Noise Ratio
Dynamic Range
Key Specifications of the Audio-Technica AT2020:
Polar Pattern: Cardioid
Microphone Type: Condenser
Signal to Noise Ratio: 74db
Frequency Response: 20-20,000 Hz
Requires Phantom Power
The Audio-Technica AT2020 is a workhorse built for the kind of environment in a music studio. The microphone's features mean it performs well, irrespective of the type of sound it's recording. Acoustic instruments sound as crisp and warm as lead and background vocals. This range is responsible for the microphone's cult following among voice-over artists and podcasters, who have adopted the AT2020 as their go-to mic.
Examining the AT2020s specs, it is apparent the microphone is designed to enhance the listening experience.
Our ears hear pressure, not volume, something the AT2020 emphasizes with its high Sound Pressure Level. The higher SPL means irrespective of your distance to the microphone or your volume the microphone won't distort sound. The high SPL is perfect if you have a more professional home studio because it captures your voice clearly while providing some protection from unwanted background noise that has the potential to muddy your recording.
Then there's the AT2020s low internal noise, enabling you to record delicate sounds with as much clarity as louder audio, something you'll appreciate if you plan on having in-studio podcast guests.
The Type of Podcasters That Would Benefit From Using the Audio-Technica AT2020
Despite the glowing assessment of the Audio-Technica AT2020, not every podcaster will achieve the same success with this affordable microphone. Instead, there are two categories of podcasters that will likely get the most from the AT2020:
High-Energy Podcasters
Although any podcaster could use and achieve superior sound from the AT2020, podcasters that would most benefit from the microphone are high-energy, loud, and dynamic range podcasters.
The AT2020 can handle the type of high-energy you would expect in an interactive or unscripted podcast, whether that means interaction between energetic hosts or unscripted moments that tend to cause distortion on other microphones.
That's because the AT2020 can manage pitchiness and unexpected tone and volume changes, unlike other condenser microphones.
Delicate, Softer Podcasters
This is proof of the AT2020s versatility. Not only can it handle loud, dynamic vocals, but it captures more temperate vocals beautifully, giving them a warm balance. Female podcasters with softer voices who may have struggled to capture crisp vocals on other microphones will have success achieving warm, balanced vocals on the AT2020.
Blue Yeti Nano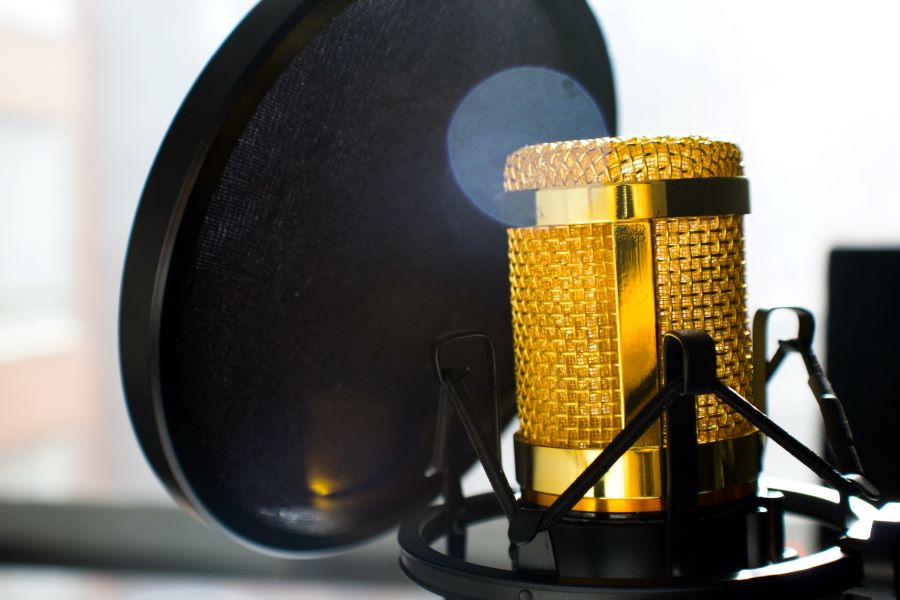 Blue's Yeti range is known for its affordable microphones that have captivated streamers, podcasters, content creators, and gamers. But the Yeti Nano happens to be one of the brand's best budget microphones, offering versatility with the Yeti's signature plug-and-play features.
Blue Yeti Nano's Best Features:
Plug-and-Play
Zero Latency Headset Monitoring
Portable
High SPL Handling
Key Specifications for the Blue Yeti Nano:
Polar Pattern: Cardioid and Omnidirectional
Cable Type: USB
Microphone Type: Condenser
Signal to Noise Ratio: 60.58 dB
Maximum SPL: 120dB
Frequency Response: 20-20,000 Hz
The Yeti Nano is a more compact USB microphone, allowing you to record on the go or in smaller recording spaces, perfect for the home studio. Much like other microphones in the range, the Nano prioritizes the features that matter most to achieve crisp vocal recording. This focus is clearly on display in the microphone's design, which includes a zero-latency headphone output jack, a built-in microphone stand, and a cardioid pattern.
Without getting too technical, most podcasters with limited or no knowledge of the production side will enjoy the microphone's plug-and-play design, which allows you to plug the USB cable into a compatible device (Windows or Mac) and start recording.
But, it's the zero-latency headphone output jack that enables you to listen to yourself as you record that will have the most impact on your podcast.
The high SPL handling also means that you can capture crisp sound irrespective of your distance to the microphone while it provides some filter to background noise, capturing audio closer to the microphone while filtering noises further away.
Unlike other condenser microphones in the Nano's price range, the Nano also has an omnidirectional polar pattern, perfect for temperate vocals.
When put to the test, the Blue Yeti Nano dominates high-frequency vocal recording, adding depth and warmth to your audio without the need to understand too much of the technical side.
Related: How to Minimize Breathing Using Blue Yeti and How to Connect a Blue Yeti Into a Mixer
The Type of Podcasters That Would Benefit From Using the Blue Yeti Nano
While the Yeti Nano has plenty of advantages, its disadvantages mean that the microphone will have limitations and will only benefit certain podcasters:
Beginner Podcasters
Although every microphone on this list falls within a price range that is easy on the pockets of beginners, the Yeti Nano is created for the kind of no-fuss podcasting many beginners tend to appreciate.
To achieve the depth and warmth of the most well-known podcasters on the Nano, there's not much you need to do.
The high SPL limits background noise being picked up and the desktop stand and low internal noise prevents the kind of hum that can distort your recording.
Beyond a pop filter and perhaps an isolation shield, there's nothing you'll need to tweak to achieve broadcaster quality sound on your Blue Yeti Nano.
Solo Podcasters
The reason the Blue Yeti Nano is often used by streamers or other solo creators is that it thrives in that type of setting.
Although the plug-and-play makes it perfect for beginners, this feature makes it a challenge to use with co-hosts or in-person guests. But if you only intend on hosting remote guests or being a solo podcaster, the Nano allows you to perfect your sound as you record, thanks to its zero-latency headphone output. You can also examine your tone and pitch through DAW software like Audacity, allowing you to tweak your sound for the circumstance.
But the zero-latency feature also means that you can monitor your recording environment to pick up background noises, humming, or other distortion and fix them before they ruin your audio.
You'll never spend an hour recording a podcast episode only to realize you could hear your neighbor's lawn mower throughout the recording.
Shure SM58
Often touted as the best microphone in the $100 range, the Shure SM58 is tailored for vocals with the specs to prove it.
The Shure SM58's Best Features:
Rugged, Durable Build
Vocals-First Design
Rich, Clear Sound
Dynamic Frequency Range
Key Specifications of the Shure SM58:
Polar Pattern: Cardioid
Cable Type: XLR
Microphone Capsule: Dynamic
Signal to Noise Ratio: 94dB
Frequency Response: 50 Hz to 15 kHz
Sensitivity: 57.5 dB
The Shure SM58 has been around for over 15 years, a testament to the microphone's superior build and excellent audio recording. In those 15 years, very few dynamic mics have emerged that can beat the versatility and power offered by the SM58.
All that to say, the $100 investment in the Shure SM58 is well worth it.
Unlike other microphones on this list, the Shure SM58 offers a rich but clear audio recording, maintaining the integrity of your voice but elevating it with an unmistakable broadcasting quality.
The build quality of this microphone makes it the best option for a more intensive recording schedule and is responsible for the microphone's unbeatable lifespan, rarely requiring you to upgrade or repurchase.
Many of the components on the microphone, including its grille, can be removed and replaced, this enables you to use the microphone as your podcast grows.
Despite the impressive build, it's not the rugged design that's going to convince you this microphone is right for you; rather, it's the audio recording.
The Shure SM58 excels in various environments. The frequency response means it performs exceptionally well in live, loud performances, delivering a crisp and balanced sound, but then its cardioid patterns and same frequency response work in studio environments to help eliminate background noise.
When it comes to your setup, there's not much you need to start recording on the Shure SM58 besides an interface, which is necessary to operate the XLR cable microphone. Of course, you can add a pop filter, stand, or shock mount. However, since it was designed to handle the high-pressure situations of live performances, the internal spherical filter manages to mitigate many harsh plosives. The internal shock mount is also excellent at reducing vibration-induced noises. So if you want an informal podcast setting, you could hold the microphone in your hand without affecting the quality of the audio.
Related: Does Shure SM58 Need a Shock Mount?
The Type of Podcasters That Would Benefit From Using the Shure SM58
If you're soft, solo, loud, or have company, you'll benefit from using the SM58. The microphone has stood the test of time because of its ability to adapt and excel in any situation. That said, these are the types of podcasters and situations where the Shure SM58's quality will amaze you:
Live Recordings
If you're recording a live performance or podcast or using audio from an event— like a Q&A in front of a live audience— in a podcast, you'll appreciate the versatility of the Shure SM58. Compared to other dynamic microphones, the Shure SM58 operates well when recording live vocals but just as well in the studio setting. The frequency response helps combat the proximity effect caused by being too close to the microphone, which exaggerates base tones and can distort your recording.
Multiple Co-Hosts
If your podcast has more than two hosts, the Shure SM58 could be best for recording. The XLR cables mean you can add as many hosts to your interface and control the volume of each without the need for additional software. Since it's a vocal-first microphone, it will also record each host's vocals with the same precision and clarity.
Informal Podcasting
As younger listeners embrace podcasting, informal podcasting has emerged. This recording style may include recording episodes in your backyard, a car, or even a coffee shop instead of a studio.
Given the Shure SM58 rugged design and internal pop filter and shock mount, the microphone setup is condensed, only requiring a DAW interface to start recording.
It's also this limited setup that can make the Shure SM58 a more aesthetic option.
Behringer C-1
Significantly cheaper than the $100 price range, the Behringer C-1 performs much to the standard of other large-diaphragm condenser microphones that are often 3 to 4 times the price.
The price tag and the sound quality produced by this microphone earn it a spot as one of the best budget microphones for podcasters.
The Behringer C-1's Best Features:
Realistic Sound Capture
Ultra-Low Internal Noise
Sturdy, Lasting Build
Key Specifications of the Behringer C-1:
Polar Pattern: Cardioid
Cable Type: XLR
Microphone Capsule: Condenser
Frequency Response: 40Hz to 20kHz
Requires Phantom Power
Before you write off the Behringer C-1 as a mediocre budget microphone, as some users have, remember that to achieve the microphone's fullest potential, phantom power is a necessity. You'll need +36 to 52V of phantom power, something you can get through a rather cost-effective (less than $50) power supply.
When you've got your power supply, you'll immediately notice the force of this unassuming microphone. Thankfully, you won't have to guess if you've got phantom power, as an LED light on the front of the microphone turns on when you've got your phantom power source.
With a phantom power source, you can appreciate all the C-1 has to offer, like its large diaphragm that adds warmth and richness to your voice, the kind that has become popular among professional voiceovers, broadcasters, and podcasters.
Its heart-shaped cardioid pattern offers excellent sound source separation and feedback rejection, preventing background noise and off-axis sounds from making it into your audio recording while emphasizing your voice. But it's not just background noise that won't affect the quality of your recording, internal noise won't either, as the C-1 has an ultra-low internal noise.
These features, in combination with the internal shock mount, ensure that your Behringer C-1 delivers consistent quality recordings. Although you'll need to invest in an audio interface to get started, once you've set your microphone, you can expect the ease of recording offered by any plug-and-play microphone on the market.
The Type of Podcasters That Would Benefit From Using the Behringer C-1
The Behringer C-1 is a staple microphone for most podcasters, offering the kind of features necessary to record broadcast-quality vocals every time you start recording. But given its unassuming design and fundamental features, it doesn't get as much attention as other microphones on this list. That doesn't mean that it won't prevail in the right setting and other right circumstances.
Home Studio Podcasters
The Behringer C-1 should only be used when studio recording, as this is where the C-1 excels. The microphone's sensitivity and design make it a workhorse in a studio setting but also means it won't do well in any other environment.
This doesn't mean you need a soundproof room. Instead, a home studio is just a dedicated space you use to record that enhances your sound quality. It can be as simple as your desk and pop filter.
Intermediate Podcasters
If you have a working knowledge of sound production, you won't be intimidated by the Behringer C-1. Since the microphone needs phantom power, requiring more hardware — like an audio interface — to use the microphone, it can often be intimidating for beginners. For a podcaster with more knowledge on the subject or who wants to get acquainted with sound production, the C-1 is the perfect microphone.
Eager to Learn Podcasters
If you're unsure about the type of podcaster you are, the Behringer C-1 is a great starting point. The C-1 highlights your voice with incredible realism and sensitivity, allowing you to explore your sound before you— and if you ever feel the need to— upgrade. Although it's almost always overlooked, knowing what you sound like is integral to building a podcast around your voice.
The C-1 also enables you to explore the world of sound engineering and production without requiring you to invest in or learn how to use an intimidating setup.
If you walk away from this list with one thing, it should be that you won't sound better, have more success, or appear more professional just because you've spent a lot of money on a microphone. Instead, you can still build an audience and achieve unparalleled success with a $50 microphone as you would with a $500 microphone; you only need to spend time finding the best option for an affordable price.
Related: The Best Microphone Software For Recording Voice (2023)