So you've got a podcast, and you want to level up its visual appeal? Welcome to the right place! Video podcasting has taken the world by storm, especially in the past couple of years. With video content being more engaging than just audio, podcasters are rapidly making the switch.
In fact, studies have shown that podcasts with video components receive a significantly higher engagement rate. But with the market flooding with cameras every year, how do you choose the best one for your podcast this year? Let's dive in!
No matter your budget or expertise level, by the end of this guide, you'll have a clear idea of what kind of camera will serve your podcast best. We'll break down our best podcast video camera, and all the major factors to consider, from budget to resolution and even battery life. Ready?
Related: Podcast Studio Setup
Factors To Consider Before Buying
Selecting the best video camera isn't just about picking the most expensive or popular option; it's about finding what fits YOUR needs. Here are some critical factors to help you make an informed choice.
Budget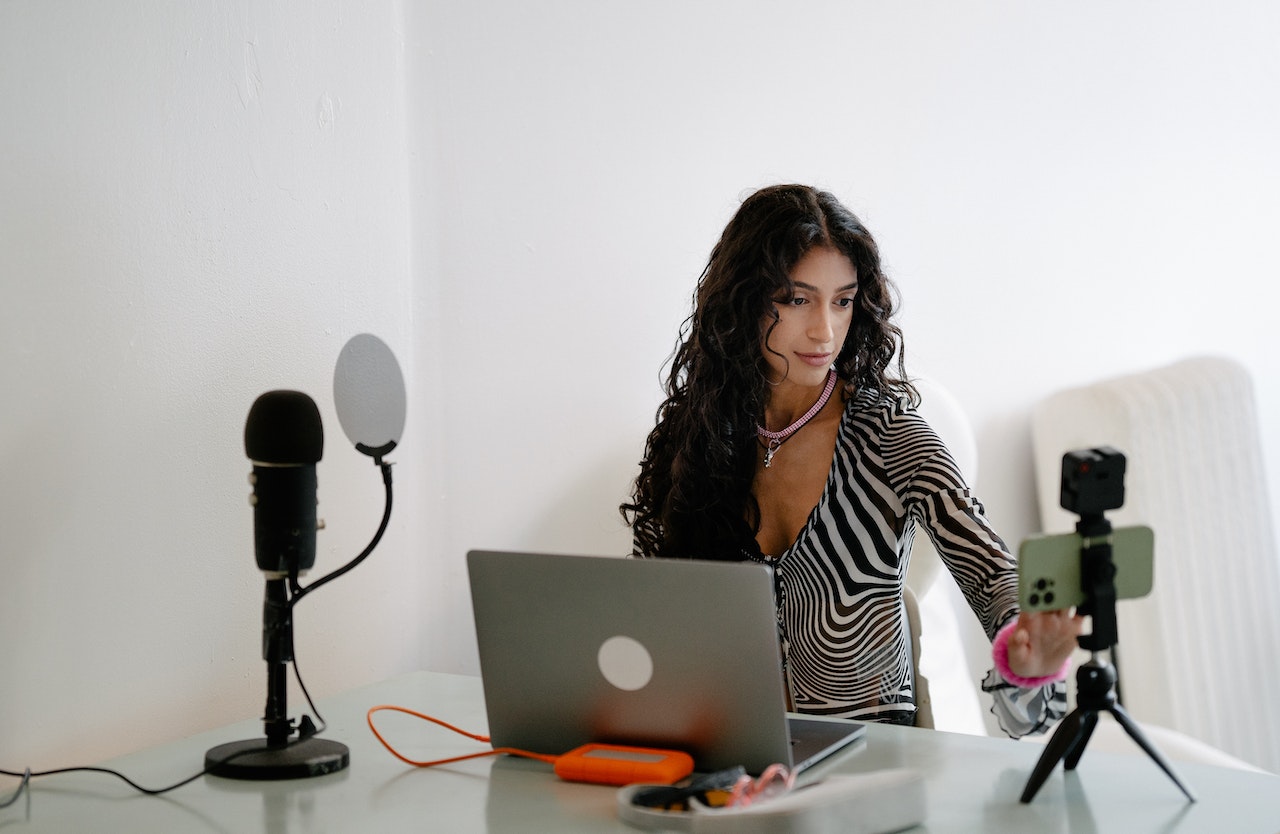 When it comes to cameras, budget plays a pivotal role. It determines the quality, features, and performance you'll get.
Entry-Level, Mid-Range, and Professional Cameras
Entry-level cameras, typically below $500, offer decent quality and are perfect for beginners. They might lack some advanced features but are usually user-friendly. Mid-range cameras, falling between $500-$1500, are suitable for those looking for a balance between price and performance. They offer enhanced features, better build quality, and often better lenses.
Then we have the professional cameras, which are above $1500. These are for those who want the best of the best: unparalleled image quality, top-notch features, and durability. Remember, it's not always about spending more; it's about getting value for your money.
Prioritizing Features Over Brand
A common mistake? Choosing cameras based on brand popularity. While brands do play a role in ensuring quality, it's more crucial to prioritize features. Do you need excellent low-light performance or long battery life? Look for a podcast camera that excels in those areas rather than just going for the most popular brand.
Camera Type And Form Factor
The type of camera you choose largely dictates the quality and flexibility of your recordings.
DSLR vs. Mirrorless
DSLRs are traditional cameras known for their high-quality image and vast lens options. They're bulky but reliable. Mirrorless cameras, on the other hand, are newer entrants. They're more compact, lighter, and often come with better video features than DSLRs.
However, lens options might be limited depending on the brand. For podcasting, a mirrorless camera might be more practical due to its size and enhanced video features, but if you already own a DSLR, it can still do wonders.
Camcorders and Dedicated Video Cameras
Camcorders, especially modern ones, are built specifically for video recording. They offer extended recording times, better audio integration, and a more ergonomic design for videography. Dedicated video cameras might be overkill for most podcasters but can be useful for those aiming for TV-level quality.
Webcams for Beginners
For those just starting out or on a tight budget, webcams can be a solid choice. Modern webcams offer full HD recording, decent audio quality, and the convenience of being plug-and-play. Plus, with the increasing trend of live-streaming podcasts, a webcam might be all you need!
Resolution And Frame Rate
The clarity and smoothness of your high quality videos are largely determined by the resolution and frame rate.
1080p vs. 4K
While 1080p (or Full HD) is still widely accepted and offers decent quality, 4K is becoming the new standard. It gives you four times the resolution, which means clearer, crisper videos. 4K also allows for post-production cropping and stabilizing without losing much quality. For future-proofing your podcast, 4K is the way to go.
Importance of High Frame Rate
A higher frame rate, like 60fps, offers smoother video playback, especially when there's a lot of motion. For interviews or static shots, 30fps might be adequate, but if you plan to include B-rolls or dynamic shots in your podcast, a high frame rate will make a world of difference.
Low Light Performance
A camera's ability to perform in low light can be the difference between a professional-looking podcast and a grainy, unwatchable one.
Sensor Size and Sensitivity
A larger sensor can capture more light, resulting in better low-light performance. Cameras with full-frame or APS-C sensors are usually better in this regard than those with smaller sensors. Additionally, a camera's ISO range indicates its sensitivity to light; a higher maximum ISO means the camera can capture better images in darker conditions, but beware of increased noise at very high ISO levels.
Lens Aperture
The lens aperture determines how much light the lens lets in. A lens with a wider aperture (lower f-number) allows more light, making it ideal for low-light conditions. If you often record indoors or in dim environments, consider investing in a camera with a wide aperture lens.
Autofocus And Image Stabilization
Nothing's worse than blurry footage. Autofocus and image stabilization features ensure your video remains sharp and steady.
Keeping Subjects in Sharp Focus
Modern cameras come with advanced autofocus (AF) systems that track subjects and keep them in focus. Look for podcast cameras with face and eye-tracking AF for interviews or podcasts with multiple hosts.
Reducing Handheld Shake
Image stabilization (IS) helps counteract the minor shakes and jitters, especially when shooting handheld. Some best cameras for podcasting offer in-body stabilization, while others rely on stabilized lenses. For podcasters who move around or record on the go, IS is a must-have feature.
Audio Integration
Good video is nothing without clear audio. It's vital for podcasters to ensure the audio quality matches the video.
On-Camera Mics vs. External Solutions
While on-camera mics have improved over the years, they often can't match the quality of external microphones. For best results, consider using an external mic that connects to your camera or a separate audio recorder. This ensures clearer, richer sound without much background noise.
Importance of Clear Audio for Podcasts
Imagine watching a podcast with great visuals but muffled audio. Frustrating, right? Audio clarity is crucial because it keeps the audience engaged. Ensure your camera supports good audio integration, and always monitor audio levels while recording.
Battery Life And Power Solutions
Long recording sessions can be draining both for you and your camera. Make sure your camera can keep up.
Continuous Shooting Duration
Some cameras have a recording limit (like 30 minutes) due to overheating concerns or file size limits. If your podcast episodes run longer, look for cameras that can record continuously for extended periods.
External Power Options
While most cameras run on batteries, it's handy to have an external power solution, especially for studio setups. Cameras that can be powered through USB or external adapters are ideal for long recording sessions without the worry of changing batteries.
Best Podcast Video Camera – Top 10
Here are our top picks for the best podcast video cameras of this year:
1. Canon EOS M50 Mark II
The Canon EOS M50 Mark II has been specifically engineered with the content creator in mind. It's equipped with a DIGIC 8 Image Processor, supporting an array of high-resolution modes. The inclusion of an OLED electronic viewfinder offers an almost lifelike preview.
The built-in Wi-Fi and Bluetooth provide instant content transfer, making sharing and uploading seamless. The touch and drag autofocus feature gives the videographer complete control, allowing you to intuitively select and move the autofocus point via the touchscreen, even while peering through the viewfinder.
Key Features
24.1 Megapixel (APS-C) CMOS sensor
4K UHD 24p and HD 120p for slow motion
Dual Pixel CMOS AF
Vari-angle LCD touchscreen
Pros
Compact and lightweight
Superb autofocus
Great for beginners and intermediate users
Excellent value for money
Cons
4K video has a crop
Limited lens selection compared to other systems
2. GoPro HERO10
The GoPro HERO10 isn't just another action camera; it's a storyteller's dream tool. Its GP2 processor ensures smooth footage even in challenging conditions. The camera's modularity is impressive – from media mods to light mods and even display mods, allowing users to customize their setup as per their needs.
This is particularly beneficial for podcasters, who often find themselves in varying recording situations. The camera's TimeWarp 3.0 technology creates mesmerizing time-lapse scenes, adding a unique dimension to your content.
Key Features
5.3K video at 60fps
23MP photos
HyperSmooth 4.0 stabilization
Front-facing display
Pros
Waterproof without a case
Ultra-stable footage
Compact design
5.3K resolution offers post-production flexibility
Cons
Battery life could be better
Pricier than some competitors
3. Canon EOS Rebel T8i
Canon's EOS Rebel T8i stands as a testament to the brand's commitment to evolving technology. This DSLR combines a 24.1MP CMOS (APS-C) sensor with the powerful DIGIC 8 Image Processor, rendering high-resolution photos and 4K videos effortlessly.
Its Optical Viewfinder boasts a 45-point All Cross-type AF system, ensuring precise focus. The Advanced EOS scene analysis system optimizes settings for distinct subjects and lighting conditions, ensuring top-tier video quality each time.
Key Features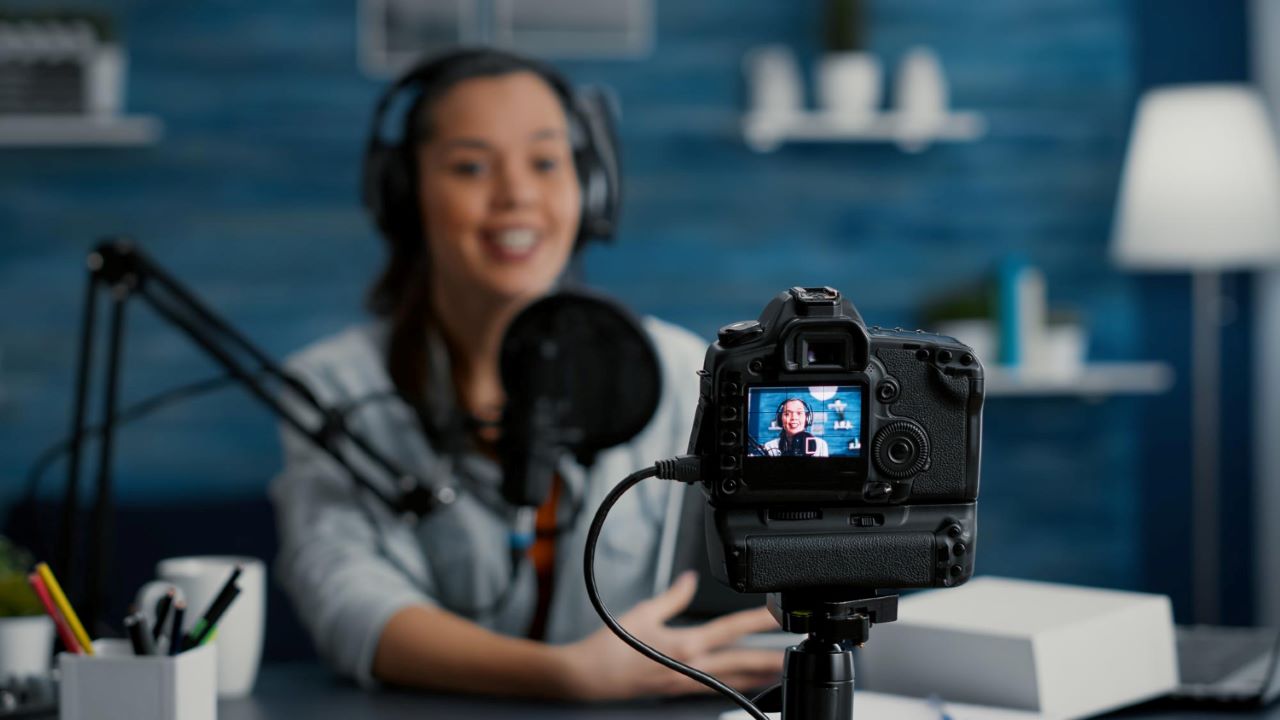 24.1MP CMOS (APS-C) Sensor
4K UHD 24p video
Dual Pixel CMOS AF
Vari-angle Touch Screen LCD
Pros
Versatile for both photos and videos
Solid battery life
User-friendly interface
Great color science
Cons
4K video comes with a crop
Heavier than mirrorless counterparts
4. Nikon D5500
The Nikon D5500 encapsulates Nikon's ingenuity in a compact body. The camera's 24.2MP DX-format CMOS sensor pairs seamlessly with the EXPEED 4 image processor, resulting in vibrant, crystal-clear videos. The camera's multi-CAM 4800DX 39-point autofocus system ensures sharp and dynamic videos.
Plus, with the D5500's enhanced Picture Control, you get complete artistic freedom to adjust parameters like sharpness, saturation, and hue before capture.
Key Features
24.2MP DX-format CMOS sensor
Full HD 1080p video recording at 60fps
3.2-inch vari-angle touchscreen
Built-in Wi-Fi
Pros
Compact and lightweight for a DSLR
Great image quality
Intuitive touchscreen interface
Value for money
Cons
No 4K video
Limited autofocus points for video
5. Sony Alpha A6600
The Sony Alpha A6600 is a testament to the potential of mirrorless technology. The camera houses a 24.2MP Exmor CMOS sensor, ensuring the delivery of high-resolution images and 4K video. Its fast hybrid autofocus combines phase detection and contrast detection for rapid performance.
The Real-time Eye AF and Real-time Tracking technologies are game-changers, locking onto subjects and ensuring consistently sharp results. Additionally, its robust magnesium alloy body ensures durability while maintaining a lightweight profile.
Key Features
24.2MP APS-C Exmor sensor
4K video recording with full pixel readout
In-body 5-axis image stabilization
Real-time Eye AF for video
Pros
Excellent autofocus system for shooting podcast videos
Compact form factor
Long battery life for its class
High-quality 4K video
Cons
No front-facing screen
Limited touchscreen functionality
6. Panasonic LUMIX G7 4K
Panasonic's LUMIX G7 offers an innovative mirrorless design. Its 16MP Micro Four Thirds sensor is fortified with no low pass filter, resulting in sharper images and videos. The camera's Depth From Defocus (DFD) autofocus technology calculates the distance to subjects and adjusts focus in a snap, ensuring crisp videos. Its intuitive design is further enriched with customizable buttons and settings, giving seasoned podcasters the flexibility they desire.
Key Features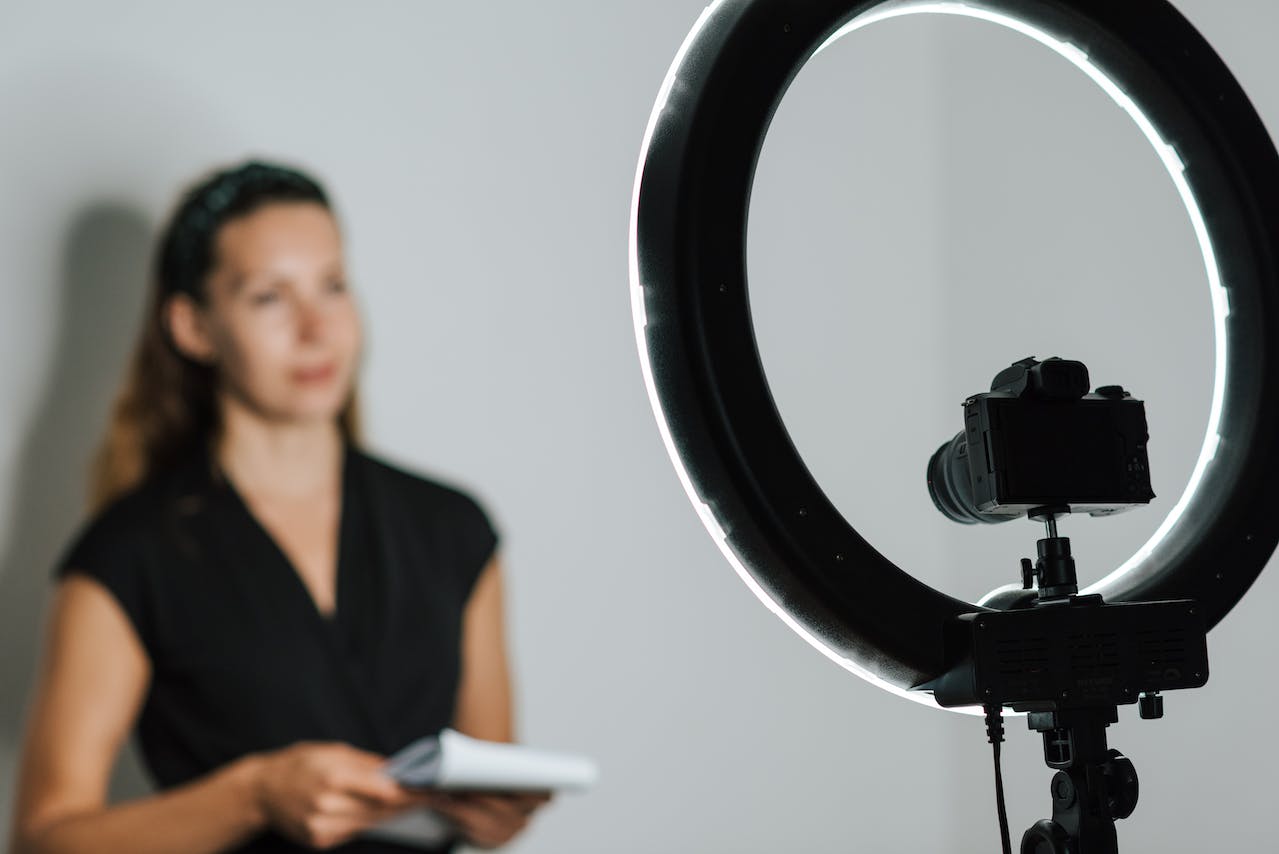 16MP Four Thirds sensor
4K video capture (UHD)
3-inch free-angle touchscreen
DFD autofocus system
Pros
Affordable 4K video recording
Robust build quality
User-friendly interface
Lightweight and compact
Cons
Limited in-body stabilization
Slightly older sensor technology
7. kicteck Video Camera
The kicteck Video Camera is designed for budding podcasters and hobbyists. Its 1080p recording capability is more than sufficient for basic needs. This camcorder offers a pause function, allowing you to halt and resume recording without creating a new file.
This proves invaluable for podcasters needing segmented recording sessions. Its infrared night vision ensures clarity even in dimly lit conditions, ensuring versatility.
Key Features
Full HD 1080p video recording
3.0-inch touchscreen
16X digital zoom
External microphone and webcam functionality
Pros
Highly affordable
Comes with a range of accessories
Simple and straightforward to use
Lightweight design
Cons
Limited video quality compared to others on this list
Not ideal for low-light situations
8. Canon VIXIA HF G50 4K30P
Canon's VIXIA HF G50 is built for videography. Its DIGIC DV 6 Image Processor ensures minimal noise and rich color. The camera's five-axis image stabilization corrects unintentional camera movement, ensuring steady shots even without a tripod.
Its circular eight-blade aperture ensures soft backgrounds, drawing focus to subjects. The tiltable electronic viewfinder provides real-time monitoring with rich color and clarity.
Key Features
1/2.3-inch UHD 4K sensor
4K UHD 30p recording
20x optical zoom lens
Dual SD card slots
Pros
Crisp 4K video output
Strong optical zoom
Versatile shooting modes
Reliable autofocus during video
Cons
Bulkier than DSLRs and mirrorless cameras
No in-body stabilization
9. PANASONIC HC-V770
The PANASONIC HC-V770 offers Full HD recording augmented by the Crystal Engine's fine image rendering. Its Back Side Illumination Sensor reduces noise, resulting in sharper video. Its Wireless Twin Camera and Wi-Fi functions allow picture-in-picture recording using a smartphone as a sub-camera. This proves invaluable for podcasters needing to capture multiple angles or perspectives.
Key Features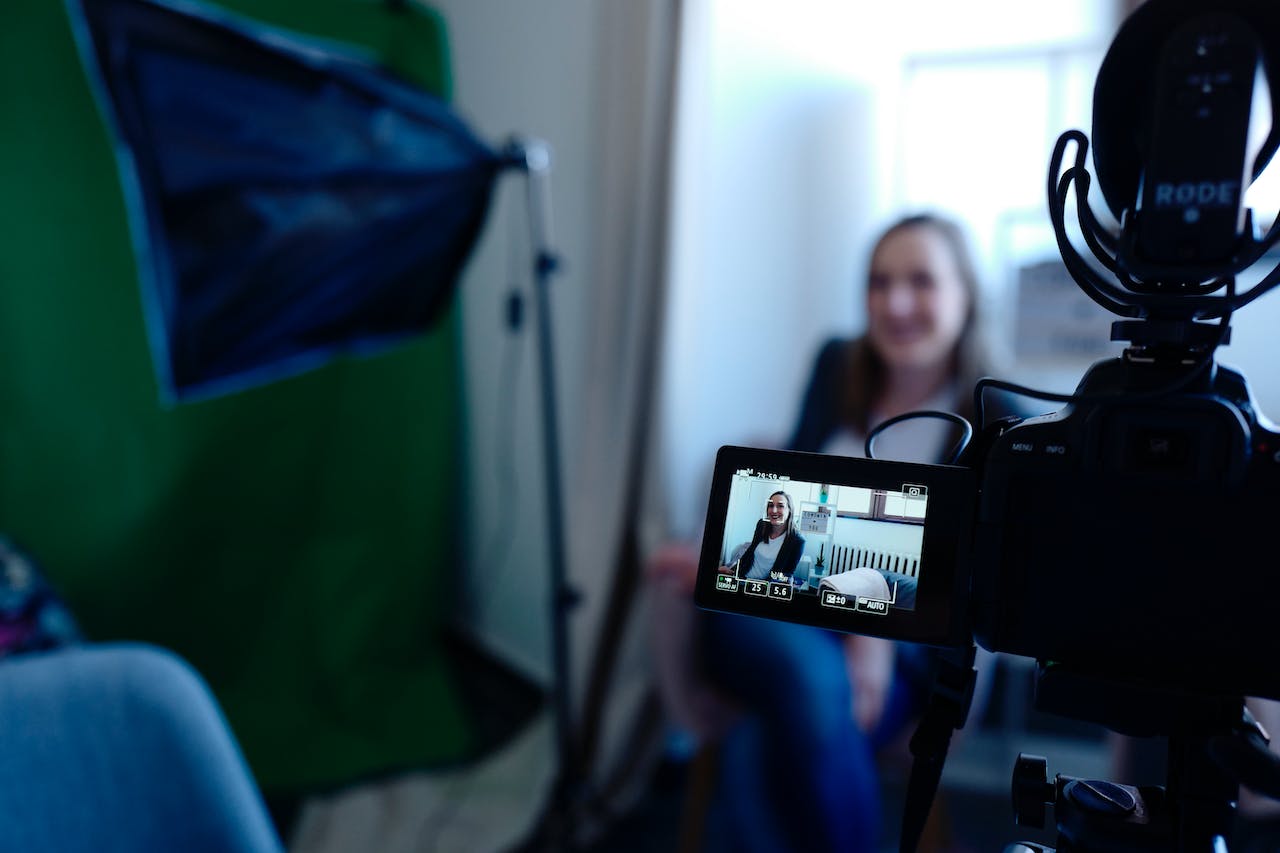 Full HD (1080p) video recording
20x optical zoom
HDR (High Dynamic Range) movie feature
Wi-Fi and NFC enabled
Pros
Superb video quality for 1080p
Responsive touchscreen controls
Wireless twin-camera recording
Good low-light performance
Cons:
No 4K recording
Somewhat bulky
10. Canon PowerShot SX740
The Canon PowerShot SX740 is a pocket powerhouse. Its 20.3 Megapixel CMOS sensor ensures high-quality video, and its 40x Optical Zoom ensures flexibility in framing. The 4K Time-lapse movie mode transforms longer recording scenarios into compact, visually striking videos. The camera's sleek, ergonomic design ensures it's ready to capture the moment no matter where you are.
Key Features:
20.3 Megapixel CMOS sensor
4K video recording
40x optical zoom with image stabilization
3-inch LCD screen
Pros:
Impressive zoom range for its size
Compact and travel-friendly
Quick autofocus in good light
User-friendly interface
Cons
Limited manual controls for video
Smaller sensor size compared to others on this list
And there you have it – a thorough look at the top podcast video cameras this year. Making an informed choice is vital, so take your time, weigh the pros and cons, and find the best podcast camera that aligns perfectly with your podcasting needs.
Essential Camera Accessories For Podcasters
You've got your camera, but is that enough? To ensure your podcast stands out, you need the right accessories. They elevate the quality, making your content look professional. Let's dive into what's indispensable for podcasters.
Tripods And Mounts
Tripods and mounts aren't just pieces of equipment; they're your shooting buddies. They ensure that your camera is steady and your frame is perfect—every time.
Importance of Stability
A shaky video is the last thing you want your audience to associate with your podcast. It's distracting and screams amateur. Stability is crucial for maintaining viewer engagement, ensuring that the focus remains on the content and not the wavering frame.
Tripods vs. Gimbal Stabilizers
While tripods offer static stability, gimbals give you the freedom to move. They use motors and sensors to keep the camera steady, even when you're on the move. For static shots, tripods are the way to go. But if dynamic angles and movement are integral to your podcast, a gimbal is your best bet.
Lighting Solutions
You can have the most expensive camera, but without proper lighting, your videos won't shine.
Softboxes and LED Panels
Softboxes diffuse light, softening shadows and reducing glare. They're great for creating a uniform look. LED panels, on the other hand, are versatile, offering adjustable brightness and color. Depending on your shooting environment and desired effect, choose between these two lighting giants.
Importance of Three-Point Lighting
This classic lighting technique uses three light sources: key light, fill light, and backlight. It ensures that the subject is evenly lit from all sides, creating depth and reducing unwanted shadows. It's a staple in professional setups, turning ordinary footage into visually stunning content.
External Microphones
Good video quality deserves equally good audio. External microphones are the unsung heroes of podcasting.
Lavalier Mics: Often referred to as lapel mics, these are small and clip onto the subject's clothing. They're excellent for interviews, ensuring clear audio without picking up much ambient noise.
Shotgun Mics and Boom Poles: Shotgun mics capture sound from a specific direction, ideal for on-the-move recording. When mounted on boom poles, they can be positioned closer to the subject without entering the frame, ensuring crisp audio.
Storage Solutions
Recording in high resolution consumes significant storage. And trust me, running out of storage mid-shoot isn't fun.
SD Cards and Specifications: An SD card's speed class determines how quickly it writes data. For 4K video, you'd need a card with a UHS Speed Class 3 rating. Also, always have backups. Because sometimes, technology can be unpredictably cruel.
External Hard Drives for Archiving: Once you've accumulated a plethora of footage, you'll need somewhere to store it. External hard drives are lifesavers. They're portable, offer vast storage, and ensure your computer remains clutter-free.
Tips For Getting The Best Video Quality
Having the best equipment is half the battle. The other half? Knowing how to use it.
Framing and Composition
It's not just about capturing; it's about captivating.
Rule of Thirds: Imagine your screen divided into nine equal segments by two vertical and two horizontal lines. The rule of thirds suggests placing the main subjects at the intersections of these lines. It creates balance and draws the viewer's eye.
Camera Angles and Perspectives: Different angles evoke different emotions. A low angle can make subjects look dominant, while a high angle can do the opposite. Experiment with perspectives to tell your story effectively.
Proper Lighting Techniques
Light can be a filmmaker's best friend or worst enemy. It's all about control.
Natural Light vs. Artificial Light: Natural light can be beautiful but unpredictable. Shooting during the golden hour can yield stunning results. Artificial lights, like LEDs and softboxes, give you control, ensuring consistency.
Avoiding Harsh Shadows: Harsh shadows can be distracting. Use diffusers or reflectors to soften the light, creating a more flattering look on your subject.
Post-Production Editing
Shooting is just the beginning. Post-production is where the magic happens.
Color Correction and Grading: Color correction ensures consistency across shots, balancing out differences in white balance and exposure. Color grading, on the other hand, is about style. It sets the mood, turning plain footage into cinematic art.
Audio Syncing and Enhancement: If you've recorded audio separately, syncing it with video is crucial. Also, enhance the audio by reducing noise, balancing levels, and possibly adding some music or sound effects to elevate the overall experience.
Building Your Podcast Brand With Visuals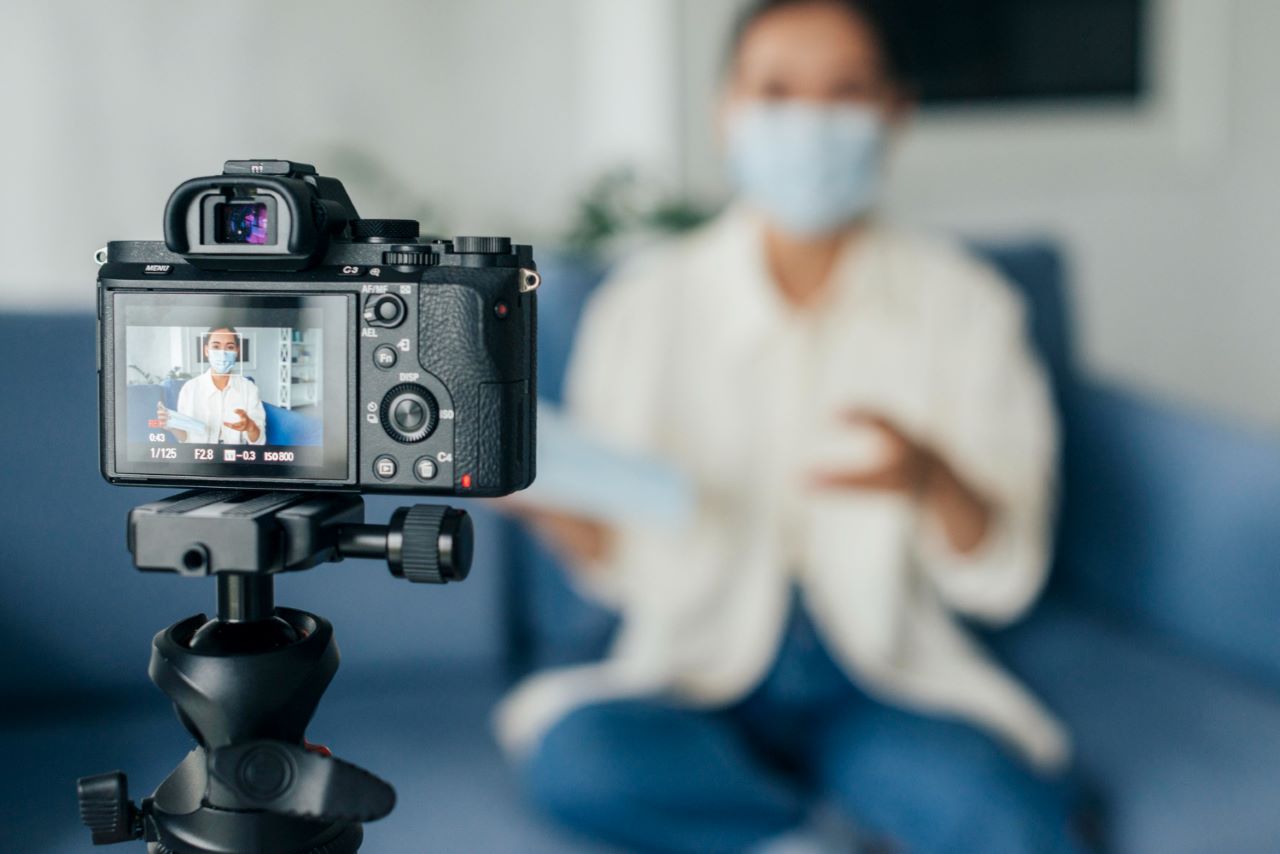 For many, the term "podcasting" used to evoke the image of audio-only content. However, with the evolution of multimedia platforms and the audience's growing appetite for video content, incorporating visuals into your podcast can be a game-changer. Let's explore the value and strategy behind it.
The Impact Of Video On Audience Engagement
A podcast with video has the potential to draw in a larger audience. Here's why:
Dual Consumption: Video podcasts offer listeners the flexibility to either watch or simply listen. This adaptability caters to those who might be driving and can only listen, as well as to those who prefer to watch and engage visually.
Platform Versatility: Platforms like YouTube or Vimeo are video-centric. Having a video format allows podcasters to tap into these vast platforms, attracting a broader audience base.
Enhanced Branding: Visuals enable podcasters to establish branding cues. Whether it's a specific backdrop, the attire of the host, or the on-screen graphics, these elements collectively create a recognizable brand image that listeners come to identify and connect with.
Integrating Visual Storytelling Techniques
The power of visual storytelling can't be emphasized enough. Here's how to make the most of it:
Use Relevant B-roll: Supplement your primary footage with B-roll that provides context or highlights points discussed in the podcast.
Engage with Graphics: Animated graphics or infographics can simplify complex ideas and keep the audience engaged.
Include Subtitles: Not only does this make your content accessible, but it also allows viewers to follow along in noisy environments or with the sound off.
FAQs
What Cameras To Use For Video Podcasts?
The best camera for a video podcast depends on your needs and budget. If you're starting out, a good-quality webcam or entry-level DSLR can suffice. As you advance, mirrorless cameras like the Sony Alpha A6600 or Canon EOS M50 Mark II offer better quality and flexibility.
For professionals or those wanting to invest in the best, camcorders like the Canon VIXIA HF G50 4K30P or DSLRs like the Nikon D5500 are excellent choices. Remember to also consider factors like resolution, frame rate, low-light performance, and autofocus when choosing your camera.
What Is The Best Way To Record A Podcast With Video?
Recording a podcast with video requires a mix of good visuals and clear audio. Start by choosing a quiet, well-lit location. Use three-point lighting to illuminate your subject evenly. Set up your camera on a tripod or gimbal stabilizer for steady footage. Use an external microphone – either a lavalier for individual speakers or a shotgun mic for broader coverage.
Once set, frame your shot using techniques like the rule of thirds for a balanced view. Finally, do a test recording to check both audio and video quality before hitting the record for the actual podcast.
What Do Podcasters Use For Video?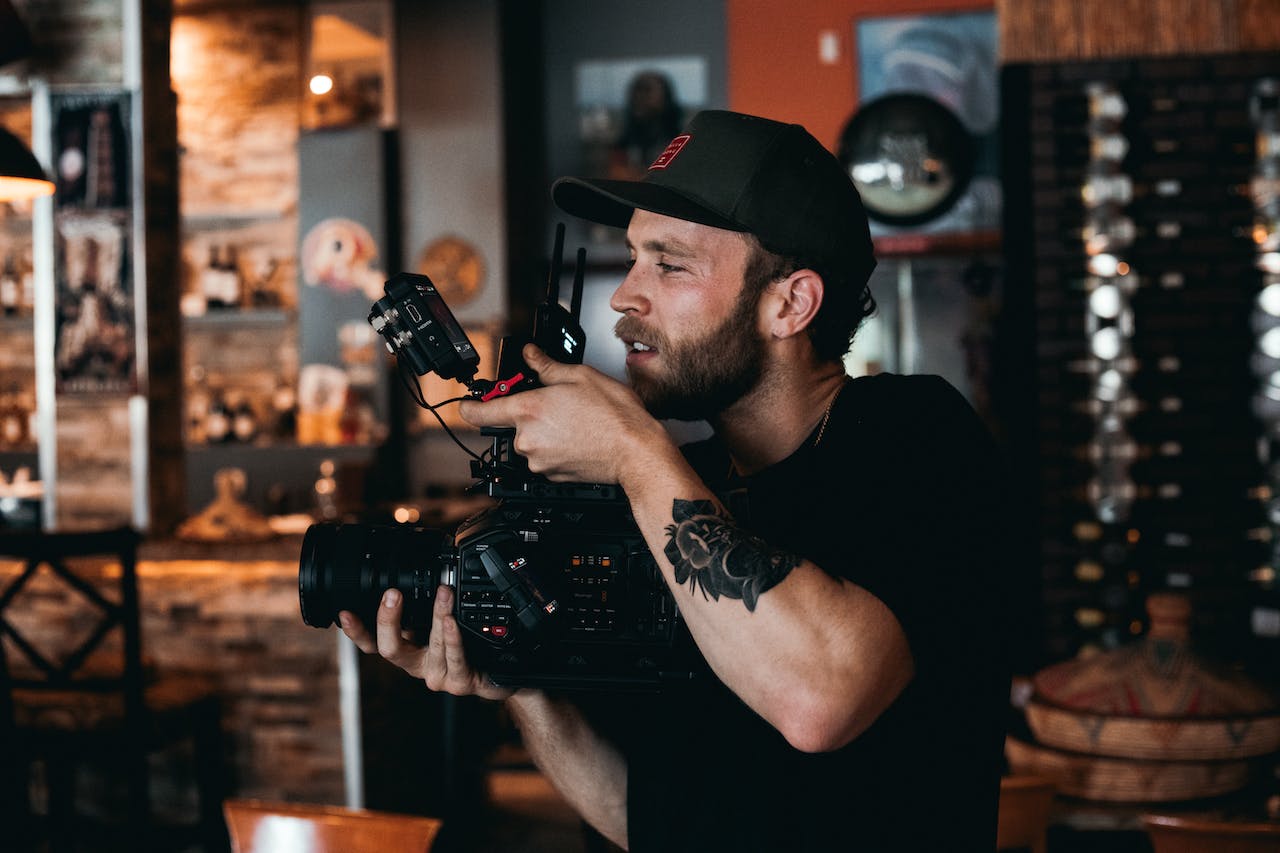 Podcasters use a variety of equipment for video based on their requirements and budget. At the core, they'll have a reliable video camera (ranging from webcams for beginners to professional DSLRs or camcorders for advanced users). Lighting is crucial, so softboxes, LED panels, or even natural light are employed. For stable footage, tripods or gimbal stabilizers are essential.
Audio is equally important, so external microphones, whether lavalier or shotgun types are commonly used. Post-shooting and editing software help in refining the video and audio to produce the final content.
What Is The Best Lens For Video Podcasting?
The best lens for video podcasting largely depends on the kind of look you're going for. Typically, a prime lens with a focal length between 24mm and 50mm is ideal for most podcasting setups. These offer a natural perspective without distorting facial features.
Lenses with a wider aperture (like f/1.8 or f/2.8) are preferable as they allow more light in, which is great for indoor setups, and they can give a shallow depth of field, blurring the background and making the subject pop. Brands like Canon, Nikon, and Sony offer excellent prime lenses that work wonders for podcast videos.
How Important Is Post-production In Enhancing Podcast Video Quality?
Post-production plays a pivotal role in elevating the quality of your podcast video. Even with the best equipment, raw footage often needs refinement. Editing allows you to correct color imbalances, enhance audio quality, stitch multiple shots seamlessly, and add effects or transitions.
Techniques like color grading can set the mood and tone of the video, while audio enhancements ensure clarity and immersion for the viewer. In essence, post-production is where you can truly bring your vision to life, making it an indispensable step in the podcast video creation process.
Conclusion
In today's digital age, where content is consumed voraciously across multiple platforms, video podcasting stands as an innovative frontier. From the gear you invest into the branding, storytelling techniques, and monetization strategies, there are numerous facets to consider. However, the rewards—greater engagement, wider reach, and potential profitability—are compelling.
As with any venture, the key lies in remaining genuine to your content, understanding your audience's preferences, and constantly innovating. The world of podcasting awaits, and with the tools and insights shared in this guide, you're all set to make your mark!
Related: Podcast Starter Kit