Monoprice 110010 headphones are a decent pair of headphones for those who are interested in casual listening. Critical listeners, such as people who make podcasts and need to determine the quality of audio on playback, may want to purchase heavier-duty, better-quality headphones that are going to be a bit pricier. But for those on the market for some inexpensive headphones with decent sound quality, Monoprice 110010 headphones may be right for you.
Related: Top 10 Best Podcast Headphones | Buying Guide
Sound Quality
The Monoprice 110010 headphones are a cheap set of headphones that has adequate sound quality that does not cause distortion. With its 40 mm driver and low noise design, they are easy-to-use headphones that deliver decent sound for casual headphone users. They isolate noise well and are decent at noise blocking, but if you have to be in a noisy environment with them on, you will have trouble hearing the sounds coming from the headphones.
The bass and treble, as well as midrange sounds delivered through the headphones, are of good quality and are mostly suitable for quiet environments such as when you're alone playing video games or listening to music at home. The sound is balanced and the headphones also block in noise to not disturb others around you.
Additionally, the Monoprice 110010 supports both AAC and SBC Bluetooth codecs. You can set individual volumes on either ear cushion.
Related: Beats Solo 2 Wireless Review 2022: Are They Worth It?
Mic Quality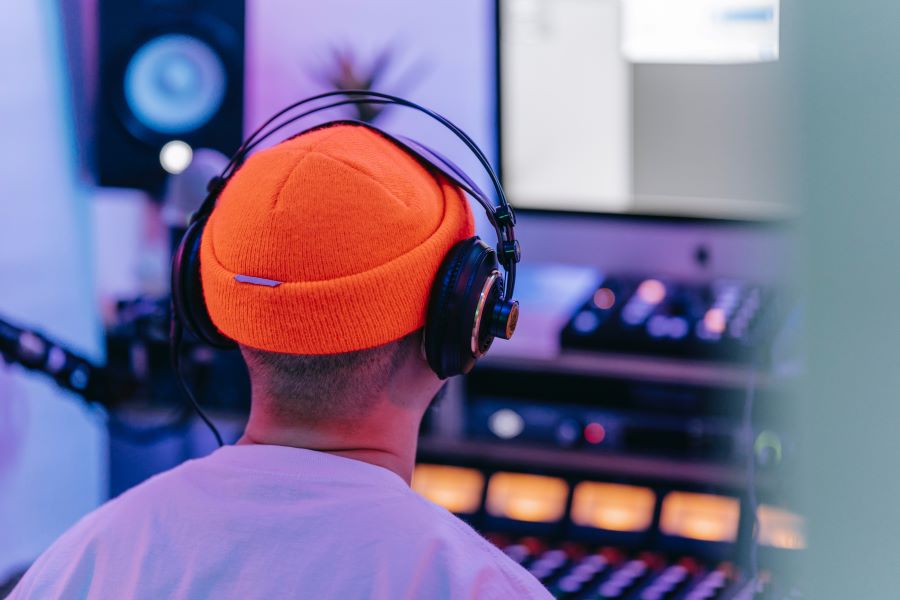 A nice feature of the headphones is its microphone, which allows you to record your voice, take phone calls, and talk with fellow gamers. The microphone is adequate and through the Bluetooth capabilities of the Monoprice 110010 set, you can easily take hands-free stereo calls and roam away from your paired Bluetooth device up to 32 feet.
The microphone is sensitive to sound, however, which may make your voice sound more distorted as it picks up background noise that might interfere with your voice.
Related: The Best Headset Microphones For Recording Audio in 2022
Build Quality
The Monoprice 110010 headphones are lightweight and not as durable as higher end brands of headphones that are available on the market. The headphones are made from metal and have a rubberized headband. The ear cups are made of cheap plastic, however. Volume controls are positioned on either ear cup. Some have complained that the buttons on the headphones are not as responsive as they should be, making it harder to turn up the volume or switch to a new song.
The cable can either remain attached or detached depending on whether you use Bluetooth or not. They are easy to clean, as well, and are extremely portable. The headphones weigh less than 6.3 ounces, making them a lightweight option. They come with a case that keeps them from getting damaged while on the go.
Related: HyperX Cloud Alpha S Review: Is It Worth the Upgrade?
Comfort
Some people have complained online about the lack of comfort in the Monoprice 110010 headphones, but they are not terrible to wear. The headphones are adjustable which allow for low pressure on your ears. However, the ear cups are small, making them harder for people with bigger ears to wear. The headband itself is not all that comfortable as it is not very well padded.
The lightweight quality of the headphones make them a great choice for use when on the phone. The hands-free stereo calls capability allows you to use the headphones in a variety of settings. The Bluetooth option allows for great connectivity when pairing the headphones to your device, offering instant connection to other devices as soon as you've paired them once.
Noise-canceling
Though the Monoprice 110010 does offer noise cancellation features, it is not the best at actually blocking noise from the outside world. Other, more premium headphones do a better job at this. If you are on the market for headphones that offer low background noise seepage into your listening experience, you may want to look elsewhere. But all in all, they are a good gaming headset or for less intensive listening experiences.
Battery Life
The battery life of the Monoprice 110010 headset is at about 14 hours when fully charged, which takes approximately three hours. This makes the headset pretty slow in terms of charging when compared to other models of headphones. However, the headphones have a passive functionality that will allow for sounds to keep playing even while the battery is low.
Sweat & Waterproof
The Monoprice 110010 headphones are unfortunately not sweat and waterproof, but are water resistant. This means that though you shouldn't have them around water, they are built to withstand accidents as long as you take action and remove the water from them as soon as possible. If you are interested in using headphones during workouts or while around water, you may want to check out Monoprice's Move Wireless Bluetooth Earphones that are waterproof and sweatproof options that come with an IPx7 rating for waterproof capabilities. The Monoprice 110010 do not come with a waterproof case, either.
Related: IEMs vs. Earbuds: How to Choose the Right One for You
Our Verdict
The Monoprice 110010 headphones produce decent quality sound but aren't great at canceling out noise, making them a bad pair of headphones to buy if you want to use them in noisy environments. Their battery life and noise cancellation isn't great, nor is the fact that they aren't incredibly comfortable. But they look stylish, are portable, and produce adequate sound for those who simply want a functioning, decent headphone set with a microphone.
If you are, for example, someone who needs a headset that does not tend to shift while you're moving, or if you need a waterproof headphone set, you may want to check out other options as the Monoprice 110010 is lightweight and is not waterproof, but water resistant.
All in all, the Monoprice 110010 is an adequate set of headphones that won't break the bank and provide you with decent sound quality and portability. If you are in need of a headset for gaming, listening to music, or watching movies, this may be a good option. However, if you are interested in buying a headset for podcasting, you may want to look elsewhere.