There's a lot of debate surrounding the use of microphones in the podcast industry. Some swear by the Shure SM7B, while others prefer the Shure MV7. Both of these microphones have their own unique features and benefits, but which one is better for your podcast needs? To help you make the right decision, we'll be comparing MV7 vs SM7B.
This comparison will go over each microphone's features, sound and build quality, and other important factors like suitability for podcasting. So that you can make an informed decision about which microphone is the best for recording your podcast session. Without further ado, let's get into the comparison.
What Is A Dynamic Microphone?
First, let's talk about the type of microphones we're comparing. Both the MV7 and SM7B are dynamic microphones, which means that they use a pad to capture sound vibrations. A dynamic microphone is a type of microphone that uses a moving coil to convert sound waves into electrical signals. The moving coil is attached to a diaphragm, which vibrates in response to sound waves. This vibration is then transferred to the coil, which generates an electrical signal.
Dynamic microphones are typically more rugged and durable than other types of microphones, making them well-suited for podcasting. They also tend to be less sensitive to background noise, making them ideal for use in noisy environments. However, dynamic microphones can also be more difficult to position correctly, as they require the diaphragm to be close to the sound source.
Related: The Best Microphones For Recording in Podcasting
SM7B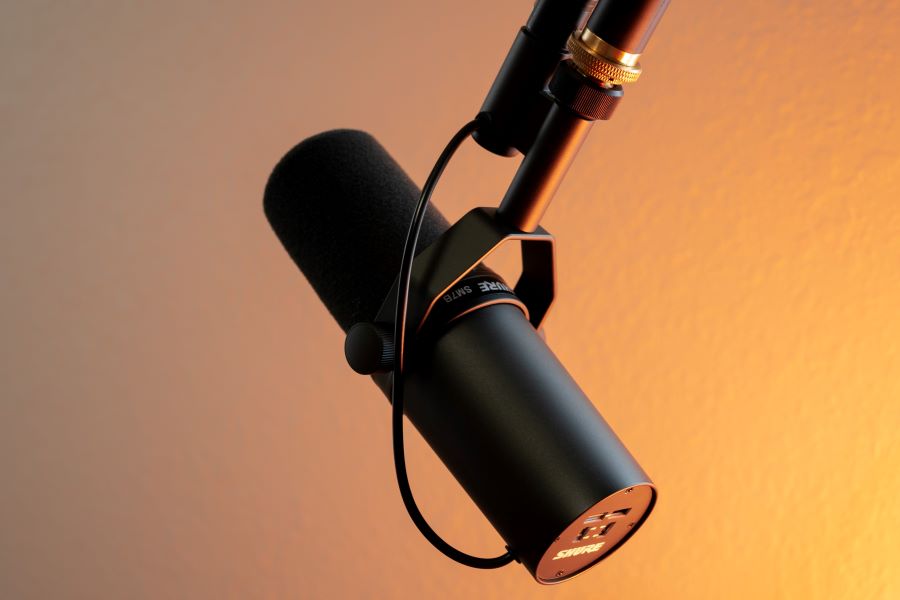 The SM7B dynamic microphone is a popular choice for both podcast and speech applications. This incredible tool has a flat frequency response and bass roll-off, as well as mid-range emphasis controls. A graphic display of the response setting is a valuable feature, as it allows the user to see the effect of the various settings. Another plus to the improved rejection of electromagnetic hum is that it helps to reduce interference from electrical equipment.
The ameliorated resistance against broadband interference is also a valuable feature, as it helps to reduce the amount of electromagnetic radiation that can reach the microphone. Internal "air suspension" shock isolation is added plus, as it helps to protect the microphone from vibration and other mechanical shocks.
Its highly effective pop filter is a final touch that helps to reduce plosives and other undesirable sounds. It also features a uniform frequency, classic cardioid polar pattern, yoke mounting with a captive mic stand nut, and symmetrical about an axis. Rugged construction and excellent cartridge protection make this an ideal choice for those in need of a durable microphone. SM7B is also resistant to humidity, which makes it a suitable option for use in damp environments where condensation is an issue.
Related: Shure SM7B vs AT2035
Key Features
Better rejection of electromagnetic hum
Bass roll-off and mid-range presence boost controls
Air suspension shock isolation
Highly effective pop filter
Yoke mounting with a captive stand nut
Flat, wide-range frequency response
Classic cardioid polar pattern
Symmetrical about an axis and uniform with frequency
Related: Rode Procaster vs Shure SM7B
Pricing
The Shure SM7B currently retails for around USD$359 now.
Pros
Superb sound quality
Magnificent shielding against electromagnetic hum
A solid choice for both podcast and speech recordings
Rugged construction
Excellent cartridge protection
Highly amended for protecting against broadband interference
Cons
Unfortunately, not suitable for use in extremely noisy environments
The USB output is not supported by some DAWs
Related: Shure SM7B vs Rode PodMic
MV7
The MV7 is one of the most versatile recording instruments that can be used for podcasting, recording, live streaming, and more. It has a dual USB output and an XLR connection output so that you can record digitally or analog. The built-in headphone output lets you monitor your recording, and the intuitive touch panel lets you control the mic gain, headphone mix, monitor volume, and mic muting. The MV7 also has an optimized frequency response for natural vocal reproduction.
The Desktop Application helps to reach audio processing controls, as well as the Auto-Level Mode, which automatically adapts gain and compression settings. There are also exchangeable EQ filters, giving you the ability to tailor the signature broadcast sound of your recordings to your specific needs.
The mic itself is built for durability and professionalism, with all-metal construction and an adjustable integrated yoke that allows for positioning on standard 5/8-27 inches threaded booms or stands. Plus, it comes with a 10 ft (3m) USB-C cable and a 10 ft (3m) USB-A cable so that you can connect it to pretty much any computer or device. And if there are any problems, the two-year warranty has got you covered. It's no wonder that the MV7 is quickly becoming a go-to choice for recording professionals.
Key Features
Dual USB/XLR output for digital and analog recording
Optimized frequency response for natural sound reproduction
ShurePlus MOTIV Desktop App with Auto Level Mode & switchable EQ filters
Durable all-metal construction with adjustable integrated yoke
Price
This mic retails for USD$ 224 for now.
Pros
Best-in-class audio quality
Highly versatile with XLR and USB outputs
The touch panel inset is intuitive and easy to use
The Shure application provides access to audio interface processing controls
Built to be durable and professional
Comes with two 10 ft (3m) USB cables
Cons
No source/gain switch
The in-box pop filter is not adjustable
The Differences Between Mv7 and Sm7b
Now that we've covered each microphone in detail, let's take a look at the Mv7 & Sm7b side by side.
1. Price-wise
Mv7 is much more affordable than Sm7b because Mv7 retails at USD$ 224 while Sm7b retails at USD$ 359. It makes Mv7 a great choice if you are on a budget.
2. Outputs and Connectivity
The Mv7 has both USB and XLR outputs, making it easy to connect to a variety of interfaces and sound systems. The SM7B only has an XLR connectivity output audio interface, meaning you will need an adapter for USB connectivity.
Depending on the overall setup, this could be a consideration when deciding which mic is right for you. Both mics offer balanced outputs that allow you to minimize interference in high-noise environments and provide clean and wide-ranging sound.
3. MV7 has a touch panel control
The MV7 is equipped with a touch panel control, allowing you to change settings such as input and output levels, EQ curves, and more. This makes it easy to dial in your sound without having to mess around with hardware knobs, monitor mix, or buttons. On the other hand, the SM7b does not have this feature. Some users may feel more comfortable with the traditional hardware controls, but for others, the MV7's touch panel control is a great time saver.
4. SM7B has better shielding from noise and interference
When it comes to Mv7 vs sm7b, one of the biggest differences between the two is their ability to shield against noise and interference. The SM7B features an internal windscreen, as well as a built-in foam pop filter, which greatly reduces unwanted noise and interference.
This makes it great for use in more noisy environments such as live performances. Mv7 does not have these features, making it more susceptible to noise and interference. If you're looking for a microphone that can withstand noisy environments, then the SM7B should be your go-to choice.
Related: Why Is My Shure SM7B So Quiet?
5. MV7 has more frequency control
It's no secret that MV7 microphones have a lot more frequency control than sm7b. MV7s is equipped with 4 built-in EQ bands, each with its adjustable frequency and gain settings, allowing you to customize your sound to fit whatever style you're looking for.
This also gives you much greater control over the tone of individual instruments or vocalists, allowing you to focus or reduce certain frequencies and achieve a much more balanced sound. On the other hand, the SM7B only has one frequency control knob, which limits its ability to adjust or shape your audio.
6. Graphic display for response
One of the most useful features available in SM7B is its graphic display for the response. This allows you to view a visual representation of the frequency response on your podcast microphone, which can be incredibly helpful when dialing in your sound. The MV7 does not offer this feature, which can be a major drawback for producers or engineers who want to get the most out of their studio-quality broadcast microphones.
With the SM7B, you can quickly see if your sound is too boomy, thin, or otherwise unbalanced. This makes EQ adjustments much easier and allows you to really dial in your sound. This can be a huge advantage for those who need accurate and precise recordings.
7. MV7 has better portability
Finally, when it comes to Mv7 vs. sm7b, the MV7 is much more portable. The mic is equipped with a detachable stand mount and 3m cables for easy mounting or storage. It also has a smaller form factor which makes it easier to transport if you need to take your microphone on the go. The SM7B, on the other hand, is much bulkier and more difficult to transport without proper protection.
These are the major differences between Mv7 and Sm7b. Both are great microphones but depending on your needs or budget; it's important to understand which one is right for you.
Is The MV7 Good For Vocals?
Yes, the MV7 is great for vocals, as it has a wide frequency response and great sound isolation. It also has 4 frequency bands that you can adjust to create custom sounds.
Additionally, the MV7 has a built-in preamp that allows you to control the input gain and add compression. Compression helps reduce peak levels in your recordings, making them sound more professional. So, the MV7 is an excellent choice for recording vocals.
Why Is The Shure MV7 So Quiet?
The Shure MV7 is designed to be extremely quiet, thanks to its advanced noise isolation technology. The microphone features an internal windscreen and foam pop filter, which reduces unwanted sound from outside sources.
Also, the MV7 has a built-in preamp which helps shield against electromagnetic interference. All of these features create a clean, noise-free recording environment, making the MV7 one of the quietest mics on the market.
How Does The Sound Quality Of Each Microphone Compare?
The MV7 is designed to perform well in a variety of recording environments, while the SM7B is best suited for studio recordings. This is due to a few key differences between the two mics. The MV7 has an integrated internal pop filter which helps reduce the amount of plosive sounds like "P" and "B" that are often heard when recording vocals in a live setting. Additionally, it has a tuned frequency response for better clarity and the presence of high-quality audio with instruments like acoustic guitar cabs and brass.
The SM7B, on the other hand, has a flatter frequency response and more of a focus on capturing low frequencies for added warmth in vocal recordings. It also has an internal pop filter but doesn't have the same presence as the MV7.
It really comes down to preference and what kind of sound you're looking for. If you're recording live, the MV7 is a great choice because of its clarity and pop filter. If you're in the studio, the SM7B might be better suited to your needs due to its warmer sound and low-end focus.
Is The MV7 Better Than The SMB7?
The MV7 and SM7B are both great mics, but each one has its own strengths and weaknesses. The MV7 is better for more noisy environments due to its advanced noise isolation technology, as well as its portability. It also has 4 frequency bands which give you much more control over the sound. On the other hand, the SM7B is better for those who need precise recordings due to its graphic frequency response display.
Ultimately, it depends on your needs and budget – both mics are great choices, but each one will suit different situations better than the other. Sometimes, it is worth investing a bit more to get better results for your project.
It is important to weigh up the pros and cons of each mic before making your decision! The best way to make the right choice is to listen to a few recordings of each mic and decide which one you prefer.
The Bottom Line
Now that you know the differences between the Shure MV7 and SM7B mics, it should be easier to decide which one is right for you. The Shure MV7 is a great all-around mic that can be used for vocals, instruments, and podcasts. It has an affordable price point and offers good sound quality. Contrarily, the SM7B is more expensive, but it's perfect for recording vocals as it produces a warm sound with low noise.
Each mic has its own strengths, and it ultimately comes down to what you're looking for. We hope that this article has given you the information you need to make an informed decision.