Podcasting came with a bang, overtaking other media forms in delivering information to the world. Though you can use a computer and your cellphone mic to record a podcast, the sound quality would be awful.
Recording a professional-sounding podcast requires you to use a good microphone designed for the purpose. The Rode Procaster and Shure SM7b are mics that will provide you with first-class performance.
Since the Rode Procaster is cheaper than Shure SM7b, is the latter worth its price tag?
Let's compare these two mics to provide you with information that can help you select the best.
Related: Shure SM7B vs Rode PodMic. Which is a Better Podcasting Mic?
Overview
The Rode Procaster is a broadcasting mic preferred by novices and pros in recording podcasts, YouTube videos, and even instruments like the guitar. The frequency band for the Rode Procaster is between 75Hz and 18,000Hz, which is sufficient to produce high-quality audio.
Also, Shure SM7b is a broadcasting mic, and can be used for gaming, podcasting, and live streaming. Actually, the mic performs best in an in-studio recording of vocals and some instruments.
Shure SM7b has a wider frequency range from 50Hz to 20,000Hz; that's why it is easier to adapt as compared to Rode Procaster.
Related: RØDE Procaster for Podcasting: A Setup Guide
Ease of Use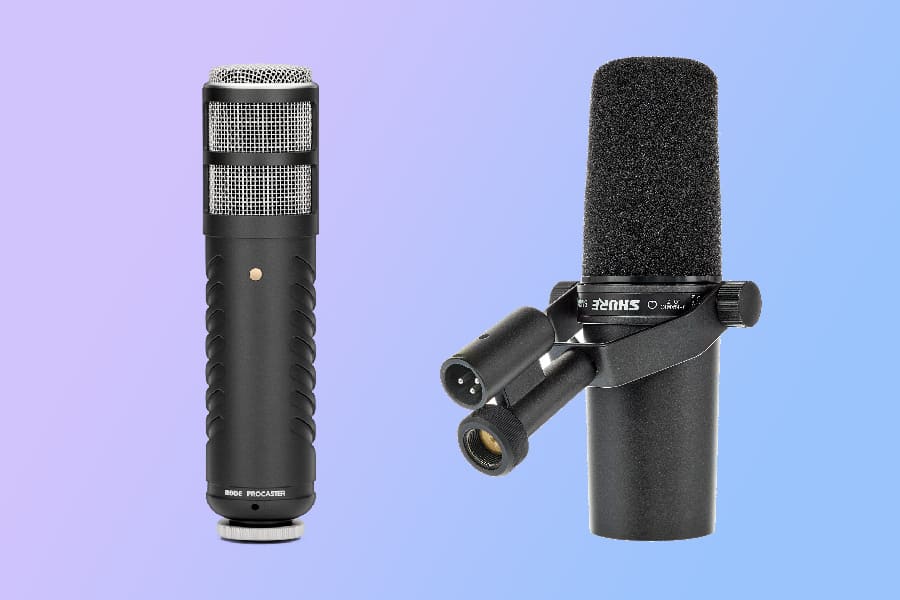 The Rode Procaster uses an XLR connection and only requires an XLR to USB adapter to connect to a computer. An adapter is inappropriate when using Shure SM7b; you need to have an audio interface that you can use to link the mic to the computer.
Though the SM7b doesn't need phantom power, some of the frequently used preamps need the phantom power for functioning. As a result, when you need to choose between the two mics, the SM7b demands more than the Procaster to operate effectively.
Related: Rode Procaster vs. Audio Technica 2020.
Sound Quality
Generally, the two mics produce amazing sounds, and you cannot go wrong with purchasing either. However, there is a notable difference in their sound quality.
Related: How to Position the Shure SM7B Microphone to Get the Best Sound
Clarity
Whether you are at one inch or one foot from the mic, the Rode Procaster produces a consistent, clear, and smooth sound. With the SM7b, you need to be close to the mic for optimal sound performance.
When you compare both mics at an inch away, the Rode Procaster delivers a more crisp sound than the SM7b. As well, the Procaster comes with a zero-latency headphone jack that enables you to monitor your recording in real-time and ensure the sound quality is not compromised.
Nevertheless, the SM7b includes a few features that make it superior and favored by many pros.
The SM7b mic has a sound setting that allows you to set its profile. The default setting outshines the Procaster as its sound is neutral without any artificial modifications, thus creating more natural audio.
Moreover, the SM7b has a switch for turning on the low cut filter and mid boost which are very handy when using the mic.
Related: What is Logan Paul's Podcast Microphone?
Background Noise
Both mics have a cardioid polar pattern designed to accept sound only from the front of the mic, making them perfect for discarding off-axis sound. Despite the Rode Procaster's efficient rejection of background noise, the SM7b slightly outperforms it.
With the SM7b, you can be as far as a foot away from the mic in a noisy environment, but when you direct your voice to the mic, it only picks your voice.
Also, you can speak to the mics at a relaxed angle, and they will only capture your voice with little coloration.
Related: Why Is My Shure SM7B So Quiet?
Price
The first biggest difference between the Rode Procaster and Shure SM7b is their price. The Rode Procaster mic sells at an average price of $225, which is remarkably cheap compared to other mics in its category.
Besides, the SM7b retails at around $400, nearly double the Procaster's price. Even though the Shure mic has additional features, the mic does not offer a better value for money as the Procaster does.
Usually, Shure mics prices are higher than other models in the same category, which could be attributed to their long global history in building quality brands. Similarly, Rode is also a reputable worldwide company specializing in audio equipment.
Therefore, at their price tags, Rode Procaster is a better choice.
Related: Shure SM7B vs Audio Technica AT2035 Comparison Guide.
Summary
Choosing between the Rode Procaster and Shure SM7b depends on use and budget.
The Rode Procaster is ideal for starting with a minimal budget since the Shure requires a complicated setup with more equipment to operate effectively. Likewise, if you aim to create podcasts and stream videos, the Procaster is still the best option.
Otherwise, if there is ambient noise in your recording room or you are a professional generating income, then Shure SM7b would be worth the price. Either choice between the two mics is a sure step towards ensuring you produce professional audio. For further reading, check out our other post for the comparison guide on MV7 vs SM7B.
Related: Best Shure SM7B Alternative and Shure MV7 Alternatives