Opening an M4A file in Audacity can seem daunting, but it doesn't have to be! This guide will teach you how to open, edit, and export your M4A files into the desired format. Even if you don't consider yourself tech-savvy or technically proficient, this article will help make the process as straightforward as possible.
By the end of this article, you'll learn everything there is about opening M4A files in Audacity and successfully editing them!
What are M4A Files?
M4A is an audio file format commonly used for storing music and other audio data. The M4A format is similar to the more widely known MP3 format. Still, it offers several advantages: It provides higher-quality sound than MP3, and its files are compressed at a lower bit rate, resulting in smaller files that take up less storage space.
Additionally, M4A files support metadata tags such as artist names and song titles, allowing users to organize their music library easily. M4A is compatible with most audio players, including iTunes and QuickTime Player. M4A file format is unprotected, as it doesn't have M4P file extensions. These are present in protected files.
What is Audacity?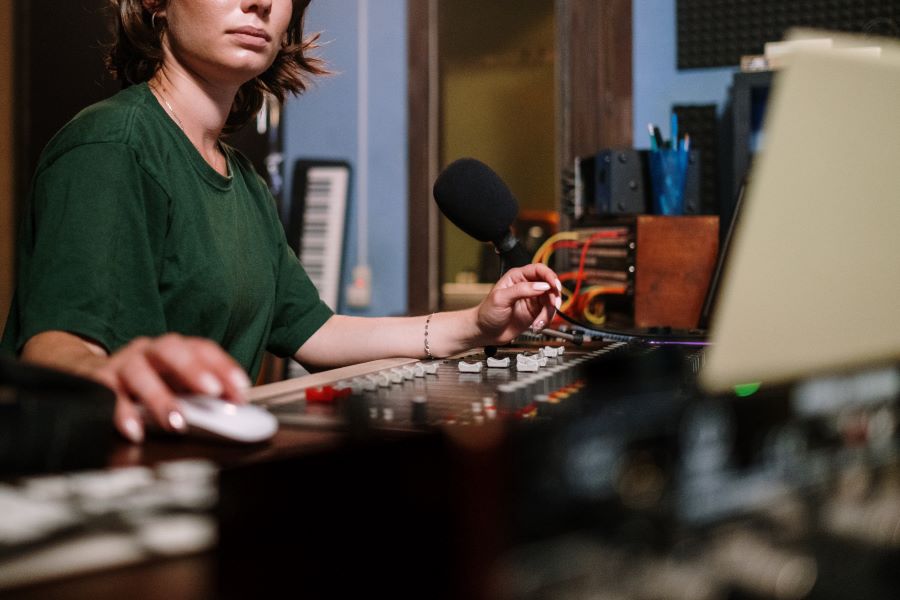 Audacity software is an open-source, cross-platform audio editing suite designed for everyday users. It has two modes: mono and stereo channel mode. It is free and allows anyone to edit quickly, convert M4A to mp3, and mix and record audio files on various platforms.
Audacity offers users many additional features, such as vocal removal, noise reduction, and volume normalization. Whether you're working on a podcast or sound design project or want to improve the sound quality of existing recordings, Audacity is the perfect audio converter tool. For a more comprehensive guide, you can read our post on how to edit a podcast in Audacity.
You can use Audacity on Windows and Mac OS. And with its friendly user interface and extensive online tutorials, it's easy to start creating excellent audio file formats immediately!
Step-by-Step Guide to Opening M4A Files in Audacity
The following are the steps that you must follow to open M4A audio files in Audacity.
Download and Install Audacity
Audacity is a free, open-source audio-editing program that can be used to open .m4a files. It can be downloaded from the official website and installed following the instructions.
Open your M4A file in Audacity
Once you have installed Audacity, you can open the .m4a audio format in the program. To do this, click "edit" from the main menu bar and select preferences.
Download and Install LAME
In the preferences window, select the Library tab on the left hand side menu. You'll see a couple of buttons. To continue, you'll want to download both FFmpeg and LAME from their respective installation pages.
The first step is to click on the Download button next to the LAME MP3 Library text field and then follow the instructions for downloading both libraries to get ready for the playback of audio files.
Run the downloaded file
Once you've clicked the button, your browser will open and you'll see a page inviting you to pick your operative system. If you are running Windows for example, click on the LAME installation section for Windows. In there you'll see a link to an external download page and in that download page you'll find a recommended package executable (exe file). Click on the link to download the file. When the file is finished downloading, run it.
If you don't go with the recommended package and want to pick a different version, double check it's compatible with your current audacity version.
After that, you'll be directed to the Setup wizard; this allows Audacity to locate all the components needed to run correctly. After browsing through Audacity's features, click 'Finish.'
Download FFmpeg
Now that you have installed LAME in Audacity, next you'll want to download FFmpeg. The steps to download the FFmpeg library are similar to those for LAME; click on the Download button next to the FFmpeg Library text tag.
If nothing appears to have changed when you go back to Audacity, close out of Audacity and reopening it again; once there, go to the Edit menu and go to Preferences again.
Install the Setup wizard for FFmpeg
Once the FFMpeg library has finished downloading, you'll be able to run the executable and should see a wizard installation window. Click the "Install FFmpeg" button, and follow the steps.
Import M4A to Audacity
Once you've successfully downloaded Lame and FFmpeg library and installed them in Audacity, you can now import M4A directly into the software. This offers a wide range of creative possibilities as it gives you more control over your audio editing projects. After importing the file, give it a file name.
Exporting the File
Go to the Library tab inside the Preferences window to check if you already have FFmpeg installed. Once there, select your preferred export format from the audio formats dropdown menu. You'll need to provide additional settings for exporting depending on the format selected. Finally, select a folder to save the new file to.
You can browse through the file system to select a folder (or type it directly into the file location box). You can choose your numbering scheme using the radio buttons which is handy when you use Audacity as an audio converter regularly. Once you've picked your preferred options, click the Export button to start the audio export process. You can convert your exported file to any format, such as Ogg Vorbis. Or you can use this process to convert m4a to mp3. mp3 is the standard audio format for podcasting.
Benefits of Using M4A and Audacity Together
Improved audio quality
The M4A format offers better sound quality than other formats and can be easily edited in Audacity to produce even clearer audio.
No compression
The M4A file is not compressed, so you can fully control the audio's sound without losing its original quality during conversion or editing.
Smaller file size
The M4A format produces smaller files than other formats, which makes them easier to store and transfer.
Easy to use
Audacity is a powerful yet user-friendly audio editor that makes it easy to open and edit M4A audio format files. These are just some advantages of using both M4A and Audacity together. With these tools, you can easily create unique audio experiences. So what are you waiting for? Try and see what you can make!
Conclusion
Using the M4A audio file format and Audacity together can open up new doors of opportunities for your audio projects. It is easy to use, offers improved sound quality, no compression, and a smaller file size.
So let's try and experience what unique content you can create. You can produce professional-level audio files with just a few clicks and some creative effort in no time.
Good luck!