The RØDECaster Pro provides an excellent platform for podcasters. This small board delivers numerous ways to create custom content for your listeners.
When you equip a microphone to it, you'll need to know if a preamp comes included with the design or if a separate one is necessary.
A preamp improves audio quality for a podcast by boosting the sounds picked up by the microphone. That makes them loud enough for your recording software to turn your voice into a broadcast.
The RØDECaster Pro comes with preamps that you can run at maximum or close to it without worrying about damage. You can opt to include an inline option for additional support.
Related: Best RODEcaster Pro Micro SD Card.
What Is a Preamp?
Preamps are defined in two ways.
It can be a dedicated external device that contains a preamplifier circuit.
It could be a preamp circuit within a device.
The purpose of having one is to amplify low-level signals to the standard operating levels of your podcast recording equipment.
Most microphone signals are well below that rate, which means lots of gain is necessary to bring out your voice's balance, tone, and depth. It's not unusual for 60 dB or more to be needed.
The problem with preamps for the RØDECaster Pro involves cost. Although numerous models are available at different price points, finding one under $500 that delivers enough gain while staying quiet is challenging.
You could settle for having some feedback in the recording, but the right preamp can deliver studio-quality sound at home.
Related: Best Preamp For SM7B
What Are the Benefits of Using a Preamp with the RØDECaster Pro?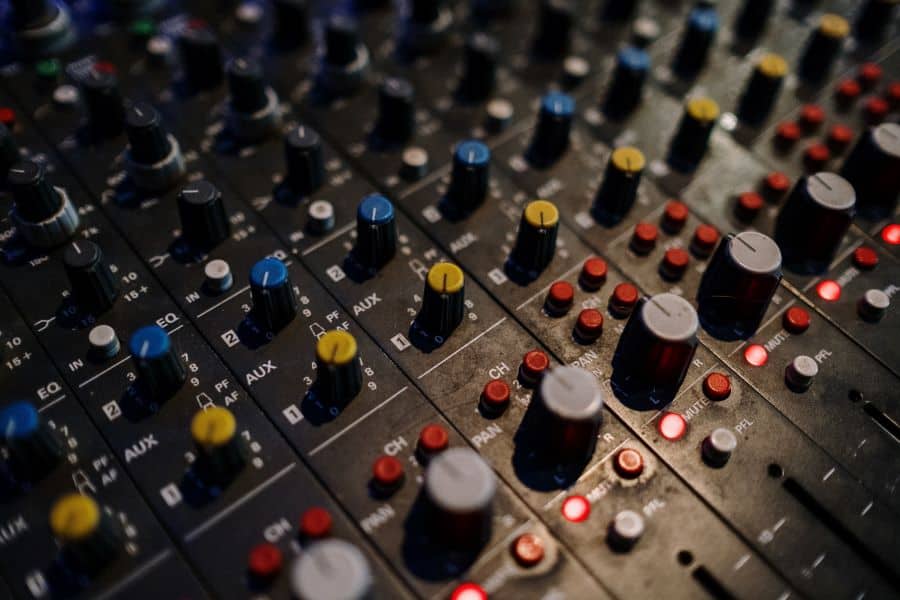 When adding a preamp to your RØDECaster Pro setup, you may find that the following benefits become part of your podcasting experience.
1. Improved Sound Character
This advantage is the primary reason why preamps and the RØDECaster Pro are an excellent combination. You can transition your voice and effects to have whatever atmosphere you prefer for the podcast. It could be something crisp and clean or trend toward vintage sounds, including tube-style recordings from the 1960s.
Each preamp delivers some personality to the podcast in its own way. Think about what you want the atmosphere to be, then select the equipment to make it happen.
2. Less Noise
Ribbon microphones benefit the most, but anyone can experience less noise when podcasting with the RØDECaster Pro with an inline preamp. You'll need to check the datasheet on the equipment to determine what the EIN (Equivalent Input Noise) figure is for the unit. Anything above -127 dBu is likely necessary, especially if the mic already uses an internal preamp.
3. Additional Gain
Most microphones come with a built-in preamp of 60 dB or less. You can increase what is available by adding one to your RØDECaster Pro setup for improved audio recording benefits.
4. Sound Quality Improvement
This benefit is often seen in the higher gain settings. Although a simple preamp sounds okay with up to 40 dB gain, it becomes more veiled as you pursue more, especially when using a low-output dynamic microphone. Sophisticated circuits ensure you receive complete transparency, even when operating at the highest settings.
5. Works Together
You can use an inline preamp with the included equipment for the RØDECaster Pro without worrying about audio quality. If there is a hum or other white noise in the background while recording, it could be due to the quality of the cables. Investing in a better product could eliminate the issue.
The versatility that the RØDECaster Pro offers is one of its greatest attributes.
Related: Top 9 Best Podcast Mixers | The Ultimate Buying Guide
Should I Invest in a Preamp for the RØDECaster Pro?
The RØDECaster Pro is one of the most powerful solutions for podcasting today. It delivers numerous features and excellent audio quality while being easy to use.
When your microphone doesn't give you a clean or crisp sound, it's helpful to have a preamp available to improve the recording quality. You don't have to spend a fortune to achieve studio-quality results, but a wise investment can improve the first impression you leave listeners.
Think about it – would you want to listen to 30 minutes of someone talking with white noise in the background? Additional RØDECaster Pro preamps can solve that problem.
You also have the option to not worry about adding more equipment. The microphone channels on the board feature studio-quality preamps that provide gain for all microphone types, including low-output dynamic options.
Related: Rodecaster Pro vs. Zoom L8: Which Podcast Mixer Suits You?