Are you looking to add royalty-free music to your podcast?
Sadly, it's not as easy as some may think. Using music or sounds without the creator's permission means that you are breaking copyright law. Even if you have only used a short part of the song in your podcast, you can still be prosecuted.
In this article, we have created an extensive guide to using royalty-free podcast music, so that you can avoid any copyright issues.
Why Do you Need Music for your Podcast?
You may think that adding music to a podcast is an unnecessary step, but adding some subtle music can elevate the experience for your listeners.
There are three types of music that you can use to spice up your podcast.
Podcast Intro Music – having an upbeat, musical start to your podcast will immediately put your listeners in a good mood. It's also beneficial to have theme music which people only associate with your podcast, as it leaves a stronger impression.
Podcast Outro Music – at the end of your podcast, you can add a happy musical segment which ensures that the podcast ends on a positive note, and gives it a much more professional feel.
Podcast Sponsor Music – this is great for content creators who have a sponsor and need to make a segue or add background music to the sponsor section.
Related: PODCAST INTROS: How do the top podcasts do their intros? and How to Write a Podcast Script in 2022: Step-by-Step Guide
What are the Different Types of Music Licenses?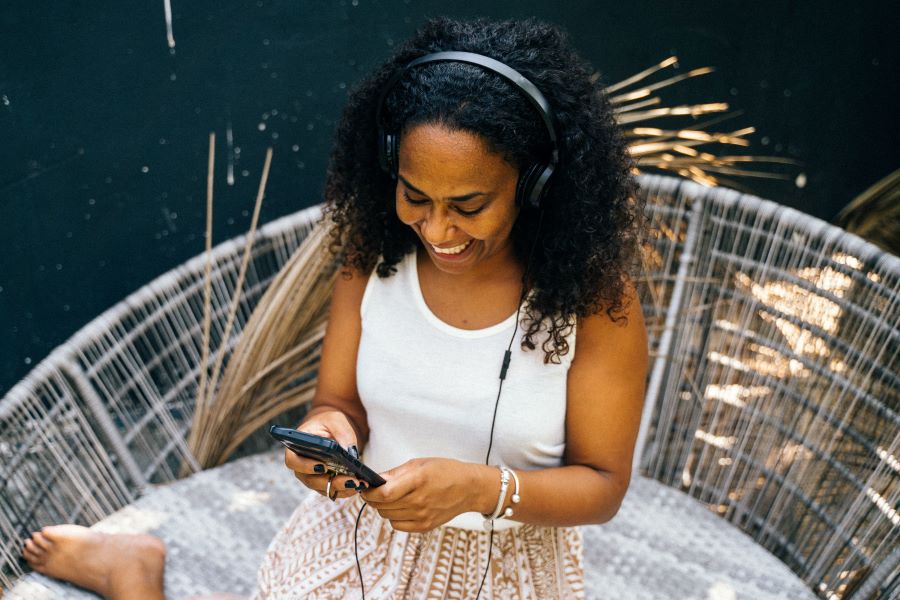 When using music for podcast episodes, it's important to understand copyright law so that you aren't breaking any rules. Here are four different kinds of music licenses that you can operate with.
Creative Commons Music
Creative Commons Music, in general, can be used without having to ask the artist first. You just need to mention the artist's name to give them their recognition.
There are a variety of different Creative Commons licenses, so it's crucial that you check what your specific license allows you to do with the music.
Some artists choose to let people use their tracks under a No Derivatives Works license. This dictates that you can't alter or remix their music in any way, or you will be penalised.
Royalty-Free Music
Royalties are money paid to an artist for using their song. If a song is royalty-free, then there are no royalty fees to pay. This does not mean that it is copyright-free, it means that you're paying for a license to use the track.
Generally, you will be asked to make a single payment or start a subscription to use royalty-free tracks.
Copyright-Free Music
Nowadays, it is difficult to find copyright-free music, as most artists wish to protect themselves from others stealing their songs. However, copyright-free music does exist in the public domain.
Public Domain Music
Songs tend to have copyright claims for the length of the artist's life, plus around 70 years. So, after this time has passed, the song becomes a part of the public domain. This means that anyone can legally use it for free, for podcasts or YouTube videos.
Related: Music Licensing For Podcasts
How To Choose the Best Music for your Podcast
There are so many tracks for content creators to choose from, so here are two important things to think about when choosing music for your podcast episodes.
Match Music to Your Podcast Brand and Personality
Think of the music as a reflection of your podcast, it needs to align with the tone of your podcast. You should choose music that matches the atmosphere you create, as well as the personalities of the podcast hosts. Doing this will mean your listeners are more focused on what you have to say.
Set the Right Mood for the Topics You'll Cover
Your music also needs to match the subjects you are discussing. For example, if you are discussing the negative effects of climate change, the background music should have a sad tone, as playing upbeat music would clash with the discussion.
Related: How to Create An Engaging Podcast Intro
Best Free Sites to Get Music for your Podcast
There is wide a range of websites which offer free music that content creators can implement into their podcasts. Here are some of our favourites:
Free Music Archive – this is a great place to find free podcast theme music as this site has a huge library of professional music to choose from. They also have their own app for iPhone and Android users.
Silverman Sound Studios – provided you include credit to the artist, you can use Silverman Sound's audio for anything you like. The website allows you to filter your search in terms of mood and intention.
Freebeats.io – if you give Freebeats a follow on their social media, you get access to a huge database of free music. If you become a Freebeats member, you can even get WAV files of the tracks from your favorite artists.
Incompetech – what separates this site from others, is that they allow users to download every single one of their track at once. The site also allows you to search for music by genres such as rock and hip hop.
Pixabay Music – Pixabay provides royalty-free music that comes with no charges. The tracks are meticulously organised into folders of genre, mood, and movement.
Audionautix – if you give the artist a shoutout, Audionautix has a wide range of royalty-free tracks to pick from. The site allows users to search through the library using keywords such as "sad" or "funny".
YouTube Audio Library – if you have a free YouTube account, then you have access to the YouTube Audio Library, which has a large collection of royalty-free tracks that you can freely download and use for podcasts and YouTube videos.
Musopen.org – this site has a great collection of royalty-free sounds, most of which are instrumental pieces. Many tracks take the listener back in time, some even as far back as the Renaissance period, so if you had a historical podcast this website would be perfect.
CC Mixter – this site has a huge library of tracks, vocal samples, and royalty-free sound effects. CC Mixter has a large community because it allows any user to upload their own tracks to their database. For this reason, the site is popular amongst emerging hip hop artists.
Best Pay Once Sites to Get Music for your Podcast
Purple Planet – this website has a dreamy layout and a database of music created by musicians Chris Martyn and Geoff Harvey. Their mp3 tracks have no cost, while the top-quality WAV files require a licence fee for use.
909 Music on Soundcloud – this library is a little smaller than the others, but it has more of a focus on modern music that is suitable for podcasts. There's no cap on the number of downloads each user is allowed, and the tracks require no credit to the artist.
Jamendo – this collection holds unique tracks by more than 40,000 independent artists, so it's the perfect place to search for something new and fresh. Jamendo's licenses cost roughly $50 which will allow for use in your podcast.
PremiumBeat – this collection is brought to you by Shutterstock, and is subcategorised into over 20 different musical genres. You can either pay $64.95 per month or make a one-off payment of $49, which allows you to add the track to your podcast.
Pond5 – this huge website homes 1.2 million sound effects and almost 1 million different musical tracks. Pond5 gives its users the option of making a single purchase for the track or subscribing to their service offering 10 downloads per month.
AudioJungle – this library is home to thousands of royalty-free sounds, some for as little as $5 each. The collection contains a wide range of music genres, including unique, lesser-known indie tracks.
Depositphotos – with this site, you have the option of a monthly $19 subscription, an annual $199 subscription, or a one-off payment of $39 per song. Their collection is subdivided by melodies and themes, and they also offer a discount for bulk orders.
Best Subscription-Based Sites to Get Music for your Podcast
Musicbed – this site offers custom quotes to suit everyone's needs. Alternatively, you can sign up for their subscription service and you'll get unlimited access to their sound library. New songs are added to the library every day, making it easy for you to find new favorite artists.
Soundstripe – this company is run by professional sound engineers, which ensures you get only the best quality. You can sign up for Soundstripe's $19 a month subscription model, which gives you stem files for all songs and unlimited commercial use.
Epidemic Sound – this is another great royalty-free resource as the site holds many professional tracks for you to choose from. If you start their $12 a month subscription service, you'll get unlimited access to track downloads which can be freely used on podcasts.
Audioblocks – on this website you'll find over 100,000 sounds. For just $15 a month, you have access to unlimited mp3 and WAV downloads from their library. The license allows you to use the sounds in any way you wish.
Related Questions
What is the Point of Music in a Podcast?
Although background music is a subtle part of podcast production, it is important for several reasons:
Timing – having transition music, e.g. a sound in between the intro and the start of the podcast, lets the audience know that it's time to begin. These types of sounds communicate the structure of the podcast to avoid listener confusion.
Maintaining Attention – during a lengthy podcast discussion, your listener's attention can naturally fade. If you input musical sounds throughout the episode, this will keep your listeners locked in and entertained.
Building Tension – if you are telling a story, you can use sound to slowly build tension as the host speaks. This accentuates what the host is saying, and gets the listener excited to receive more information.
How do Podcasts use Popular Music?
Unfortunately, recently released songs will usually have copyright claims attached to them, and cannot be used without the correct license. For recent commercial music, you not only have to have the artist's permission, but you also need their record label's permission.
Getting the artist's and label's consent can be a long process, and you can't guarantee they will even say yes. It's much cheaper and easier to get permission from independent artists to use their tracks or to search for royalty-free music in the Public Domain.
Related: GarageBand Jingles: How to Create and Add Them to a Podcast
Myths about Using Copyrighted Music
There is a lot of misinformation about copyrighted music, so we've picked four common misconceptions about the subject.
"You can Use Any Piece of Music if You're Not Making Money Off It"
Even if you aren't making a profit, using music without the correct commercial license is a copyright violation. This can result in prosecution as you are using the track without the artist's permission.
"It's Okay to Play Less Than 10 Seconds of the Song"
Even if you only play a few seconds of the track, it is still illegal. No matter how long it plays for, you have still illegally used the music, and this can have serious consequences.
"You Can Play any Music, as it will Fall under Fair Use"
"Fair Use" is an American law which dictates that copyrighted music may sometimes be used for critical/educational purposes, without the artist's consent. However, using the track for a podcast does not fall under this law.
"Giving Attribution is Enough"
Whilst providing artist credit is always the morally right thing to do, this is not enough to protect you from breaking copyright law.
Final Thoughts
To summarise, in this article we explained that including music in your podcast makes for a better listener experience, and helps communicate tone and topics to your audience.
There are four types of music licenses: Creative Commons Music, Royalty-free music, Copyright-free music, and Public Domain Music. We also gave you a long list of places to find music that you can add to your podcast without getting in trouble.
We hope that you enjoyed learning about accessing royalty-free podcast music, and thank you for taking the time to read our article!