Apple created GarageBand to serve as a low-cost alternative to Logic as DAW software. This innovative music app and tool helps musicians of any level embrace the fun of composing music and jingles.
Whether you're creating a jingle for a podcast or writing a song for your audience, GarageBand's different tools and features let you make the finished product you want.
The software comes with dozens of different sounds, including instruments, voice, rhythm organizers, and other presets.
Related: The 11 Best Podcast Editing Software For a Perfect Show
What Is a GarageBand Jingle?
A jingle is a short tune or song that's often used for commercial reasons. It's a simple melody with a catchy hook that helps the listener remember something specific.
Some of the most famous jingles released in the past century include "I Wish I Was an Oscar Mayer Weiner," the "Give Me a Break" song from Kit-Kat, and "I Don't Wanna Grow Up," from Toys "R" Us.
Few things offer the same interest levels for listeners as a jingle when advertising something. Whether someone loves it or doesn't, a good one relates a specific brand with a promotion, idea, or concept.
The foot-tapping beat in the background might not catch their ear, but a snappy lyric that makes them think can make a memorable moment. When someone sees your logo in another location, they'll come back to that moment when they heard the jingle.
The best way to create a jingle is to compose music that delivers repetitive sounds while creating a hook. With GarageBand, you can quickly make something without having any instruments or external microphones available.
How to Record a GarageBand Jingle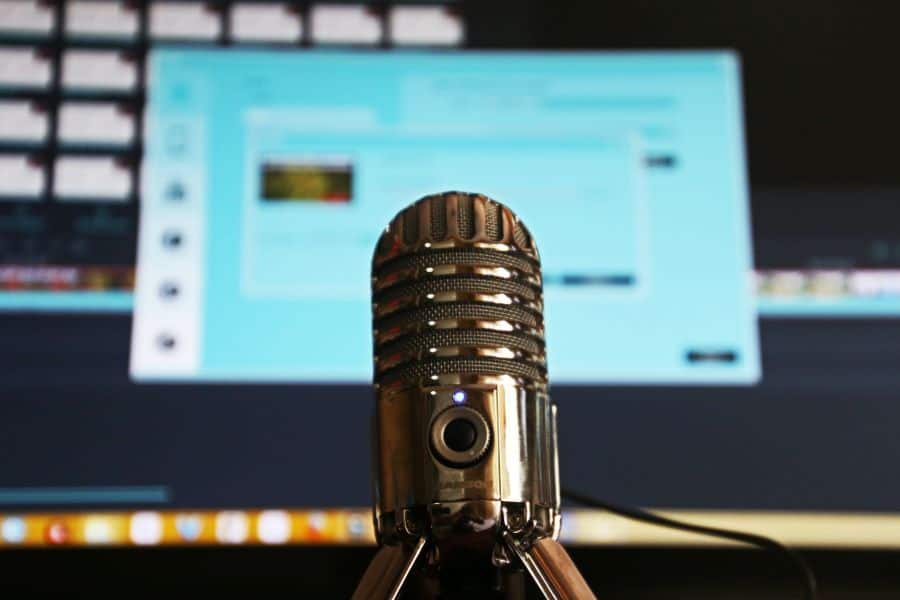 GarageBand is a free app that comes preloaded on many Apple computers. A mobile version is available for iPhones and iPads.
After launching the DAW app, you'll be prompted to create a new project. You'll have several options to consider.
Empty Project
Keyboard Collection
Amp Collection
Voice
Ringtone
Hip Hop
Electronic
Songwriter
The empty project offers no presets, allowing you to customize the GarageBand jingle from the start. You'll find different instruments and voices set and ready if you click on one of the other choices, which can help you get a faster start on an idea you have.
You're taken to the main window in GarageBand after choosing your project. The DAW will ask you to add a new track. Select the software instrument choice to be taken to the primary composition window.
On the left-hand side of the screen, you'll discover a library where several instruments are available. At the top right, you have the recorded workspace, where you'll see the different notes and sounds recorded for the jingle.
At the bottom is the mastering feature, allowing you to tweak each track to develop the best sound.
When you're ready to start recording, click on the red circle button at the top of the screen. You'll see a musical typing popup for your chosen instrument. The keyboard keys correspond to different notes that you can record in the working area.
Continue repeating this process with the melody you like with different tracks and instruments. Once you're satisfied with the results, you'll be ready to add vocals to the GarageBand jingle.
Related: How to Reduce Reverb in Garageband
How to Record Vocals in GarageBand Without an External Microphone
Although an external microphone with compression features and a pop screen will deliver the best vocals, you don't need them to record a jingle. You can use the internal microphone on your computer or mobile device.
When you're ready to add a vocal, start by selecting a new track. You'll see an option for vocals on the left, but it doesn't need to be one of them. You can record with any of the electronic instruments. Choose the sound you like, pick the live recording option in the DAW, and you'll be ready to record.
You should see the soundbar moving as sounds are created in your environment. If not, that could mean the microphone isn't activated.
It helps to have headphones available at this stage. If you record vocals on an internal microphone while the music plays, you'll double that sound.
Continue recording until you're satisfied with the jingle.
The last step is to add different loops, audio effects, and other noises into the composition. Apple provides numerous options for free with a commercial license you can use for distribution. Each one adds a different element, ranging from percussion to melody loops, so that your music sounds unique.
Related: How To Remove Echo In Garageband
How to Add a GarageBand Jingle to a Podcast
A podcast needs different sounds and music to provide transitions for listeners. These elements help the mind switch gears while staying focused on the information provided to them.
Podcasts can use a GarageBand jingle for this purpose. It can also be an intro, an outro, or serve in another capacity.
You can add these elements as a different track if you record your podcast in GarageBand. Once the jingle is made and mastered, you can insert it to play concurrently with the audio track.
The same process works to add jingle clips throughout the recording. Add a track in the DAW, insert the audio where you want it, and adjust the volume so that the vocals aren't overwhelmed. You can even include fade-in and fade-out effects to enhance the transition. Here's how you can use the fade-out effect in GarageBand.
When it's time to export the file, just remember to have all the tracks active. This final step ensures that each new addition gets incorporated into the podcast as expected.
GarageBand delivers an impressive set of tools anyone can use to start creating music. If you need a jingle for any reason, following the steps outlined here can help you engage your creative processes and set your podcast apart from others for your audience.