Hello, audiophiles, podcasters, and music creators! If you've ever been caught at the crossroads of choosing a microphone, you're not alone. With so many options available, how does one choose between the legends like Shure SM7B and the Rode NT1A? Dive in, and let's break down these two renowned mics to help you make an informed decision. Ready? Let's get started!
Ever wonder what makes these microphones stand out in a sea of options? Well, the answer lies in their lineage, technical prowess, and performance. But before we delve deep into the technicalities, let's journey back in time to see where these giants came from.
Related: Best Microphones For Recording in Podcasting
Shure SM7B vs Rode NT1A [History And Background]
Before diving into the individual histories of these iconic microphones, it's essential to appreciate the evolution of sound technology. The very existence of such advanced mics is a testament to how far we've come in sound engineering.
Shure SM7B
The Shure SM7B is no newbie in the audio world. Originating in the 1970s, this dynamic mic quickly earned its reputation as a broadcast favorite. From radio shows to the King of Pop, Michael Jackson's "Thriller," the SM7B has been a part of iconic moments in audio history. What's the secret sauce? Its design, versatility, and ability to capture raw emotion have made it a staple in both professional and amateur setups.
Now, let's talk about our other contender: the Rode NT1A. Originating from Down Under, this microphone has made quite a splash in the audio scene.
Rode NT1A
Australia's gift to the audio industry, the Rode NT1A, was introduced in the late 1990s. Pioneering a new era for condenser microphones, the NT1A presented an affordable yet professional-quality solution for studio recording.
Praised for its clarity and precision, this mic quickly found its way into many home studios and has been a top choice for vocals and instrument recording.
Shure SM7B vs Rode NT1A [Technical Specifications]
When we talk about microphones, it's not just about how they look or their brand. The true essence lies in their technical specifications – the nitty-gritty that makes them perform the way they do.
Shure SM7B
The Shure SM7B has been a reliable choice for professionals worldwide, and its specifications play a huge role in its acclaim.
Frequency Response: The SM7B boasts a frequency response of 50Hz to 20kHz. In simpler terms? It can pick up both deep bass and high treble sounds with clarity. This wide range ensures it captures the full spectrum of human voice and most instruments.
Polar Pattern: Cardioid. If you've heard this term, you know it refers to a mic's sensitivity pattern. The SM7B has a cardioid pattern, meaning it's most sensitive to sounds coming from the front and least from the back, reducing background noise.
Sensitivity and Output Impedance: With a sensitivity of -59 dB and an output impedance of 150 ohms, the SM7B works best with high-quality preamps to deliver its iconic sound.
Physical Characteristics (weight, size): Weighing in at 767 grams and with dimensions of 190mm x 64mm, the SM7B is both sturdy and compact, making it versatile for studio and mobile setups.
Additional Specs
Flat, wide-range frequency response for pristine vocals and instruments.
Shielding against electromagnetic interference.
Switchable response settings for different vocal types.
Rode NT1A
With a different set of attributes, the Rode NT1A has carved its niche in the audio market, especially among home studio enthusiasts.
Frequency Response: Offering a slightly broader frequency response of 20Hz to 20kHz, the NT1A ensures even the subtlest of sounds are captured.
Polar Pattern: The NT1A, like the SM7B, offers a cardioid polar pattern, ensuring a focus on the sound source and minimizing background noise.
Sensitivity and Output Impedance: With a sensitivity of -31.9dB and 100 ohms output impedance, the NT1A delivers clear sound without requiring heavy-duty equipment.
Physical Characteristics (weight, size): The NT1A is a lightweight champ at 326 grams and measures 190mm x 50mm, making it perfect for those tight on space.
Additional Specs
Ultra-low self-noise of 5dBA.
High SPL capability.
Wide dynamic range providing a natural sound.
Shure SM7B vs Rode NT1A [Features And Functionality]
Beyond technical specifications, what truly sets microphones apart are the unique features they offer.
Shure SM7B
This microphone is not just about specs. It's about how those specifications translate into real-world performance.
Internal Air Suspension Shock Isolation System: Ever had recordings marred by desk thuds or mic adjustments? This feature minimizes such mechanical noises, ensuring clarity.
Bass Roll-off and Mid-range Emphasis Controls: Depending on the recording environment or the sound source, the ability to control bass and emphasize the mid-range can be crucial. This feature allows for that tailored sound output.
Electromagnetic Shielding: In today's world of omnipresent electronic devices, this feature is a boon. It prevents electronic interference, ensuring a buzz-free recording.
Rode NT1A
The NT1A might seem simplistic, but its features make it a formidable microphone for its price range.
Self-noise Level: Boasting one of the lowest self-noise levels at 5dBA, the NT1A ensures that recordings are pristine, capturing only what's intended.
Included Accessories: A pop filter and shock mounting system right out of the box. That's value. These additions enhance the recording experience, ensuring plosives are kept at bay, and vibrations don't interfere.
Wide Dynamic Range: From soft whispers to rocking vocals, the NT1A captures it all with finesse, thanks to its dynamic range.
Shure SM7B vs Rode NT1A [Sound Quality And Performance]
When choosing a microphone, it isn't just about the technicalities or features; it's about the end product. How does the microphone perform in real-world scenarios? How does it truly sound? Let's evaluate.
Shure SM7B in Action
When you think of the SM7B, think of rich, full-bodied sound. Its reputation isn't just built on specs but on its stellar performance across various platforms.
Use in Broadcasting and Podcasting: The SM7B has been a mainstay in radio stations and podcast setups for decades. Its ability to capture human speech in its most authentic form, without coloration, has made it a go-to for broadcasters. Whether you're discussing conspiracy theories or interviewing celebrities, the SM7B ensures your voice resonates with clarity and depth.
Suitability for Vocals and Music Recording: While it shines in broadcasting, it's no slouch in the music department either. From capturing the gritty vocals of rock singers to the smooth sound melodies of a jazz vocalist, the SM7B stands tall. Its wide frequency range means instruments, whether it's the strumming of a guitar or the beats of a drum, are captured with precision.
Related: How to Position the Shure SM7B to Get the Best Sound
Rode NT1A in Action
The NT1A, with its crystal clarity, has found its niche primarily in music studios, especially those set up at home.
Popularity in Home Studios: The NT1A's claim to fame is its unparalleled performance at its price point. Offering studio-grade recordings, it's a boon for artists on a budget. Many budding musicians and indie artists have started their journey with this mic, capturing their initial compositions with clarity.
Performance with Vocals and Instruments: Its wide frequency range ensures that the NT1A is adept at recording vocals and instruments. Whether you're laying down a vocal track or recording a guitar solo, the NT1A captures every nuance.
Spotting The Similarities: Shure SM7B & Rode NT1A
Often, in the midst of comparing two stellar products, we overlook the common ground they share. Both the SM7B and NT1A, while having distinct advantages, also share a series of similarities that make them top choices in the audio recording industry.
Cardioid Polar Pattern
One of the primary similarities that both these microphones share is their cardioid polar pattern. This pattern is designed to capture sound predominantly from the front, effectively minimizing disturbances from the rear or sides.
It's a feature that ensures clarity, which is especially vital for vocal recordings. Whether you're in a studio setup or a room that isn't entirely soundproof, a cardioid pattern ensures that your primary sound source stands out while background noises take a backseat.
Wide Frequency Response
Both the Shure SM7B and the Rode NT1A boast an impressive frequency response. The SM7B ranges from 50Hz to 20kHz, while the NT1A extends from 20Hz to 20kHz. This wide range ensures that they capture a comprehensive spectrum of sounds, from the deep bass tones to the sharp treble notes.
For users, this means a richer and more detailed audio recording, capturing the nuances of vocals, instruments, or any sound source you throw at them.
Durability And Professional Build
Quality products aren't just about performance; they're also about longevity. Both the Shure and Rode score high on durability. Crafted with high-grade materials, these microphones are designed to withstand the rigors of daily use without compromising on performance.
Whether you're a professional who's continuously recording or a hobbyist, you can rest assured knowing these mics are built to last.
Clarity In Vocal Recordings
Both these microphones have been widely recognized for their exceptional performance, particularly with vocal recordings. Whether it's podcasting, broadcasting, or laying down vocal tracks for a song, the SM7B and NT1A ensure that the human voice is captured in its most authentic form. The nuances, the depth, the emotion – everything gets recorded with a clarity that's hard to match.
Market Recognition And Popularity
Lastly, one cannot ignore the reputation both these microphones have garnered over the years. They aren't just products but have become brands synonymous with quality audio recording. Their popularity isn't just among professionals but also among budding artists, podcasters, and content creators.
The market recognition they've achieved stands as a testament to their consistent performance and reliability.
The Final Verdict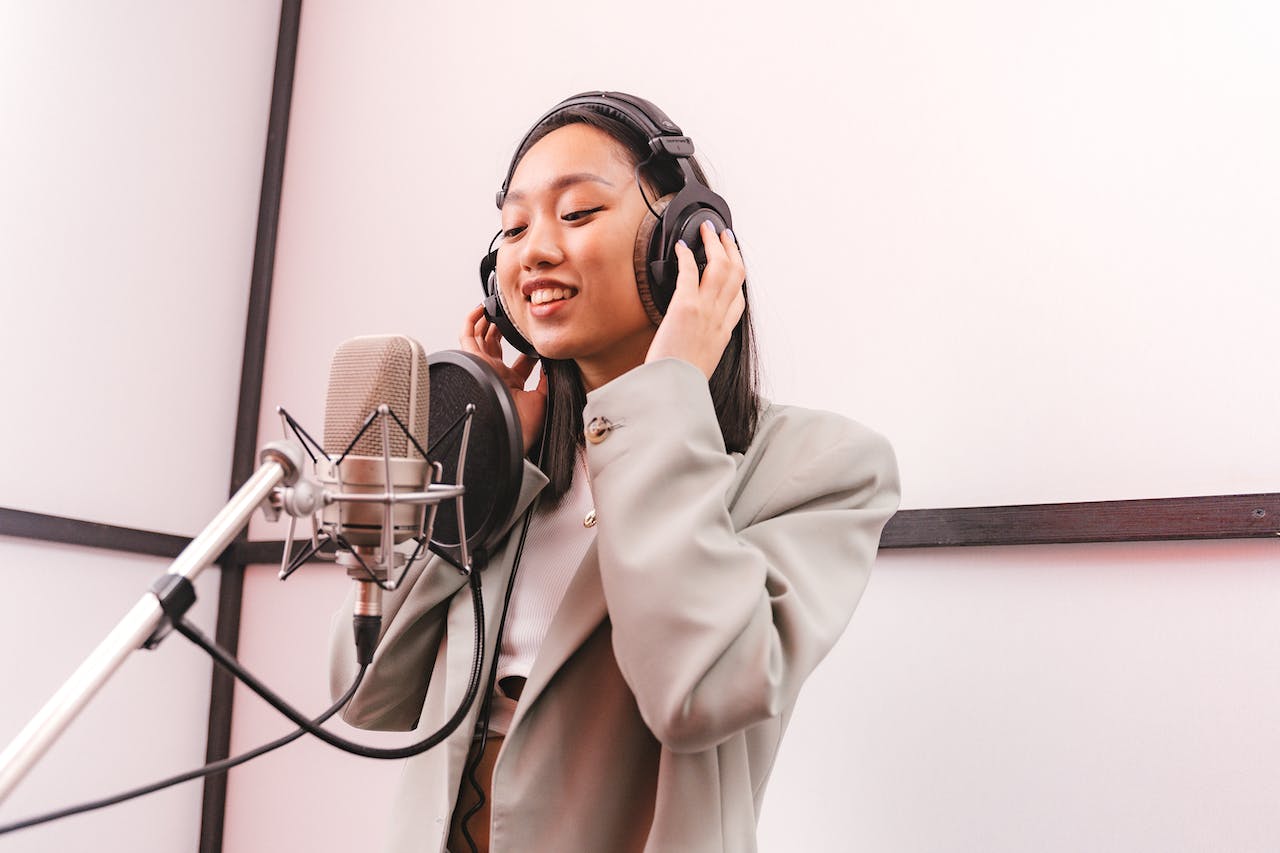 Here we are, at the crossroads. The Shure SM7B and the Rode NT1A, both giants in their own right, cater to slightly different needs. If you're looking for a microphone that has stood the test of time, offering versatility and an iconic sound, the SM7B is your best bet.
However, if budget constraints loom large and you're looking for a microphone that offers professional quality without the hefty price tag, the NT1A is a no-brainer.
At the end of the day, your specific needs, budget, and preferences will guide your choice. Regardless of the microphone you choose, one thing is certain: both are capable of elevating your audio game. Happy recording!