Podcasting is becoming more and more popular every day. There are a lot of different podcasting platforms to choose from, but which one is better? This article will compare Buzzsprout and Simplecast and help you decide which platform is best for you.
Related: 20 Best Podcast Hosting Platforms
Simplecast Overview
Simplecast is a podcast-hosting company that has been around for seven years and has grown a solid reputation among podcast creators. It is a powerful tool for anyone who wants to share their podcasts with the world. The included features enable anyone to share their podcasts anywhere for people to listen. And the advanced audio tools and analytics are designed to increase the target audience's engagement.
Plus, Simplecast gives podcast hosts the tools to empower episode shows from the world's biggest media companies. In other words, Simplecast is a simple yet powerful tool for anyone who wants to share their voice with the world.
First impressions are everything, and Simplecast makes a great one. The modern interface is easy to use and customize with your artwork. In addition, the built-in tools make it straightforward to grow your audience and connect with them more profoundly.
If you're new to podcasting, Simplecast is a great choice – but even experienced podcasters will find value in the features and flexibility Simplecast offers. And if you're looking to improve your show, you can upgrade to premium features like detailed analytics (including location, technology, and ISP)
Something that stands out about Simplecast is its accessible interface. Even if you're not technically-inclined, you'll be able to use Simplecast without problems. Simplecast is also known for its integrations with popular website builders like Squarespace and WordPress. If you already have a website, adding your podcast will be straightforward.
One of the best things about Simplecast is that it makes it easy to embed audio playlists into your website. This is an excellent feature if you have multiple episodes of a show or if you want to create a playlist of your favorite episodes. Another thing that we love about Simplecast is its modern web player that looks great on any site.
Podcasting is a excellent way to reach a broad audience but finding a hosting platform that won't break the bank can be challenging. Simplecast is one of the most affordable options, starting at just $15/month (Basic Package as an Independent Podcaster). Overall, Simplecast is an excellent choice for a simple, reliable podcast hosting solution.
Advantages and Disadvantages of Simplecast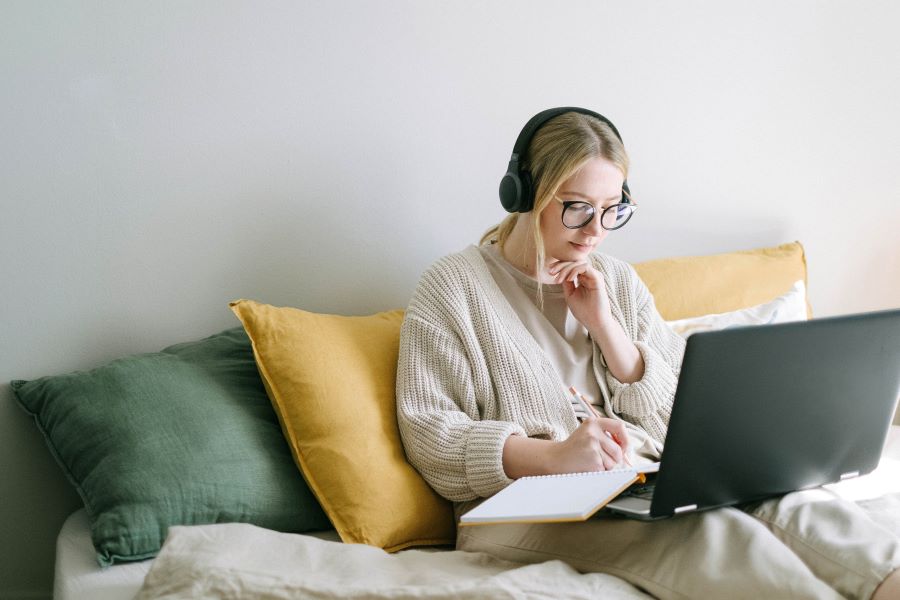 Advantages:
There are a lot of things to love about Simplecast.
For starters, it's easy to use. Even if you're not a tech expert, you'll be able to figure out how to use Simplecast easily.
Once you start using it, you'll be blown away by the level of detail in the analytics. You'll be able to see precisely how your podcast is performing and where you can improve.
With these tools, you'll be able to get even more out of your podcast and connect with your audience in new and exciting ways.
Disadvantages:
Simplecast is a popular podcast hosting platform that offers a variety of features for podcasters of all levels. However, it's not perfect.
One of the most significant disadvantages of Simplecast is its cost. While the basic plan is affordable, the more advanced features come at a relatively high monthly price. This can be a turnoff for podcasters who are conscious of their budget.
Some reviews have reported that Simplecast can be a bit glitchy at times. This can be frustrating for users who rely on the platform to deliver their podcasts flawlessly. Overall, Simplecast is an excellent option for many podcasters, but it's not without its drawbacks.
Buzzsprout Overview
Are you looking to start a podcast? You're not alone. In recent years, podcasts have exploded in popularity. There are over 850,000 active podcasts, and more than 32 million people tune in to podcasts weekly. If you're ready to join the ranks of these popular audio programs, you'll need to choose a podcast-hosting service. And if you're looking for an outstanding option, Buzzsprout is worth checking out.
Buzzsprout has been around since 2009 and has helped over 100,000 people start podcasts. Their free plan is a great way to get started and offers many features to help you create and market your podcast. Plus, their customer service is top-notch. So, if you're ready to launch your podcast, Buzzsprout is an excellent option to consider.
Related: Buzzsprout vs. Libsyn: Podcasting Platforms Compared
Features
Directory Submission
With features like directory submissions and integrations with popular platforms like Apple Podcasts, Spotify, Google Podcasts, and Amazon Music, you can connect with your audience with just a few clicks.
Accessibility
Buzzsprout has some great features that make podcasts more accessible for everyone. First, their tools for episode transcriptions make it so that anyone can read along or follow along, whether they're a fast reader or hearing impaired. That way, you'll never miss an episode.
And speaking of keeping up with episodes, Buzzsprout will automatically keep you updated with all the latest episodes from your favorite shows. So, you can sit back, relax, and enjoy your favorite podcast without worrying about missing an episode.
Stats
If you want to grow your audience and reach new listeners, Buzzsprout is the perfect platform. It makes it easy to upload and share your podcasts and provides detailed statistics so you can track your progress and measure your success.
Monetization
Buzzsprout offers a comprehensive affiliate marketing database for podcasters looking to monetize their shows. With over 1,000 programs to choose from, ranging from podcast equipment to software to hosting services, there's sure to be a program that's a good fit for your show.
And if you can't find what you're looking for, the Buzzsprout team is always happy to help you find a program that meets your needs. So, whether you're just getting started monetizing your podcast or looking for new ways to generate income, Buzzsprout's affiliate marketing tools are a great resource.
Website Integration
Are you looking to add your Buzzsprout podcast to your website? You're in luck! Buzzsprout's website integration is a breeze. You can embed a player directly into your WordPress site in just a few steps. This makes it easy for your listeners to find and listen to your show.
Plus, the embedded player is responsive and mobile-friendly, so that it will look great on any device. And if you ever want to change the player or add new features, Buzzsprout makes it easy.
Pricing
If you want a fast and easy solution to get your podcast up and running, Buzzsprout is the way to go. They have four plans to choose from, each with its features. For example, their free program includes 2 hours of recording time, while paid plans start at $12/month for 3 hours of recording time.
Then they have a 6-hours recording time for $18/month, and finally, 12 hours of recording time for $24/month. So, whether you're just getting started or you are an experienced podcaster, Buzzsprout has a plan that's will work for you. And if you're not satisfied with their services, you can always cancel your account without penalty.
Related: Buzzsprout vs Podbean
Advantages and Disadvantages of Buzzsprout
Advantages:
If you want a podcast hosting platform that won't break the bank, Buzzsprout is worth considering.
The basic plan is free and includes a wide range of features that will come in handy. For example, both episode embedding and transcription are supported, and the Magic Mastering feature can help make your audio sound the best.
Buzzsprout integrates with various third-party software applications, making it even easier to get the most out of your podcast.
Also, for questions or concerns, the award-winning customer care team is always on hand to help.
Disadvantages:
Regarding podcast hosting, there are a few things to consider. First, you want a platform with a simple pricing structure so you know exactly how much you're paying each month. And lastly, you want a platform that offers all the features you need without making you pay extra for them. Unfortunately, Buzzsprout falls short in all of these areas.
The biggest problem with Buzzsprout is its pricing structure.
The basic plan lasts only 90 days, after which you have to pay for an upgraded plan.
There are extra charges for premium features like transcription, which should be included in the monthly fee. As a result, Buzzsprout's pricing is complicated to understand.
Related: Anchor vs. Buzzsprout: Which Podcast Hosting is Better?
Comparison Between Buzzsprout and Simplecast
Aspects where Buzzsprout is better than Simplecast
There's no question that both Buzzsprout and Simplecast are top-of-the-line podcasting platforms. But it comes down to it, Buzzsprout is the better option for a few key reasons.
Buzzsprout it's more affordable than Simplecast.
It also offers a free trial to test it out before committing to a paid plan.
Additionally, the support quality is rated higher than Simplecast's, so you can be confident that you'll always have someone to help you if you run into any problems.
Also, Buzzsprout is easy to use, even for beginners, while offering all the features that more experienced podcast creators need.
Buzzsprout has been rated 100% above Simplecast. But that's not all:
Regarding Audio Hosting, Buzzsprout has been rated 380% above Simplecast.
Regarding Podcast RSS Feeds, Buzzsprout has been rated 244% above Simplecast.
In addition, Buzzsprout has four highlight features that Simplecast doesn't offer.
Also, it has a Podcast RSS Feed. So, your episodes will be automatically syndicated to all the major podcast directories, saving you time and effort.
It has 99.9% Uptime. This means that your episodes will always be available to listen to, even if there is a problem with the server.
Related: How to Create an RSS Feed for Your Podcast
Aspects where Simplecast is better than Buzzsprout
Simplecast is one of the newer podcast hosting services, but it's already making waves in the industry. Here are six reasons why Simplecast is a better choice than Buzzsprout:
It has a free trial, so you can test the service before committing to it.
The price is reasonable compared to other podcast hosting services.
Simplecast has a great features list, including some unique features like episode transcripts and support for multiple languages.
Simplecast is a serious rival in the podcast hosting services arena, with a growing user base and positive reviews from users and experts alike.
Simplecast has an impressive array of integrations, making it easy to use with other tools and services you may be using.
For starters, Simplecast offers a podcast RSS feed, which can be helpful if you're looking to submit your podcast to different directories.
Simplecast has high-performance servers, so you can be confident that your podcast will always sound great.
With Simplecast's network app listing, it's easy for listeners to find and subscribe to your show.
Conclusion
As a new or aspiring podcaster, you may wonder which platform is the best option for you and your show. This article compares two of the most popular podcasting platforms – Simplecast and Buzzsprout – features, ease of use, pricing, and more.
Both Simplecast and Buzzsprout have their advantages and disadvantages. The important thing is that you create great content and get your message out there to as many people as possible. So, if you're ready to start a podcast, go for it!
And if you're still on the fence about which platform to use, maybe this article will help you decide. In the end, it all comes down to personal preferences. Some people might prefer the simplicity of Simplecast while others Buzzsprout's additional features. It just depends on what you're looking for in a podcast platform.
Let me know in the comments below which platform you decided to go with and why.