Yes, You Can Do a Solo Podcast! Here are some tips to help you get started.
First, decide how long they will be, what topics you will cover, and who your guests will be. Once this information is nailed down, it's time to start recording!
Practice before going live and promote your podcast on social media and other media resources.
Related: 18 Powerful Advantages of Podcasting
Figure out your podcasting goals
Why do you want to podcast? What are you looking to accomplish? These are essential questions to answer before you start recording.
Next, develop a topic for your podcast that you're passionate about that will keep your listeners engaged. Once you have your topic, it's time to start planning out your episodes. Decide what format your episodes will take and what type of content you'll include in each one.
Last but not least, invest in some quality audio equipment so that your podcast sounds professional. With these tips in mind, you'll be well on your way to launching a successful solo podcast.
Choose the right equipment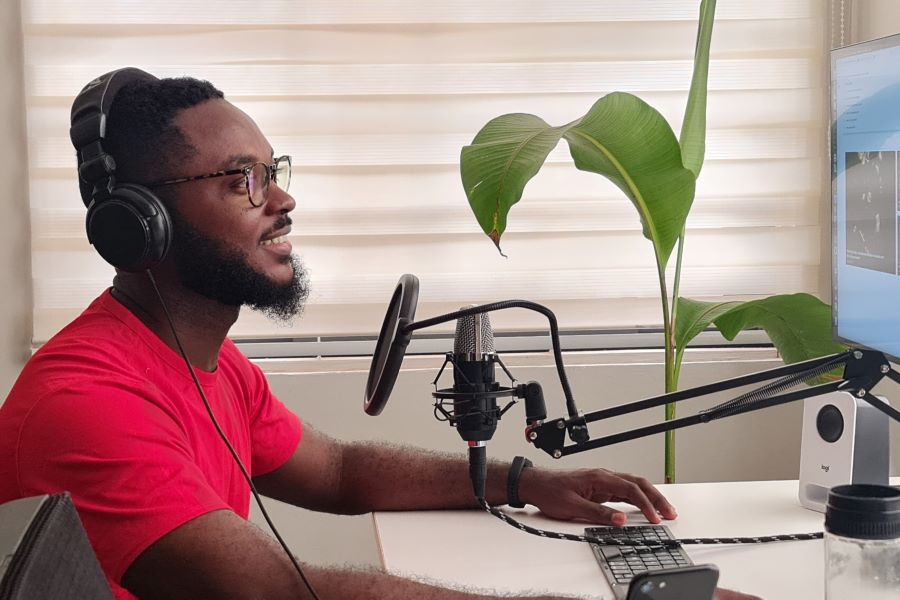 The first step is to make sure you have the right equipment. While you don't need the most expensive gear, you need something that will produce clear audio. A good quality microphone is essential, and you'll also need some way to record your voice. Finally, if you're planning on editing your podcast, you'll need a computer with audio editing software.
Related: Best Microphone Under 100 Dollars in 2022 for Podcasting
Planning your solo podcast
Once you've got your equipment sorted, it's time to start planning your podcast. What are you going to talk about? Who is your target audience? How often will you release new episodes? Answering these questions will help you focus your content and keep your podcast on track.
Recording and editing your solo podcast
Now it's time to start recording your podcast. This is where having a plan comes in handy – if you know what you want to say, it'll be easier to stay on track while you're recording. Once you've recorded your episodes, it's time to edit them. Again, planning will make this process much more manageable. If you know what points you want to hit, you can remove any sections that don't fit your overall goal.
Related: Audacity or Garageband: Which Is Best To Edit Your Podcast?
Publishing and promoting your solo podcast
Once your podcast is edited and ready to go, it's time to publish it! Again, there are many different ways to do this, but the most important thing is to make sure people can find and listen to your episodes.
Related: PODCAST PROMOTION: The Complete List (2021)
Create a show outline and format
The first step is to create a show outline. This will be your road map and help keep you on track while recording. Next, decide on a format for your podcast. Will it be an interview show? A roundtable discussion? A narrative fiction? Once these elements are in place, you're ready to start recording!
Related: How to Write a Podcast Script in 2022: Step-by-Step Guide
Market your podcast
Now that you have a great solo podcast, it's time to market it! First, you'll want to ensure you have a great name, cover art, and an exciting description. Then, get the word out there however you can. Social media is a great start, but don't forget about good old-fashioned word of mouth. The more people who know about your podcast, the more likely they will listen!
Related: What's the Best Time of Year to Launch a Podcast?
Figure out your topic and what you want to talk about
This is key because you want your podcast to be focused and have a clear purpose. Once you know your subject, research your target audience and what they want to hear about. This will help you create content that appeals to them.
You'll need essential equipment like a microphone and recording software to record your solo podcast. There are many great resources on how to get started with recording and editing, so do some research and find what works best for you.
Once all the technical stuff is figured out, it's time to start recording! Remember to be natural and relaxed when speaking – this is important to engage with your listeners. Also, don't be afraid to make mistakes – everyone does at first. Just keep practicing, and you'll soon get the hang of it.
Doing a solo podcast can seem daunting, but it's not that difficult once you know what to do. Follow these simple tips, and you'll be well to becoming a solo podcasting pro in no time! Good luck.
Related: Start a Podcast People Will Listen To [2023 Guide]
Record yourself and practice
You will get better with each recording. Find someone to be your sounding board. This person can be your spouse, friend, or family member. They will help you catch errors and give you constructive feedback. Plan and prepare your episodes. Decide on a format and stick to it. This will make the editing process much more manageable. Get comfortable with being uncomfortable. You will make mistakes, and that is okay! Embrace them and learn from them. Have fun and enjoy the process! These tips will help you get started on your solo podcasting journey.
Related: With GarageBand, Record Multiple Audio Tracks Simultaneously
Tips to get started
Now that you have your very first solo podcast episode, it's time to upload it and start promoting it. Here are a few tips on how to get started:
First, ensure a strong cover image and title for your episode. This will be the first thing people see when they come across your podcast, so make sure it's eye-catching and engaging.
Next, write a compelling description of your episode. This is your chance to sell people why they should listen to your show.
Finally, promote your episode across all of your social media channels. Use hashtags and tagging so that more people can discover your content.
Summary
Creating a solo podcast can be a great way to share your passion with the world. By following these simple tips, you'll be on your way to creating high-quality episodes that people will love.
Now that you know the basics of getting started, it's time to put these tips into action and start planning your solo podcast. Remember to keep your goals in mind, come up with a great topic, and invest in quality audio equipment, and you'll be well on your way to success!
Do you have any other tips for solo podcasters? Could you share them in the comments below? And if you're looking for more podcasting tips, check out our blog for more great content. Thanks for reading!