When you are out and about recording using your professional F6 recorder, you need to ensure it's working optimally. Zoom software developers come up with regular H6 firmware updates to ensure you enjoy exceptional features and the best user experience. On your part, you ought to do the most straightforward thing; keep the firmware updated.
Updating the Zoom F6 is a simple process with no technicalities involved. All you need is a computer and a USB cable. This article will explain why you need the updates, check if you are using the latest updates, and offer a simple how-to-update guide.
Related: Zoom H6 Best Settings for Audio Recording: Get Studio-Quality Results.
What Happens if I Do Not Update My F6 Firmware
Here are two main reasons why you should take the next update serious
Run Unnecessary Risks
Despite conducting numerous tests, Zoom software developers do make mistakes. As much as they try, they develop firmware with undetected errors until they affect users(in infrequent circumstances).
The developers jump in very fast to avert the situation and release bug fixes. For instance, the F6 firmware update version 1.8 contains bug fixes addressing sound skipping and incorrect metadata during Dual Mode recording.
Miss Out on New Functionalities
Zoom continuously adds new features to their devices, enhancing user experience. They ensure F6 users experience technologically advanced features without necessarily upgrading the hardware. For instance, version 1.8 added a new function holding the FF key on the home screen. Users were able to change the numbering for the next recording.
How Do I Know if I Am Using the Current Firmware Version?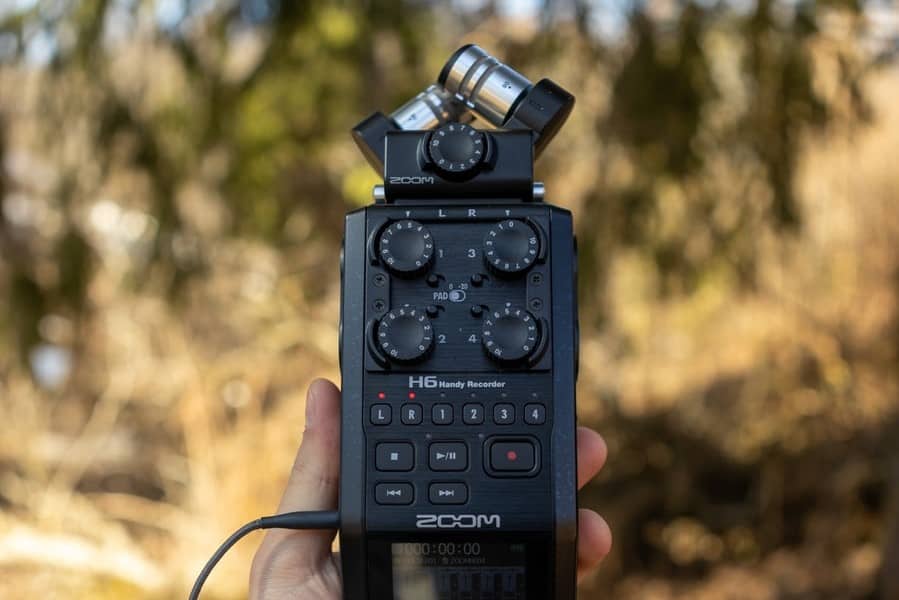 To check the most current F6 firmware version, go to zoom-na.com and click "Support and Downloads". Go to field recording and select H6. Move to the software section, and find the latest firmware version.
Next, you will need to check if your current version is up-to-date. You can do so in two ways;
Check your current firmware as the device turns on. You will see it displayed on the bottom right of the screen.
Press the "Menu" button, scroll down to the System then scroll to the software version. You will see your current firmware version.
Related: The Best Headphone Splitter for Zoom H6.
Step-By-Step-Guide on How to Update Your F6 Firmware
Step 1: Log into your computer and go to zoom-na.com.
Step 2: Navigate to the "Support and Downloads" section. At the top right of the page, type F6 in the search box. Locate and select the F6 icon and click it.
Step 3: Move to the software section, and beneath it, you will see the newest firmware version.
Step 4: Click the link to download the zip file.
Step 5: Unzip the file and click on the folder. You will find a file labelled "H6SYSTEM.BIN". This is the file you'll need to update your F6.
Step 6: Insert the SD into your F6.
Step 7: Connect your F6 to your computer using a USB C cable and power your F6 on.
Step 8: Press the "Menu" button, scroll to "System", and select it. Scroll to USB and select it.
Step 9: You will see the sd card reader mode. Press it to allow your F6 sd card to be accessible to your computer. Alternatively, plug the unit into your computer, select the card reader and place the "H6SYSTEM.BIN" into the sd card's root directory.
Step 10: Unplug your device from your computer and power it on while holding the "Play/Pause" button. Scroll and select "Yes". Your firmware will start updating.
Step 11: Turn off the device once the update is complete.
Step 12: Turn on the device and check if the firmware is updated. If the process was unsuccessful, repeat it.
Caution: Do not update your F6 on a low battery. Attempting an update on a low battery is mission impossible. Connect the device to an AC adapter and install new batteries.
Do not turn off your F6 during the firmware update. Doing so can cause the device to become unstartable.
Always turn off your F6 when inserting or removing the SD. Failure to do so can result in data loss. Also, ensure that you insert the SD in the correct format.
Double-check that you are updating the F6 firmware. Applying the wrong updates can corrupt your device's functionality.
Related: Zoom H6 Compressor Settings.
Summary
It's good practice to keep your Zoom firmware up-to-date. Not only you'll avoid hitting issues that may have already been fixed but you will be able to get access to new features that get deployed over time.
In this guide we've covered how you can make sure to have your device updated to do both.
Related: 5 Best Podcast Recorders For Capturing High-Quality Audio