Did you know that the human brain can process audio signals faster than sight? Your listener will respond to spoken content more readily than written text. It also means that recording and distributing audio files is an excellent way to reach your target audience.
As a podcaster, you probably understand the value of high-quality audio. But what if you cannot conduct interviews in a soundproof recording booth? Do you need special equipment with an external mic? Fortunately, several affordable options for recording crisp podcast audio from almost anywhere. These devices are podcast recorders, capturing spoken word and converting it into an audio file. Let's discuss which is the best podcast recorder for you.
Related: Podcast Starter Kit
What is a Podcast Recorder?
A podcast recorder can reference a physical device or a computer program to record audio. To make things clearer, we'll differentiate between podcast recorder devices and podcast recording software:
Podcast recording software
Podcast recording software is a computer program that allows you to record audio from any source, such as your microphone or voice recorder. It will sometimes even use the built-in voice recognition of your computer to automatically transcribe what you are saying so that it can be recorded on an episode of your show.
Podcast recorder devices
Podcast recorder devices are physical devices that allow you to record audio from any source. These devices have different sizes and shapes, like a lapel mic, wireless earbuds, and portable recorders.
Podcast recorders have built-in microphones and offer advanced features that make recording and editing podcasts easy. Some podcast recorders also include features such as teleconferencing and playback speed control, which can be helpful for recording interviews or other types of podcasts.
Related: Using Zoom H1n for Interviews: A Review and Zoom H2n vs. Zoom H1n: How Do They Differ?
Why is a high-quality audio recorder important for podcasts?
High-quality audio recording is essential for podcasts because it can give your audience the best experience possible. It's also essential for podcasters because it's a great way to add value to their content and help it stand out.
Podcasts are becoming more popular than ever. As more people listen, there's a greater need for high-quality audio recordings that you can share via podcast platforms like Apple Podcasts, Spotify, and Google Podcasts.
If you're new to podcasting, you'll want to invest in a digital audio recorder that doesn't break the bank like the TASCAM's DR-05X. This device will help you record high-quality audio and provide automatic gain control (AGC) that ensures your recordings are always at the right level while they're being recorded.
Related: Neewer NW-05 Mixer Review: An Ideal Option for Podcasting?
How to Choose a Digital Podcast Recorder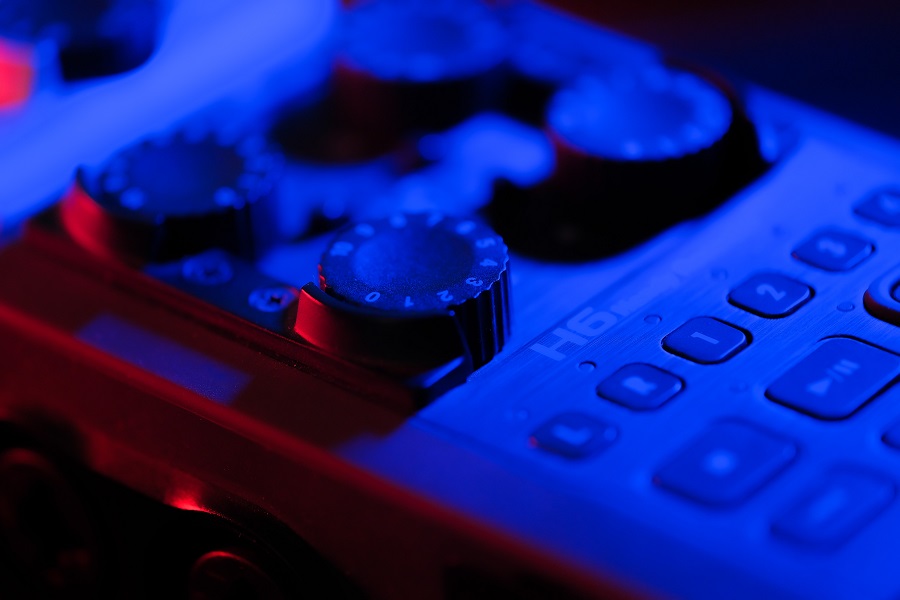 Memory and Recording Time
Memory is the most critical factor when choosing a podcast recorder. You want a device with enough memory to record your high-quality recordings.
The minimum memory you'll need is around 8 GB, but higher capacity is desirable. Don't be surprised if you purchase separate SD cards to store your recordings. A 32 GB card should be more than enough.
Related: Zoom l12 or Zoom R16: Which is Better
Convenience
Ideally, you'll purchase a podcasting recorder that is easy for you to use and set up. There are multiple solutions on the market, and we will investigate various alternatives. Still, as a general rule, smaller recorders are better suited for travel, albeit they are usually lower-tier. Bulkier recorders may be less convenient to move but tend to be mid to higher-tier.
Related: How To Use Zoom H4N with iPhone for Quality Recording
Device compatibility
If you want to add more microphones to your group discussions, the digital recorder you choose may need to be modular. In this situation, you will need a suitable mid-tier recorder with several XLR inputs.
Related: How to Use Raspberry Pi as a Podcast Recorder
Battery life
Ideally, you'll want a device that can last long enough to record your show without worrying about stopping to charge it halfway through. Some devices can record for up to 10 hours on a single charge, while others only last a few hours. If budget allows, choose a device with long battery life.
Related: How to Charge the Zoom H4N
Best Podcast Recorders on the Market
Zoom H4n Pro Handy Recorder
Specs
Dimensions: 2.8 x 6.2 x 1.4″ / 71.1 x 157.5 x 35.6 mm
Number of Tracks: 4
Weight: 10.4 oz / 294 g
Storage: MicroSD, up to 32GB
Display: Monochrome LCD
Battery type: 2x AA batteries
Battery life: 7 hours
Inputs: 2x XLR/TRS, screw hole; 3.5mm stereo mini-jack
Product Overview
You can use two AA batteries, a USB cable, or an AC adapter to power it. The Zoom H4n Pro Handy Recorder was initially made for musicians, but DSLR video and filmmakers like it because it has direct XLR mic input ports with phantom power and can record four channels simultaneously from both internal and external sources.
The audio and video from a DSLR camera work well with this recorder. Let this recorder run, and then use Plural Eyes to match the audio to the video. You can also record straight to MP3 or up to 96kHz/24-bit digital stereo without a microphone or wires.
Auto Record Level starts recording at maximum gain and lowers it automatically so the recorded voice doesn't get too loud.
Related: Zoom H4N Gain Troubleshooting Guide: Fix for Common Issues
Why do we like it?
Onboard Stereo Microphone
Overdubs and four-multitrack recording
Built-in effects for mixing tracks
96 kHz WAV recording capability
3.5mm Headphone/Line Output
Tuner and Metronome Functions
Great For
Discussions and reports among multiple speakers
Video podcasts
Price
Amazon US: $219.99
Pros
Audio interface functionality
Charges while recording
Includes audio editing software
Back-lit LCD Display, brighter and easier to read
Direct XLR mic input ports with phantom power
four channels at once from both internal and external sources
Cons
The poor sound quality in stamina mode.
You'll get floor noise when recording sessions or interviews.
TASCAM DR-05X
Specs
Dimensions: 2.4 × 5.55 × 1.02″ / 61 × 141 × 26 mm
Number of Tracks: 2
Weight: 4.1 oz. / 116 g
Storage: 132GB MicroSD
Battery type: 2x AA batteries
Battery life: 10 hours
Inputs: 3.5mm headphone and mic jacks; screw hole
Product Overview
The best corporate voice recorder is the TASCAM DR-05. It's easy to use, doesn't cost much, and records good sound. When used in meetings and seminars, ORTF microphones improve the stereo sound. It is a best-seller on Amazon.
This portable recorder contains two omnidirectional OTRF microphones to maximize stereo pictures. It helps in interviews and meetings. When mics don't concentrate on one voice, it's problematic. Digital recorders have X/Y or A/B microphones.
Mics record 16-bit or 24-bit PCM sounds at 96kHz. Change how WAV, BWF, and MP3 files play. You can play MP3 and WAV on computers. This recorder's BWF format plays podcasts and movies. The TASCAM DR-05 has speed but no pitch controls. Some digital voice recorders can't play sped-up audio. TASCAM DR-05 makes it simple.
Related: Does The Tascam DR-40 Have Phantom Power?
Why do we like it?
Affordable
High-quality stereo hand-recording
Lightweight, easy-to-use
Micro SD/SDHC/SDXC cards are recordable
Switchable low-frequency filter (40 Hz, 80 Hz, 120 Hz)
Manual music and field recording leveling
Three automated recording level control options are Peak Reduction, Auto-Level, and Limiter
Great For
Perfect for novices and new starters. Great for meetings, interviews, and seminars as well
Price
Amazon US: $99
Pros
It offers an easy-to-use UI.
It records high-quality audio for less than competing recorders.
Two Omni – directional microphones separate voices in calm environments.
132GB MicroSD is supported.
Appropriate for quiet roundtables
It Stabilizes volumes.
Cons
No USB port protection
Single-track recordings only
Plastic chassis
Zoom H6 Six-Track
Specs
Dimensions: 1.9 x 3.1 x 6.0" / 48 x 78 x 153 mm
Number of Tracks: 6
Weight: 9.9 oz / 280 g
Battery type: 4x AA batteries
Battery life: 8 hours
Inputs: 1x 3.5mm mic/earbud jack; 4x XLR inputs; screw hole
Related: The Best Headphone Splitter for Zoom H6
Product Overview
The Zoom H6 is a great handheld recorder for experienced podcasters with 3 to 6 people in their shows. The six 24-bit/96kHz WAV channels will more than handle roundtable discussions or larger group discussions. The gadget contains 4 XLR/1/4′′ mic preamps. Each input is gain-controlled—six inputs from front-mounted X/Y and M/S mics. You may want to purchase a shotgun or dual XLR/TRS jack attachment for the H6, depending on the use. X/Y capsule takes 3.5mm auxiliary input for versatility.
Each input features phantom power, -20dB pads, compression, filtering, and limiting. Auto-record, pre-record, and backup-record two -12dB tracks from any input. 4 AA batteries power the H6 for 20 hours. The Zoom H6 is a beast of a recording interface. Connect via USB to record all six channels in Multitrack mode. The gadget prints whatever effects you activate, such as a high-pass filter (80 to 150 Hz), compression, and limiting.
Some people may wish for a larger screen than the 2-inch LCD. The Zoom's USB connection gives it a robust, portable audio interface for your laptop.
Related: Zoom H6 Best Settings for Audio Recording, Zoom H6 Compressor Settings, and How to Set Up Your Zoom H6 Line Out For Podcasting
Why do we like it?
This USB audio interface works with PCs, Macs, and iPads
Rechargeable with AA or NiMH batteries
Safety-related backup recording, pre-recording, and auto-recording
Filters, compressions, and limits are built-in
Connect it to your PC/Mac/iPad via USB as an audio interface
All inputs have phantom power
2-inch LCD for quick measuring
Related: How to Use Zoom H6 as an Audio Interface in Adobe Audition and Connect Zoom H6 to Your Android Phone: 6-Step Guide
Great For
Experienced podcasters. Larger group discussions. NPR or drama podcasts where the whole cast needs to be recorded in one go.
Related: Update Zoom H6 Firmware
Price
Amazon: $330
Pros
Recording flexibility
You can change attachments quickly
6-in/2-out interface for DAWs
Basic record controls are hardware-based
Construction is strong overall
DSLR compatibility
Cons
Some crucial settings are hidden in the menus
The pad buttons are near-level dials
Self-recording performers don't like screen angles
No guitar/bass high-impedance input
Sony PCM-M10 Portable Digital Recorder
Specs
Dimensions: 2.5 x 4.5 x 0.9″ / 64 x 114 x 23 mm
Weight: 6.6 oz / 187 g
Battery type: 2 AA batteries
Battery life: 24 hours of use.
Input: Separate 3.5mm mic and line inputs, mic power.
Product Overview
The Sony PCM-M10 is the brother of Sony's PCM-D50. You can take the PCM-M10 stereo digital recorder anywhere. Unlike others in this list, though, it only works in stereo. There are 96khz/24bit A/D converters in Sony's recorder. Sony used two Omni microphones that were matched and tilted at a 90-degree angle to pick up low frequencies. With two Cardioid mics, which don't record low frequencies consistently, this low-frequency response comes at the cost of a bigger stereo image.
The Sony M10's built-in PCM mics sound tremendous and downmix to mono, making it great for capturing a single artist or Sound FX in the field. Other twin cardioid mics can create a soundscape hole when the space between them is too big or unnatural. A handy wheel controls the record level. A great tool that lets you point, record, and change the recording level by feel.
LEDs on the Sony PCM-M10 show the record level. It is excellent as there's no need for an external LCD to check recording levels. In all, it's an audio recorder that is easy to use. Two NiMH AA batteries power the Sony PCM-M10 for 50 hours.
Why do we like it?
Expandable Memory
Superb Recording Quality
Built-in Microphones
Memory Stick/microSD Slot
Playback Key Control
Pre-Recording feature
Great For
Solo podcasters or those that interview guests one at a time
Price
Amazon: $358.48
Pros
5 seconds recording buffer time
Construction made of lightweight aluminum
Wire-controlled remote
Built-in speaker
Rapid five-second boot time
A lot of storage
Accompanied by Sony's high-quality audio editing software, Sound Forge
Cons
1/8-inch mic/line inputs
There is no Phantom power available for use with external microphones
No windscreen
Olympus LS-100 Multi-Track PCM Recorder
Specs
Dimension: 2.75 x 3.25 x 1.31″ /7.0 x 15.9 x 3.35 cm
Number of Tracks: 8
Weight: 9.8 oz with 280 g
Battery type: Lithium-Ion Rechargeable Battery x 1
Battery life: 12.5 hrs
Product Overview
Olympus' LS-100 Multi-Track PCM Recorder captures rich, resonant sounds at 96kHz/24-Bit Linear PCM. LS-100 makes great digital recordings everywhere. The LS-100's two stereo condenser microphones record bass and treble sounds. Olympus' mic captures human hearing range effectively. This setup can capture live performances up to 140dB. The LS-100's twin condenser mics have distinct left and proper levels.
LS-100 has Phantom Power for condenser and ribbon microphones. The booster reduces noise. Longer cables result. XLR / 1/4″ Phone connectors make it simple to attach external microphones. Not just stereo mics. Separate audio and system boards reduce noise. Separated circuitry reduces interference and boosts SNR.
Multitrack and overdubbing are available on LS-100. It can record 999 44.1kHz/16-bit CD tracks. Sync eight tracks. After recording, you may add segments. Musicians may sing harmonies or use recorded sounds. File editing, pre-recording, metronome, tuner, chord Lissajous, MP3 conversion, CD manufacturing, and Play Sync recording are all possible with LS-100.
Why do we like it?
Linear PCM recording at 24-bit/96 kHz
MP3 converting
Lissajous for chords
Play Sync recording and CD writing
Stereo condenser microphones with a 90-degree directional pattern
Power Supply XLR/Phantom
There are eight tracks
Great For
Live performances and those podcasters that include music in their recordings
Price
Amazon: $358.48
Pros
Very user-friendly, well-organized menus
Powerful battery and choices
Good internal mics and sound quality
Cons
No multitrack pausing
No index functionality (A/B loop, memory point playback) in multitrack mode
Can't edit single tracks in multitrack mode
Tracks stop after fast forward/rewind
FAQs
Why should I use a podcast recorder?
A podcast recording software will allow you to capture high-quality audio from any source, including Skype calls, interviews, lectures, music players, and more. These programs also have options for editing and enhancing the sound quality of your recordings before saving them as MP3 files for uploading to podcasting websites like iTunes or Stitcher Radio.
Digital recorders are great for recording on the go. And not always necessarily out of the house. A typical computer setup can be cumbersome, and being able to record podcasts outside of the office is always a plus. Podcasters that cover things in the field will benefit from going to conferences or other gatherings and interviewing guests with a portable digital recorder.
Related: How to Record a Phone Interview for a Podcast?
What is the best recording platform for a podcast?
The best software for podcasting on Windows and macOS is:
Which recorder would you recommend for a newbie?
You'll want a recorder that works well but doesn't break the bank if you're just starting. The TASCAM's DR-05X is a great starter option. It's affordable and easy to use, which makes it perfect for beginners.
Conclusion
In conclusion, the best podcast recorder will depend on your needs. If you are just starting, then pick up the TASCAM's DR-05X. If, on the other hand, you already have some experience or need to record bigger groups, you may want to look at Zoom H4n or Zoom H6.
Solo podcasters or those that don't need to record a big group should look into the Sony PCM-M10. And those recording live performances will want to have a look at Olympus LS-100.
We hope this breakdown and review of the different recorders helped you in your purchasing journey.