Anchor's origin story began much like Clubhouse — an audio-only social media app — that became popular among Silicon Valley insiders and investors until it expanded to be what it's become known for: hosting podcasts.
In 2019, the app was acquired by Spotify, making its way on to mainstream podcast hosting scene.
Fireside has been in the podcast hosting space since it launched in 2016. It was co-founded and developed by Dan Benjamin, who has been podcasting since 2006. The premise of Fireside.fm is to be a podcast platform built by podcasters — giving it an advantage over other podcast hosts.
Let's see if they live up to this promise in this Anchor vs Fireside comparison.
Related: Best Podcast Hosting.
Anchor vs Fireside: 5 Elements You Need to Consider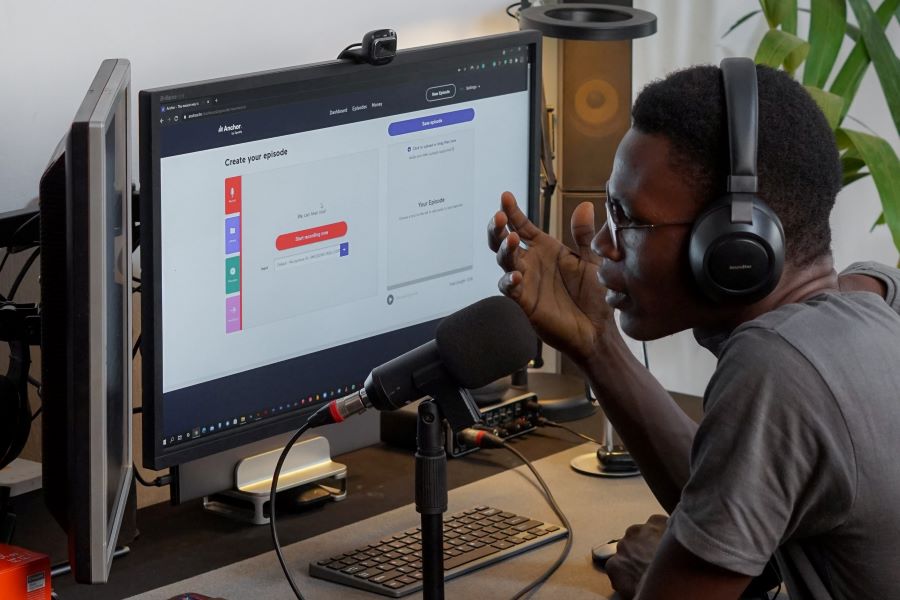 Since launching, both Anchor and Fireside have become synonymous with hosting podcasts and have garnered a dedicated group of users, each who swear by their favorite platform. But five benchmarks can help you decide which of the two is better for you.
Website Customization
Most modern podcasts have a dedicated website where the audience can listen to and download episodes, read transcripts, or interact with other content — blog posts, newsletters, memberships, or merchandise. Most podcast hosting services offer a basic website. Typically, this is a basic one-page website giving a brief description of the episode, a playback option, and a list of apps users can listen to the podcast.
In each of its packages, Fireside includes a customizable website for users, and its premium tiers allow podcasters to link their domain to it.
Unlike other podcast hosts, websites made on Fireside have the option to add blog posts, custom pages, and redirects. Since Fireside offers more features than the average podcast hosting service, listeners can access more of your content.
Anchor doesn't offer website customization or the ability to customize your domain. Your podcast will always have the Anchor link (Anchor.fm/your-podcast-name), so it's up to you to develop a functioning and engaging website. However, Anchor does allow you to customize your page: colors, add a logo or podcast image and include a brief description of the podcast.
Related: Anchor FM vs Podbean: Which Podcast Host is Right For You?
Distribution and Reach
Fireside fails in distribution compared to most podcast hosts, not just Anchor. To get a podcast on Apple, Google, Spotify, and other big-name podcast services you'll have to apply to each.
Anchor has a one-step distribution process to get your podcast on most of the major names in podcasting. The ease and simplicity of Anchor's process make it the obvious choice for distribution and reach.
Analytics
Analytics can help you home in on topics, titles, and descriptions that attract listeners. This is critical to the success of any podcast.
In the Anchor vs Fireside debate, analytics have given Anchor a clear advantage. Anchor's detailed metrics breakdowns the geolocation, age, and gender, engagement of listeners.
Anchor's analytics are IAB 2.0 compliant, whereas Fireside.fm is awaiting its compliance.
However, Anchor's analytics focus on Spotify listeners and not listeners from other platforms, which can be stifling to a degree, as you're missing out on insights from other popular service providers your listeners could be accessing your podcast.
This is where Fireside has the upper hand as it tracks stats from all platforms, including your website, but these aren't IAB-approved.
Pricing
As Spotify's flagship podcast hosting service, Anchor is known for its free service. Despite the cost — or lack thereof — of using Anchor's service, there are costs associated with operating a successful podcast, primarily those associated with developing and launching a brandable website — something you can't do using Anchor's service.
Fireside's cheapest tier is $9/month which doesn't allow you to customize your domain and limits your upload to five episodes a month. The mid-tier is $19/month with fewer limitations and more customization, and the final tier is $49/month. The final tier gives you advanced features and more control. This includes advanced metrics, collaboration tools, exclusive website customization, and priority support.
With Anchor, you'll pay more upfront because of the budget associated with developing a website. The upfront cost isn't as much with Fireside as you're paying for the benefits of a customized website and more tracking data over the course of your podcast's existence. But choosing to pay a monthly fee rather than a once-off fee adds up. For this reason, Anchor is the better choice for pricing.
Monetization
Although most podcasts have sponsored segments, monetization for growing podcasts isn't as easy as getting an audience and approaching sponsors.
Anchor simplifies monetization by offering two methods to monetize: ads and subscriptions. You can enable subscriptions on your podcasts, allowing your audience to access perks and bonuses through the subscription. There are also "Ads by Anchor." Using this option, you get advertisers for your episodes and earn compensation for every listener that engages in the episode.
When comparing Anchor vs Fireside in monetization, Anchor wins. Fireside doesn't have seamless monetization integration tools, requiring you to spend time and money monetizing your podcast.
Related: Anchor vs. Buzzsprout: Which Podcast Hosting is Better?
Conclusion
Overall, Anchor is built for podcast hosts that want to grow. Beyond monetization and metrics, the onus is on the podcaster to get a branded domain and research metrics from third-party apps.
Fireside.fm, however, offers — for the most part — a plug-and-play solution that can be very appealing if you're working within the constraints of a limited budget, time availability, or resources. Using Fireside, you can build your website, audience, and team without the need to access third-party apps.
But, to get the reach and distribution that has become synonymous with podcast hosts, you'll need a third-party solution — maybe Anchor?