Creating a podcast is an excellent way to share your message, get your name out there and build a community. Podcasts are also exceptionally good in spreading knowledge and advice way beyond blog posts and videos. However, it requires proper planning and the right choice of tools to produce episodes that people will listen to.
Making your content accessible to millions of listeners can be a nightmare for most. In this piece, we'll look at the two most prominent players in the industry, Anchor and Podbean, and analyze how they stack up against each other.
Related: Best Podcast Hosting Platforms.
What is Anchor FM?
Anchor FM podcasting host was first introduced in the market by Nir Zicherman and Michael Mignano in 2015. The platform launched as a social audio service ideal for short-form podcasting. Three years later, the platform updated to publishing longer podcasts. In 2019, Spotify acquired Anchor for an impressive $150 million.
In a nutshell, Anchor is a podcast hosting service that allows you to record, host, and distribute unlimited audio files from your website or iOS device. With the free Anchor app, you can create an account and publish anytime. It's easy to get started, and there are no long-term contracts or hidden fees.
Anchor's easy-to-use features allow you to record, edit and voice boost your podcast for professional results in minutes. The episode builder function enables users to record and edit podcasts through desktop websites and mobile apps. Once published, listeners can access your podcast through Anchor, iTunes, Stitcher, Google Podcasts, or any RSS feed reader.
Related: How to Create an RSS Feed for Your Podcast
What is Podbean?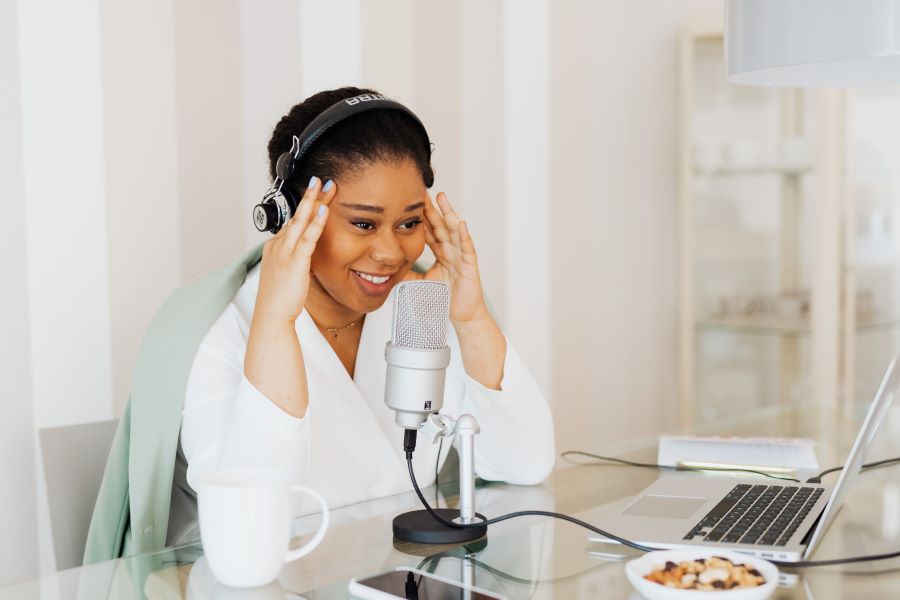 Podbean is another podcast management system that gives you complete control over your podcasts, feeds and channels. You can easily publish new episodes, schedule automatic publishing dates in advance and post on social media. Besides, you can monetize your shows with ads and track stats. The beauty of it is, it's all free with features like unlimited bandwidth, a clean layout interface and the ability to add banners. Podbean has been operating since 2006, with headquarters in Wilmington, Delaware. Thanks to its general management and hosting features, the platform works perfectly for companies and private individuals.
Podbean is committed to providing tools that support you on your journey, delivering the most innovative and intuitive experience in podcast management. It combines the power of podcast management with social media integration and new ways of creating an additional revenue stream by displaying advertising directly within your podcasts. Since Podbean connects well with Android and iOS systems, you can distribute podcasts to almost any platform.
Related: Podbean vs Soundcloud and Buzzsprout vs Podbean
Comparing Anchor FM and Podbean Features
Most hosting platforms share several similar attributes. Still, they have some key differences worth noting. The comparison below helps you pick an option that suits your needs most.
Analytics
You can record and edit podcasts on the go with Podbean. The Podbean app and Podbean features expedite the entire process and make it less complicated. With the app's interactive features, you can quickly engage and build your audience. Still, the Podbean live tool enables users to expand their audience and monetize their processes effectively. Moreover, the special event features captivating and engaging remote guests. You can repurpose live streams into podcast episodes to meet your audience's expectations.
On the other hand, Anchor's plan features valuable analytics tools that guide users on listenership. The certified 1AB 2.0 dashboard informs you when and where you lose listenership. That way, you can find ways to retain an audience and improve on podcast segments that perform miserly. In this category, Podbean takes the lead with advanced analytics.
Related: How to Find Out the Number of Podcast Listeners a Podcast Has
Storage and Downloads
While Podbean's free offering sounds enticing, it may not offer the best services eventually. Podbean has a $9 monthly plan equivalent to 30 cents daily. Given that you get several purposes and intents in this package, this option is worth every coin. It is worth mentioning that unlimited Podbean bandwidth and storage go for $9 too. The silver lining, if your content goes viral, you do not have to worry about extra charges with an unlimited plan. Ultimately, this approach enables you to focus on other things like expanding your reach and making content that meets international standards.
While most platforms charge some cash to host and distribute podcasts, Anchor FM is free. The company's mission is to offer the market powerful yet easy to operate podcasting tools. Thus, there are no complicated paywalls, payment procedures or trial periods with Anchor. Something else, after the creation of an episode, you can also opt to add a simple write up, cover art or intended distribution time. The most positive aspect is that Anchor distributes podcasts to every outlet globally. They outshine other platforms based on convenience and affordability by the end of the day.
Related: Libsyn vs Anchor: The Ultimate Podcast Hosting Site
Monetization
Monetizing your podcast requires unlimited creative control. Podbean boost of built-in tools that enable users to sell premium content, receive donations and manage ads. Podbean $9 tier gives access to a custom domain, 'pro' themes, and listener statistics. More importantly, you can access PodAds. These are dynamic insertion tools that help you run ad campaigns effectively.
There are two ways to do it when monetizing your content with Anchor. The first method is the Patreon model known as Anchor Listener Support. In this program, hosts request donations from $0.99 to $10 from their listeners. Anchor receives 4.5% of the money collected, while Stripe takes a 3% processing fee. The host takes home approximately 90% of total listener donations.
In the second model, Anchor match hosts with reliable advertisers. They charge a 30% brokerage price based on cost per every 1000 listens. Given that everything else is free with Anchor, this is not a bad deal either.
Related: How Can Podcasters Make Money on Spotify?
Conclusion
With Podbean and Anchor FM, recording, hosting, and distributing podcasts have never been easier. However, Anchor vs. Podbean is a classic debate in the podcasting community. To cut a long story short, while Anchor focuses on simplicity, Podbean offers several upgraded features. A prudent content creator should weigh options against distinct strengths and weaknesses displayed by both plans. The bottom line is to consider your present and future objectives before picking either.
Related: Anchor vs. Buzzsprout: Which is the Best Podcast Hosting Platform? and Zencastr vs. Anchor: Which is Best for Podcasting?