With the current social media trend, podcasting has gathered more respect when it comes to building an online brand. Having that extra edge in podcasting has helped many online personalities curve out their reputation within a specific niche.
However, always remember that a workman is only as good as his tools. Without the proper recording and editing software for your podcast, you may be doing nothing.
Audacity and Garageband are some of the top names that always come to mind when you need to set up an efficient Digital Audio Workstation. The big question is, which is the best for your podcast? Should you pick Audacity or opt for Garageband? Find out more in this piece.
Related: 10 Best Podcast Editing Software You Can Use For Free 
Why Work With Audacity or Garageband?
First of all, there are two sides to the coin when it comes to audio editing. On the one hand, you need to consider the technical side of editing that involves what controls, plugin-in effects, and volume levels to apply to achieve a specific end.
Secondly, your creative input consists in knowing when to edit, which effects your audience will like and how to end the audio files.
Knowing that both sides complement each other in your final output will help you determine the best tools for your podcast, Audacity and Garageband.
Audacity Review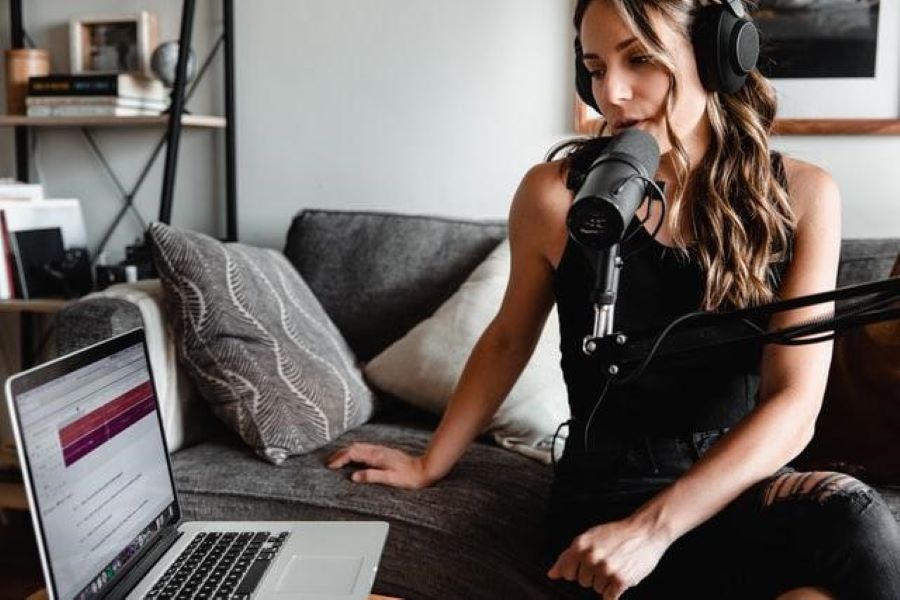 Audacity gained its popularity through free music creators. The software has been serving content creators for over 20 years. It is free to use and has a buzzing community of open-source coders who always keep on adding new improvements to it.
Furthermore, those who want to step up things can access the source code and tweak anything they want. One standout benefit of using Audacity is that you can run it on almost any operating system.
Simply put, it fits in well with your existing workspace without having to make substantial changes.
Audacity provides a vast range of features, including multi-track recording, color-coding of audio tracks, and sound-activated recording. Audacity offers so much that even the premium software options do not provide.
Audacity provides a list of tools that make it lean more towards being an audio editor instead of a workspace-only solution. As a result, it offers all the essential tools a podcaster needs, plus much more.
Related: How To Edit A Podcast In Audacity
Garageband Review
Garageband was developed by Apple Inc. and came into the limelight in 2002. It was meant to deliver top pier digital audio processing without having a bulky and complicated software environment.
Beginner podcasters, bands, and audio editors can use it without a struggle. Garageband comes packed with a list of legit effects, presets, and an impressive loop library.
Even though many podcasters do not see the immediate need for a loop library, it comes in handy when you want to make variations in intros or create jingles.
It therefore adds a musical aspect to your podcasting with all the virtual drummer and instrumentation options.
Simplicity is the key selling point for Garageband. The software has a friendly interface that beginners do not find intimidating. Navigating around the platform is also easy because most of the standard tools you need for recording are neatly arranged.
Even with a wide range of presets, the icons and menus make everything easy to reach, helping you create an excellent sounding episode in no time.
Consider Garageband if you want to have podcasting software that does not limit you to voice. It is a software platform that helps you record conveniently while still blending a musical aspect to some of your recordings. Effects are a clever way to hook your listeners to your content and keep them feeling like they are in the right forum.
Related: With GarageBand, Record Multiple Audio Tracks Simultaneously
Audacity vs. GarageBand: Audio Editing
Even though audacity and Garageband are both easy to use when editing audio files, it is important to know that audacity is a destructive editor while Garageband is non-destructive.
In other words, once you make your edits on audacity, you cannot go back and change them later. Garageband lets you go back in steps and undo some changes or save different versions.
Garageband is only available for Mac computers. This is a good thing for Mac users because they are sure that the software was designed with their computer in mind.
However, this locks out many podcasters who may be using Windows and Android OS platforms. Audacity is available for most operating systems and therefore gives you more leeway for setting it up in your workstation.
By a quick glance, Garageband is simpler to familiarize with than Audacity. Audacity may provide more tinkering options, but they are sometimes too in-depth to come up with a recording in haste.
You can get a professional-sounding edit with Garageband because of the variety of presets available. The one-click compression or EQ presets make Garageband the go-to choice for quick but diverse editing projects.
Related: How Much Does Podcast Editing Cost?
Audacity vs. GarageBand: Audio Recording
During the audio recording process, podcasters usually end up having to combine two or more audio tracks at the same time. You could have voices coming from two different microphones, which all need to be edited into one crisp audio file.
Audacity lets you edit several tracks or even have multiple windows running simultaneously. When dealing with multiple audio tracks, audacity serves more purpose than Garageband.
Garageband still remains a step ahead when you want software that provides professional-sounding podcasts.
Some tools to make your audio tracks sound more professional include the reverb effect, ambiance, delay, and panning.
The reverb and panning effects can make the instruments sound spread out within the tracks to create room for other effects.
Related: Zoom H6 Best Settings for Audio Recording: Get Studio-Quality Results
Which Is The Best For You?
There is no wrong choice when choosing between Audacity and Garageband. The two software choices work well depending on your existing workstation configurations.
If you are looking for a sleek platform with plenty of extras, then Garageband checks all the boxes. Many people use it as a step to more professional audio production software.
If you all need careful audio manipulation, then Audacity should give you a better deal for your time.
Audacity edges it when you are looking for a solution that will record and edit while still giving you limitless avenues to pack a different sound on every other track.
Eventually, everyone has a different approach to podcast editing. Finding software that can make the most of your skill, equipment, and creativity is a plus.