Are you looking for the best audio interface for podcasting? Do you want to make your recordings sound clearer and more professional? And do you want to get the most out of your microphone? Well, look no further! Whether you're just starting out or have been podcasting for a while, this guide will provide you with all the information you need to choose the right audio interface.
We'll discuss what makes an audio interface the best, and we'll look at some of the top options available. Let's get started on your journey to podcasting perfection!
What Is An Audio Interface For Podcasting?
For anyone wanting to start a podcast, one of the most important pieces of equipment is an audio interface. This device is used to connect a microphone to a computer so that it can be recorded. Audio interfaces come in all shapes and sizes, so it's important to choose one that is compatible with the type of microphone being used.
They also vary in terms of the number of input and output channels, as well as the quality of the sound they produce. It is important to choose the right audio interface for the job, as it will affect the overall quality of your recordings.
What Components Make A Good Audio Interface?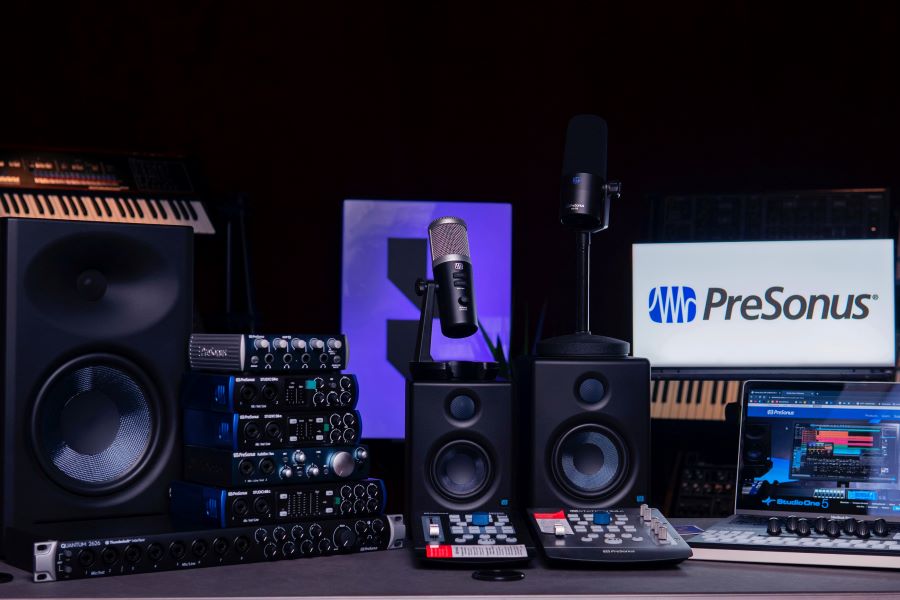 Now that you know what an audio interface is, let's take a look at the features that make one stand out from the rest. Before diving into the specifics of which audio interface is best, it's important to understand what features make a great one.
The Number Of Input And Output Channels
This feature is perhaps the most important one when it comes to selecting an audio interface. The number of input and output channels will determine how many different sources you can record simultaneously. If you plan on recording multiple microphone sources in your podcast, such as two hosts and a guest, then you'll want to make sure that your interface has enough input and output channels to accommodate your needs.
On the other hand, if you only plan to record one audio source at a time, then an interface with fewer instrument input and output channels will be more than sufficient.
Related: Best 8 Channel Audio Interface
Audio Resolution And Sampling Rate
Another important feature is the audio resolution and sampling rate of your interface. The higher the audio resolution, the better quality sound you'll get from your recordings. Additionally, a higher sampling rate means that you can capture more detail in your recordings.
Generally speaking, audio interfaces with higher resolutions and sampling rates will produce better-quality recordings, so you'll want to keep an eye out for this feature.
Headphone Output
A good headphone output is essential for monitoring your recordings and making sure that you're getting the best quality sound possible. This feature is especially important if you plan on recording voices, as it's important to be able to hear your recordings clearly in order to get the best results. And podcasting is all about getting the best results.
Gain Knobs
Gain knobs are used to adjust the volume of your audio source. This feature is essential for getting the best sound quality, as it allows you to accurately adjust the levels of your sources so that they're neither too quiet nor too loud.
If the audio interface you're considering doesn't have gain knobs, it may be worth looking for a different one because this feature is absolutely essential for producing the best recordings.
Phantom Power
The fifth feature which can make or break an audio interface for podcasting is the presence of phantom power. This feature allows you to use condenser microphones that require electrical current or "power" to operate.
Without it, your expensive microphone won't work with most interfaces and so it's important to make sure that the one you choose has this option included. The power is usually provided in the form of a switch on the front or rear panel and is indicated by an icon.
If you plan to use condenser mics, make sure that this feature is present on your interface. This current should be regulated and of good enough quality to ensure that your recordings are clean and distortion-free.
Analog-To-Digital Converter
The A/D or analog-to-digital converter is the component of your interface that converts the analog audio signals from your microphone into a digital format. It's essential to have an A/D converter with high quality and low latency in order to get the best sound quality from your recordings.
The A/D converter should also have a wide frequency response that can capture the full range of sounds in your recordings, from the low frequencies to the high.
So, these are some of the components that make up a great audio interface for podcasting. From the number of input and output channels to the analog-to-digital converter, there are many different features that can help you select the best interface for your needs.
Do I Need An Audio Interface For Podcasting?
The short answer is yes. An audio interface is essential for podcasting as it allows you to record your voice and other audio sources directly into your computer with the highest quality sound possible.
It also provides a direct connection between your microphone and computer, eliminating the need for any additional cables or adapters. The audio interface has become increasingly popular for podcasting as it allows you to easily record professional-level audio without having to invest in expensive sound equipment.
Leaving this important step out of the equation can lead to poor sound quality and a lackluster listening experience for your audience.
The Eight Best Audio Interface For Podcasting
In this section, we'll review the best audio interfaces for podcasting and their features. So, in case you're a beginner or an experienced podcast producer, you'll be able to find the perfect interface for your needs.
1. Focusrite Scarlett 2i2 3rd Gen USB Audio Interface
The Focusrite Scarlett 2i2 3rd Gen USB Audio Interface is a pro-level audio interface that delivers the finest pre-amps, perfect for recording both vocals and instruments. The gain halos make it easy to get the perfect level, while the low-noise design ensures crystal-clear listening.
The studio quality recording at up to 24-bit/192kHz means you can capture your music and podcasts with outstanding sonic qualities. These USB audio interfaces come with everything you need to get started, including a comprehensive manual and software suite.
The interface is also very user-friendly, with clear controls and plenty of connection options. Best of all, this best USB audio interface comes with a three-year warranty so that you can be confident in its quality and performance.
Key Features
2 Scarlett mic preamps with gain halos
24-bit/192kHz resolution
Comprehensive software bundle
USB bus powered
Three-year warranty
2. Focusrite Clarett+ 8Pre 18-in / 20-Out USB Audio Interface
The new Focusrite Clarett+ USB audio interface is a professional quality device that offers eight Clarett preamps with low distortion and ultra-low noise. The all-analog Air-Premium makes it possible to get relay-controlled analog circuitry on every preamp, making it possible to achieve a 4dB boost in the high frequencies.
The new and improved A-D and D-A converters offer extremely high-performance, low-distortion, and low-noise audio with a high dynamic range. This makes the Clarett+ perfect for any recording or live sound situation.
For starters, it has two robust and transparent analog headphone outputs that provide a flat frequency response at all output levels. Additionally, it has an ADAT optical input that allows for eight channels of digital expandability.
Not to mention, the easy-to-use and feature-packed software makes it accessible for computer and iOS device users alike. All in all, the Focusrite Clarett+ USB Audio Interface is an ideal choice for anyone in the market for a new audio interface.
Key Features
High-performance A-D & D-A converters
Eight Clarett preamps with low distortion & ultra-low noise
Relay-controlled analog circuitry
ADAT input for 8 channels of digital expandability
Two powerful, transparent headphone outputs
Easy-to-use software package
3. Rodecaster Pro
It's easy to see why the Rodecaster Pro is one of the most popular podcast production studios on the market. It offers a range of high-quality features that make it perfect for both beginners and experienced podcasters.
The four-revolution mic preamps provide clear, crisp sound, while the Bluetooth connectivity allows you to stream music or other audio directly into the studio. The eight customizable pads make it easy to add sound effects or transition between elements, and the onboard APHEX DSP provides a professional-sounding final product.
Best of all, the Rodecaster Pro is extremely user-friendly, making it simple to get started with podcasting. This is the perfect audio interface for those looking to start their own podcasting production studio. You can also check out our comparison guide on GoXLR vs RODECaster Pro and Rodecaster Pro vs Zoom L8.
Key Features
4 revolution mic preamps
Bluetooth connectivity
8 customizable pads
APHEX DSP for a professional sound
Compact and lightweight design for easy transportation
Related: Rodecaster Pro Preamps: Does a Preamp Improve Audio Quality?
4. Behringer U-PHORIA UMC1820 Audio Interface
The Behringer U-PHORIA UMC1820 Audio Interface is a top-of-the-line audio interface that is perfect for any musician or producer. With 18 inputs and 20 outputs, it is one of the most versatile interfaces on the market.
The audiophile 24-bit/96 kHz resolution ensures that you are getting the best sound quality possible, and the Midas-designed mic inputs preamplifiers with +48 V phantom power provide pristine audio quality.
The interface is also compatible with popular recording software, including:
Avid Pro Tools
Ableton Live
Steinberg Cubase
So you can use whatever software you are most comfortable with. It also has a built-in talkback mic and dedicated monitor section, making it the perfect device to use for podcasting. It is also great for live performances, with its 8 analog XLR/TRS combo inputs and 6 independent outputs that can be used to route channels direct to your PA or recording gear.
For all these reasons and more, the Behringer U-PHORIA UMC1820 Audio Interface is an ideal choice for podcasting. It has everything you need to get your podcast up and running in no time! For further reading, check out our comparison guide on Behringer UM2 vs UMC22
Key Features
18 Inputs and 20 Outputs
Audiophile 24-Bit/96kHz Resolution
8 Analog XLR/TRS Combo Inputs
6 Independent Outputs
Midas Designed Mic Preamps with +48 V Phantom Power
Built-in Talkback Mic and Dedicated Monitor Section
5. Cranborne Audio 500R8 USB Audio Interface
For modern podcasters, having a top-quality audio interface is essential. The Cranborne Audio 500R8 USB Audio Interface provides eight 500 module slots, AD/DA converters, and an internal clock for unbeatable sound quality. The mixer also includes a thuming mixer and monitor controller, dual speaker output, and no latency artist mixer.
This is a whole studio in a box that also includes a monitor controller, 28-segment LED indicators, and a discrete summing mixer. Whether you're a podcaster, musician, voiceover artist, or sound designer looking for an audio interface to fit your studio needs, the Cranborne Audio 500R8 USB Audio Interface is an excellent choice. With its powerful features and incredible sound quality, this is one of the best audio USB interfaces available.
Key Features
8 500 module slots
AD/DA converters
Internal clock for unbeatable sound quality
Thumbing mixer and monitor controller
Dual speaker output with no latency artist mixer
28-segment LED indicators
Discrete summing mixer
6. Arturia AudioFuse Rev2 USB Audio Interface
The Arturia AudioFuse Rev2 USB audio interface is a powerhouse of a device capable of providing up to 24-bit AD/DA converters at 192kHz sampling rates. This digital audio workstation also comes with 2 mic/line/instrument preamps, 2 phono preamps, and ADAT compatibility.
The USB audio interface is also 14-in/14-out, making it one of the most versatile interfaces on the market. Additionally, it is compatible with Windows computers only and can be used with any recording software.
The AudioFuse is an excellent choice for podcasting as it can accommodate both mic and instrument inputs from multiple sources, making it easy to record multiple people at once. It also includes a versatile mix control with several EQ settings, allowing you to fine-tune your sound before recording.
The audio interface comes with a free download of the award-winning Arturia V Collection 7, giving you access to some of the world's most sought-after virtual instruments. With so many features, this one is hard to beat!
Key Features
14-in/14-out capability
24bit AD/DA converters
2 mic/line/instrument preamps
2 phono preamps
ADAT compatibility
Compatible with Windows computers only
Free download of Arturia V Collection 7 included
7. Antelope Audio Zen Go Synergy Core Audio Interface
The Antelope Audio Zen Go Synergy Core USB-C Audio Interface is a top-of-the-line audio interface that offers excellent features and sound quality. This bus-powered audio interface has a USB-C connection for Windows computers/Mac and offers two separate ultra-linear preamps with switchable mic/line, 65 dB gain, and Hi-Z modes.
These preamps offer low noise when recording and console-grade performance, thanks to the 64-bit AFC clocking technology and class-leading AD/DA conversion. The interface also includes 37 Synergy Core circular flow model effects, which can be controlled via user-friendly software.
The Antelope Audio Zen Go Synergy Core USB-C Audio Interface offers great sound quality and a range of useful features, making it an ideal choice for podcasting. It's extremely portable and easy to set up, making it perfect for on-the-go recording sessions.
Plus, its low latency performance and intuitive software make it a great choice for both novice and professional podcasters. Overall, the Antelope Audio Zen Go Synergy Core USB-C Audio Interface is an excellent choice for podcasting.
Key Features
37 Synergy Core analog modeled effects
Intuitive software for easy control
2 ultra-linear preamps with 65 dB gain
Switchable mic/line and Hi-Z modes
USB-C connection for Mac/Windows computers
64bit AFC clocking technology
Bus-powered audio interface
Low latency performance
8. Zoom UAC-2 USB 3.0 Audio Interface
The Zoom UAC-2 USB 3.0 Audio Interface is a high-quality audio interface that supports recording and playback up to 24-bit/192 kHz. It has 2 combos balanced XLR/TRS input connectors and a midi interface. It also has a 2-in/2-out high-speed USB 3.0 Super Speed audio interface. The phantom power for each input is switchable +48V.
This audio interface is perfect for those who want the best quality recordings possible. With its support for high-resolution recordings and quality headphone jack, it will capture every detail of your performance. The USB 3.0 connectivity ensures that you can transfer your recordings to your computer quickly and easily.
It is also easy to use and comes with a free software bundle so you can get started recording right away. With this portable audio interface's outstanding features and high-quality sound, the Zoom UAC-2 is an ideal choice for those who want the best audio interface for their podcasting needs.
Key Features
High-quality audio interface
24-bit/192 kHz recording and playback
2 combo balanced XLR/TRS inputs and a MIDI interface
USB 3.0 Super Speed Audio Interface for fast data transfer
Phantom power switchable +48V on each input
These are some of the best audio interfaces for podcasting. Each one offers great features, sound quality, and user-friendly options that will make your recordings sound professional and polished.
Do I Need A Mixer And a USB Audio Interface For Podcasting?
Yes, it is recommended to use both a mixer and an audio interface when podcasting. A mixer allows you to easily control the levels of your audio sources and mix them together for a perfect sound. An audio interface is necessary for connecting microphones, instruments, and other devices to your computer and recording them with high quality.
Using both a mixer and an audio interface will provide the best sound quality for your podcast recordings. To use both devices together, you will need to use a cable (or adapter) to connect them. Then, you will be able to adjust the levels and mix your audio sources within the mixer while the audio interface records them. Check out our post on Top 9 Best Podcast Mixers and The Best Beginner Audio Interface for Podcasting.
Related: Audio Interface vs. Mixer
What Accessories Do I Need To Podcast?
In addition to an audio interface and a mixer, there are several other accessories that you will need in order to record and produce podcasts. When podcasting, you may also want to consider investing in some useful accessories.
Because an audio interface focuses on the sound quality of the audio, you will likely want to choose additional accessories that can help reduce background noise and improve your recordings. Here are some examples of accessories that are helpful for podcasting:
1. Microphone
Choosing the right microphone is essential for podcasting. You want a microphone that can capture audio without any distortion or background noise. Many podcast microphones are designed with this in mind, and if you're looking to do voice recordings for your podcast, then investing in one of these microphones will be beneficial. Along with an audio interface, you can pick up a great mic then you will have a great-sounding podcast.
2. Pop filter
A pop filter is essential for many podcasts, as it helps to reduce the amount of popping sound from consonants in words. This gives your recordings more clarity and reduces distortion. It also helps to reduce background noise, so investing in one of these can be very helpful. To ensure the best sound quality, look for pop filters that are specifically designed for podcasting.
They should be easy to set up and use and be able to filter out unwanted noise without causing any distortion. Additionally, a pop filter should have a sturdy construction so it can withstand regular handling or wear and tear from recording sessions.
3. Headphones
Having a good pair of headphones is also important for podcasting. Headphones help you ensure that your recordings are clear and free from any background noise. Additionally, they will help you identify any errors in the recording before it gets published. Invest in quality headphones so that you can make sure every detail of your audio is as perfect as possible.
Audio interface technology has advanced significantly in recent years, making headphones an essential component for any podcasting setup. You can choose from a variety of over-the-ear or in-ear models depending on your budget and preference. Pick the one that works best with your audio interface!
4. Microphone stands
A microphone stand can also come in handy for podcasting. A good quality stand will keep your microphone at a consistent height and angle, ensuring that all audio is recorded accurately. It can also help to reduce background noise and vibrations, making sure your recordings have the best sound possible.
Additionally, some stands are designed to help reduce the amount of external noise that is picked up by your microphone. This can be especially beneficial if you're recording in a noisy environment.
5. Speakers
Speakers are an important part of podcasting, and having the right set can make a huge difference in your audio quality. You'll need to determine what type of speakers you need for your setup: powered (active) or unpowered (passive).
Active speakers have built-in amplifiers that boost the audio signal from your portable audio interface, while passive speakers require an external amplifier. Active speakers tend to be more convenient and easier to set up, but they can also be much more expensive than their passive counterparts.
Additionally, powered speakers are usually limited in terms of sound customization options, such as EQ settings, which may not be ideal for a professional podcast setup. Ultimately, the decision will come down to your budget and the type of sound you're looking for.
6. Computer
Having a computer with enough RAM and storage is essential for podcasting. You'll need to make sure your machine has enough memory and processing power to handle audio recording and editing software, as well as any other necessary programs or plugins. It's also important to have a laptop or desktop with good sound quality, so you can ensure your recordings are crystal clear.
No matter what type of computer you choose, make sure it has enough ports and connections for all of your audio gear. Your laptop or desktop should have long battery life and be able to handle multitasking without any slowdown. The bottom line is that your podcasting setup is only as good as the computer you use, so make sure to invest in a reliable machine.
7. Acoustic foam panels
Acoustic foam panels are a great addition to any podcasting setup. These sound-absorbing panels help to dampen sound reverberations and reduce echoes, which can be distracting in recordings.
You can find acoustic foam panels in various shapes and sizes, so you don't have to worry about them taking up too much space in your studio. If you're a podcasting beginner, they make a great starting point for creating the perfect recording environment!
These are just some of the items you'll need for your podcasting setup. Investing in quality equipment with any USB interface can help ensure that your recordings sound as professional as possible. With the right gear and software, you can start producing high-quality podcasts in no time!
Related: Podcast Starter Kit
Wrapping Up
The best audio interface for podcasting is the one that suits your needs and fits within your budget. When shopping for an audio interface, pay close attention to specs like inputs/outputs, connectivity type, and latency, as these will have a significant impact on your recordings. Also, consider other factors, such as compatibility with your software and overall build quality.
The products we mentioned are all great choices for any type of podcaster and will help ensure that you get the best sound possible. With the right audio interface, you'll be able to produce professional-quality podcast recordings with ease.
Related: Top 12 Audio Interface for Mac