Microphone software is one of the most essential tools you need to record and edit voice recordings. Whether you're recording podcast episodes or recording other types of audio, it's important to select the right software for your needs.
In the comprehensive guide below, we'll offer tips to help you choose the right recording software for your project. We'll also recommend our seven favorite software programs, highlighting their features and strengths. Finally, we'll briefly outline other equipment you'll need to record high-quality audio.
Related: Podcast Starter Kit
How To Choose the Best Recording Software
There are many things to consider when choosing a recording software. The following are six important things to keep in mind when making your selection.
1. Pick a program that's compatible with your microphone and computer.
When you have a good microphone, it will most likely be compatible with most programs. However, some microphones work better with certain programs. If the microphone you purchased has a suggested program for recording, you should seriously consider using that program.
It's also important to pick a program that's compatible with your computer. While a few programs are available for both Apple and Windows, many of the top programs are specific to one operating system or the other.
2. Choose a program with the editing features you need.
Recording your audio is just the first step. Once you've created your audio files, you need to be able to edit those files to create the finalized product. While most recording software programs include some editing features, it's important to find one with all the features you'll need.
Most microphone software should be able to reduce background noise and enhance the audio quality. You may want other features, such as transitions and effects. Depending on what you're recording, elements and stylizers may also be helpful features to have.
3. Select a program that lets you store your files locally on your computer.
Your audio tracks need to be saved somewhere. Good microphone software programs will allow you to save your raw recordings and edited files locally on your computer.
If your podcast involves interviewing or recording multiple people, a split-track recording function will allow you to save separate files for each participant's audio. This allows you to better control the quality of the audio between participants.
4. Choose a program with a good digital audio workstation.
While there will be a learning curve with whatever program you choose, there's something to be said about an intuitive digital audio workstation. Take a peek at a program's workstation before committing to the program.
You'll be using the workstation a lot, so it's important to pick a software that has a workstation that you enjoy using. A bad user interface can make it extremely difficult to get things done.
5. Consider your need for technical support.
If you're not very tech-savvy, you might want help troubleshooting programs. If you need the extra tech support, you may need to choose a program that has plenty of resources to help you work through problems.
You should consider the online community resources in addition to the support from the software developer. Some programs don't have as much information from their creators, but their huge online community provides resources and tutorials to help you troubleshoot problems.
6. Find an option that fits your budget.
There are free microphone software programs available, which can be a great way to get started when your budget is tight. If you have the funds to invest, paid software can offer more features and a better user experience.
It doesn't hurt to try the free software programs first to see if you like them. Some of the paid software programs, like Adobe Audition, allow you to try them out with a free trial. Take advantage of these trials to test out programs until you find the right one for your needs and your budget.
Related: How Much is a Mic?
Software Programs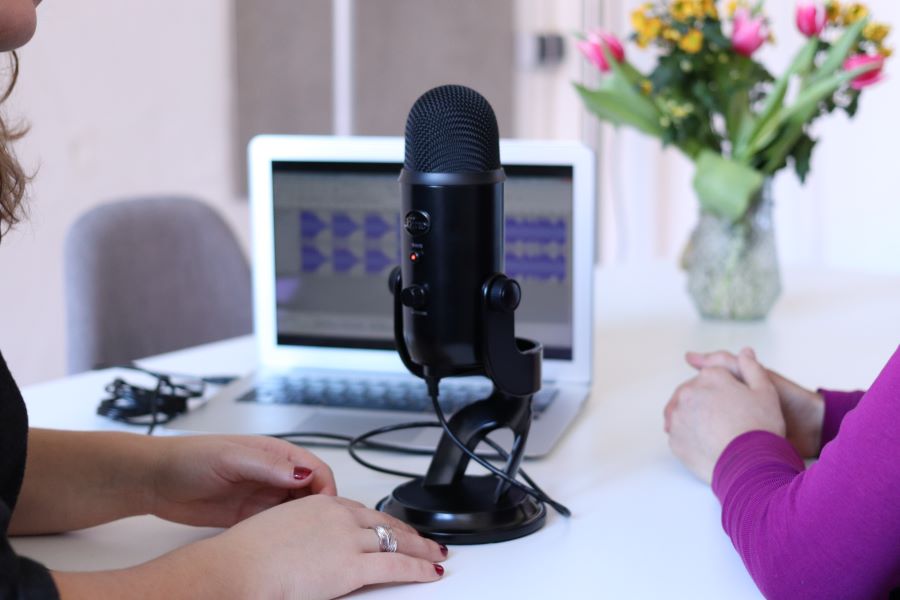 The following seven microphone software programs are all great options, although they each have different unique features. Your specific needs will dictate which one is best for you.
Adobe Audition
Adobe Audition is one of the most popular microphone software programs for a reason. This professional recording software has lots of great features not found in free or inexpensive options. Adobe Audition is the best option for people who don't want a huge cost of entry but don't want to sacrifice quality.
The program itself costs $20.99 per month after a free 7-day trial. If you aren't sure it's the right fit for you, you can always cancel after a month. Adobe Audition has great built-in presets, ideal for podcasters who aren't as experienced. Its varied features and ease of use make it user-friendly without sacrificing recording quality.
Benefits of Adobe Audition
It's compatible with macOS and Windows.
It allows both single and multitrack recording. The batch processing tool also allows you to apply effects to a single file and apply those changes to an entire batch of files.
Noise reduction features allow you to filter out sound. The program also offers advanced compression, an important feature for podcast production.
Since Adobe is a mainstream brand, you'll find plenty of tutorials and support online.
The repair and restoration tools are some of the best available.
Related: How to Use the Speech Volume Leveler in Adobe Audition and How To Use The Noise Gate In Adobe Audition
Equalizer APO
Equalizer APO is a free, open-source software for Windows users. While this program has fairly limited abilities, it is a great choice for audio recording on a budget. It works on the system level, applying changes to your computer's existing audio recording software.
It works by using a preamplification tool to increase your mic volume by boosting weak input sound signals. These microphone boosters can help you make the most of the resources you already have.
Benefits of Equalizer APO
It's completely free.
The analysis panel lets you measure your peak gain, the response time of sound, and latency.
It offers limited sound filtering features that help you filter out certain sound frequencies.
It offers two equalizers (15 and 31 bands) that allow you to control the frequencies of your output audio.
Logic Pro
Logic Pro is an audio editing software ideal for music recording and editing. While its tools are made for music more than podcasting, it still offers a great option for content creators of all types. This fully featured program may be a bit overpowered for your podcasting needs, but that just leaves the door open for other creative endeavors in the future!
It is a macOS program only, so Windows users will have to find another alternative. It also works with GarageBand files, so you can easily transfer things from GarageBand to Logic Pro when you're looking for software with more robust features. Logic Pro costs a one-time fee of $200, making it a bit pricier than other options. However, you get a great value for your money with this program.
Benefits of Logic Pro
It supports 24-bit and 192kHZ recording.
The music editing tools are exceptional, making it a great fit if your podcast involves music.
It offers professional-level recording and editing tools.
The Logic Pro mobile app lets you turn your devices into a second screen.
VOICEMEETER
VOICEMEETER is another free software that specializes in audio mixing and microphone boosting. This software, which only operates on Windows, can help you increase the sound of two separate microphones and one virtual source at the same time.
It can boost both input and output sounds, since it works at a system level to amplify sound. It is limited, though, and you'll have to use another program to record sound.
Benefits of VOICEMEETER
It's free to use.
It allows you to use two mic sources and one virtual sound source at the same time.
This program gives you a decent amount of control when mixing sounds.
You can use it to adjust you but rate, sample rate, and quality of both input and output sound.
PreSonus Studio One
PreSonus Studio One is a great audio software that's compatible with most of the top-rated microphones. It includes custom features to help you create podcasts, voice-over recordings, and even music.
This program is packed with great features that allow you to mix and edit audio recordings from multiple sound sources. You'll have complete creative control over every facet of the editing process with all the great tools packed into this program.
Benefits of PreSonus Studio One
It has extensive controls, including visibility, volume, inserts, cue mix, input controls, and a mute button.
The tools are advanced enough for both podcast and music recordings.
You can edit things with higher precision than other editing software programs allow, which makes it a great fit for perfectionists and audiophiles.
Audacity
Audacity, like Equalizer APO, is an open-source audio editing software that's free to use. It's a great software for beginners who want to give podcasting a test run before committing a lot of money to the endeavor.
This program has all the basic editing tools you need to clean up your recording and piece together podcast episodes. Since it runs on any operating system, you aren't limited by the operating system of your personal computer. As a program with a big social media fanbase, there are also plenty of tutorials available to help you get started.
Benefits of Audacity
It's free software. For a free program, Audacity offers a lot of great tools.
You can choose between 16-bit, 24-bit, and 32-bit recordings.
The program includes a small library of audio effects to use on your audio recordings.
You can export your edited audio into several different file formats. The program supports the most used formats.
Related: How to Cut Audio: Editing in Audacity
GarageBand
GarageBand is a microphone editing software that comes free on Apple's iOS and macOS devices. Although the program is aimed toward musicians and recording artists, the tool offers features that are also good for podcasters.
Since GarageBand also has a mobile app, you can plug your microphone into your phone to create a mobile recording studio. The software also syncs across devices, so you can start editing on your phone and switch to your computer for more in-depth edits.
Benefits of GarageBand
It is free for iOS and macOS users.
You get iCloud backup, so you don't have to worry about how you'll store your recordings.
The program allows you to compress your recordings to create a better overall sound.
The mobile app allows you to record and edit wherever you are.
Related: With GarageBand, Record Multiple Audio Tracks Simultaneously
What Else Do You Need?
If you're getting started with podcast creation, the list of things you need can be a little bit overwhelming. Now that you've learned all about the recording and editing software, you're ready to find out what else you'll need before you can get started.
Microphone
You cannot record a podcast without a microphone. After all, people will be listening to the audio without visual effects to distract them from poor recording quality. Because of this, investing in a high-quality microphone is of the utmost importance.
If your audio quality is bad, no one will care about all the great content you've worked so hard to write and record. There's no getting around it: a good microphone is a necessary purchase.
The best microphone for podcasting is the Blue Yeti. This microphone can provide you with the crisp sound you need to create a professional-sounding podcast.
However, budget constraints may prevent you from taking the plunge with a top-of-the-line microphone. Many podcasters start with a less expensive microphone and work their way up to a more expensive one once they've built up their podcast following.
Related: The Best Microphones For Recording in Podcasting (2023)and Best Microphone Under 100 Dollars in 2023 for Podcasting
Types of Microphones
If you aren't ready to invest in the Blue Yeti, you may be looking at other microphone options. Most microphones have a sample rate of 48 kHz, although high-quality microphones will have a higher sample rate than the standard. With that in mind, the following are four types of microphones on the market.
Large Diaphragm Condenser Microphones
This type of microphone is the kind that probably comes to mind when you think about a microphone for a recording studio. These microphones are huge, providing a professional aesthetic for your recording studio.
They work by using a condenser to turn acoustic vibrations and sound waves into electrical current. Although this provides great sound quality, it also requires a big power source, such as the 48V phantom power.
Large diaphragm condenser microphones are very sensitive, making them ideal for dynamic audio (like voice recordings). They are versatile microphones, allowing you to use them for both your podcast and other audio recording endeavors.
Small Diaphragm Condenser Microphones
Small diaphragm condenser microphones are sometimes called pencil condensers. These microphones are a smaller version of the large diaphragm condenser microphones described above. Although they aren't as big, they're just as useful for podcast recording.
These little microphones have an excellent transient response, consistent pickup patterns, and an extended top end. Most people use them in pairs for studio recording, since they can create true-to-life recordings in acoustic spaces.
Dynamic Microphones
Dynamic microphones are inexpensive, durable, and produce solid sound quality. These microphones are the most used for recording audio. They work by suspending a movable induction coil in the field of a powerful magnet.
While they're most often used for recording instrumental portions of audio recordings, they're versatile enough for recording audio for podcasts. If you plan on adding instrumental recordings to your podcast, they're a must-have item in your toolkit.
Ribbon Microphones
This final type of microphone uses a technology that's been around as long as microphones themselves. Classic ribbon microphones are the type you're most likely to see in old black and white photos of recording artists and radio producers.
The earliest ribbon microphones were very fragile because of the super-thin ribbon of electro-conductive material inside them. Too much movement could cause that ribbon to break and leave the microphone unusable.
While they're still fragile today, advancing technology has made them less so. Their figure-eight shaped polar pattern give the audio a warm sound associated with vintage recordings.
Related: What is Logan Paul's Podcast Microphone? and Best Bluetooth Microphones in 2023: Our Comprehensive Guide
Types of Connections
There are two types of connectors for microphones: USB and XLR.
USB mics plug directly into your computer with a USB port, as their name suggests. These are typically less expensive and easier to use.
XLR mics plug into an audio mixer or another interface. While this gives you better control over the sound, it adds another piece of equipment to your expense list. New podcasters should look into USB mics before upgrading to XLR mics.
Related: Best XLR Cables For Microphones
Accessories
Your computer, microphone, and microphone editing software are all you need to get started. However, there are lots of accessories you can buy to improve the overall quality of your audio recordings. The following are five accessories you may want to help you improve your podcast.
Pop Filter
This small screen helps filter out popping sounds caused by fast-moving air hitting the microphone. These "pops" occur when you pronounce certain sounds, whether you're speaking or singing. Pop filters are a small investment that can make a massive difference in your sound quality.
Related: Blue Raspberry Pop Filter Considerations
Audio Interface
An audio interface, also sometimes called a mixer, is a device that converges your microphone signals into a format your computer and editing software can understand. It also allows you to use XLR microphones and improve your control over every aspect of the recording process.
Related: How to Use Zoom H6 as an Audio Interface in Adobe Audition
Sound Cards
Sound cards are small cards that allow you to increase input and output for the audio signals going to and from your computer. The term "sound card" can also apply to external audio interfaces that are used to create professional audio.
Shock Mounts
Shock mounts connect to your microphone stand and microphone, absorbing shock and vibration. This provides a cleaner, crisper sound. If you're searching for an inexpensive piece of equipment that will provide a major boost to your audio quality, a shock mount might be the right choice for you. They can help you avoid ruining good recordings with sounds from bumping the microphone.
Related: The Best Shock Mounts for Your Rode PodMic and Does Shure SM58 Need a Shock Mount?
Headphones
When you're getting started, you'll probably spend a lot of time working on your podcast alone. Headphones are a great investment that will help you create better recordings. You can use them for tracking or mixing, although the type of headphones will depend on your intended purpose.
Closed back headphones are better for tracking and open back headphones are better for mixing. If you can only afford one, buy closed back headphones. You can always add the open back headphones later on when you can afford them.
Depending on your recording setup, you may need to purchase an extension cable and headphone jack. While most mixers will have a spot to plug in your headphones, you may need to purchase extra hardware to make them work with a more limited setup.