Whether you're an up-and-coming podcaster, an avid gamer, or simply someone looking to improve your Zoom call quality, having a good microphone can make all the difference. And not just any microphone, but one with top-notch noise cancellation. But with so many options on the market, how do you choose? That's what we're here for!
In this guide, we'll take a deep dive into the best microphone with noise cancellation available, dissecting their pros, cons, and unique features while giving you some handy tips to consider when making your choice. So, are you ready to crank up the volume of your audio experience? Let's get started!
Related: Best Microphones For Recording
Best Microphone With Noise Cancellation: Reviews
Just as every voice is unique, so too is every microphone. The challenge lies in finding one that suits your individual needs and matches the quality of your output. So, without further ado, let's look at some top contenders.
1. TONOR TC-777 USB Microphone
The TONOR TC-777 USB Microphone is a plug-and-play device that offers great audio recording quality for amateurs and pros alike. It comes with a tripod stand and a pop filter, making it ideal for podcasting, gaming, voiceovers, and streaming.
It utilizes a cardioid pickup pattern that captures sound directly in front of the microphone while reducing background noise. Furthermore, the microphone comes with a shock mount to minimize handling noise.
Pros
Plug-and-play, no need for drivers
Excellent for beginners
Comes with a tripod stand and pop filter
Good value for money
Cons
USB connectivity only; less versatile than XLR
Audio quality, while good, may not meet professional-level demands
2. FIFINE T669 Microphone Kit
The FIFINE T669 Microphone Kit is an all-in-one package, perfect for those needing a versatile and robust microphone setup. The kit includes a USB microphone, adjustable scissor arm stand, shock mount, double pop filter, windscreen, and USB cable.
The microphone features a cardioid polar pattern for superior focus on sound directly in front of it, minimizing peripheral and background sounds.
Pros
Full kit with everything you need to start
The adjustable scissor arm stand is sturdy and flexible
Excellent value for money
Cons
USB only; less professional versatility than XLR
Audio quality, while great for the price, may not meet professional-level demands
3. MAONO 192KHZ/24Bit Microphone
The MAONO Microphone is a professional condenser microphone with a USB output, perfect for home studio recording, field recording, and podcasting. This microphone features a wide frequency response and professional sound chipset, capturing rich, full-bodied sound from sources that are directly in front of the mic.
Its 16mm electret condenser transducer can hold up to loud sound sources while maintaining a clear audio quality. The microphone also includes a professional sound chipset and a high-resolution sampling rate to give your recordings a smooth, modern sound.
Pros
Wide frequency response and professional sound chipset
Comes with a sturdy, adjustable stand and shock mount
Easy USB connectivity
Cons
No XLR option
The sound quality might not be sufficient for very high-end professional uses
4. Audio-Technica AT2035 Microphone
The Audio-Technica AT2035 is a highly versatile large-diaphragm cardioid condenser microphone meticulously designed to meet the demands of critical home, project, professional studio applications, and live performances. With its exceptional detail and remarkably low noise, this side-address cardioid studio condenser captures every nuance of your audio recordings with impeccable clarity.
In addition to its outstanding performance, the AT2035 is equipped with a switchable 80 Hz high-pass filter, allowing you to effectively eliminate unwanted low-frequency rumble and vibrations. Furthermore, its 10 dB pad ensures effortless handling of high sound pressure levels, making it suitable for capturing dynamic and powerful sound sources.
To further enhance your recording experience, the AT2035 comes bundled with a protective pouch to safeguard the microphone during storage or transportation. Also, the custom shock mount provides superior isolation, minimizing any handling noise or vibrations that could potentially compromise the quality of your recordings.
Pros
Delivers exceptional detail and low noise
Handles high sound pressure levels with ease
Comes with a protective pouch and custom shock mount
Cons
High price point compared to other options
Requires additional equipment (XLR cable, audio interface)
5. CMTECK USB Computer Microphone
The CMTECK USB Computer Microphone is an excellent choice for those who prioritize simplicity and functionality. This microphone's distinctive feature is its mute button that glows red when activated, providing a clear visual indication. It's an omnidirectional microphone, capturing sound from all directions, making it ideal for conference calls or group discussions.
CMTECK's USB Computer Microphone stands out with its unique, compact design and a built-in indicator LED. The plug-and-play feature ensures easy installation and usage, while its ambient noise cancellation technology filters out unwanted background noise, providing you with a crystal clear sound.
Pros
Compact and unique design
Mute button with LED indicator
Omnidirectional sound pick-up
Easy plug-and-play functionality
Cons
The non-adjustable stand could be a limiting factor
The omnidirectional pattern may pick up more background noise than directional microphones
6. ZINGYOU ZY-801+ Professional Studio Microphone
The ZINGYOU ZY-801+ Professional Studio Microphone is designed for serious audio enthusiasts. It's a professional-grade microphone that comes with a full kit, including a pop filter, shock mount, adjustable suspension scissor arm stand, windscreen, and XLR cable.
The ZY-801+ microphone is awesome at capturing sound directly in front of it with its cardioid polar pattern. Plus, it's great at reducing background noise too! This microphone requires phantom power (48V), which can be provided by a suitable audio interface or mixer. Its frequency response of 20Hz-20kHz ensures that your audio recordings have a broad spectrum of sound.
Pros
Professional-grade microphone with a complete kit
Cardioid polar pattern for noise reduction
Wide frequency response
High-quality build
Cons
Requires phantom power, not suitable for simple plug-and-play
Setup may be complex for beginners
7. Heil PR-40 Dynamic Studio Recording Microphone
The Heil PR-40 Dynamic Studio Recording Microphone represents high-end studio microphones. It features a dynamic element with a frequency response from 28Hz to 18kHz, ensuring a full range of audio capture.
The Heil PR-40 excels in producing professional-grade sound quality, offering a smooth, flat response over a wide frequency. It's built to reduce background noise effectively while ensuring the capture of clear, focused sound from the source.
This microphone is excellent for podcasts, voice-overs, and even musical instruments due to its rich, balanced sound and excellent noise rejection. Its steel body and zinc die-cast bottom ring make it a sturdy and durable choice.
Pros
Professional-grade brilliant and transparent sound quality
Wide frequency response
Excellent noise rejection
Sturdy build
Cons
High price point
Requires XLR connectivity and possibly phantom power
8. ECOMXIA 2 Pcs Wireless Lavalier Microphone
ECOMXIA is known for delivering reliable and convenient audio solutions. This 2-pack wireless Lavalier microphone system is no exception, offering excellent sound quality, noise reduction, and an impressive range of features that cater to various audio-recording needs.
The ECOMXIA wireless lavalier microphone system features two wireless transmitters and a single receiver. The wireless design offers the convenience of untethered movement while recording. The kit is suitable for DSLR cameras, smartphones (iPhone and Android), and camcorders, making it versatile and suitable for different use cases.
These microphones come with built-in rechargeable batteries, which can last up to 6 hours. Charging is made easy with USB-C charging ports, and you can even record while charging. A key feature of this system is its real-time monitoring function that allows users to check the recording quality on the go, making it an excellent tool for interviews, vlogging, and more.
Pros
Being wireless, this system offers flexibility and unrestricted movement during recordings.
This microphone is compatible with multiple devices, including DSLR cameras and smartphones.
The real-time monitoring feature allows for immediate feedback on the audio quality.
The rechargeable battery ensures the microphones can be used for up to 6 hours continuously.
The USB-C charging port allows for convenient and fast charging.
Cons
Since these are lavalier microphones, they might not be the best choice for activities that involve high motion due to possible sound distortion caused by clothes rustling.
As with any wireless system, there can be potential interference from other wireless devices.
Being rechargeable, it's important to keep them charged. If the battery runs out during a recording, it might cause inconvenience.
Factors To Consider When Selecting A Noise Cancelling Microphone
Now that we've highlighted some of the top picks let's dive into some factors you should consider when buying a noise-cancelling microphone. Remember, the best microphone for you will depend on your specific needs and circumstances.
Purpose Of Usage
First and foremost, you should consider what you'll be using the microphone for. The ideal microphone for gaming might not be the best choice for recording music or podcasting.
Gaming
For gaming, you want a microphone that captures your voice clearly but doesn't pick up unnecessary background noise. The Razer Seiren X is a good example, as it features a super-cardioid pickup pattern that minimizes background noises.
Streaming and Podcasting
For streaming or podcasting, audio quality is key. Look for a wide frequency range and a good noise-canceling headset, such as the Audio-Technica AT2020USB+ or the Heil PR40.
Type Of Microphone
Next, consider the type of microphone. There are primarily three types: condenser, dynamic, and ribbon. Each has its own strengths and weaknesses.
Condenser Microphones
Condenser microphones are the most common type used in studio settings. These best noise-cancelling microphones are sensitive and capture a wide frequency range, making them great for vocal recordings. However, their sensitivity can be a downside in noisy environments.
Dynamic Microphones
Dynamic microphones are more robust and less sensitive to loud sounds, making them perfect for live performances or in environments with lots of background noise. However, sometimes dynamic mic may not capture the nuances of performance as well as a condenser microphone.
Ribbon Microphones
Ribbon microphones are delicate and known for their warm sound. They're ideal for studio environments and are often used for recording vocals and softer acoustic instruments. However, they can be expensive and aren't the best for noisy or rough-and-tumble situations.
Related: Best Mics for Noisy Environments
Connectivity Options
How you plan to connect your microphone to your recording device is another important factor to consider. The most common types of connections are USB and XLR.
USB
USB microphones are easy to use and don't require an external power source. They're great for portable setups or for people who don't want to invest in additional audio equipment.
XLR
XLR microphones are more professional-grade and offer better sound quality. They require an audio interface for power and to convert the audio to a digital signal, but this also gives you more control over your sound.
Sound Quality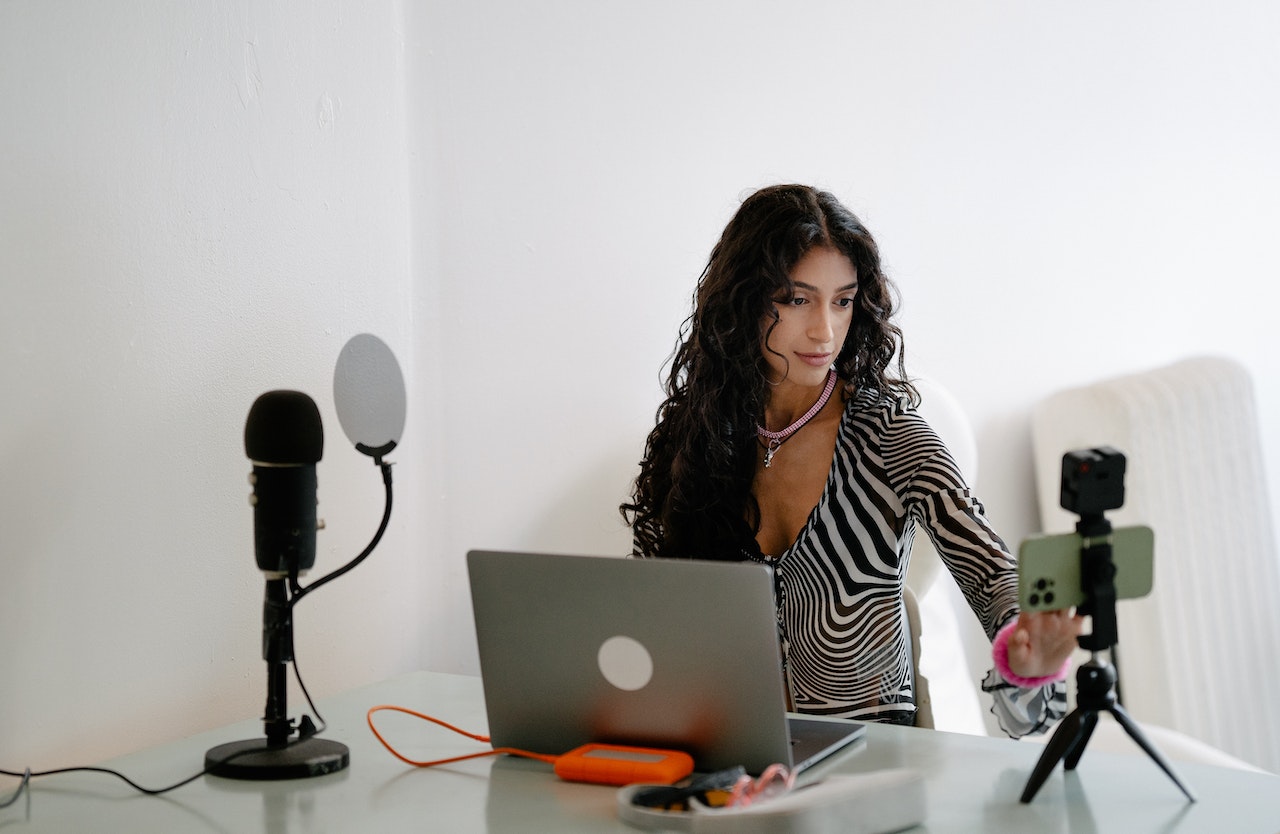 The overall sound quality is a crucial factor to consider. Look at the microphone's frequency response and polar pattern.
Frequency Response
This refers to the range of frequencies, from low to high, that a microphone can pick up. A wider frequency response typically means better sound quality.
Polar Pattern
This refers to the directionality of the microphone, or where it picks up sound from. Cardioid microphones, for example, pick up sound from the front but reduce it from the sides and back, helping to isolate your voice from any background noise.
Build Quality
The build quality and durability of the microphone are another key consideration, particularly if you plan to take your microphone on the go. Look for a sturdy build and durable materials. Some noise-canceling mics also come with extra features like shock mounts and pop filters that can enhance durability and sound quality.
Size and Portability
Depending on your use case, the size and portability of the microphone may be important. If you're a traveling podcaster, for example, you'll want something lightweight and portable. In contrast, if the microphone is in a permanent studio setup, a larger, more robust microphone could be suitable.
Price
Price is always an important consideration. Microphones can range from affordable to very expensive, depending on their features and quality. It's important to set a budget and consider what features and quality you're getting for the price.
Brand Reputation
Considering the brand's reputation can also be helpful. Companies with a long history of making high-quality audio equipment are often a safe bet. Look at reviews and ratings to get an idea of other customers' experiences.
Included Accessories
Many microphones come with useful accessories like a carrying case, stand, shock mount, or pop filter. These can be significant value adds, especially if you're starting from scratch and don't already have these accessories.
Noise Cancellation Capabilities
Lastly, and crucially for this list, consider the microphone's noise cancellation capabilities. Look for microphones with good noise reduction or cancellation features, as these will help ensure your voice comes through clearly, without any distracting background noise.
Conclusion
Choosing the best noise-canceling microphone can seem daunting, given the sheer number of options out there. But with a clear understanding of what to look for and the right research, it's completely doable. Remember to consider your specific use case, budget, and preferences in your decision-making process. And, most importantly, don't rush your decision – take your time to find the microphone that's perfect for you.