Are you aware of the best WordPress themes for podcasts in 2023? From audio players to SEO capabilities, there are a lot of features that make each of the WordPress themes unique. Whether you are just getting started or have had your podcast up and running for a while, having an eye-catching website is essential for success.
We have created a comprehensive guide showcasing the top WordPress themes explicitly designed with podcasters in mind to give you the best options.
In this article, we will provide an overview of key features and benefits to look out for when choosing a theme and showcase some popular choices so you can find one that fits your aesthetic needs.
Read on to learn more about how finding a suitable WordPress theme can help skyrocket your podcast's reach!
Related: Does My Podcast Need A Website? and Podcast Website Examples
Benefits of Using a WordPress Theme for Podcasts
A podcast website is essential for podcast creators who want to reach more listeners and create a professional-looking presence online. Using a podcast WordPress theme makes it easy to showcase podcast content and promote podcast networks with features that are specifically designed for podcasting.
There are many advantages to using a podcast theme in WordPress, as it enables podcast creators to quickly and easily set up their website without knowing to code.
A WordPress podcast theme provides access to a range of features, some of which are mentioned below.
Web Designing Gets Uncomplicated
WordPress podcast themes make it easy to create and design engaging podcast websites. From simple audio podcasts to more advanced video podcasts, the podcast theme on a WordPress site provides valuable tools and an overall simplified workflow for podcast creation.
With a podcast WordPress theme in hand, users can focus on the content of podcasts instead of getting distracted by complicated site maintenance and development tasks.
By providing powerful content editors, galleries, styles, and features – a minimalistic WordPress theme goes beyond ordinary podcast hosting sites by offering complete WordPress integration for superior customization and web design.
Whether you want to start a basic level audio podcast or level up to video podcasting with ease, podcast WordPress themes are the perfect solution for your WordPress site.
Related: Best Podcast Hosting Platforms
Access to Handy Podcast Features
If podcast creators want a seamless podcasting experience, utilizing a WordPress theme is the way to go. A podcast site created with a WordPress podcasting theme offers many advantages – access to handy podcast features, ease of use during podcast production, and powerful podcast promotion capabilities.
To get the best out of your podcast website, you need one of the best podcast WordPress themes on the internet by selecting a free WordPress podcast theme.
With a suitable podcast WordPress theme, podcast creators have everything they need to quickly create and publish an excellent podcast site with minimal effort.
Improved SEO
Utilizing WordPress themes for podcasters can help improve Search Engine Optimization (SEO) for those looking to grow their podcast. Podcasters can access many potential listeners by optimizing WordPress for audio files.
Furthermore, since google podcasts and similar services index WordPress sites, it is likely more manageable for your podcast to be discovered and accessible to more people.
For those wanting an additional boost in SEO results, there are podcaster plugins for WordPress that optimize every aspect of your podcast episodes, maximizing your podcast's reach.
Tech Community Support
Not only does a WordPress theme provide a beautiful and easy-to-use design for your podcast, but the podcasting builder plugin offers technical support from a fantastic tech community and a bunch of helpful resources – all included in one package!
With these integrated tools, you get knowledgeable advice and quick, actionable steps to take your podcasting experience to the next level. Whether you are new to the game or an experienced pro, even a free WordPress Theme makes podcasting accessible to everyone.
Related: Best Squarespace Templates for Podcasters
How To Choose the Right WordPress Theme for a Podcast Website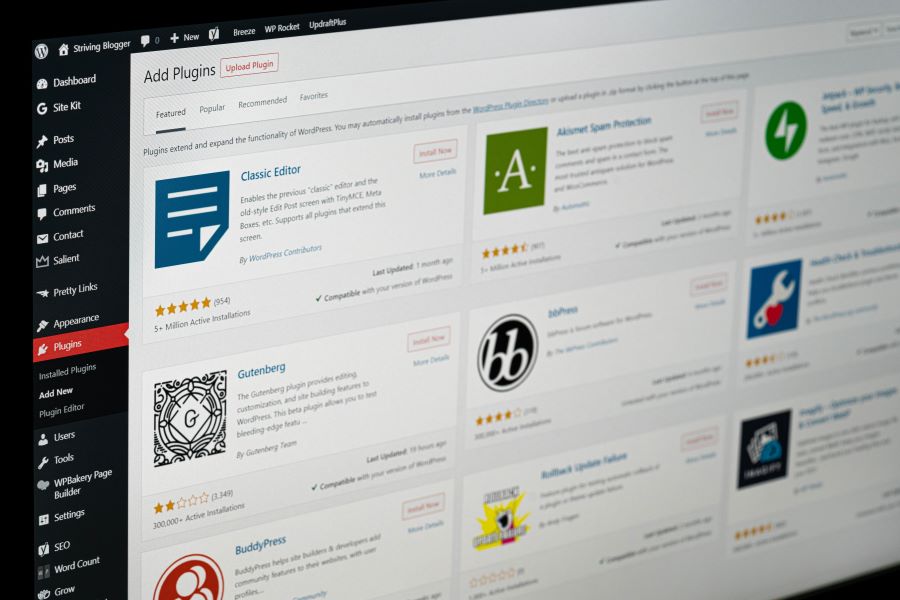 Choosing a suitable WordPress theme for your podcast website can be daunting. You want to ensure that it looks professional and has all the podcast plugins needed to support your podcast content. An ideal podcast WordPress theme will provide features such as social media integration, blog post templates, and an audio player so you can easily feature your podcast on your website.
Think carefully about what features you need and explore all options available until you find the perfect podcast WordPress theme fit for your podcasting needs.
Let us look at some significant features for choosing a suitable WordPress theme for your podcast.
Appropriate Layout
A multipurpose WordPress theme will allow you to present all the necessary components of your website in an organized and user-friendly way. With the variety of page templates available, you'll be able to create a layout that reflects the aesthetic and functionality required for your podcast site.
Page layouts help guide viewers through different menus, widgets, and content to access all components of your site quickly and easily. Spend some time exploring a flexible WordPress theme that offers unique page templates and customizability to meet the needs of any website design or layout challenge.
Customization Option
Customization options are essential when looking for a theme specialized for podcast websites.
A great podcast theme should have podcasting plugins that keep you connected to popular podcast networks, such as Apple Podcasts, Google Podcasts, and Google Play Music.
Additionally, having good customization options helps you organize a comprehensive podcast archive of all your past shows, allowing listeners to access previous episodes – creating a more user-friendly experience.
Functionality
Choosing a suitable WordPress theme for your podcast website is vital to ensure that it meets all your needs.
Functionality should be a priority when selecting the perfect theme; a free version often comes with limited features, so consider upgrading to a paid version if you want more versatility and customization.
A WordPress website is an excellent platform for hosting podcasts, and many free themes make it straightforward to import episodes easily via Apple Podcasts or other podcast services.
You'll also be able to create custom pages and interactive media (such as quizzes or polls) with specific podcasting themes, which can further engage your audience and increase listening rates.
Ask yourself what Elementor page builder capabilities are necessary to meet your vision for the site, and make sure it meets all of your functionality needs.
User-friendly
User-friendliness should be essential when selecting a suitable WordPress theme for a podcast website. A good theme should make audio playing easy for visitors without overwhelming them with too many features and functionalities.
Audio plays a significant role in creating a podcast website, so an audio player option must be in the chosen theme. Further, search engine optimization capabilities can give the website a better ranking and visibility.
The WordPress theme also needs multiple layouts for adding certain features per taste, but it should not take a lot of time and effort to manage those changes – just a few clicks or taps are all necessary!
Compatibility
Regarding best practices for creating a podcast website, compatibility is paramount. After all, the best WordPress themes for podcasting will make your audio and video content sound great, display smoothly on any device, and come with the best podcasting plugins for efficiently managing page structures, featured images, and integrating media platforms.
As you search for the perfect theme for your podcast page, look out for features like support for video backgrounds, page builder compatibility to create a stylish podcast image, and Theme Checker-verified standards.
By selecting a WordPress theme that meets all these criteria and is compatible with all the best podcasting plugins, you can create an engaging platform for showing off your video or audio content.
Eight Best WordPress Podcast Themes in 2023
Podcasting is a popular way to share information and opinion with audiences nearby. If you are interested in starting your popular podcast, having a reliable WordPress theme is essential for success.
Let us look at some themes with customized homepage layouts, which can be arranged effectively using popular page builders like the Elementor plugin.
The designs of these podcast themes also look appealing on search engines and impress visitors when they first enter your website.
Tusant
Tusant is famous among podcasting professionals for its ease of use, for example:
It supports popular podcasting plugins, making it quick and easy to stream any episode of your podcast from the website.
It allows unlimited episodes on your site, with customizable media players wherever you want to display them.
It offers support for the Elementor page-building plugin to incorporate your branding and imagery without any coding experience required.
No matter how big or small your podcasting venture may be, Tusant provides a complete package for creating websites explicitly tailored to podcasting, streaming music, or streaming video content.
Podcaster
Podcaster is everything you need to get up and running with a podcast-style website quickly and easily.
It comes with an array of designs for your homepage, podcast archives, and author pages, so starting from the very first steps is straightforward.
Your podcast's homepage can be highly personalized; it can feature a fully featured audio player, links to podcast repositories, and blog posts, enabling visitors to engage with your podcast in whichever way they choose.
Podcast plugins such as Seriously Simple Podcasting integrate perfectly with the Podcaster theme, and any other good podcast plugin should also work.
When adding new episodes, you can choose a featured image, provide a description, and show notes for each episode.
The theme customization options ensure you can match your podcast website's font, colors, logo, and header to your podcast's branding.
Updating Podcaster regularly with improved features allows podcast makers to create their desired modern podcasting site with WordPress without complication.
Podcast Master
For podcasters, Podcast Master is the ideal WordPress theme.
With its modern design and magazine-style layout, you can create visually appealing websites for all your podcasting needs.
It offers support for unlimited episodes, keeping up with your podcast listening demand no matter how many episodes you have.
The custom post types provide an organized structure to store and display information on your site – essential to present content cleanly and efficiently.
Multiple templates are included within the package that allows you to customize a dedicated podcasting page while staying true to your existing website's design.
Organizing your episodes with Podcaster is easy, thanks to its range of custom WordPress taxonomies, such as podcasting categories and tags.
It allows you to create distinct podcast channels with separate pages for each type, resulting in a great user experience for your visitors.
The theme includes a stylish new player for visitor listening, so you can offer direct access to your audio files on the website without relying solely on podcast hosting services.
There are plenty of features when setting up your website, too – eight pre-designed blocks, a lead capture form, and more give you the ability to shape your site the way you desire.
Share your pride and joy with an 'As Featured In' section with external icons to show off all the places where you've been featured!
Divi
With Divi as a Podcast WordPress theme, you can launch your podcast website quickly.
It includes templates for displaying individual episodes with built-in podcast players and offers ready-made lists of episodes to give visitors an overview of all your content.
There are about, home, contact, and landing pages for various purposes.
The Divi is a multipurpose theme, meaning hundreds of other website packs can be quickly added as required.
The Divi Builder tool is a powerful asset that makes changing any template quick and straightforward.
You can access and edit the settings, headings, images, buttons, and content without having to use any coding or development knowledge.
The intuitive user interface offers complete control over page elements with a few clicks.
Drag-and-drop to add content from over forty design modules, or use the customizer to personalize your page's look and feel.
Modifications are easy, and you can experiment with various arrangements until you achieve your desired design outcome.
Divi Builder is your perfect companion for bringing any template to life quickly and efficiently with beautiful results.
Monochrome
Monochrome from StudioPress is the perfect podcast website theme for those looking for a minimalist design.
Its signature white space and elegant typography create the perfect opportunity to make your content the center of attention.
This powerful podcasting website theme also has a customizable header, a widgetized homepage, and built-in social media icons, allowing you to customize your podcasting experience fully.
Monochrome is part of the WP Engine, so you can access all 35+ StudioPress themes when you sign up with them.
With outstanding performance and speed, Monochrome will help make your podcast site stand out!
Dixie
Dixie is the perfect WordPress theme for those looking to share their latest audio content with the world.
It will boast a classic design and a powerful, fully-featured audio player and help you attract and maintain a large base of followers.
It also seamlessly integrates with popular services like Libsyn, Podbean, and Spreaker, so you can control how your content is shared.
The homepage layout gives you several options to connect with your audience and promote upcoming episodes.
It includes a main homepage header section featuring a player to quickly find the newest episode series and areas for displaying team profiles, publishing information about your podcast, and inviting visitors to join an email newsletter.
The Dixie package also integrates with all popular email marketing services, so connecting your newsletter service account to your website is easy.
Along with the theme comes the powerful Elementor drag-and-drop page builder tool, which allows you to open any of the included Dixie page templates and start editing them on an intuitive frontend user interface – making crafting your perfect design for a podcast site achievable.
Dixie has everything if you need an easy way to build your podcast's visibility!
Satchmo
Satchmo is the perfect WordPress theme for podcasters and vloggers, boasting a beautiful and modern design.
An eye-catching background image and call-to-action button serve to draw attention to your content. These features work with the latest episode widget to provide prominence to the episodes you want to share the most.
A classic episode player ensures a stunning experience for viewers regardless of their device.
Customizing Satchmo's layout is easy with popular drag-and-drop page builders such as Elementor or Visual Composer.
You can upload your podcast files directly onto your website or through external hosting sites such as SoundCloud.
Overall, if you are looking for an efficient way to showcase your podcast network, then Satchmo is worth exploring.
Castilo
Castilo is the perfect platform for existing podcast creators and newbies, aiming to make launching a professional WordPress website for your podcast seamless.
Its built-in drag-and-drop page builder makes it easy to customize the existing templates provided to fit your needs.
The free version gives you complete control over your RSS feeds, helping you distribute your library of podcast episodes quickly and easily.
Castilo even supports importing existing podcasts published elsewhere on other platforms, so you can continue growing your list of followers without missing out or creating a gap in content.
Automation can be enabled, allowing users to ensure their site stays updated each time a new episode gets released.
Castilo comes with various crucial design elements, including templates and customizable layouts, so users can create the website they have imagined without too much effort.
Paste its RSS feed into their favorite podcast app, and they'll be able to tune in quickly.
Its social media integration makes it easier for you to share your content with leads, email newsletter signup forms increase engagement, and its impressive selection of sidebar widgets lets you customize your website to best reflect your brand.
Disadvantages of Using a WordPress Podcast Theme
WordPress podcast themes are great for creating a professional website for your podcast without having to learn complicated coding or programming. However, there is a downside to using these magazine-style themes, and WordPress podcast themes are no different, as there is a wide array of potential disadvantages when utilizing them, some of which include:
While these WordPress themes may help you customize your site quickly and easily, they may also cause certain limitations in design or flexibility if something unexpected comes up.
While WordPress podcast themes come with pre-defined designs that you can use as is or modify, they offer a different level of control than a web designer or programmer can provide when designing the ultimate website experience.
Due to their popularity, pre-built templates for WordPress can be more susceptible to security threats and compatibility errors due to outdated coding.
Care is essential to avoid pirated and hacked templates that can bring unexpected pitfalls.
Although WordPress podcast themes come with some risks, designers continue to build robust websites utilizing them, proving their longevity and usability within the industry.
Choosing The Perfect WordPress Podcast Theme
The WordPress podcast theme you choose will depend on your podcast's budget, design preferences, and specific features. That said, WordPress has many great options for podcasts; from professionally designed WordPress themes to free WordPress themes, there is a wide range of WordPress podcast themes available online.
When selecting a WordPress theme for podcasts, ensure that it is responsive and compatible with podcast audio players and RSS feeds. Additionally, look for free demo content to check out the WordPress theme before purchasing one of the best podcast themes.
Ultimately, your podcast website needs to look good, function well, and promote your content.
The best WordPress podcast theme will help you accomplish all three goals easily. They come with RSS feed-ready designs, drag-and-drop page builders, mega menus, and other magazine theme feature that allow you to customize your site quickly to your podcast.
Choose the suitable WordPress theme, and you won't have to worry about creating your website from scratch-there are some top-notch WordPress podcast themes available – take your time to research so you can find the optimal one!