Are you looking for inspiration or examples for the design of your podcast website? If so, you've come to the right place! We've rounded up a selection of stunning podcast websites from around the web that will give you ideas and tips on making yours stand out.
These examples are a great starting point if you're looking for creative visuals, clever typography, or simple yet effective techniques. So sit back and get ready to take some notes as we explore what makes an impactful design in podcasts today!
Related: Does My Podcast Need A Website?
What is a Podcast Website?
A podcast website is a digital platform where one can post audio files of podcast episodes and provide additional content related to the podcast, such as transcripts, show notes, photos, and videos.
It is also a place for podcast listeners to connect with the podcast host and other people interested in the same topics.
Podcast websites allow podcast creators to:
Establish an online presence
Establishing a personalized website for your podcast allows you to expand its online presence and promote it utilizing your marketing savvy.
With this setup, all important links and related information are easily accessible, making it easy for listeners to stay up-to-date on the latest episodes of your show.
Provide an organized platform to host podcast episodes
You can easily organize and host podcast episodes and other materials, such as transcripts and show notes, by using podcast websites.
Grow a podcast fanbase
Podcast websites can be used to build a podcast fanbase. This is done by providing podcast listeners with a place to connect with the podcast host and other podcast listeners. Additionally, podcast websites can be used to promote podcast episodes and engage podcast listeners through interactive content.
Generate podcast revenue through ads or subscriptions
Podcast websites can also be used to generate podcast revenue. This is done by providing podcast listeners with the option to purchase ad space on the Website or subscribe for additional podcast content.
Connect with podcast sponsors and guests
Podcast websites can provide podcast creators with a platform to connect with podcast sponsors and guests. This is beneficial for podcast hosts as it allows them to promote podcast sponsors easily and have podcast guests join the podcast remotely.
Related: Best Website Builders for Podcasts
Difference Between a Podcast Hosting Site and a Website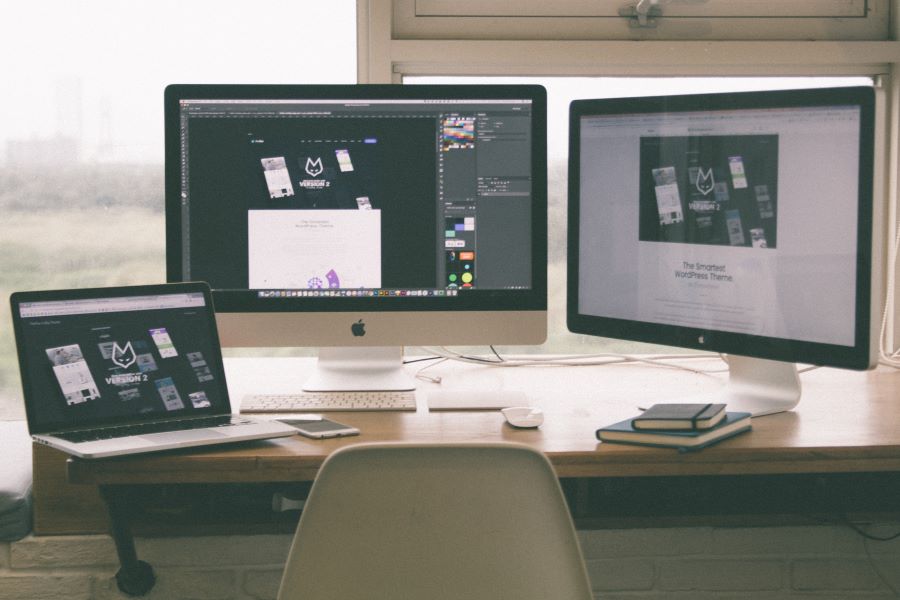 A podcast hosting site is different from a podcast website.
Podcast hosting sites store podcast audio files and provide podcast creators with a platform for podcast distribution.
On the other hand, podcast websites provide podcast creators with a platform to display said podcast episodes and additional podcast content such as transcripts, show notes, photos, and videos. Podcast websites are also used to build podcast fanbases and generate podcast revenue.
Let's explore some podcast website examples.
These podcast websites are a great source of inspiration and creativity, showcasing podcast creators' unique approaches to designing their podcast websites.
So without further ado, let's dive in and explore these podcast website examples.
17 Inspiring Examples of Podcast Websites
Here are some of the great podcast website examples:
#1. The Cliff Ravenscraft Podcast
Ravenscraft's website is a hub for entrepreneurship, offering a range of podcast shows with over 30 and 3600 episodes total. These shows delve into subjects such as business, technology, entertainment, family, and faith. This impressive collection of content makes the website a powerful resource for those looking to learn and be inspired by entrepreneurship.
His podcast website design is clean, speedy, and simple.
By getting directly to the point and including a compelling Call-To-Action, Ravenscraft has found an effective way of informing potential customers. It's a great podcast website example!
What's Unique:
Optimized for fast loading speed.
Captivating CTA near the top of the page to draw in more customers.
Irresistible lead magnet to grab audience's emails and build a connection with them.
#2. Full Mutuality Podcast:
Gail and Nate, the hosts of the Full Mutuality podcast, are on a mission to reveal injustices in our society—particularly Evangelical Christianity.
Through written material and conversations with experts from varying backgrounds, they explore systemic inequalities and how we can bring justice into oppressive environments.
What's Unique:
On the homepage, a bold graphic/banner that prominently displays the podcast name is featured to maintain cohesion with all other brand colors adorning this Website.
An attractive audio player pops up as soon as the page loads, encouraging listeners to start playing the latest episode and allowing them to keep listening while navigating other pages.
Have essential features of a "Donate" button and "Voicemail" recording widget, showcasing all guests on one page alongside an intake form and individual guest page.
#3. The Mixergy Podcast
Mixergy allows listeners to gain insight and knowledge from successful businesspeople like Barbara Corcoran, Paul Graham, and Gary Vaynerchuk—the challenges they have overcome, their stories of success, and how they achieved the high-level positions that they currently hold.
What's Unique
The podcast promises to be aesthetically pleasing and immediately engaging, with a vibrant color scheme and an obvious call-to-action featured prominently.
Before each podcast, a summary outlines the topics discussed and briefly introduces the guest. This gives listeners an idea of what they can expect from the episode.
An opt-in form also pops up for selected content.
#4. Talking Sopranos Podcast
Michael and Steve, the hosts of Talking Sopranos Podcast, delve deep into each episode to provide their fans with informative details to which only insiders would have access. From behind-the-scenes narratives to fascinating facts – they cover it all!
The Website also features interviews with the entire cast, producers, writers, and crew of 'The Sopranos' as well as exclusive special guests. The podcast episodes are also available on Spotify, Apple podcasts, and Google podcasts.
What's Unique?
The website color scheme perfectly represents the podcast artwork, utilizing the same red, black, and white hues.
The episode are immediately accessible on the homepage
Rather than a conventional podcast player, Simplecast features an embedded player that sets itself apart.
#5. Feel For The Game Podcast
Tune in to Nick and Noah's show as they explore the emotional impacts of sports. Uncover the stories behind specific moments that altered games, shaped culture, or left a lasting impression on their own lives.
This is not your typical sportscast – it's a unique combination of sports analysis and emotion-driven storytelling that will give you an entirely different perspective on how sports can connect us all.
What's Unique?
A podcast that explores how sports brings people together through an emotional lens.
The podcast website features a unique banner image and layout to attract listeners with its bold colors and design.
The podcast player is integrated into the homepage, so listeners can start playing the show immediately.
Episode transcripts are available for those who prefer to read along as they listen.
To make sure that each episode is accessible, the podcast also provides Spanish translations for its episodes.
#6. The Newsworthy Podcast
The Newsworthy Podcast, hosted by Erica Mandy, covers the day's top headlines and features in-depth conversations with reporters, journalists, and political commentators. Their mission is to make staying informed an enjoyable experience with their FAST, FAIR, and FUN approach.
The Website provides you with a comprehensive overview of the daily news – covering diverse topics ranging from politics to technology, entertainment, and more – in only ten minutes per weekday! Best of all? They always maintain impartiality while providing this service.
What's Unique?
The podcast website is designed with a minimalist aesthetic, featuring bold colors such as navy blue and white.
The podcast artwork stands out against the background color scheme, and the CTAs are highlighted in an eye-catching orange.
On top of that, they also have links to their social media profiles around the podcast player so listeners can follow them on their other platforms.
In addition, podcast summaries, guest biographies, and episode-related blog post links are also provided alongside each podcast episode. This allows listeners to easily access additional information related to the podcast in a single click. This adds an extra layer of engagement for potential listeners.
#7. Office Ladies Podcast
Office Ladies podcast is hosted by Jennifer Aniston and Angela Kinsey, former co-stars of the beloved NBC series The Office. They rewatch episodes, share behind-the-scenes stories, answer fan questions, and interview cast members from the show.
What's Unique?
The podcast website beautifully displays podcast artwork with a slate gray and white color palette.
All podcast episodes are listed in chronological order so listeners can easily find what they are looking for.
The podcast player also has an eye-catching design that features Aniston and Kinsey as avatars to start each episode as if you're listening to them directly in person!
It also includes a useful visual timeline that helps listeners navigate through all the content in the episode.
#8. Smart Gets Paid Podcast
Established in 2015 by esteemed sales authority Leah Neanderthal, Smart Gets Paid aids women to confidently and consistently acquire new clients for their consulting businesses.
With the aid of coaching programs and resources, these female entrepreneurs receive more positive responses from potential customers – all while commanding a much higher fee for each relationship.
What's Unique?
Offering a mesmerizing color palette set against a grid layout, the Smart Gets Paid podcast website captivates visitors with its stunning and interactive design.
The hamburger menu in the top-right corner and sticky navigation bar guarantees a quick user experience, so the visitors can swiftly locate what they are searching for.
The Smart Gets Paid podcast website demonstrates the power of having multiple subscribe links, making it effortless for visitors to select their preferred listening platform.
#9. The Serial Podcast
The Serial Podcast, hosted by Sarah Koenig, is a true crime podcast that explores one case per season in great detail, examining all of its nuances.
This website is custom-made, so you can't use the same platform or template, but it can still be a great source of inspiration for learning and borrowing ideas.
What's Unique?
As you scroll down, an entire list of podcast episodes is displayed before you; with just one click, you can easily download and subscribe to the show on their social handles.
Each episode contains a concise summary crafted to entice the viewer and an image that reflects the theme of each episode. This is strategically designed with one goal in mind – to prompt viewers to hit play!
When you hit the play button, an audio strip will appear on top of your screen – meaning that you can keep reading or explore the Website without pausing your episode.
#10. The It's a Monkey Podcast
It's a Monkey Podcast powered by ManageFlitter! Every week, Kevin Garber interviews some of the most distinguished technology leaders around the globe and keeps listeners updated on all current news regarding the tech economy.
Join them for an insightful look into today's ever-evolving digital landscape – you won't want to miss it!
What's Unique?
A compelling header image sits atop the Website, communicating to visitors what they can expect from their experience.
At the bottom, you'll find a section labeled "Tweets from our Listeners," and just above that is an exciting news strip slide that showcases the names of some of our incredible podcast guests.
The website design is clear, straightforward, and mobile-friendly, ensuring a smooth user browsing experience.
Each installment is accurately labeled with a concise summary to make it easy for visitors to understand the episode content without feeling overwhelmed.
#11. Curious Minds At Work Podcast
Gayle Allen is the mastermind behind Curious Minds at Work, where her strength lies in connecting similar-minded individuals and resources that promote their aspirations. She also loves deciphering research into practical applications.
When she's not engaging with guests or delving into books from them, you can discover Gayle assisting international management groups and their workers in performing optimally.
What's Unique
The latest episode of the podcast is always prominently displayed, with its title adjacent at the top of the podcast page.
Make signing up easier with a subscribe button that stands out from the homepage.
The podcast website has a modern look with plenty of white space, bright colors, and imagery.
The podcast player includes a handy "bookmark" feature where listeners can save their favorite podcast passages for future reference. It also has a "favorite" button at the bottom so listeners can easily rate particularly helpful or inspiring episodes.
#12. My Favorite Murder Podcast
Karen Kilgariff and Georgia Hardstark have set the bar for true crime comedy podcasts with My Favorite Murder.
Since its launch in January 2016, this one-of-a-kind show has shattered global download records and formed an avid fanbase of devoted listeners known affectionately as "Murderinos."
What's Unique?
With the My Favorite Murder website, discovering what you're searching for has never been simpler!
With a well-thought-out visual branding design, the Website encourages visitors to take action immediately.
Step onto the homepage and explore our latest podcast episodes and awesome merchandise offers.
Paying subscribers exclusive access to a member's area where they can enjoy additional content.
#13. Podcastica Podcast Network
Podcastica is a podcast network that allows podcast creators to host, promote and make money from their podcasts. The Website showcases a variety of podcast topics, allowing visitors to explore the podcast library and find their next favorite show.
What's Unique?
At the forefront of our homepage lies a clean and streamlined design featuring multiple podcasts at the very top. Following that is an extensive compilation of episodes from all featured shows right beneath it.
Keep your audio playing across all pages of your Website with an uninterrupted, persistent player.
A single page featuring every Podcast episode and dedicated pages for each installment.
Abundant content, transcriptions, and hyperlinks.
#14. Jocko Podcast
Jocko Willink, a retired US Navy SEAL Officer and podcast host, talk about his experience in the military as well as lessons from business, philosophy, mental toughness, and more on his podcast, Jocko Podcast.
This podcast website is designed to be informative and inspiring for podcast listeners worldwide.
What's Unique?
The thrilling grid layout on your Website creates an exciting cinematic experience, captivating viewers as they explore the depths of their journey.
Jacko Podcast presents a captivating experience for its guests with the help of an all-black backdrop and greyscale imagery. The result – is a distinct, immersive atmosphere that everyone will surely enjoy!
#15. Gabby Bernstein
Dear Gabby is a weekly show that provides compassionate real-time coaching and honest advice to help you live your best life.
Gabby Bernstein's podcast inspires listeners to create a life they love by offering practical and spiritual advice. Her podcast website spells out her message at the top of the homepage, creating an inviting atmosphere and giving podcast listeners something to look forward to.
What's Unique?
During each thrilling episode, the host provides listeners with life-altering advice through stimulating and candid Q&A sessions.
The podcast website is designed with vibrant colors, a clear podcast player, and a podcast episode search bar to make it easier for listeners to find what they're looking for.
The podcast website also allows podcast listeners to sign up for a newsletter and get exclusive content not available anywhere else.
The podcast also offers podcast listeners the option to rate individual podcast episodes with a simple click of a button at the bottom so they can easily rate those they enjoyed and share their podcast experience with others.
#16. The Being Boss Podcast
Emily Thompson is the co-founder and driving force behind Being Boss, a helpful platform for creatives to learn, listen and collaborate.
Being Boss has been downloaded over nine million times, reaching creative entrepreneurs worldwide. They provide resources to help launch and cultivate a successful business venture, from growing your company to managing its operations.
What's Unique?
This podcast website stands out from the crowd with its vibrant color gradient, user-friendly interface, and comprehensive layout.
The homepage is neatly divided into seven distinct sections, each having its own call-to-action (CTA) to enable users to explore and discover topics relevant to the podcast.
From the very name, it's abundantly clear what Being Boss is all about – business and entrepreneurship. A simple glance at its landing page confirms this assumption beyond any doubt.
Our entire collection of content is conveniently organized into easily navigable categories and subcategories to ensure you find what you need quickly.
#17. Joe Rogan Experience
Joe Rogan's podcast, The Joe Rogan Experience, is one of the world's most popular podcast series, with millions of listeners every week.
With conversations that range from sports to comedy, it's no wonder why podcast listeners flock to the podcast website for new episodes every week.
What's Unique?
The podcast website is designed with a bold, clean, and modern aesthetic, emphasizing Joe Rogan's dynamic personality and his interests in stand-up comedy, martial arts, boxing, and more.
The podcast website encourages podcast listeners to browse by topic or search for specific topics using the Search Bar feature at the top of the page.
The podcast website also offers podcast episode transcripts and video footage for viewers interested in exploring further into each episode.
How to Make a Podcast Website?
Are you ready to launch your podcast website? There are a few simple steps you can take to get started:
Register a domain name.
Choose a podcast hosting service.
Design and set up your podcast website layout.
Integrate podcast audio files and podcast RSS feed into the Website
Set up podcast subscription links for Apple, Google, and Spotify.
Additionally, consider expanding your podcast with blog posts, a merchandise shop for podcasters, or even press material.
Related: How to Embed a Podcast from Libsyn to Your Website
Must Try Podcast Website Tools
Creating a podcast website doesn't have to be difficult. Here are some handy tools you can use:
Squarespace – Squarespace offers podcast website templates with built-in podcasting capabilities. You can get ideas from our list of best Squarespace templates for podcasters.
WordPress – With WordPress, you can build a podcast website from scratch and add podcast functionality using plugins. You can also check our list of best WordPress themes for podcasts.
Buzzsprout – Buzzsprout provides podcast hosting and website templates to help you get started.
WebFlow – WebFlow allows users to design the best podcast websites with custom designs and features, so it's perfect for more advanced podcasters.
Wix – Wix offers podcast website templates and podcast hosting services so that you can create a podcast website quickly and easily.
Conclusion
These podcast websites examples demonstrate how to create an effective podcast website that is engaging, professional-looking, and easy to navigate.
With the right design and features, own podcast website can be a powerful tool for content creators to promote their podcasts, engage with listeners, and grow their audience.
Whether you're just starting or looking for ways to drive more engagement with your podcast website, these best podcast website examples are sure to inspire!
Frequently Asked Questions (FAQs)
Q: What should I include on my podcast website?
A: The key components of a podcast website are a podcast player, podcast episodes and descriptions, podcast artwork/graphics, a mailing list sign-up form, and social media links. Depending on your podcast topic, you may also want to include blog articles or additional resources related to the podcast.
Q: How do I design my podcast website?
A: A great way to design your podcast website is using an easy-to-use platform like WordPress or Squarespace. These platforms make it easy to add custom elements and features to your site and ensure that it looks professional and polished. Additionally, use compelling visuals alongside podcast content, such as images or videos.
Q: How do I drive more engagement with my podcast website?
A: To increase engagement with your podcast website, consider adding interactive elements such as polls, surveys, or contests. Additionally, use social media to promote podcast episodes and encourage listeners to share their thoughts about your podcast on their accounts. Finally, regularly update the podcast website with new content or features, so visitors have something new to explore every time they visit!