A single Bluetooth® speaker won't provide an authentic surround sound experience, but you can change that by connecting more than one to an iPhone.
If you have a later model iPhone or an app that lets your Bluetooth speakers piggyback on each other, it is possible to connect multiple units to a single mobile device. You must have Bluetooth 5 and iOS 11.4 or later installed for this idea to work without additional equipment or software.
When that technology isn't available, you can still connect multiple speakers to an iPhone with options like Ultimate Ears, AmpMe, or Bose Connect. It helps to have a wireless router available to ensure all the devices can speak with each other.
Once you have the equipment, you can follow these steps to create your desired connection.
Related: How to Listen to Podcasts and Music at the Same Time
How Many Devices Can I Connect to My iPhone?
Apple recommends that you keep the number of connected Bluetooth devices to three or four for practical purposes, but an iPhone can support up to seven.
If you want to keep your setup clean, you can use a Bluetooth headphone or speaker splitter to have the audio output to two speakers.
With iOS 13, iPhones have an audio sharing feature that allows the device to use Bluetooth for sharing audiobooks, videos, podcasts, and songs to multiple devices from a single sender.
The audio sharing feature temporarily pairs a compatible speaker or AirPods, then forgets them when you stop using them. That makes it easier to return to your usual setup if you connect multiple units for a single event.
You'll need to follow these steps to ensure the audio sharing feature works as expected when connecting multiple Bluetooth speakers.
Have the speakers connected to the iPhone.
The secondary speakers must be connected to the paired device. They should remain inside the case if you want them to be your AirPods.
Bring the second speaker closer to the iPhone. You'll see an audio-sharing message appear. Click on it, then follow the onscreen instructions.
Related: How To Connect Multiple Speakers Using Dual Audio Bluetooth App
Steps for Connecting Multiple Bluetooth Speakers to an iPhone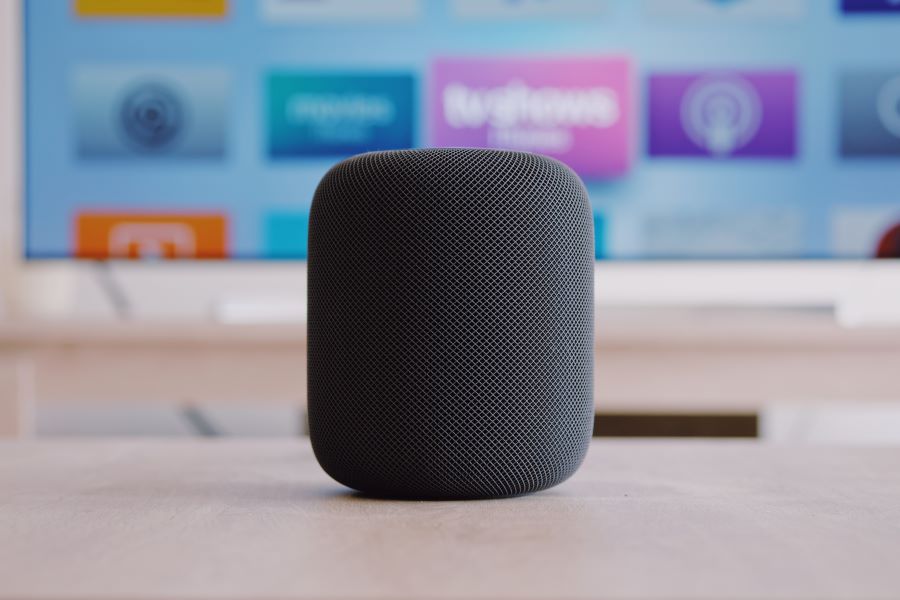 If you want to enjoy a surround sound listening experience, one of the most affordable ways to accomplish that outcome is to connect multiple Bluetooth speakers to your iPhone.
You'll need to ensure the speakers are synced with one another to ensure the listening experience doesn't include echoes, muddied audio, or feedback.
Here are the steps you'll need to follow to ensure you have a positive experience.
1. Turn on Bluetooth
You'll need to ensure your iPhone has Bluetooth installed and turned on to ensure the speakers are discoverable. It helps to have the latest iOS version on your iPhone.
You can go into the settings menu, choose the "General" category, and then the "About" menu option. You'll see the software version and other pertinent information to determine if your iPhone is compatible.
You can tell if Bluetooth is on because the symbol for it appears on the top right of your screen. It is there on iPad and Mac products as well if you plan to route your speakers through those connections instead of your iPhone.
2. Turn on the Speakers
Once you know that Bluetooth is installed and turned on for your iPhone, it's time to power up those speakers. If you have several devices that need to speak with each other, you'll want to be patient with this process.
It helps to have all the Bluetooth speakers with at least 50% battery when following the pairing process. The connection will likely fail if you don't have enough power for one of them.
You'll see the devices appear on the Bluetooth pairing screen on your iPhone. Once all the speakers are detected, choose one of them. Follow the onscreen instructions to pair it to the mobile device.
Some speakers require you to enter a passcode that you'll see on the device to complete the connections. A few designs need you to simultaneously press both buttons on the unit to begin the pairing process with your iPhone.
Connect each speaker with no pause between the startup and completion process whenever possible for the best results.
3. Keep Repeating the Steps
Once you've connected your first Bluetooth speaker with your iPhone, it's time to pair all the additional ones for your setup. Continue to repeat the second step.
You don't always need to pair individual connections with your iPhone. There is the option to take your first speakers off the pairing to add a third into the mix.
Once you're finished using multiple speakers, you can remove the additional devices from the settings tab. That takes you back to a single listening mode.
4. Adjust the Volume
Although you'll have multiple speakers operating through this connection, the individual volume levels must be adjusted to have a pleasant listening experience. You can go into the Settings menu, choose music, and pick the "Volume Limit" option.
Adjust the maximum volumes to ensure they're calibrated across all the connected speakers.
5. Use Additional Cable
A wired option could be available if you can't complete the connection wirelessly with your Bluetooth speakers. You'll need enough cable to reach each device while staying connected to the one paired to your iPhone.
You can run the speakers in series or in parallel, depending on the setup you prefer.
Other Ways to Connect Multiple Bluetooth Speakers
If your iPhone is compatible with multiple sharing features or doesn't have the correct iOS, you can still use numerous Bluetooth speakers for your setup with a bit of help.
The most common way to accomplish this outcome is to use the AmpMe app.
After downloading this software to your phone, you'll need to open the application. Tap on the "+" button on the bottom right of the screen. Choose the service you want to use, log into your account, and choose a playlist.
Once you get to this point, you can invite other devices as a DJ. This process makes it possible to sync your songs, playlists, and podcasts to multiple speakers.
Here are some other options that can also help you connect multiple Bluetooth speakers to an iPhone.
Bose Connect
You can use this method if all your speakers are part of the Bose Connect brand. It comes with a party mode, which you can activate by long-pressing the Bluetooth and volume increase buttons simultaneously. Once you hear the message, release the buttons. Then press the volume down and Bluetooth keys on the next speaker until it beeps. The system will notify you that the mode is active. Stereo mode is possible by long-pressing the volume up and Bluetooth keys until you hear that option.
Ultimate Ears
Press the Bluetooth button on the speaker until you hear an audio signal. Choose the option for the UE Boom, connecting it to your iPhone. Then connect either of the boxes to your playback device, press the Bluetooth and volume up buttons, and press the Bluetooth button twice. Those steps will join the speakers for a stereo experience.
Dual Audio
If you have a set of Samsung earphones, you can use this option to sync Bluetooth devices. You'll need to get into the advanced Bluetooth settings to choose the Dual Audio option. The iPhone must be connected to two speakers for this setting to work. If you add a third device, it will disconnect the first one you paired.
HomePod
This setup is similar to what Samsung offers, but it is an exclusive Apple product. Once you get to the Home app, check to see that your HomePods are connected. Create a stereo pair from the settings option, double-click the speaker to be added, and follow the confirmation path. This process makes connecting multiple devices to your iPhone easy while sharing music with Bluetooth.
Bluetooth 5.0
New Bluetooth technology makes it easy to connect to multiple speakers to share music. You'll need the iPhone 8, 8 Plus, X, 12 series, or iPhone 13 series for this option to work. Once you pair all the devices to your iPhone, you can hear the synced sound play. You might need to disconnect other devices to hear cohesive sounds if you plan on operating more than three speakers.
JBL Connect
You can connect up to 100 speakers by pairing the devices with each other. After loading the app to your iPhone, turn on the column. Then activate the wireless module on the speaker. Activate the pairing process on your device to search for new ones. After you pick the column and pair it, you can keep repeating the process until you're satisfied with the results. Then you can share your music.
All the Devices Must Be Compatible for This Tech to Work
Each speaker has specific limitations or restrictions that can prevent it from pairing to other devices – or even your iPhone.
Before trying to pair multiple speakers via Bluetooth to your phone, it helps to ensure they are compatible with each other and iOS. You can save a significant headache by verifying this information.
Bluetooth is not infallible. The best way to generate a strong pairing is to have the devices next to each other. Once you have the speakers working, consider the spatial distance between each one to ensure the audio stays crisp.
Although the steps for connecting multiple Bluetooth devices can be complex, the reward of having synced sound to enjoy is worth the effort! Follow the path that makes the most sense for your setup so that you can enjoy your preferred audio wherever you are.