Introduction
Are you looking for a great Bluetooth microphone for your next project? Whether you're a musician, podcaster, or business professional, we have the perfect solution for you! This comprehensive guide will look at some of the best Bluetooth microphones on the market today.
In addition, we'll be discussing everything from background noise reduction capabilities to battery life. Also, we'll look at their features and how they can benefit you. So, whether you're just starting or looking for an upgrade, read on to find the perfect Bluetooth microphone for your needs.
Related: How To Make A Microphone Sound Better
Buying Guide for the Best Bluetooth Microphones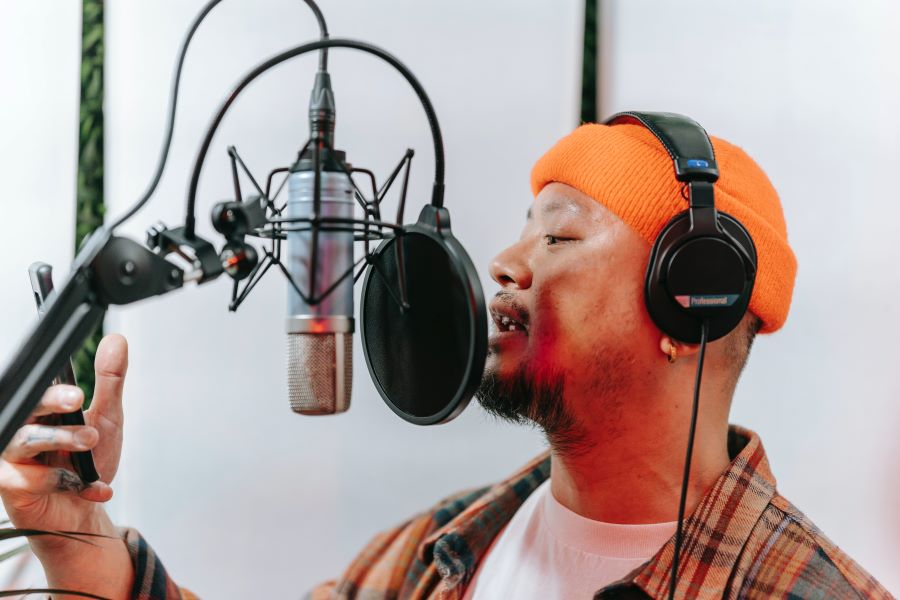 Trying to figure out which is the best Bluetooth microphone can be a daunting task. With so many options on the market, it's hard to know where to start. That's why we've put together this comprehensive guide. We'll help you understand the different types of Bluetooth microphones and what to look for when making your purchase. We'll also provide a few suggestions for the best Bluetooth microphones in 2022.
Background noise can be one of the most frustrating when trying to record something. Whether it's the sound of traffic outside your window or a baby crying in the next room, background noise can ruin an otherwise perfect recording. That's why finding a microphone with Bluetooth technology that can reduce or eliminate background noise is crucial. There are a few different ways that Bluetooth microphones accomplish this. Some use advanced algorithms to cancel out background noise, while others use physical barriers (like foam windscreens) to prevent sound waves from reaching the microphone. Whatever method they use, make sure to look for a Bluetooth microphone with background noise reduction. It will make your recordings that much better.
When it comes to battery life, Bluetooth microphones can vary widely. Some only last a few hours, while others can go for days on a single charge. It all depends on how you plan to use the microphone. If you need it for long recording sessions, look for a microphone with longer battery life. However, shorter battery life may not be as big of an issue if you only need it for occasional use. In general, it's always nice to have a Bluetooth microphone with long battery life so that you don't have to worry about recharging it in the middle of a project.
Related: How to Remove Background Noise & Static in Audacity: The Ultimate Guide and Noise Gate Hardware: Do I Need Noise Gates for Podcasting?
Microphone Types
There are many different types of Bluetooth microphones available on the market today. To find the best one for your needs, it's essential to understand each of its features and capabilities. Here are a few of the most common types of Bluetooth microphones.
Cardioid Microphones
Cardioid microphones are ideal for noisy environments, such as conferences or live music venues. They pick up sound from a specific direction and reject sound from the sides and rear, making them ideal for isolating your voice from ambient noise. So, if you're looking for a Bluetooth microphone that will help you to be heard, regardless of your surroundings, a cardioid mic is the way to go.
Bidirectional Microphones
These microphones reduce background noise and provide clear sound. They're perfect for a home office or studio and can even be used for recording music or podcasts. Bidirectional microphones are available in various styles and prices, so you're sure to find one that fits your needs. And with Bluetooth technology, you can easily connect to your computer or other devices for hassle-free audio recording. So, if you're looking for the best way to get excellent sound quality, a bidirectional microphone is the way to go.
Omnidirectional Microphones
Omnidirectional microphones are microphones that pick-up sound from all directions. That means they're great for capturing ambient noise and can be used in various settings. So, whether you need to record a conference call or capture the sound of a crowded room, an omnidirectional microphone can do the job. However, don't expect it to isolate a particular sound source – that's not what they're designed for.
However, omnidirectional microphones can also be a bit tricky to work with. Because they're picking up sound from all directions, they can also pick up unwanted noise, like paper shuffling or air conditioning hum. This can be frustrating for recording engineers trying to get a clean sound. However, there are some ways to mitigate these problems. For example, a pop filter can help reduce the amount of background noise that an omnidirectional microphone picks up. With a bit of care and attention, an omnidirectional microphone can be a valuable tool for any recording engineer.
Stereo
Stereo Bluetooth microphones are all the rage these days, and for a good reason. They offer better sound quality than their mono counterparts and are more versatile in the recording.
If you're looking for a Bluetooth microphone to make your voice heard, you need a stereo Bluetooth microphone. Unlike regular Bluetooth microphones, which only transmit audio in one direction, stereo Bluetooth microphones capture sound from both the left and right sides. This allows for a much fuller, richer, lifelike, and more realistic sound. In addition, stereo Bluetooth microphones are great for recording music or other audio, as they can capture a wide range of frequencies. So, if you're looking for the best way to make your voice heard, check out a stereo Bluetooth microphone.
Related: The Best Microphones For Recording in Podcasting (2023)
Additional Connectivity Options
USB connectivity is becoming increasingly popular in the world of USB microphones. Most USB microphones come with a USB cable that can be used to connect the microphone to a computer or other USB-enabled device. However, some models come with an adapter that allows the microphone to be connected to a 3.5mm audio input. This can be useful if you want to use the microphone with a non-USB device, such as a smartphone or tablet. In addition, some USB microphones come with Bluetooth connectivity. If you're looking for a USB microphone with additional connectivity options, check out our list of the best Bluetooth microphones in 2022.
Controls and Modes
Whether you're looking for a simple mic to use with your phone or a more sophisticated option for your home studio, a Bluetooth mic is sure to be perfect for you. Here are a few things to keep in mind as you shop around:
Volume controls
Most Bluetooth microphones will have a volume control, so you can adjust the sound level to match your needs. However, some models will have more comprehensive controls than others. If you need precision sound adjustment, look for a mic that offers separate controls for input and output levels.
Mute button
A mute button can be handy if you need to silence the mic quickly or if you want to avoid broadcasting any background noise. Some mics will have an LED indicator that shows when the mic is muted, so you can easily see when it's safe to make a sound.
Warranty
When it comes to finding the best Bluetooth microphone, there are a few things you need to consider. First and foremost, you need to consider the warranty. After all, you don't want to be stuck with a microphone that doesn't work the way it's supposed to. Fortunately, most reputable brands offer at least a one-year product warranty. So, if you're looking for peace of mind, choose a brand that provides a solid warranty.
Is it Compatible with Your Devices?
The first thing to consider when shopping for a Bluetooth microphone is compatibility. Make sure to check that the microphone is compatible with your specific device. Most Bluetooth microphones will work with iPhone, iPad, and Android devices. Some models may also be compatible with laptops and PCs. Once you've confirmed that the microphone is compatible with your device, it's time to look at the features.
How do you power a Bluetooth Microphone?
The answer is simple: with batteries. But there are a few different types of batteries that can be used to power a Bluetooth microphone, and each has its benefits and drawbacks.
The AA battery is most commonly used to power a Bluetooth microphone. AA batteries are inexpensive and easy to find, making them a good option for those on a budget. However, AA batteries tend to have shorter lifespans than some other types of batteries, so you may need to replace them more often.
Another option for powering a Bluetooth microphone is a lithium-ion battery. Lithium-ion batteries tend to be more expensive than AA batteries, but they also have longer lifespans. That said, they can be more challenging to find if you don't live in an area with easy access to stores that sell them.
If you're looking for the longest-lasting battery possible for your Bluetooth microphone, consider using a rechargeable battery. Rechargeable batteries can be used repeatedly, so you won't need to replace them as often as you would with other types of batteries.
Best Portable Bluetooth Microphone: Instamic Pro Plus
Are you looking for an easy way to capture 32-bit float audio? Look no further than Instamic Pro Plus! This handy little device mounts 4 (Mono version) or 6 (Stereo version) microphones, ensuring you won't miss a beat. Plus, it's waterproof, so you don't have to worry about weather conditions. And to top it all off, it comes in a beautiful soft-touch black finish.
The Instamic Pro Stereo Microphone and Audio Recorder is the most intelligent miniature microphone that's easy to operate. It has a frequency response of 50 – 18 kHz with 24-bit recording in two channels (mono or stereo). So you can record anything from vocals for your next YouTube video or podcast without getting tangled! The omnidirectional polar pattern ensures no background sounds are lost while receiving clear sound on either side. However, if someone moves behind them during their session, they'll still be able to use this device as usual since it captures everything within a range of 360 degrees.
The best part? There isn't an app required–turn on and use it.
Best Bluetooth Microphone for Karaoke: Bonaok Wireless
This BONAOK Wireless Karaoke Microphone is the best portable microphone for karaoke lovers. It is Bluetooth compatible and has a UHF receiver for superior sound quality. The handheld karaoke machine is also very user-friendly. Connect it to your car stereo, phone, or PC, and you're good to go. The G20 Black model also has a built-in speaker so that you can output the music directly from the microphone. So, this karaoke microphone will ensure you sound your best, whether you're belting out your favorite tunes in the car or at home.
The UHF Wireless Connection is a perfect karaoke system for your car. With two G20 microphones paired quickly, you'll be able to share happiness and sing along with others while on the road! In addition, a built-in rechargeable battery ensures long playtime so that even when one goes dead or gets lost in translation during song selection time – there are still plenty left over from before, which will keep everyone happy as punch.
Best Bluetooth Mic for Live Streaming: Razer Seiren BT
Are you looking for the best Bluetooth microphone for live streaming? Look no further than the Razer Seiren BT. This clip-on microphone is designed for Android and iPhone/iOS devices, and it provides superior sound quality thanks to its omnidirectional capsule and two windsocks. In addition, the integrated 3.5mm port allows you to connect the Razer Seiren BT to a broader range of devices, making it perfect for vlogging or podcasting. So, if you're looking for a wireless lavalier microphone that delivers excellent sound quality, the Razer Seiren BT is an ideal choice.
The Razer Seiren BT is a portable Bluetooth microphone that allows you to record and share your content in any environment with crisp, natural vocals. The omnidirectional mic captures audio from all directions for unparalleled clarity. Hence, there's no need to talk into it remotely or worry about background noise getting cut out during recording sessions because of where the device was positioned when clicked on.
Best Bluetooth Speakerphone: Anker PowerConf
Are you looking for a speakerphone that can keep up with your Zoom calls and Google Meetings? Look no further than the Anker PowerConf. This powerful little device is certified for Zoom Rooms and Google Meet, making it perfect for your conference room. The Anker PowerConf also features Bluetooth connectivity so you can use it with your favorite Bluetooth-enabled devices. And with its USB-C port, it's easy to keep this speakerphone charged and ready to go. Don't let poor sound quality ruin your next conference call. Invest in the Anker PowerConf and enjoy clear, crisp sound that will make everyone on the phone call sound their best.
The Anker PowerConf Bluetooth Speakerphone is a sleek device perfect for use in meetings, conferences, or when you need to make calls outside of your office. In addition, this powerful speaker can be charged wirelessly thanks to its integrated 6'700mAh battery that lasts 24 hours on one charge.
Best Bluetooth Mic for Smartphones: SabineTek SmartMike+
SabineTek's SmartMike+ is a high-quality, ultra-compact wireless Bluetooth microphone perfect for long-distance audio recording and noise reduction. The SmartMike+ uses Bluetooth 4.0 technology to provide a stable connection and clear sound quality, even in noisy environments. In addition, the built-in noise reduction algorithm filters out background noise, allowing you to focus on the recording. The SabineTek SmartMike+ also has a free app that will enable you to control the microphone remotely. The app allows you to adjust the recording level, choose the recording mode, and even add effects. So, whether you're recording a speech, an interview, or want to capture great sound without hassle, the SabineTek SmartMike+ is the perfect solution.
Connect your phone to Smart Mike and get the perfect audio for any situation. This world's first two-way Bluetooth mic synchronizes with video, ensuring you'll always have great sound while recording videos or podcasts, no matter where life takes you! With 48 kHz true stereo quality and an easy-click button on both sides of this lightweight device (which also supports Android & iOS). Capturing high-definition content has never been easier than before–perfect if youTubing is what gets YOU through those hard days at work.
Best Professional Bluetooth Microphone: Bietrun Wireless Microphone
Bietrun Wireless Microphone is an excellent addition to any karaoke machine or PA system. It has a 160 FT range and features echo, treble, bass, and Bluetooth. The Bietrun Wireless Microphone is a great way to liven up any party or event. It is also a great way to get people talking at wedding receptions or other gatherings. It has a 160 FT range and features echo, treble, bass, and Bluetooth. The Bietrun Wireless Microphone is a great way to liven up any party or event. It is also a great way to get people talking at wedding receptions or other gatherings.
With the Professional UHF Wireless Karaoke Microphone System, you can sing and dance your heart without wires! The microphone connection distance is about 160feet (50M). Bluetooth 4.2 connects 10 meters away with signal stability delay because of its high-quality sound qualities that are achieved through constant frequency waves, never changing melody or lyrics, unlike cheaper models, which often have interference issues, making them hard to understand by others nearby from background noise.
Best Budget Bluetooth Microphones: KITHOUSE K380A Wireless Microphones
Kithouse K380A is a wireless microphone that is perfect for karaoke and singing. It has two or four microphone heads that can be used simultaneously or separately. The KITHOUSE K380A also comes with a Bluetooth receiver system that makes it easy to connect to your speaker or sound system. The KITHOUSE K380A is made of high-quality materials and has a rechargeable battery. It is available in elegant black color.
It has a UHF wireless system with a Bluetooth receiver which is an excellent option for those who want to perform outdoor karaoke or give presentations in places that don't have reliable power outlets. The K380A can connect wirelessly up close to 50 feet away from its source but will lose connection around 100ft out, perfect when you need your voice heard without interference.
Wrapping Up
The market for Bluetooth microphones is growing rapidly, and many different models are available. It can be tough to determine which one is the best for your needs. We've tried our best to compile all the information you need to make an informed decision about the type of microphone that's right for you. Whether you're looking for a portable Bluetooth microphone, one perfect for karaoke, or something suitable for live streaming, or podcasting, we've got you covered. Comment below and let us know which Bluetooth microphone is your favorite.
Thanks for reading.
Related: The Best Microphone Software For Recording Voice (2023)