Nowadays, you can download Spotify podcasts without premium easily. However, the downloaded content has DRM encryption that only plays on Spotify's app. To remove the encryption, you need the assistance of specific software to convert Spotify's content into other more compatible formats like MP3.
This article provides a guideline on how you can download compatible podcasts on Spotify without premium.
But remember that if you want to follow a podcast that's in other platforms, it may be easier to use an RSS downloader and if what you are looking to do is to download old podcast episodes the check out this guide.
Related: 10 Best Podcast Apps for your Listening Pleasure.
How to Download Compatible Podcasts without Spotify Premium
You can not playback downloaded Spotify podcasts on other devices not compatible with the format on the Spotify app. Fortunately, there are workarounds to assist you in converting the encrypted format, to other file formats such as MP3 that you can play on different devices.
You will need the assistance of third-party software to download compatible podcasts on the free Spotify subscription and transfer them to other devices for offline playback.
Here, we will introduce you to Spotify converters that will allow you to enjoy Spotify podcast downloads on any device or player without premium.
You may also be interested in: How to Download YouTube Podcasts to MP3.
What are Spotify Converters?
Spotify converters are software that enable you to download, convert, and transfer Spotify podcasts. There are many Spotify converters to choose from in the marketplace.
When selecting a Spotify converter, confirm that the supported output format matches your preferred format. The converter should be flexible enough to handle diverse formats accepted by different devices. It will allow you to transfer the Spotify podcast to devices of your choice easily.
Since many Spotify converters have similar features, the following section explores the common ones. Then, we will look at a few Spotify converters that can help you download and convert Spotify podcasts, music, playlist, audiobook, and album without a premium subscription.
Common Features of Spotify Converters
These tools remove the DRM encryption and aid you in converting Spotify tracks to MP3, M4A, WAV, or FLAC formats compatible with most common devices.
Using the tools lets you download batches of Spotify podcasts at high speed (5X) without tampering with the audio quality.
They also allow you can change parameters like bit and sample rates when downloading.
Lastly, the converters preserve the ID3 tags, for instance, artist, album, and song/podcast name, thereby assisting you to identify converted media easily.
Spotify Downloaders & Converters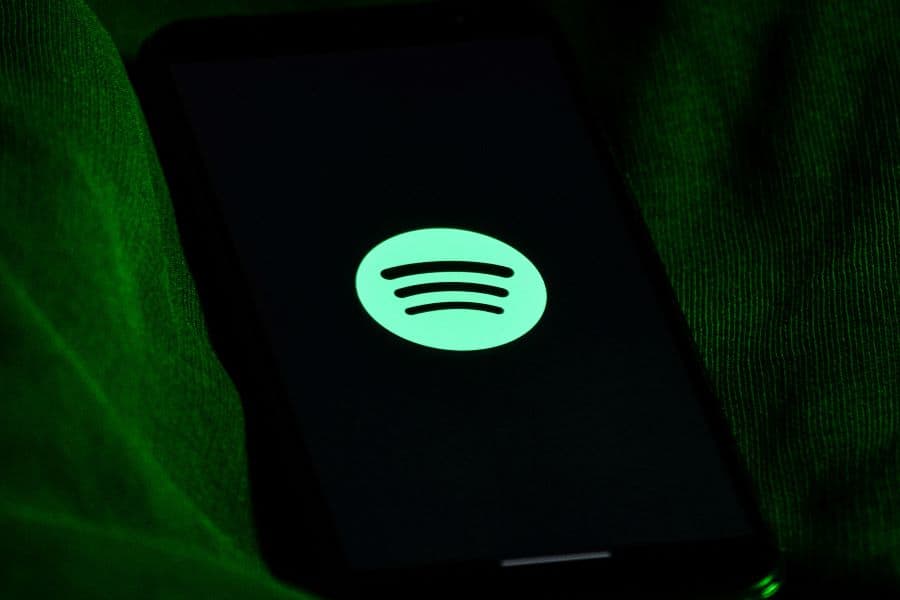 UkeySoft Spotify Music Converter
UkeySoft Spotify Music Converter is not free; it has three separate subscriptions for single PC/Mac users. Their prices are $14.95 / month, $49.95 / year, and $69.95 for a lifetime plan.
Downloading and Converting Spotify Podcasts
Download and install UkeySoft Spotify Music Converter and Spotify App on your computer.
Launch UkeySoft Spotify Music Converter, and the Spotify desktop App will also run automatically
Adding Spotify podcasts to the UkeySoft tool.
You can drag and drop the Spotify podcasts from the Spotify App to UkeySoft Converter's main interface.
Or
Copy the URL of the podcast from Spotify App and paste it to the search bar on UkeySoft, then click the plus "+" option, and finally, hit the "Add" button.
Select the output format you want to convert to by clicking "Option" then the "Advanced" tab. Also, you can customize additional options such as bit and sample rate. Many devices support the MP3 format; hence it is the most recommended.
You can start to download the Spotify podcast selected without Premium. Here, you wait for the output settings to pre-set, then you tap on the "Convert" button to download and convert the Spotify podcast automatically with your free account.
Viewing the downloaded Spotify podcasts on the computer. After downloading, you can locate the podcast file by clicking the "History" button, then the "blue folder" icon. You can now listen to Spotify podcasts offline on your computer and transfer them to any device without interruptions.
TuneFab Spotify Music Converter
TuneFab Spotify Music Converter has a free version that lets you download and convert only the first 3 minutes of your podcast. You need to purchase a license at $13.95 / month to remove this limitation. They do not have any other subscription options.
Downloading and Converting Spotify Podcasts
Download, install and launch TuneFab Spotify Music Converter.
Adding Spotify Podcast to Converter. On the welcome page of the converter, click the "Open the Spotify web player" option and log in to your Spotify account. Search for the podcast you want to download. Then you can drag the item to the "Add" button or directly click on the "Add" icon on the podcast's page.
Choosing output file format. When you add podcasts, TuneFab will swiftly analyze and display the "Output format" option and "Convert" button for each podcast episode. Select your desired output file format for each media and click "Convert." Note that there is the "Output" section on the bottom of the screen where you can change the destination of the converted podcasts.
View downloaded Spotify Podcast. Once the conversion is complete, hit the "Finished" button on top of your screen to view all converted songs listed one by one. You can click "View Output File" to get all the converted songs.
Leawo's Prof. DRM
Leawo's Prof. DRM media pack converts Spotify podcasts and videos, music, audiobooks, and Ebooks. The cheapest subscription is a one-year license at $35.97 which does not include Ebooks conversion but converts Spotify and the other files. A lifetime plan goes for $59.97,making it cheaper if you use the app for a long period.
Licenses that include Ebooks conversions are slightly more priced.
Downloading and Converting Spotify Podcasts
Download and install Leawo Prof. DRM and Spotify. When you launch Leawo Prof. DRM, it will automatically launch the Spotify app (or relaunch it if you had already launched Spotify).
You can directly drag and drop podcasts from Spotify desktop software on your computer to Leawo Prof. DRM.
Click the pencil icon in each Spotify podcast added to set output format and audio parameters. Here, you select the desired audio format and change the Channel, Sample Rate, and Bitrate. Then, you can click either the "Apply to All" or the "Apply to current" button to save chosen settings.
Set the output directory in the "Output" section at the bottom of your screen. Click the blue "Convert" button at the bottom right corner to download and convert the Spotify podcasts.
After conversion, you can view all downloaded Spotify podcasts under the "Converted" tab. You can now transfer downloads to any device.
Related: SoundCloud vs Spotify
Summary
These days all Spotify users (with or without premium) can download podcasts on Spotify easily. But, the downloads can only play on the Spotify app. If you prefer listening to Spotify downloads on other devices, you will require Spotify converter software to transform the downloads into a more compatible format like MP3 or MP4.
We recommend UkeySoft, Tunefab, and Leawo's Prof DRM software to download compatible podcasts from the Spotify app.