SoundCloud vs Spotify: Which one is right for you? It all depends on what you are seeking in a music streaming service.
Whether you're a SoundCloud devotee or a Spotify super fan, it's essential to know the differences between these two music streaming services. Both are massive streaming platforms, and here, we will break it down for you: from cost and song selection to special features and artist collaborations.
Keep reading our comparison guide to find out more!
What Are SoundCloud And Spotify?
SoundCloud and Spotify are the leading music streaming services available today for music lovers. A brief introduction of both is coming right after this.
SoundCloud
SoundCloud is a free, open platform where users can create, share, and discover new music quality. Users have access to millions of tracks from established and emerging artists alike. They can also post their audio recordings for others to listen to. The free version of SoundCloud comes with ads, but two paid plans—SoundCloud Go and Go+ offer more features, such as offline listening and a vast library.
SoundCloud focuses on new and emerging talent by providing easy access for anyone to upload music and connect with listeners. The platform has a strong community feel, and many budding artists use the service to start their music careers.
Spotify
Spotify is a subscription-based music streaming service with millions of songs and podcasts. Spotify app allows users to search for, save, and share their favorite music. Spotify also offers exclusive content, such as live performances and interviews with artists.
Spotify premium allows downloading music for offline use, higher quality audio, and access to exclusive content. Spotify premium provides access to the same library on multiple devices and no ads. All the music you want is just a few clicks away.
How Do SoundCloud And Spotify Compare In Terms Of Features?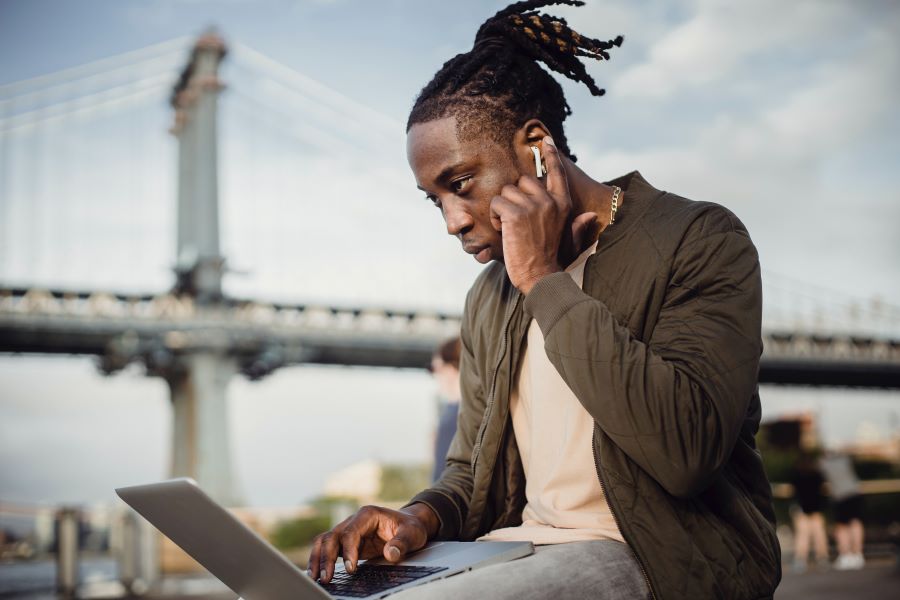 Both Spotify and SoundCloud offer a range of features designed to make discovering music more accessible. Still, they provide unique characteristics and music quality for music lovers.
SoundCloud and Spotify offer a wide range of songs for music fans in different genres and styles, making it easy for users to find the perfect track. Both offer popular music, podcasts, and artist collaborations with a wide variety of content.
SoundCloud Features
SoundCloud is a music streaming service that offers a unique platform that allows users to upload and share their original audio content.
Upload Music
Audio files can easily be uploaded to your website. Depending on the format of your audio file, you may need to use a specialized program or software for encoding and compressing the file into an appropriate format.
Once the audio file has been appropriately encoded and compressed, it can be uploaded using a web hosting service or through file-sharing from your computer or the web. Uploaded tracks can easily be shared with the SoundCloud community.
Record live
SoundCloud also allows users to record live audio directly from their devices. This feature is great for musicians, podcasters, and other creators who need to capture the sound of their performance in a high-quality format.
You can easily set up to record labels with one click, adjust settings, and start recording anytime.
Related: Podcasting with SoundCloud: Everything You Need To Know
Edit and repost tracks
With SoundCloud, users can also edit tracks they have uploaded with powerful editing tools. This allows them to add effects, remove background noise, and adjust levels to ensure the audio is perfect. You can also easily share and repost your track with others or publish it directly on the web.
Share tracks
SoundCloud allows users to share their tracks easily with friends and family. Users can share links to their music, send a private message, or even use the SoundCloud app on their phones to quickly and easily share a track with anyone.
Follow other users
SoundCloud also allows users to follow their favorite artists and musicians. This feature helps users quickly access new releases and updates from the artists they love. Additionally, users can discover new music through the recommendations of those they are following.
Spotify Features
Spotify provides a vast library of songs. You can listen to any music anytime, anywhere. Plus, you can create your playlists and share them with friends. Spotify also offers exclusive content like podcasts and videos.
Listen to music for free.
The app makes it easy to find and discover the music you love. With millions of songs from all genres, you're sure to find something you like. You can also create multiple playlists, follow your favorite artists and browse through curated music collections. Plus, you can access exclusive content and features like podcasts, playlists, and more.
Discover Weekly
With Discover Weekly, you can get personalized music recommendations just for you. Every Monday, Spotify will put together a list of songs tailored to your tastes and introduce you to new music. It's a great way to discover contemporary artists and songs you might have yet to hear.
Browse top songs and albums
Browse the top charts of the hottest songs and albums around. Get inspired with new music and discover what's trending in your area. You can save your favorite songs and playlists for easy access anytime. With Spotify, you'll always have enough music to listen to ever.
Listen to podcasts and audiobooks.
Spotify also offers access to a wide variety of podcasts and audiobooks. Listen to your favorite shows or explore new topics with the perfect accompaniment. You can enjoy something new daily with exclusive content like Spotify Singles and original video series.
Related: How to Submit Your Podcast to Spotify
Music Quality – SoundCloud Vs. Spotify
When it comes to sound quality, there is a clear difference between these music platforms. Spotify offers better sound quality than SoundCloud with Spotify premium users, offering up to 320 kbps files compared to 160 kbps on the accessible version of SoundCloud.
This allows users to enjoy their favorite music with much better audio fidelity. In addition, Spotify offers more variety than SoundCloud, with a more extensive selection of artists and genres available.
On the other hand, SoundCloud offers an advantage in terms of accessibility. It's much easier to find independent and lesser-known artists on SoundCloud than on Spotify because it has fewer restrictions on who can upload their music.
This means that users can discover more obscure and exciting music that they might not find on more popular streaming services like Spotify or apple music.
The bottom line is if you're looking for the highest sound quality audio experience, Spotify is the way to go in Spotify vs. SoundCloud.
Size Of The Music Catalog – SoundCloud Vs. Spotify
These are two of the most popular platforms in the music streaming industry. Spotify has over 80 million songs in its catalog, mainly from mainstream music scenes.
SoundCloud offers a more comprehensive catalog with over 200 million songs. The trade-off is that the majority of these songs are from independent musicians. If you're looking to listen to popular or mainstream music, Spotify would be a better platform.
Instead, if you want to explore new independent musicians in-depth, SoundCloud offers more than Spotify. Regarding podcasts and audiobooks, Spotify is richer than SoundCloud today.
Therefore, both platforms have something different to offer and cater to different audiences. The size of their respective catalogs is just one aspect that sets them apart. Both platforms are continually working on expanding their records to keep up with the ever-changing needs of their users.
How Do SoundCloud And Spotify Compare In Terms Of Pricing Plans?
Both SoundCloud and Spotify offer a range of pricing plans for users. However, there are a few differences between the two services, which we will discuss.
SoundCloud
SoundCloud offers a wide range of pricing plans for its users. The Free program provides access to millions of tracks, the ability to create and share playlists, and the ability to follow other users. Users can also like and comment on their favorite tracks.
However, this plan does not include offline listening or ad-free streaming. Users must upgrade to one of SoundCloud's paid plans to access these features. The Pro plan is $7/month and includes offline listening, ad-free streaming, and high-quality audio. The Pro Unlimited plan is $15/month and offers unlimited upload time, detailed listener stats, and access to exclusive content.
Spotify
Spotify offers two pricing plans: Free and Spotify premium. The Free plan is ad-supported and includes access to over 30 million songs, creating and sharing playlists, and access to exclusive content.
However, this plan does not include offline listening or ad-free streaming to access these features; users must upgrade to Spotify's Premium plan. Spotify's Premium plan is $9.99/month and includes unlimited high-quality streaming, offline listening, ad-free streaming, and exclusive content.
Related: How Can Podcasters Make Money on Spotify?
Tips For Getting The Most Out Of SoundCloud Vs. Spotify
For creating and sharing music, SoundCloud is the superior choice. With its vast community of music creators and listeners, you can easily connect with other artists, find new music to listen to, and have your tracks heard.
If you're looking for an extensive library of popular songs from major labels, Spotify offers that. It allows you to save albums and songs you like, create playlists, and share them with your friends.
Take advantage of the social media integration offered by both platforms to market your music and get more exposure. Connect with people through Facebook, Twitter, and other popular networks for maximum effectiveness.
Consider upgrading to a paid subscription plan on both SoundCloud and Spotify if you want access to exclusive content and advanced features such as offline listening and unlimited skips.
Finally, keep your profile updated with recent music releases and other content. This will help you stay connected with fans and attract new ones. Good luck!
Which Music Streaming Service Is Best For You – SoundCloud Or Spotify?
Spotify and SoundCloud offer unique features, benefits, and drawbacks that may make one service better suited for certain types of music listeners than another.
For example, if you are into discovering new artists or remixes of popular songs, then SoundCloud would be the better choice. SoundCloud has many more independent artists and podcasters who can offer exclusive content unavailable on Spotify. Additionally, its user-friendly interface makes it easier to navigate than Spotify's sometimes clunky layout.
On the other side, if you seek a wide selection of popular music from major labels and established artists, Spotify is the way to go. Its massive music library gives you access to almost any song or artist imaginable. Additionally, its curated playlists, radio stations, and personalized recommendations can help discover new music more accessible.
All in all, it depends on your taste as to which platform you choose. If you want to discover underground or independent music, SoundCloud is the better choice. On the contrary, if you want to access a massive library of mainstream music, Spotify is the way to go.
No matter which service you choose, both SoundCloud and Spotify offer cutting-edge features that make them great for anyone looking for an easy way to listen to music online.
FAQ's
What Is The Downside Of SoundCloud?
There are a few potential downsides to SoundCloud:
Generating a large audience on the platform may be challenging, as it is much more difficult to get heard amidst all other content.
SoundCloud does not offer monetization options for creators, so you cannot make money from your work on the platform.
SoundCloud has been known to be glitchy and unreliable at times.
Related: Podbean vs Soundcloud
Does Anyone Still Use SoundCloud?
Yes! According to their website, SoundCloud has over 175 million users who access the application at least once a month. So, it's still a popular platform for sharing music and audio files. Additionally, many independent artists and DJs use SoundCloud as their primary platform for promoting their creations.
Is SoundCloud Worth Paying For?
SoundCloud has chosen to partner with the music industry to turn a profit, even if it means abandoning the website's original creative and independent users. Despite this decision, the rate of new music uploaded to SoundCloud has continued to grow yearly, suggesting that many creators are still satisfied with the platform.
Which Streaming Site Is Better For Promoting Music?
Spotify has a larger mainstream and popular music database, while SoundCloud focuses more on independent music. Additionally, SoundCloud allows users to upload and share their music, which may be a draw for some people. Ultimately, it depends on what you try to promote or share – both services offer different strengths and weaknesses. If you want a more extensive selection of mainstream music, Spotify may be the better choice.
Is Spotify Useless Without Premium?
No, Spotify is not useless without a Premium subscription. If you're looking to download music or podcasts, the Free plan won't let you do that – so you might end up spending more money on data usage than if you had a Premium subscription.
There are also fewer discrepancies between the two versions of Spotify when using the desktop app. However, some users have reported upgrading to premium to use some of Spotify's more advanced features.
Related: Can You Download Podcasts on Spotify Without Premium?
SoundCloud vs. Spotify: Which is better?
Both SoundCloud and Spotify offer great options for online music streaming, with unique features that cater to different types of listeners. Whether you're into discovering new artists or want access to a massive library of mainstream music, both services have something to offer.
Additionally, both platforms offer advanced features such as offline listening and unlimited skips. Ultimately, it comes down to personal preference regarding which service is better suited for your needs. Keep your profile updated with recent music releases on either platform so you can stay connected with fans and attract new ones!