Yes, Final Cut Pro is one of the best podcasting tools available today. It combines the benefits of high-performance, high-quality digital editing with native support for almost any video format.
You'll find numerous timesaving features and workflows available so that each episode can focus on the story you want to tell.
Even if you only record audio, the simplified processes make it quick and easy to put together an episode your listeners will love. In version 10.6.2, voice isolation is included as a feature to improve speech clarity. The software incorporates machine learning to adjust background noise and ambient sound to prioritize your voice in the audio signal.
Related: How To Start A Podcast On YouTube? and How to Edit a Podcast on a Mac.
What Are the Benefits of Final Cut Pro for Podcasting?
The primary benefit of Final Cut Pro is its seamless editing. It uses object trackers that make moving, resizing, or rotating clips easier. You can even create manual motion tracks if your podcasting includes a video upload.
Here are some of the other advantages that Final Cut Pro provides.
1. Organized Assets
The tagging feature you'll find with this software makes it much easier for users to pull up audio or video when it is needed. Instead of being stuck digging through files to find an asset, the editor finds it for you, ensuring that you've got more time to focus on your editing work for the next episode.
The search mechanism will feel intuitive if you're already familiar with how Apple organizes the user experience for its various products.
2. Virtual Reality
If you're at the forefront of video-based podcasting, you might have some fun playing with this Final Cut Pro feature. It has a 360-degree viewer that lets you create and edit VR videos for an immersive experience. You'll get to see your work from each angle while making changes with the included intuitive tools. It even lets you apply texts and other graphics.
3. Seamless Editing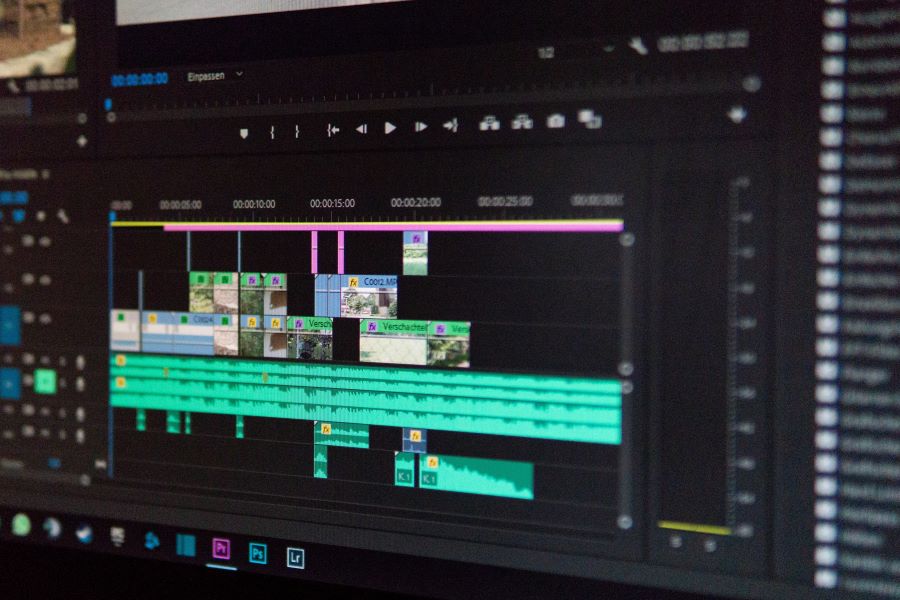 Final Cut Pro provides a magnetic timeline. This feature makes editing your audio files and any associated video quick and easy. The workflow lets you trim or move clips without affecting the rest of the content, with color-coding to make it easier to identify specific sections. Even if you have a lengthy episode to manage, you can expect a smooth experience.
This updated design feels similar to GarageBand in many ways, but with faster editing techniques to help you create a seamless sound.
Related: How to Edit a Podcast in iMovie and Get Perfect Audio.
4. Sound Quality
You won't need to adjust the sound quality of your system to work on your podcast with this software. It provides several built-in tools that let you modify the audio file, including optimizing specific frequencies or removing background noise. It'll help your voice have the warmth and friendliness you want for each episode.
5. Almost Infinite Customization
You can add numerous plugins and add-ons to Final Cut Pro to customize your work. Here are a few examples of what is available in the Audio category.
This option lets you remove reverb and echo from uploaded audio by using its custom controls and helpful presets.
Audio Design Desk. Using this powerful tool, you can create a cinema-quality sound for a podcast in seconds.
With this plugin, you can cut your videos to speech by editing text. It has one-click filler words and provides background noise removal to take care of those occasional errors that come up in a recording.
This option automatically removes the hissing, humming, and other unwanted background noise that can creep up on a recording.
Apogee MetaRecorder. With this plugin, you can record audio or add keywords with an iOS device and ClipMic digital from Sennheiser. Once you have those recordings, they can all be uploaded into Final Cut Pro.
Another plugin to consider for podcasting is Sonicfire Pro. It allows you to create a custom music soundtrack based on the duration and mood of your episode. That content gets created inside Final Cut Pro.
6. Optimized for Mac
If you have the MacBook Pro for your podcasting work, Final Cut Pro takes advantage of the processing speed you have. The multithreading incorporated into the design spreads tasks across nearly 30 cores, making it easier to stay on task when finishing your editing work. Once you're finished with everything, you have a one-step output that optimizes exports for your distribution needs.
Final Cut Pro works best with macOS Monterey. The minimum system requirement for version 10.6.2 is to have macOS 11.5.1. You cannot use voice isolation unless you have macOS Monterey 12.3 or later.
Related: How to Cut Audio: Editing in Audacity.