Are you looking to start a podcast on YouTube but don't know where to begin? YouTube is a great place to start but there are a few things you need to know before getting started. The main thing to consider is what platform you will use and the type of content you want your podcast to focus on.
In this article, we will walk you through the process of starting a podcast on YouTube, from registering for an account to publishing your first episode as well as other tips for success so that you can start creating your own podcast on YouTube in no time.
Related: Blog vs. Podcast vs. YouTube Channel
What Is A Podcast On YouTube?
Podcasts on YouTube are an incredible resource for finding and discussing topics of interest. Imagine being able to explore a variety of fascinating subject matter, from science to history to travel, with just a few clicks!
On YouTube, podcast hosts invite experts onto their shows to have engaging conversations about varied topics of interest, as well as give advice and share entertaining stories. Hosts can use video or audio recordings when creating their podcasts, giving subscribers the choice between visuals and sound.
Related: How To Make An Exceptional Video Podcast
How To Get Started With A Podcast On YouTube?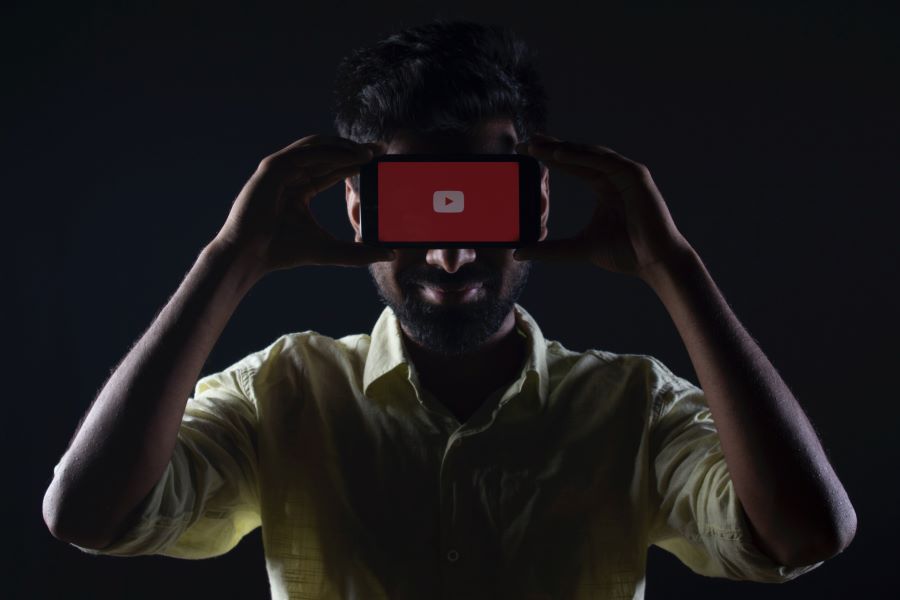 Now that you know what a podcast on YouTube is and why it can be beneficial let's dive into how to create one. There are several steps to get started, but don't worry; it's easy.
Step One: Register For A YouTube Account
The first step is to register for a YouTube account. This is a fairly straightforward process, and you will need to provide some basic information such as your name and date of birth. You may be asked to verify your identity with a phone number or email address. Once you have registered for an account, you can then create your very own channel on YouTube, which will be used for hosting and streaming your podcast.
Sometimes it helps to have a catchy name for your YouTube channel, and it is also useful to upload a profile photo that will represent you as the host of the show. A podcast channel should include a brief description of the podcast's purpose or what topics it covers. Podcast or YouTube channel art is another great way to stand out and make a strong first impression.
Step Two: Set Up Your Podcasting Equipment
Now that you have registered an account with YouTube, you can start setting up your podcasting equipment. This includes selecting the right microphone, audio interface, headphones, and other essential equipment that you need to create a great-sounding podcast. It's important to consider the recording environment and make sure your space is conducive to producing high-quality audio content.
Additionally, making sure all of your cables are organized will help you in the long run when it comes time to start recording. Once you have your recording setup ready, it's time to start creating your podcast!
Step Three: Develop A Content Strategy And Format
Now that you have all of your equipment in place, it's time to decide on the type of podcast content and format for your podcast. Start by choosing an interesting topic and decide if you want to explore this subject in a single episode or in a series. You may want to create an interview show where you'll invite other people to be your guest, or go solo for a monologue-style podcast. If you plan on having guests, make sure you have the right equipment so that they can join your show remotely.
You should also plan out the structure of your podcast episodes to ensure a smooth and engaging listening experience. Create an introduction, body section, conclusion, and other segments so listeners know what to expect from the show. Finally, you can decide on a release schedule for your podcast and set up an RSS feed. This will make it easier for podcast listeners to find and subscribe to your show.
Step Four: Record And Edit Your Podcast Episodes
Once you have all the pieces in place, it's time to start recording your podcast episodes. You can record directly on YouTube if you want or use a recording program to record your audio and then upload it to YouTube once you've finished editing.
When recording, make sure that you have good sound quality and keep the length of each episode around 30 minutes. You don't want to make your podcast too long or too short.
When it comes to editing, you can use a simple video editor like iMovie, Final Cut Pro, or Adobe Premiere Pro. You'll need to add intros and outros for each episode as well as transitions between segments and music if desired. Make sure that all the episodes are consistent in terms of length and sound quality so that your podcast flows well. Check out our guide on editing a podcast in iMovie.
Related: How to Create and Use a Podcast Background Video Effectively
Step Five: Upload And Promote Your Podcast
When you are done recording and editing your podcast episodes, the next step is to upload them onto YouTube and share them with your audience. When uploading your content, make sure to add a great cover image, title, and description that will help attract new listeners. Here's an idea on how you can make the perfect podcast cover art dimensions.
Once your podcast is uploaded, it's time to start promoting it. Share your podcast on social media, send out emails to your followers or even create a dedicated website for your show.
Building an audience takes time and dedication, but with the right strategy, you can grow a loyal community that will keep tuning in to your show. Podcast directories like iTunes and Stitcher are great resources for promoting your Apple Podcasts.
Step Six: Analyze And Iterate
Finally, once you have launched your podcast, it's important to track its performance so that you can make improvements. You can use insights from YouTube Analytics to measure the reach of your content and get feedback from your audience. This will help you understand what content resonates with them so that you can adjust your future video podcasts accordingly.
Sometimes, small changes can make a big difference. Additionally, don't be afraid to experiment with different formats or topics. Allowing your Google Podcasts to evolve will keep things fresh and engaging for your audience.
These are the six steps to starting a podcast on YouTube. From choosing your equipment and content strategy to recording and promoting your show, following these steps will help you create an engaging and successful podcast. With the right approach, you can reach new audiences and build a loyal community around your show.
Related: How To Distribute A Podcast In 6 Popular Directories
What Pays More, YouTube Or Podcast?
It's no secret that online content creators are making waves in the entertainment industry and that passive income is becoming an increasingly attractive career option. So, when it comes to choosing between YouTube or podcasting, one key consideration is overall financial viability.
In general, creating YouTube videos tends to have the capacity to generate more revenue due to both advertising opportunities as well as product promotion. However, while podcasting might not necessarily be able to generate the same level of ad income, focused fans of a particular program can often lead to paying memberships and subscriptions – something which many YouTubers cannot rely on as heavily.
Ultimately, your best bet may be to give both platforms a trial run and decide based on what resonates better with your audience!
Why Put A Podcast On YouTube?
This question is becoming increasingly popular as video podcasting continues to grow in popularity. So this section will cover some of the key benefits of putting your podcast on YouTube.
1. Increased Reach & Visibility
By placing your podcast on YouTube, you'll be able to reach a much larger audience than solely relying on iTunes or other audio-only podcast platforms. As the second most visited website on the internet, YouTube has an enormous user base of more than two billion people logging in each month. By taking advantage of this podcast hosting platform and its powerful search engine, you can quickly gain views and grow your podcast audience.
2. Enhancing Your Brand Image
Another key benefit of putting a podcast on YouTube is that it allows you to enhance your brand image. With the video platform, you'll be able to showcase your unique style and content through visuals such as intros, outros, and slideshows. This will help to engage viewers and give them a better understanding of who you are as a brand.
3. Engaging Your Audience
Audience engagement is incredibly important for any podcast, and YouTube makes it easier to do so. By putting your podcast on the platform, you can easily include links in the description of each episode that direct viewers to your website or other relevant resources. You can also interact with listeners by responding directly to their comments in real-time and even asking specific questions that require their input.
4. Monetization Opportunities
YouTube provides a great opportunity to monetize your podcast. Through the platform's advertising services, you can share revenue with YouTube as viewers watch and engage with your content. You can also link out to third-party sites where viewers can donate or purchase merchandise related to the podcast. Finally, if your YouTube podcast channel grows large enough, you can open the door to sponsorships and brand partnerships.
5. Analytics & Insights
The YouTube analytics dashboard provides valuable insights into how viewers are engaging with your content. You can use this data to refine and improve your podcast as well as get a better understanding of who is listening and what topics interest them the most. This data can also be used to inform future podcast episode ideas so that you're consistently providing content that appeals to your audience.
By taking advantage of all the benefits that YouTube offers, you can quickly gain an audience, engage with viewers, and monetize your podcast. With a little know-how, setting up a successful podcast on YouTube is definitely within reach!
Can You Start A Podcast On YouTube?
Of course! YouTube is a great platform for hosting your podcast – and it's easy to get started. All you need is a laptop or computer, some audio recording equipment and editing software, and an idea of what topics you want to cover in your podcasts. Once you have those elements in place, you're ready to start recording your video podcast episodes.
Related: Start a Podcast People Will Listen To
The Do's And Don'ts Of Podcasting On YouTube
Now that you know the basics of getting started let's take a look at some dos and don'ts to keep in mind when podcasting on YouTube.
Do:
Choose a catchy name and logo that will draw people in.
Make sure to fill out the "About" section of your channel with abundant information about yourself, your podcast, and any sponsors you have.
Have quality sound and visuals when recording. Invest in proper equipment and make sure it is set up correctly before beginning to record.
Create a consistent schedule for your podcast and stick to it to keep viewers engaged.
Make sure you are familiar with YouTube's Community Guidelines so that you don't run into any trouble when posting your podcast.
Utilize social media to promote your podcast and create a loyal following.
Don't:
Neglect to ask permission from people you want to feature on your podcast.
Overuse intro music or sound effects so that it becomes repetitive or annoying for viewers.
Forget to include subtitles in your video so that those with hearing difficulties can still access the content.
Use copyright-protected music/audio file without permission, as this could get you in legal trouble.
Ignore viewer feedback, both positive and negative; use it to improve your podcast and create a connection with your audience.
Put all of your focus on numbers such as views, subscribers, and followers. Instead, focus on creating quality content and engaging with your audience.
Don't rush through the recording process; take the time to make sure your podcast is perfect before releasing it.
Give up; while it might take some time to get traction, keep going, and you will eventually start to gain an audience.
It takes patience and practice to the podcast on YouTube successfully, but if you stay focused and follow these dos and don'ts, you'll be well on your way to creating engaging content for your viewers.
The Video Gear You Will Need
Once you've got the basics down, it's time to start thinking about the equipment you'll need for your podcast. This section will cover the must-haves for creating a successful podcast on YouTube.
Video Camera
You need a high-definition video camera that is capable of capturing 1080p video. This will give you the best quality footage for your video podcast and make sure viewers can enjoy every detail. Camera models vary in price, so be sure to do your research before you buy. Some cameras even come with built-in microphones, which can save you the extra expense of purchasing one separately. Cameras like the GoPro Hero 8 and Sony Alpha A6600 are great options for podcasting.
Microphone
A good quality microphone is essential for recording clear audio. Investing in a higher quality mic will ensure that your podcast sounds professional and just as well produced as any other YouTube video. Look for models that are compatible with your cameras, such as a shotgun mic or an external XLR microphone. You can also check out our list of Best DSLR Microphone for Every Type of Videography.
Lighting
Lighting can be the difference between a good video and an excellent video. But don't worry; you don't have to spend hundreds of dollars on a lighting kit. Investing in two or three LED panels or stands can really make your footage pop and keep viewers engaged with the content. Some cameras come with small LED lights as well, so be sure to check that when researching your camera.
Tripod
Having a steady shot is essential for any video production, and a tripod can help you achieve that. A good tripod should be lightweight, durable, and adjustable to the height of your camera or microphone. Models that also come with a fluid head for panning and tilting are great for getting creative with your shots.
Software
Editing software is the final piece of the puzzle. It's what you'll use to bring all the pieces together and create a great podcast episode. Popular programs like Adobe Premiere Pro, Avid Pro Tools, and Final Cut Pro X have editing tools and features that make it easy to edit your podcast. If the software's price tag is too steep, there are plenty of free and open-source options available. Check out our guide on GoPro for Video Podcasting and Final Cut Pro for Podcasting.
This equipment will get you started on the right foot and help ensure that your podcast looks as professional as possible. Now that you have the suitable gear for your video/audio files, it's time to start recording.
Final Thoughts
Now that you know the basics of starting a podcast on YouTube, it's time to start creating great content. Use this guide to get started and create something unique for your viewers. Remember to focus on quality over quantity and engage with your audience because that is what will keep them coming back. Other than that, just have fun and enjoy the process.
Creating a podcast can be a great way to connect with people and build a community around your interests. Who knows, you might even end up inspiring others to start their own podcasts.