How much Joe Rogan makes from his podcast has yet to be determined. But, we can estimate based on what we know about the industry.
This article will look at the numbers and see just how much money Joe Rogan earns from The Joe Rogan Experience.
Spoiler alert: it's a lot!
Earning From Podcast
Joe Rogan is believed to earn $100k per podcast episode. Joe Rogan earned $10-12 million in 2020 alone from The Joe Rogan Experience.
Now he earns around $60 million a year from all of his income sources combined. He also earns money from merchandise and sponsorships, which make up a significant part of his income.
Related: How to Make Money Podcasting: 8 Ways to Monetize Your Show
Other Income Streams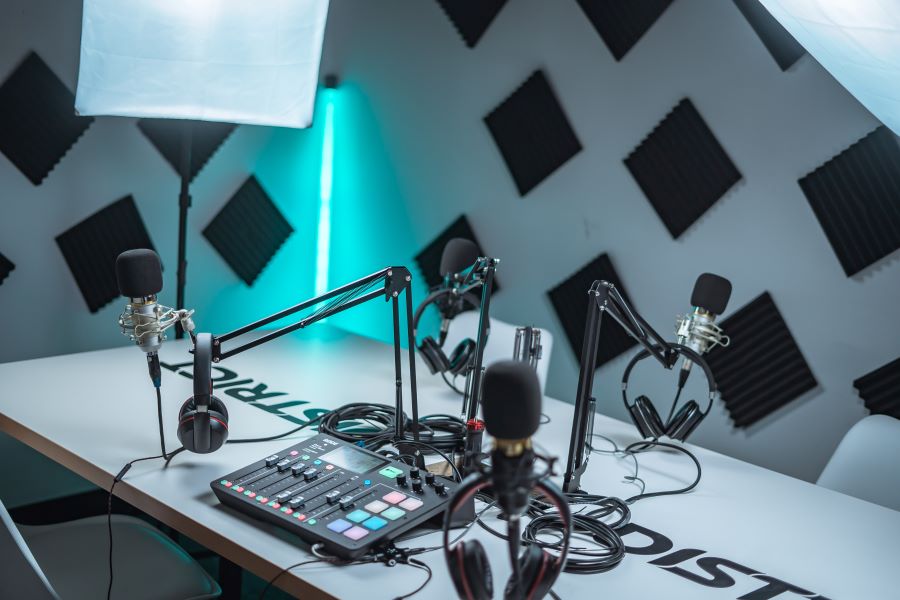 Besides his podcast, Joe Rogan earns money from many other sources, including:
UFC Commentating.
Comedy Shows & Tours
Onnit
The Joe Rogan Experience
Let's take a closer look at some of these sources and how much he earns from them.
UFC Commentating
UFC is one of the most popular sports in the world, and Joe Rogan is one of its most recognizable faces. As the UFC commentator for events, Rogan earns a reported $2 million dollars per year.
In addition to his commentary duties, Rogan also hosts a post-fight show called The Joe Rogan Experience, which gives him a chance to dive deeper into the action with the fighters.
This platform has helped make Rogan one of the most popular in the sport and has also been instrumental in boosting his other income streams. However, Joe never had a UFC bout.
Comedy Shows & Tours
While he is best known for his work in UFC, Rogan is also a highly successful stand-up comedian.
He is one of the highest-paid comedians in the world, earning an estimated $17.3 million dollars per year from his comedy shows and tours. Rogan's joke-telling style is unique and often controversial, but it has resonated with worldwide audiences.
In addition to his live shows, Rogan has also released several hugely successful comedy specials. As a result, comedy represents a significant source of income for Rogan.
Onnit
Onnit is a health and wellness company that produces a wide range of supplements, fitness equipment, and other products. Rogan is the company's chief brand ambassador and owns a 50% stake in the business.
This arrangement has proven extremely lucrative for Rogan, as Onnit is reported to generate $50 million in revenue each year. In addition to his financial stake in the company, Rogan also uses Onnit products to help him stay healthy and fit.
For example, he regularly takes Alpha BRAIN, Onnit's flagship nootropic supplement. As a result of his association with Onnit, Rogan has become one of the most visible faces in the health and wellness industry.
The Joe Rogan Experience
The Joe Rogan Experience is one of the most popular podcasts in the world, and it has garnered Rogan a massive following.
In 2020, he signed an exclusive deal with Spotify that was reportedly worth $100 million dollars over three years. Under this agreement, Spotify acquired the rights to The Joe Rogan Experience and made it available on their platform.
While terms of the deal were not disclosed publicly, it is estimated that Rogan takes home $90 million dollars per year from his SiriusXM show as part of the agreement. Given its popularity, The Joe Rogan Experience represents a significant source of income for its namesake host.
Related: What is Joe Rogan's Podcast Studio Setup?
Joe Rogan Net Worth
Joe Rogan's net worth is estimated to be around $120 million dollars as of 2021. This figure includes his earnings from UFC commentary, comedy shows and tours, Onnit, and The Joe Rogan Experience podcast.
As one of the most recognizable faces in the entertainment industry, Rogan has parlayed his success into a lucrative career that continues to generate substantial income for him.
How Does Joe Rogan Spend His Money?
Joe Rogan is reported to have several expensive hobbies and interests, such as cars, motorcycles, hunting, and mixed martial arts.
He also has several luxury homes worldwide and is an avid collector of expensive watches.
In addition to these hobbies, Rogan also donates generously to various charities and non-profit organizations. He is also an outspoken advocate for animal rights and conservation.
Overall, Joe Rogan has achieved enormous success in his career and is one of the most influential figures in entertainment. With his impressive net worth, he enjoys a luxurious lifestyle that allows him to indulge in his passions and give back to those less fortunate.
How Did Joe Rogan Became Rich?
There are several reasons why Joe Rogan has become an extremely wealthy man. Here are some of the main factors:
Consistent Quality Content: Joe Rogan's podcast is known for its entertaining and intelligent conversations. He has been able to draw in consistent viewers from a wide range of interests, making it one of the most popular podcasts in the world.
Business Savvy: Joe Rogan isn't just an entertainer but an extremely talented businessman. He has used the success of his podcast to grow other business ventures, such as his brand of supplements and merchandise. This has allowed him to expand his financial reach even further.
Sponsorships: Joe Rogan has secured lucrative sponsorship deals with some of the world's biggest brands. These sponsorships have given him a substantial amount of additional income.
YouTube: Joe Rogan has built a loyal audience, enabling him to generate more revenue from his podcast. This has propelled his wealth even further.
Investments: Joe Rogan has invested in a variety of business ventures. This has allowed him to increase his net worth even more.
All these factors combined have made Joe Rogan one of the wealthiest men in entertainment today.
What Does Joe Rogan Talk About?
Joe Rogan is known for having many topics on his show. Here are some of the topics he covers:
Conspiracy theories: Rogan talks about various conspiracy theories and discusses his views.
Science: Rogan often has experts on the show to talk about science, medicine, and psychology.
Comedy: Joe Rogan's podcast isn't just serious talk. He often has comedians as guests and engages in humorous conversations with them.
Politics: Rogan talks about current political topics, such as the U.S. elections, and interviews politicians from both sides.
Health: Joe Rogan is a health enthusiast who discusses different physical and mental health topics on his show.
These are just a few topics Joe Rogan talks about on his show. With millions of listeners tuning in every episode, it's no surprise he has become one of the most successful podcasters.
What Can Podcasters Learn From Joe Rogan?
Joe Rogan's success story can be an inspiration to aspiring podcasters. Here are some of the key lessons to take away from his journey:
Be Consistent: Rogan has maintained a high level of quality over the years, making him one of the most successful podcasters in the world.
Creative Collaborations: Rogan isn't afraid to collaborate with other creative minds, whether it's his co-hosts or special guests. This has enabled him to broaden his reach and expand his audience.
Know Your Brand: Joe Rogan knows his brand and sticks to it. This has helped him create a loyal following and capitalize on it through his various business ventures.
Think Outside the Box: Joe Rogan isn't afraid to think outside the box when monetizing his podcast. This has allowed him to leverage his success in other areas and make more money.
By taking these lessons to heart, you can start your podcasting journey and achieve similar success as Joe Rogan. With hard work, consistency, and creativity, you can become one of the most successful podcasters in the world.
Who is Joe Rogan?
Joe Rogan is the biggest name in podcasts and hosts the Joe Rogan Experience podcast. Rogan is an American UFC color commentator, podcaster, comedian, and former television presenter and actor who owns his podcast.
The Early Life Of Joe Rogan
Joe Rogan was born to an Italian-American mother and an Irish-American father in Newark, New Jersey, on August 11, 1967. He is of Italian and Irish descent.
Rogan's parents divorced when he was 5 years old. The only memory Joe Rogan has of his father is that he was a very abusive man who would often beat his mother.
At seven, he moved to San Francisco with his mother. His next move was at 11 when they went to Gainsville, Florida, and eventually, Newton Upper Falls in Massachusetts became their final home.
In 1985, he graduated from Newton South High School. That same year, he joined a little league baseball team. Also, his interest in martial arts increased as a teenager.
Joe Rogan's Family
Joe Rogan was married to Jessica Ditzel in 2009. They have 2 daughters, who were born in 2010 and 2008. Ditzel's daughter from her previous relationship is now the stepdaughter of Rogan.
Ditzel and her husband relocated to Gold hill in 2008 but returned to California a few months later when she became pregnant. They settled in where he had lived on and off since 2003.
Joe Rogan bought a new house for $5 million in 2018. In 2020, he bought another $14 million house on Lake Austin, Texas.
Early Career
Joe Rogan's career started as an American stand-up comedian in 1988 in Boston. After moving to Los Angeles, Joe Rogan signed a deal with Disney in 1994. He then appeared as an actor in multiple television shows, such as Hardball and Newsradio.
Joe Rogan started his interviewing and color commentary career with the UFC in 1997. In 2000, he released his first comedy special; I'm Gonna Be Dead Someday… He then went on to host the game show Fear Factor from 2001 to 2006.
After leaving the show fear factor, Joe Rogan focused solely on his comedy career and started hosting more and more comedy specials.
The Rise Of Joe Rogan
Rogan started the Joe Rogan Experience and has continued to appear on the podcast as the podcast host in 2009.
By 2015, Joe's podcast became one of the world's most popular and started gaining much more popularity. The Joe Rogan podcast became the most prominent name in podcasts.
In 2020, he made a $200 million deal with Spotify to gain exclusive distribution rights to his podcast, making Rogan infamous among the greats in podcast hosting.
What's Next for Joe Rogan
Joe Rogan is one of the world's most successful and recognizable personalities. He has built a career that spans multiple industries and platforms, including podcasting, stand-up comedy, UFC commentary, and more.
Rogan will continue to be a major influence in the entertainment industry for years. With so many income streams, it's no surprise that he is one of the highest-paid personalities in the world.
Only time will tell what's next for Joe Rogan, but we can't wait to see where his career goes.
Conclusion
Joe Rogan has found success with his podcast because he is authentic and provides valuable content. He has been able to monetize his podcast through sponsorships and live shows.
If you are looking for a successful model, look no further than Joe Rogan. His podcast is a great example of how to provide valuable content that will keep your audience coming back for more.
We hope this information has given you more insight into Joe Rogan's career and the secrets to his success. You can also become a successful podcaster with hard work and dedication. Good luck!